What's New at Kimberbell: October 2023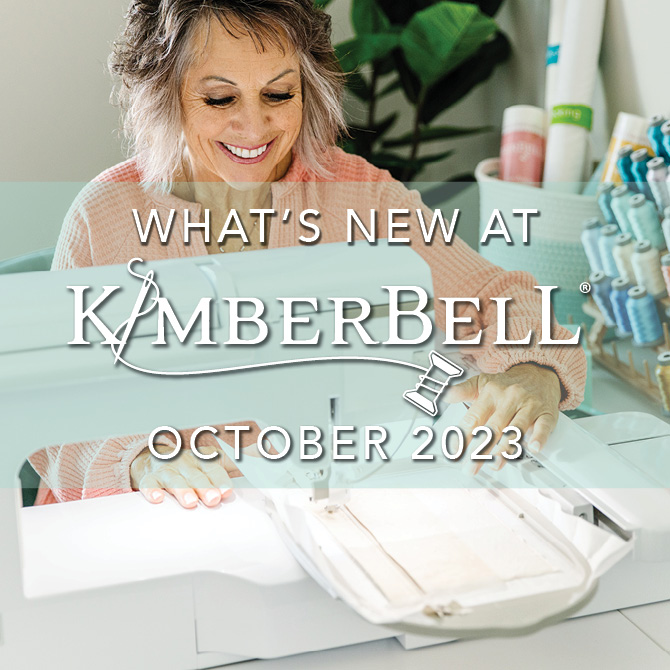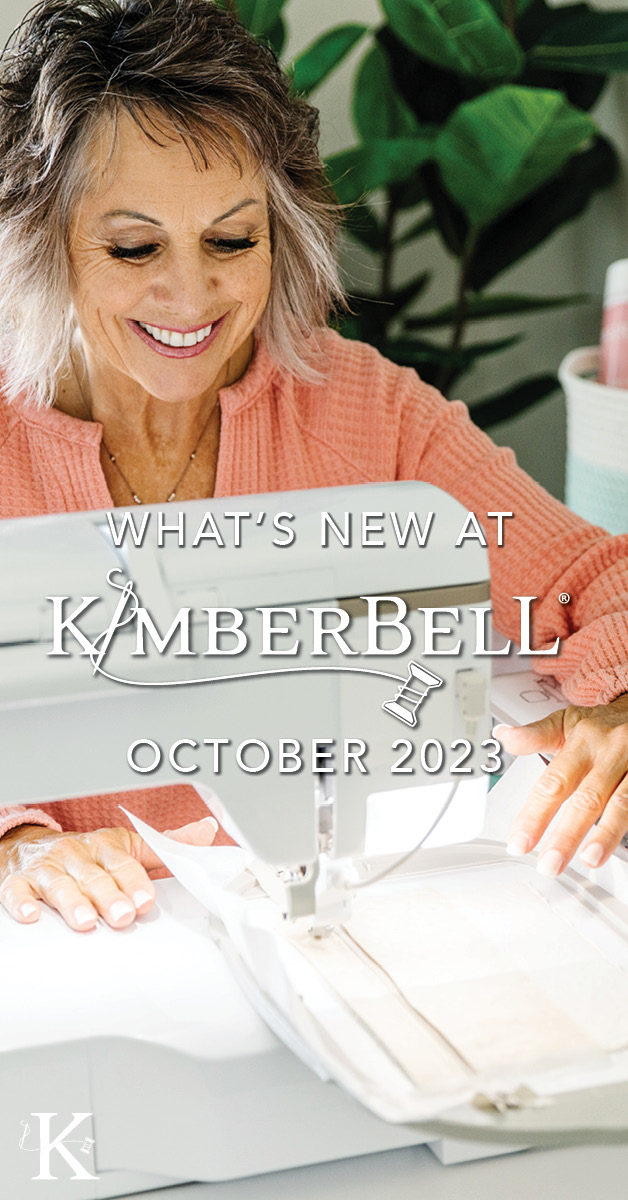 Autumn is a wonderful time here at Kimberbell. We enjoy fall to the fullest, anticipate the holidays, and start really planning for the year ahead!
Here's what's new at Kimberbell this October. 🎃
Inside the Hoop
TIME CHANGE! Our fun Inside-the-Hoop show now airs every Thursday at 10:00 a.m. Mountain Time. (It was previously at noon, so please note that it's now at 10:00!)
If you miss the live broadcast, though, no worries! You can watch the replay by clicking the links below.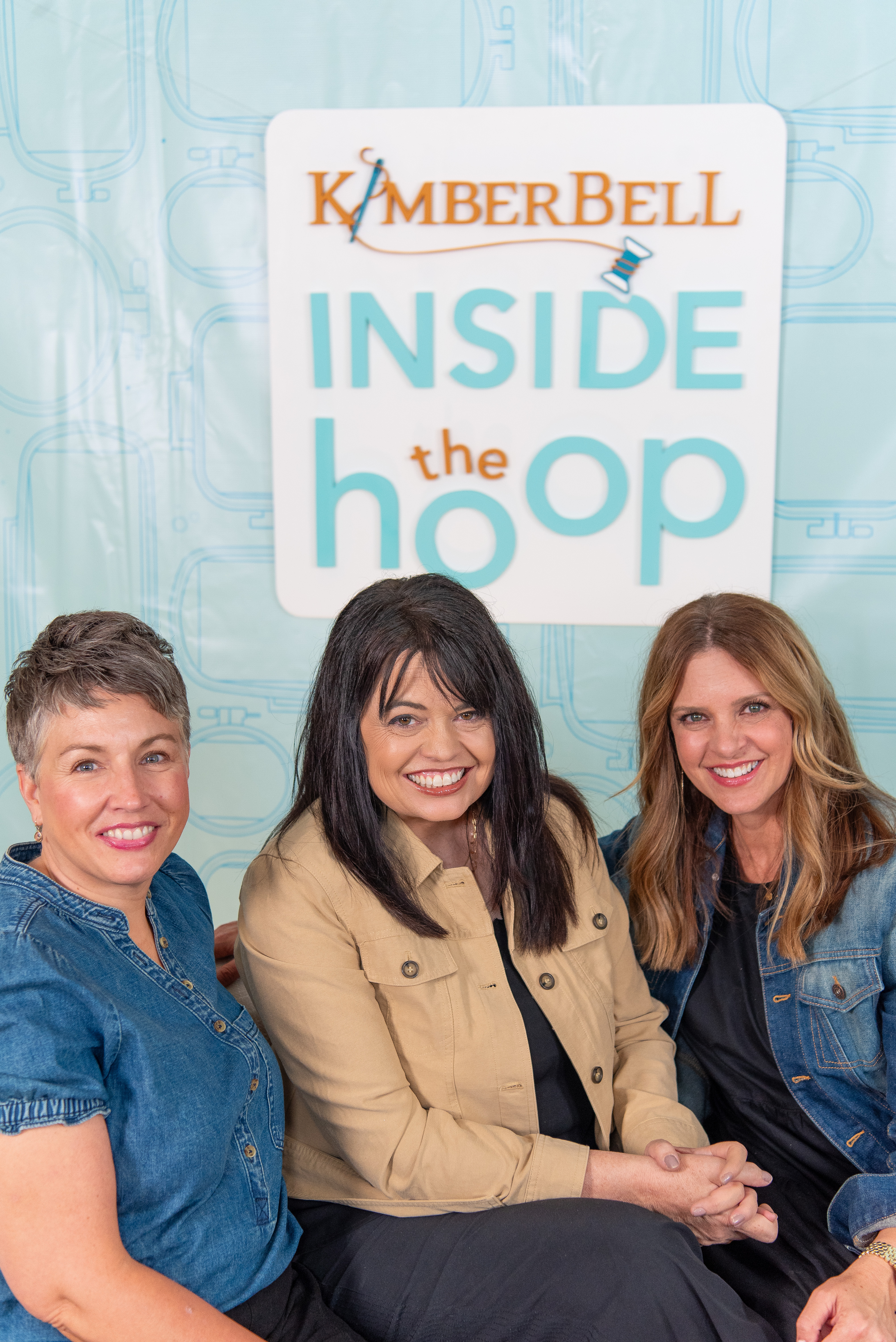 This month, Ginger, Kim, and Deanna shared tips and techniques on how to create dimensional fringe, how to use Clear Blue Tiles on a variety of projects (Think waaaaay beyond quilts!), how to do block-by-block background quilting, and so much more!
Links to October 2023 Episodes
Psssst! Our favorite little Christmas elf, London, was the darling guest on October 5th, and I even got to pop into the episode on October 26th! So much fun.
Buy-a-Block Program
We also released the Snowman block from Kimberbell's Cup of Cheer Advent Quilt as this month's Buy-a-Block design. It's only $5 and a flurry of fun to stitch! ☃️
Purchase this and other Kimberbell Buy-a-Block designs HERE.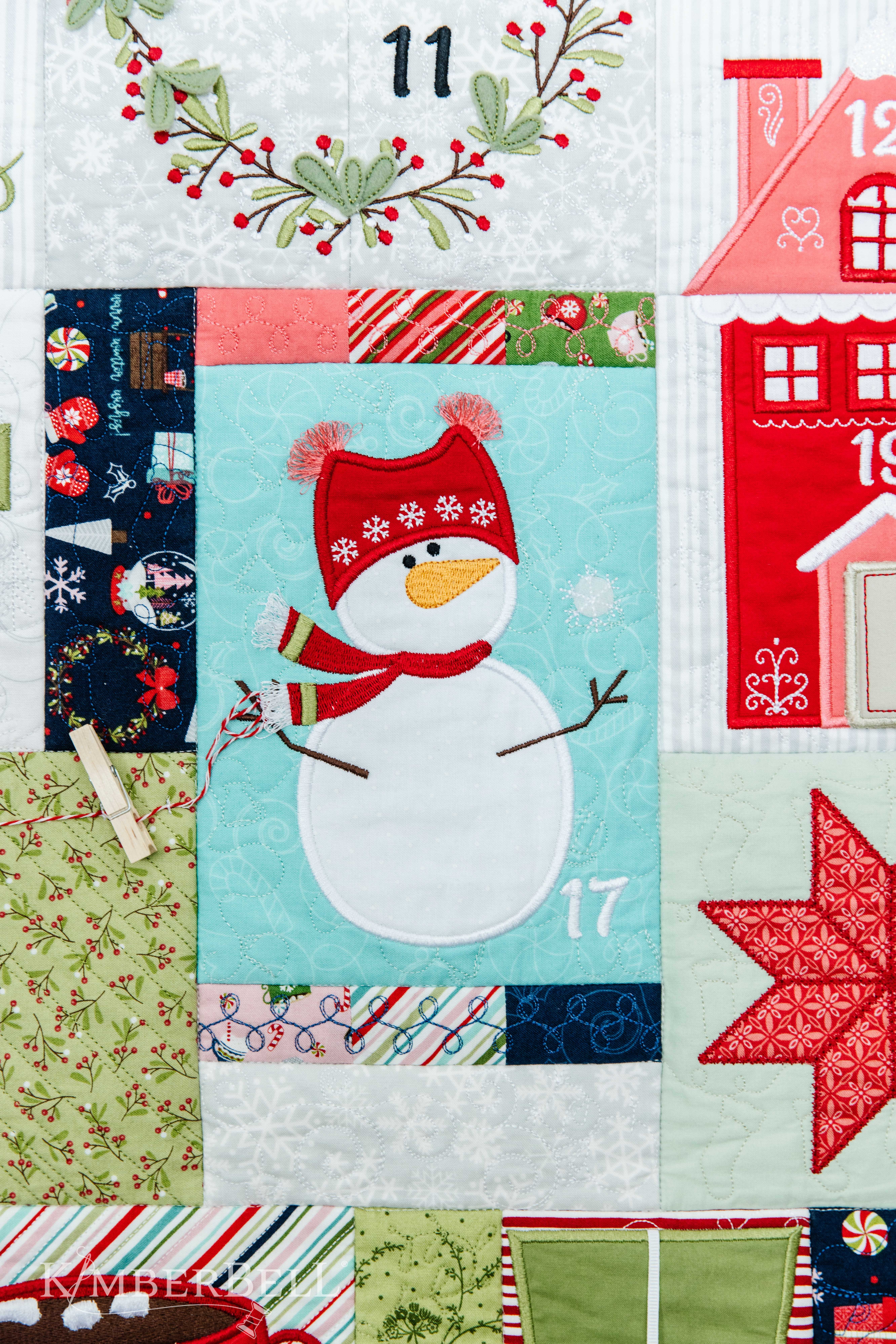 Digital Dealer Exclusives: Dimensional Halloween Bat Jar Topper
Have you been participating in our Digital Dealer Exclusives program with your favorite quilt shop? If so, you've been enjoying our October design: the Dimensional Halloween Bat Jar Topper!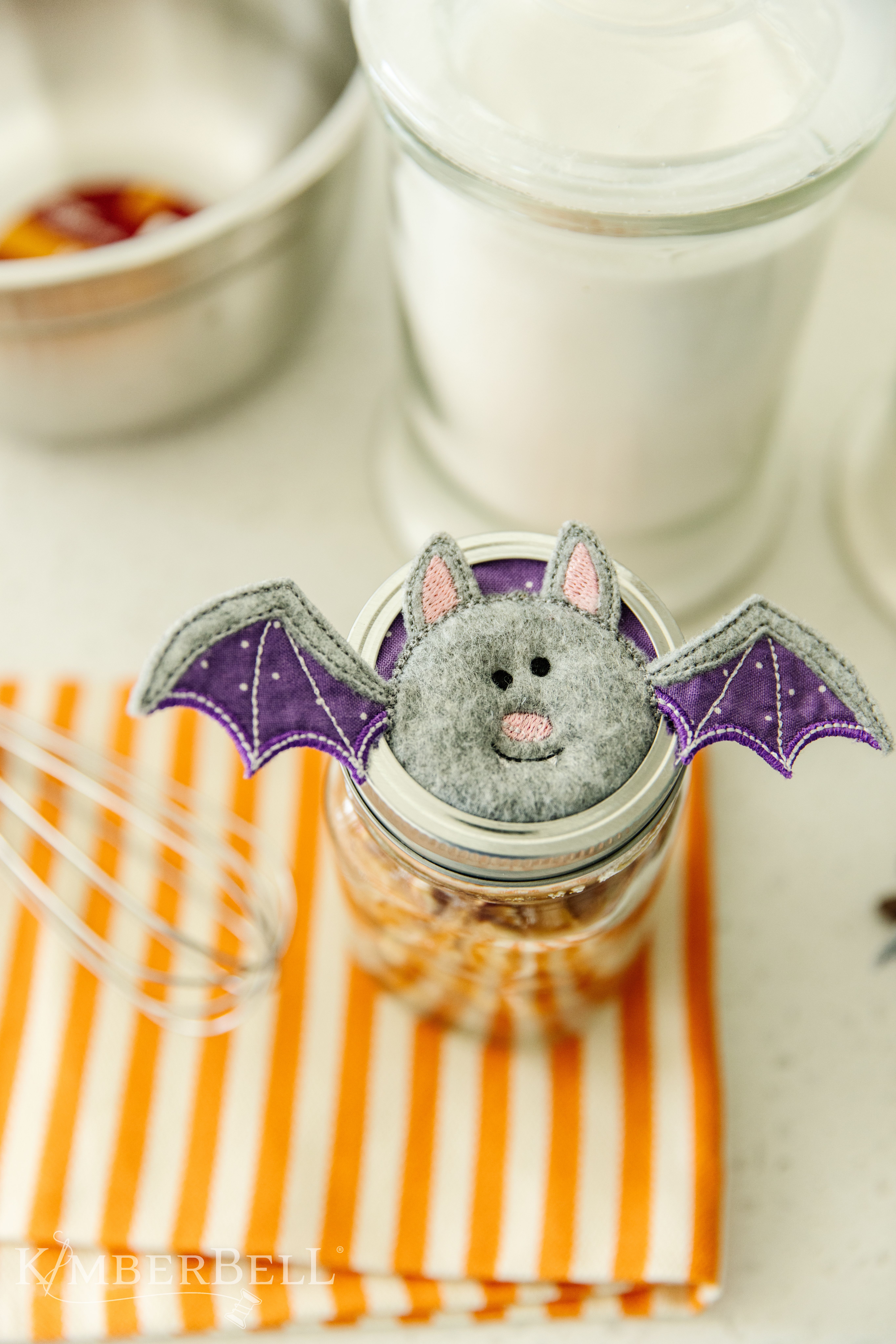 Our giftable jar topper comes in two sizes (regular and wide-mouth) with dimensional wings and a Flexi Foam face. If you'd like to make this spook-tacular project, contact a participating shop HERE!
NEW Deck the Palms Spark Event
Also this month, Certified Shops began hosting Kimberbell's new four-hour Spark Event: Deck the Palms! 🌴
At this Kimberbell event, you'll create the Bulb Ornament Zipper Pouch , the Let's Flamingle Cinch Sack, and the darling Palm Tree Charm. Take a look!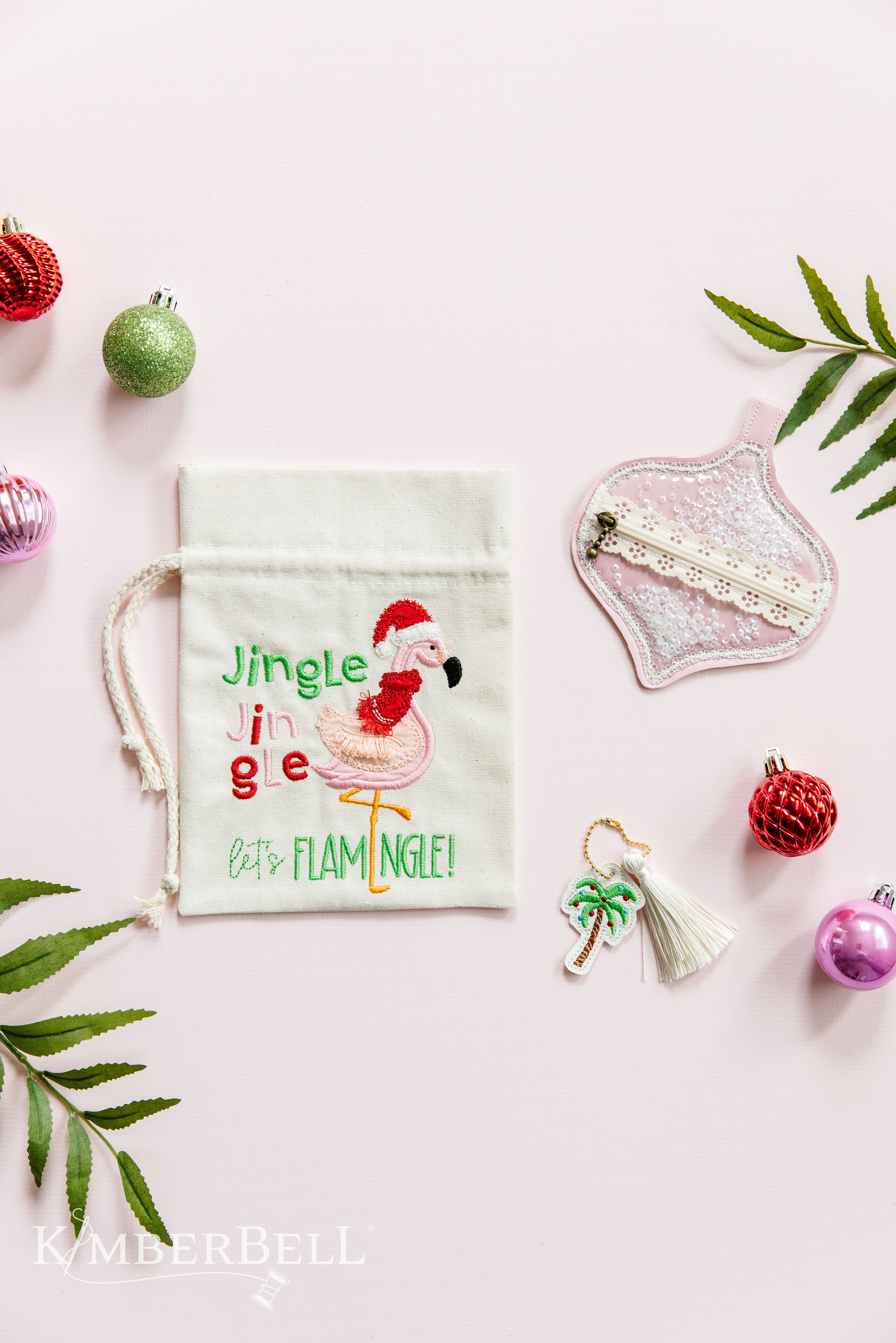 That small zipper pouch just kills me! 😍 You'll also go home with a Present Zipper Pouch, Round Ornament Zipper Pouch, Let's Party Cinch Sack, and three additional charms to stitch later.
With multiple styles and sizes to choose from, Deck the Palms is Christmas fun for everyone! Click HERE to find a shop hosting this super-fun event. (It's just the right length for busy beginners!)
Speaking of which, if you're on the fence about attending a Kimberbell Event, click HERE to listen to our podcast episode "Is a Kimberbell Machine Embroidery Event Worth It?" (Psssst! Ginger is the special guest!)
New Products
This month we also released our new Nativity Stuffies! Each of these 13 beloved characters come in three sizes and feature a variety of decorative stitches and techniques.

You can find this project anywhere Kimberbell products are sold. Learn more about Nativity Stuffies HERE!
What's New Wednesday
What's New Wednesday is a highlight of the week for all of us. Join Kim live from her sewing room every Wednesday at 10:00 a.m. MT to learn what's new, ask questions, enter our epic giveaways, and see what Kimberbell fans are creating during our "Sew & Tell With Kimberbell" segment.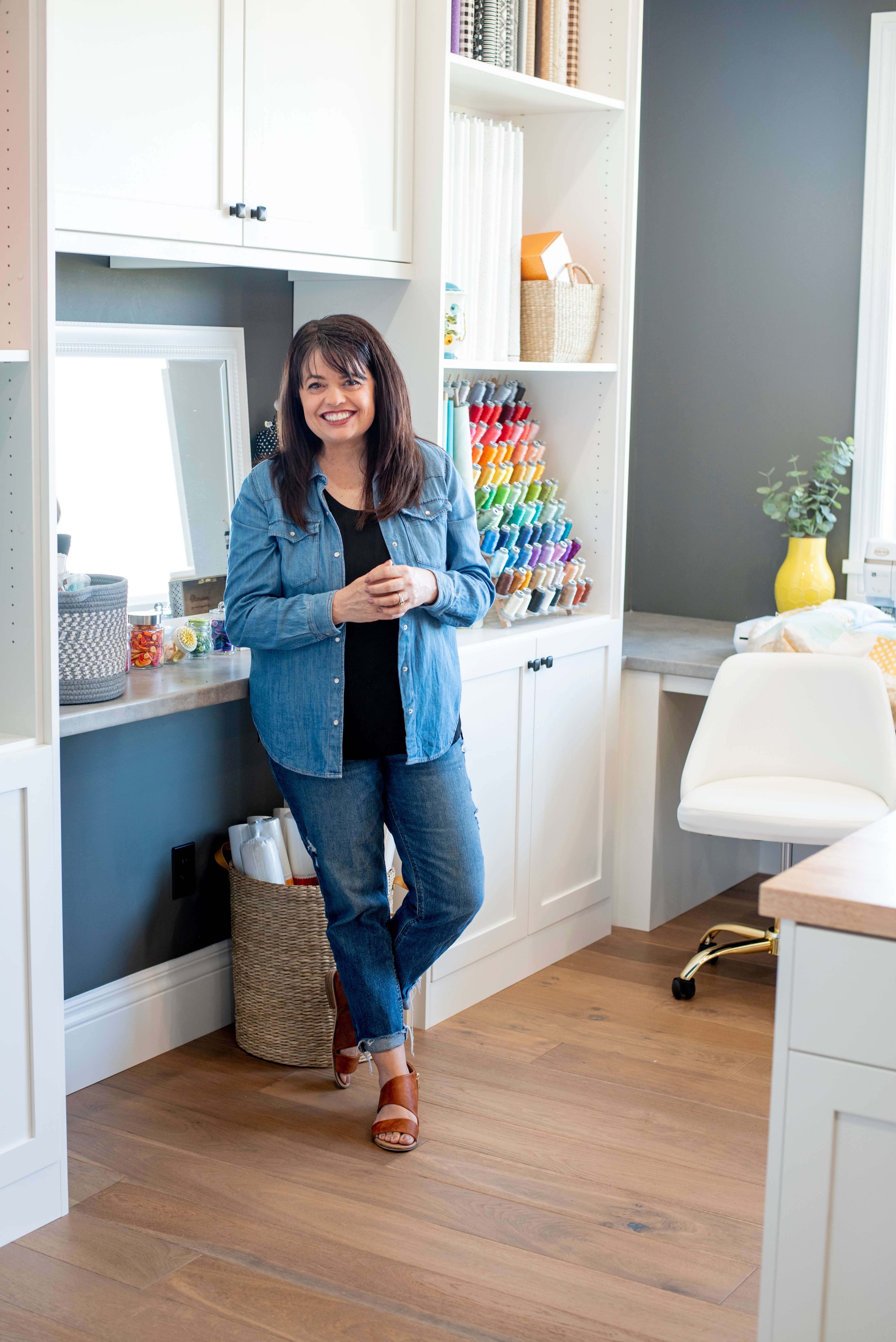 This month on What's New Wednesday, Kim talked about several new Kimberbell products, including the Nativity Bench Pillow, the Nativity Stuffies, the Cranberry Star USB Case, two Digital Dealer Exclusives projects (the Dimensional Bat Jar Topper and the Pineapple Crossbody Bag), Mini Quilts, and more!
Kim interviewed Tori from M.E. Time about the newest Bella Box on October 18th and she also interviewed me on October 11th. (I shared pieces from some of my favorite nativity sets.) ✨
Just click the links below!
Links to October 2023 Episodes
Watch our October 4th episode

HERE.
Watch our October 11th episode

HERE.
Watch our October 18th episode

HERE.
Watch our October 25th episode

HERE.
Machine Embroidery With Kimberbell Podcast
Did you catch our podcast this month? We covered some really good topics!
I especially recommend listening to our special October 17th episode where Kim interviews Kathryn Schmidt from Maywood Studio. During their conversation, Kathryn gives advice for choosing the right fabrics for your projects. Don't miss this opportunity to hear from a true fabric expert!
Remember, you can listen to our Machine Embroidery With Kimberbell podcast through streaming services like Google, Podbean, Spotify, Amazon Music, Spotify, Apple Podcast, and more.
Blog Posts
Last but not least, I wrote several articles for you to enjoy on the blog this month, including this delightful cranberry sauce recipe (just in time for Thanksgiving)! 🍁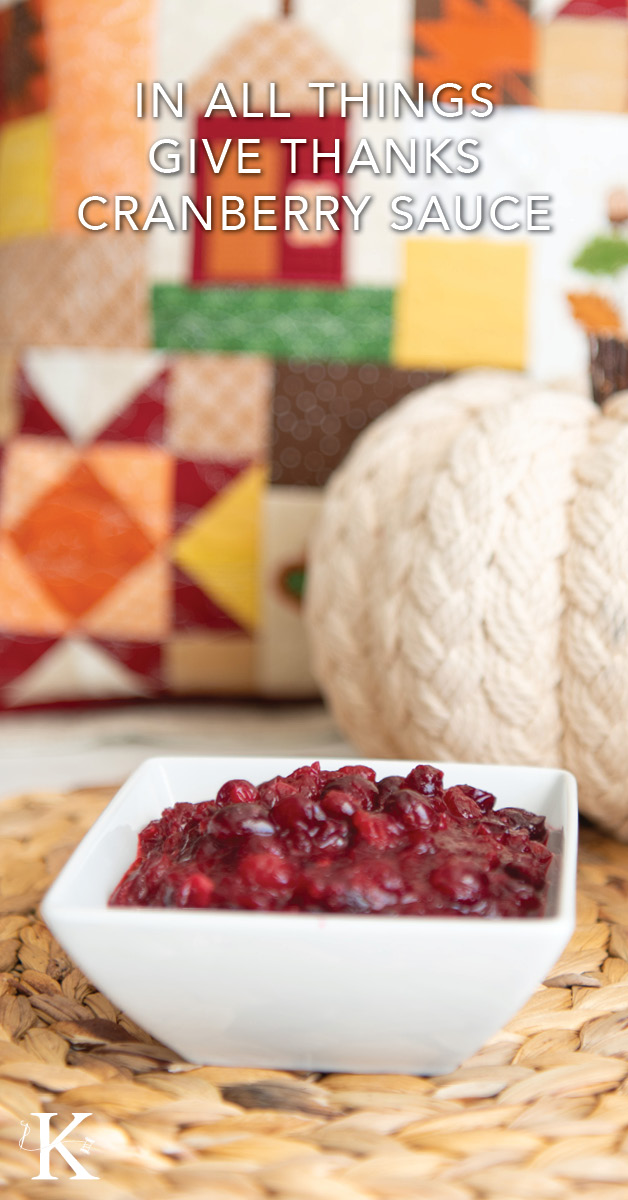 Mmmmm. I can't wait to make that yummy sauce again soon! Here are some other October articles from the blog. (Just click the link to read the post!)
PLEASE NOTE: If there's ever a topic you'd like me to address on the blog, please drop a comment below! I welcome your suggestions. 😊
Ready for November!
So, what's ahead for November? A whole lot of fun, that's what. We're working hard on new Digital Downloads (including Vault and Buy-a-Block products) as well as the release of Kimberbell Mini Quilts! And there's a whole lot of BUZZ about next year's Digital Dealer Exclusives projects...
It's going to be a great month as we look forward to the holidays together!
Again, thank you SO much for your support this October. We love to Experience the Joy of Creativity® with you!