5 Must-Have Machine Embroidery Stabilizers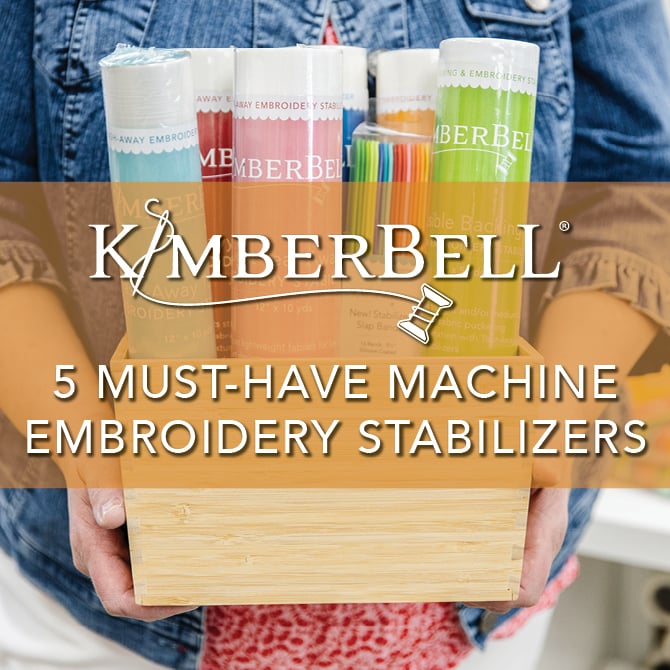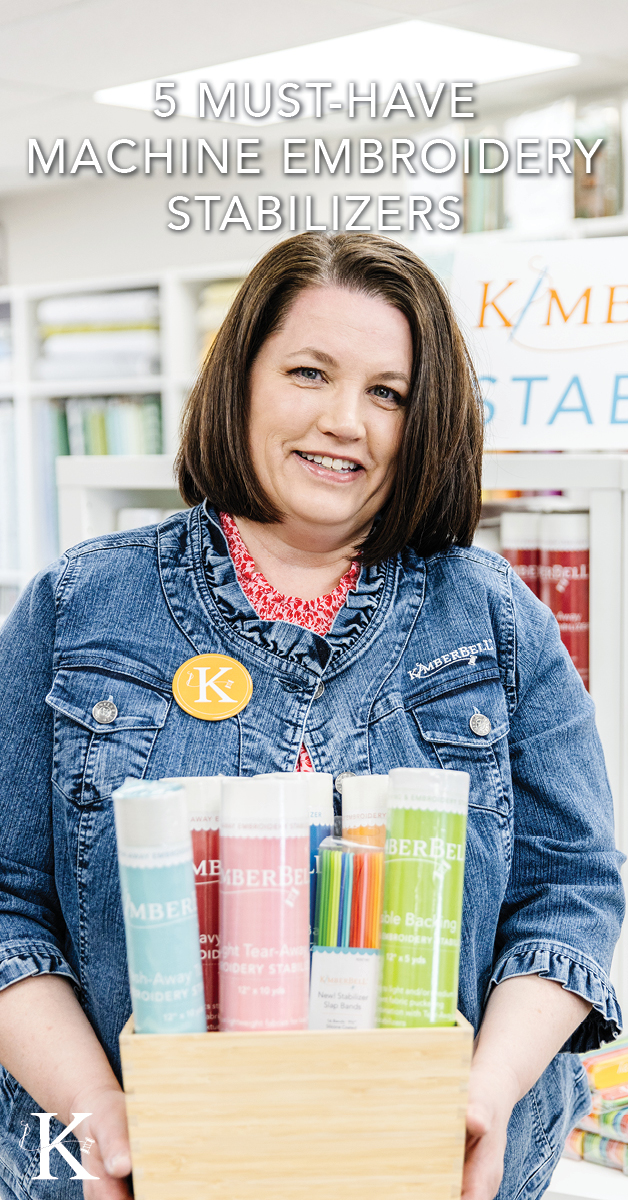 Experience the "Joy"
Friends, I'd like you to meet Joy Ercanbrack (shown above). She's worked at Kimberbell for many years and was an integral part of developing the Kimberbell Stabilizer line!
Now, when I say this, I don't mean she took an afternoon and chose stabilizer from swatches. No, I mean she was in the trenches of sifting and sorting and testing and trying to find the very best stabilizer available.
Here's what Joy has to say about that experience:
"As we were developing our stabilizer, we had loads of it coming in from different vendors. We tried every kind. I came up with a testing system to decide how many stitches the stabilizer would hold, if it stretched when it was hooped, if it stayed taut or loosened in the hoop...
We did not stick with one manufacturer for our stabilizer line! We brought in a whole bunch of different kinds because we wanted the best of the best. So when we say Kimberbell Stabilizer is the best, it's because we've tested it against every other kind of stabilizer. It works how we say it's going to work."
Kim and Deanna recently sat down with Joy for a special episode of our Machine Embroidery With Kimberbell podcast to discuss the five must-have stabilizers. It was hard to limit herself to just five, but here are Joy's official recommendations. 😀
#1: Light Mesh Cut-Away
We use Light Mesh Cut-Away SO much here at Kimberbell! It's absolutely perfect for feature quilts and bench pillows like the Nativity Bench Pillow (shown below).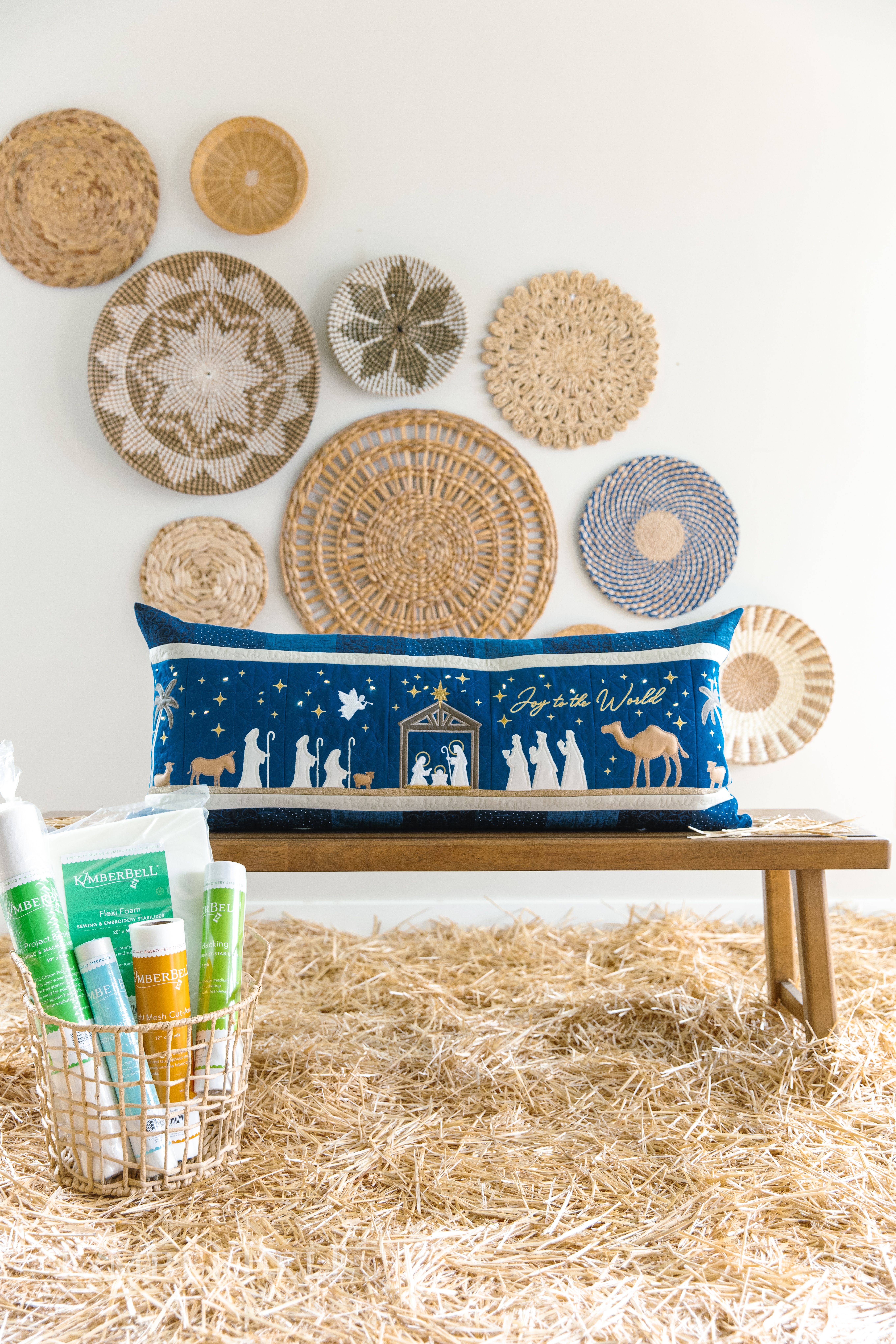 You can trim Light Mesh Cut-Away to the size of the quilt block and it just disappears into the seam allowance, giving a beautiful finish to your project.
Joy's Tip: "When choosing a stabilizer, consider the density of your project. Use Light Mesh Cut-Away for quilt blocks and lighter projects. Use a Medium Cut-Away for zipper pouches where you want more structure, and Heavy Cut-Away for Mug Rugs and projects with lots of layers."
Light Mesh Cut-Away is strong enough to handle fancy stitch work, yet light enough that it becomes part of the fabric without shadowing or adding bulk!
#2: Wash-Away
Wash-Away is ideal for projects when you don't want stabilizer to be seen after the embroidery is done. For example, use Wash-Away for freestanding lace like this darling witch hat from Kimberbell's Lace Studio!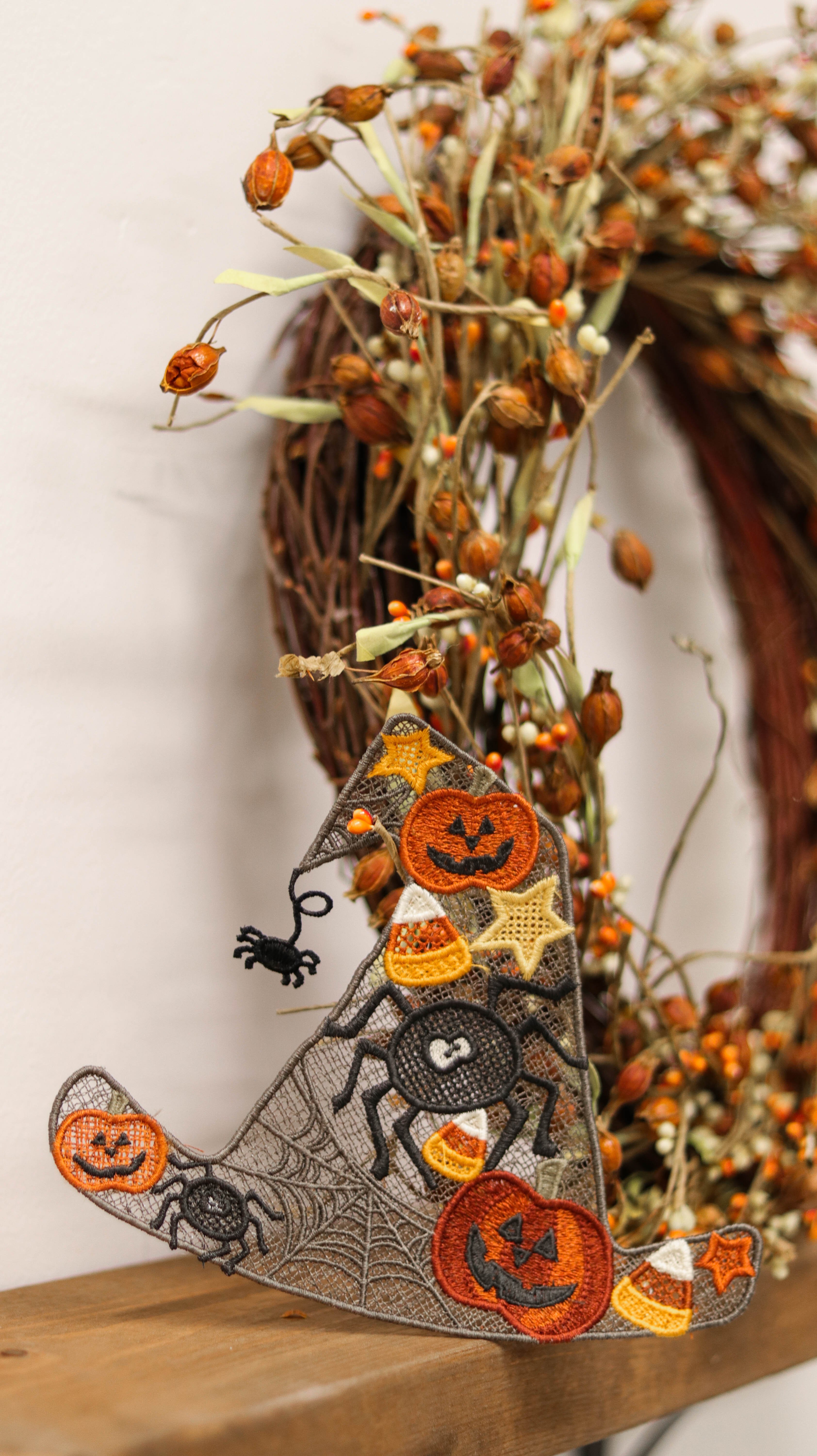 Kimberbell Wash-Away stays taut in the hoop without any stretching, which is important for projects like this because lace has no fabric support—just thread!
You don't want Wash-Away to sag in the hoop or your stitches will be saggy, too. Ew.
When choosing our Wash-Away, Joy really wanted it to rinse away in 20 seconds in COOL water. Why does that matter? Because hot water can make fabric or thread dyes run. (No one wants that!)
So, using red thread in all testing, Joy and her team rinsed 6-7 water-soluble stabilizers at once to see which one would dissolve first in cool water with NO bleeding.
During this experimentation, they discovered that some of the stabilizers had so much glue that 20 seconds of rinsing only made the glue run and glop. (These did NOT pass the test and were booted right away!)
Joy's Tip: "Instead of immersing your whole project, use a spray bottle to spritz your Wash-Away!"
Kimberbell Wash-Away holds stitches beautifully. So beautifully, in fact, you can get away with using only one layer for lace when most brands recommend two!
#3: Wash-Away Sticky-Back
It's really tricky to hoop a T-shirt or sweatshirt, right? Wash-Away Sticky-Back allows you to "float" your project instead of hooping it the traditional way! For example, when Ginger made these T-shirts for her husband and grandson, she used Wash-Away Sticky-Back .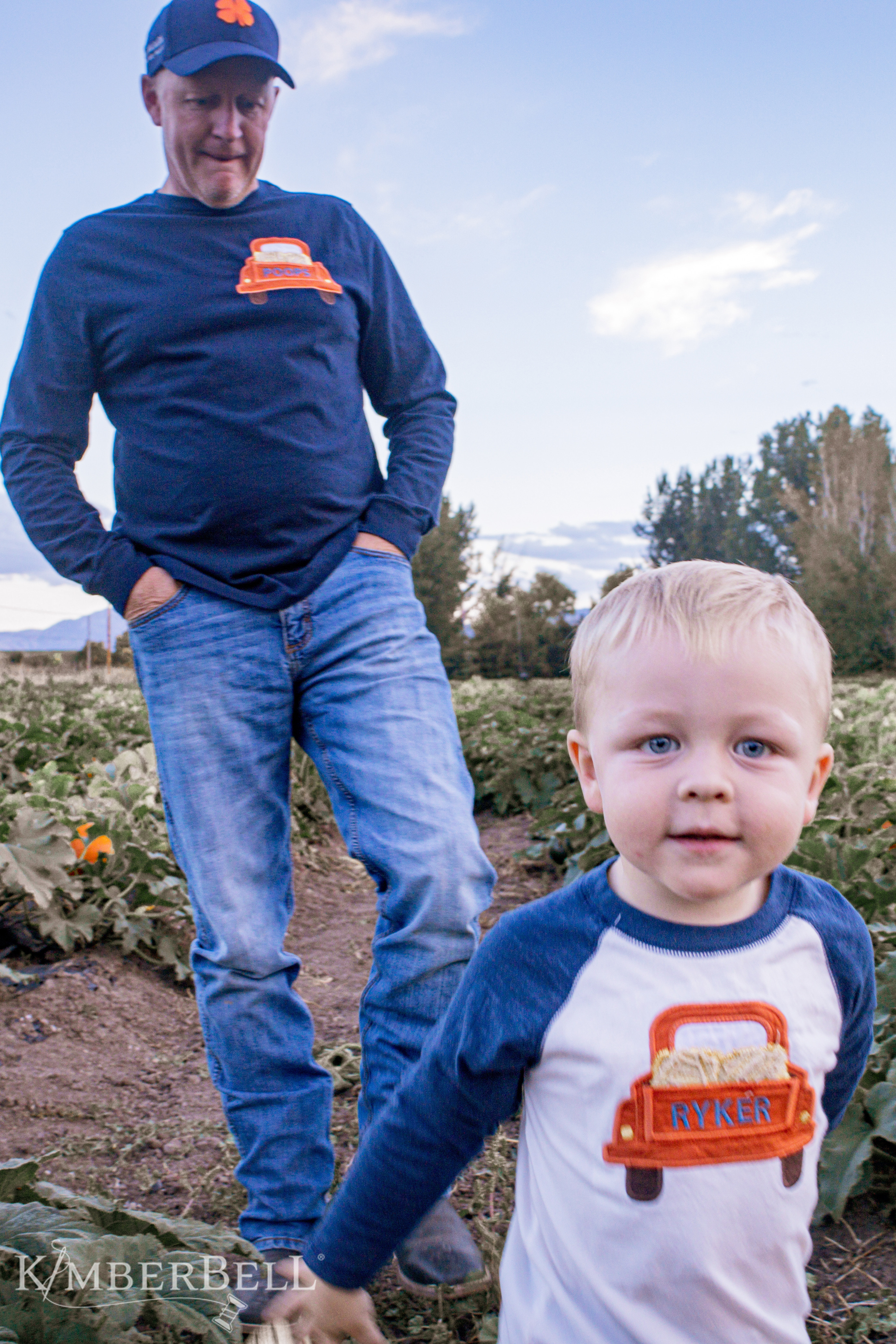 Ginger hooped a sheet of Wash-Away Sticky-Back, peeled back the paper covering to expose the adhesive, and stuck the shirt right on top. Then she just embroidered right where she wanted to! (Want to see how? Catch our Inside the Hoop episode HERE.)
Joy's Tip: "Like our regular Wash-Away, Wash-Away Sticky-Back dissolves in 20 seconds in cool water. Just spray with a spray bottle and dab!"
Kimberbell Wash-Away Sticky-Back is repositionable, too. If you put a sweatshirt or tea towel or whatever on top and find that it's a little crooked, it's very easy to just peel it off and try again! In a nutshell...when you don't want to hoop your project, reach for Wash-Away Sticky-Back.
#4: Project Batting
When we started sending Kimberbell Project Batting out in our event kits, people went nuts over it. We heard a lot of, "What's in this batting that makes it so perfect for machine embroidery?" Our fans wanted more!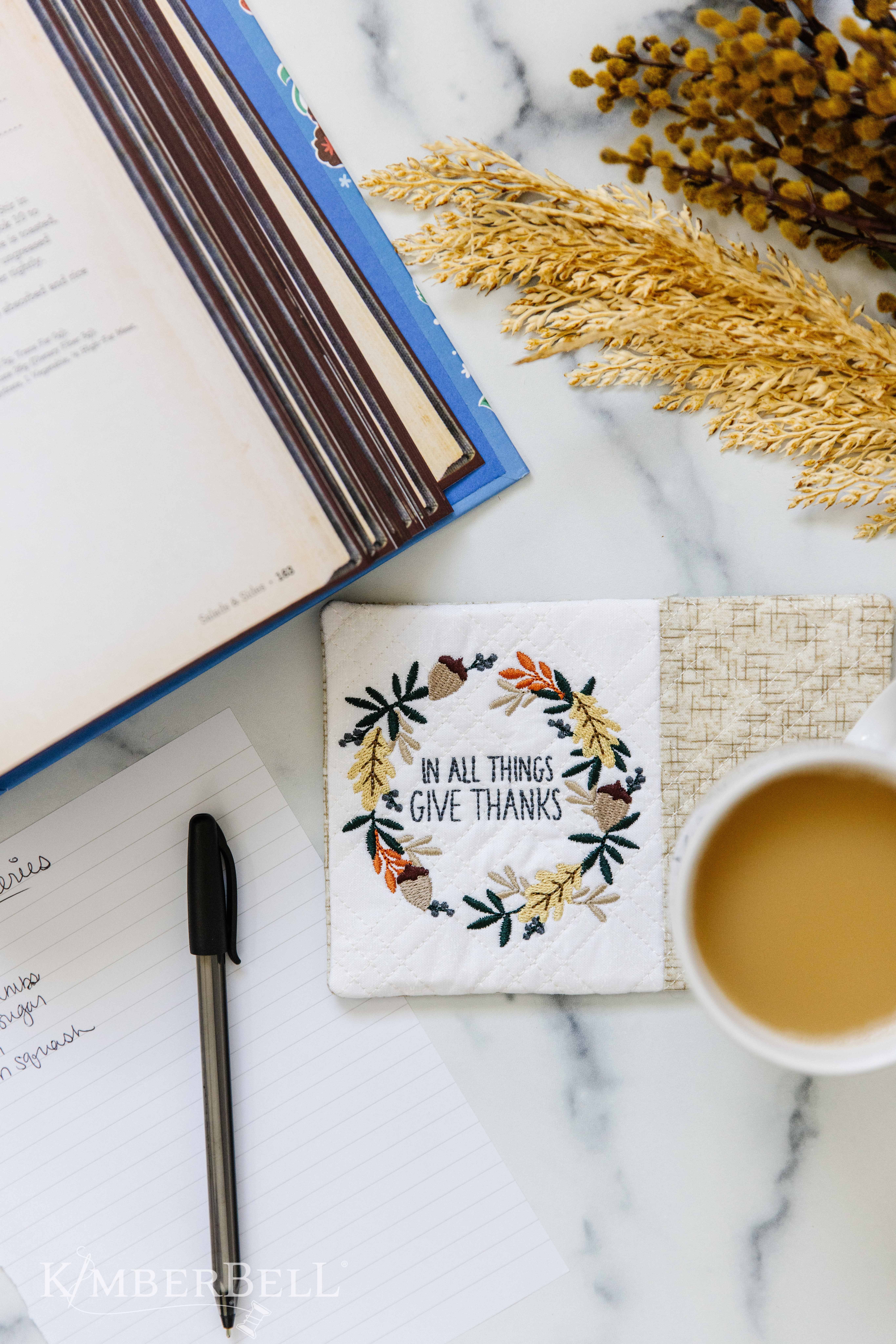 So, what makes Kimberbell Project Batting so special?
Well, if you're a quilter, you probably love cotton, right? Well, the loft of our Project Batting is 85% cotton. (That's a huge cotton content in comparison to other battings on the market!) The other 15% is a polyester scrim that's woven through the cotton to create a stabilizer.
Why does that matter? Because when there's a lot of stitching in one place, your batting can tear and stretch and pull apart. But with our polyester scrim and high cotton content, Project Batting is very stable and holds a lot of stitches.
Joy's Tip: "If you like to quilt in-the-hoop of your embroidery machine, you won't need additional stabilizer when using Project Batting. You can just make a quilt sandwich with back fabric, batting, and front fabric because the batting is the stabilization!"
We use Project Batting for Mug Rugs, hot pads, feature quilts, and more.
#5: Fusible Backing
Fusible Backing answers the age-old question of how to prevent puckering in machine embroidery. Simply iron a piece of Fusible Backing to the wrong side of the fabric and you'll see a BIG difference in your results!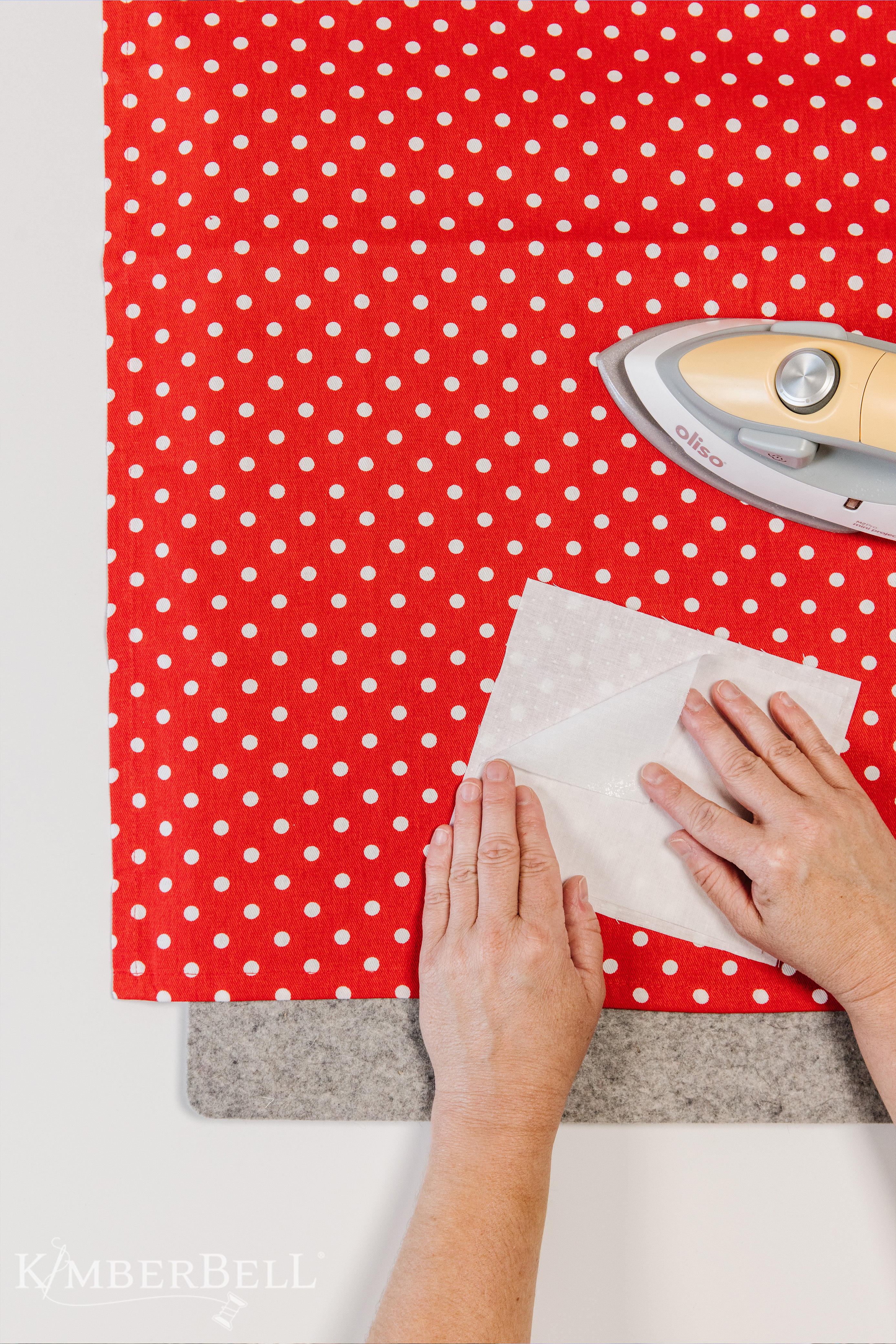 We use Fusible Backing on nearly everything we stitch. We love the texture because it's soft and supple and woven like fabric. Because of this, the Fusible Backing becomes part of the fabric, allowing the fabric to keep its drape.
Joy's Tip: "Use Fusible Backing for T-shirt quilts! Iron onto the T-shirt BEFORE you cut and the knit won't roll. You can also use it in place of interfacing for your sewing projects!"
Fusible Backing works on linen, lightweight cotton, quilting cotton, knit fabrics...give it a try!
Kimberbell Stabilizer
Whether you're just getting started in machine embroidery or have been stitching for years, you'll definitely want to have these five stabilizers on hand. 😊
Once you do, you can expand your stash to include even more of our exceptional Kimberbell Stabilizers!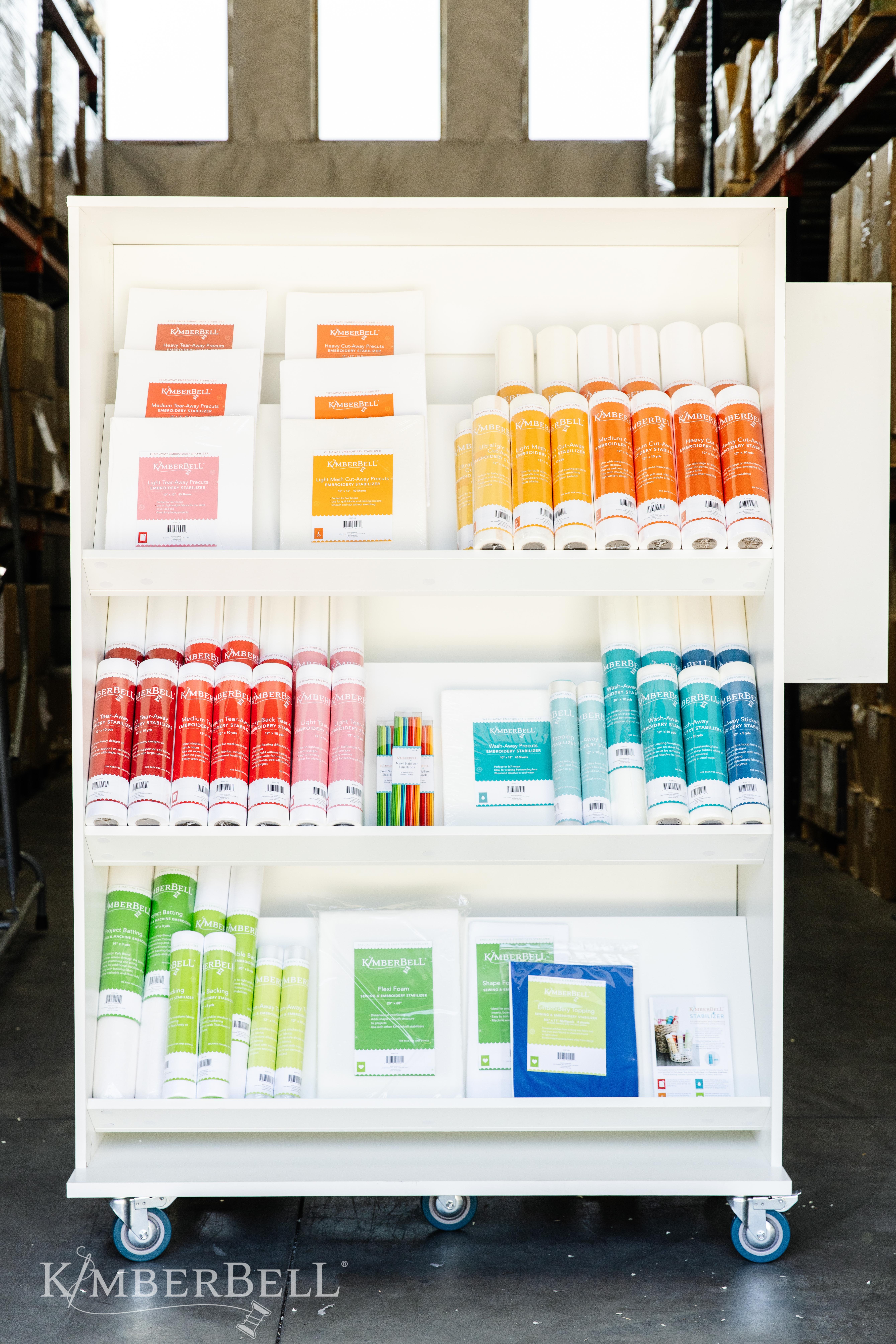 To hear Joy's stabilizer conversation with Kim and Deanna, please listen to our podcast HERE. (It's the September 14, 2023 episode. Enjoy!)
Here's a parting tip:
Joy's Tip: "When choosing a stabilizer, make sure it matches the weight of your project. For example, if you're stitching on denim jeans use a heavy stabilizer because denim is heavy! Balance your fabric weight with your stabilizer."
Remember, the whole purpose of stabilizer is to provide the extra structure you need as your machine continually moves back and forth. Stabilizer is a crucial part of quality embroidery!