Top 5 Tools For Machine Embroidery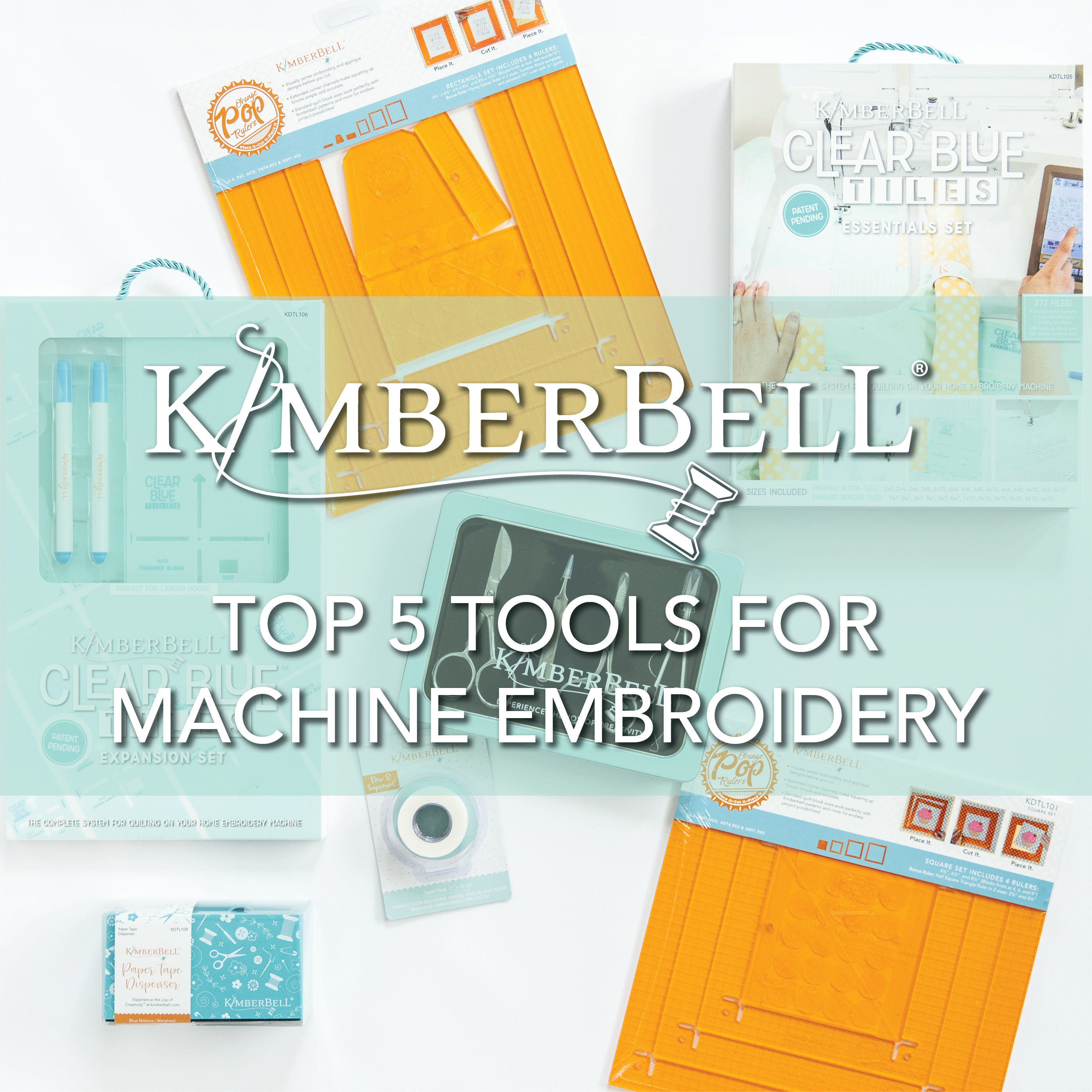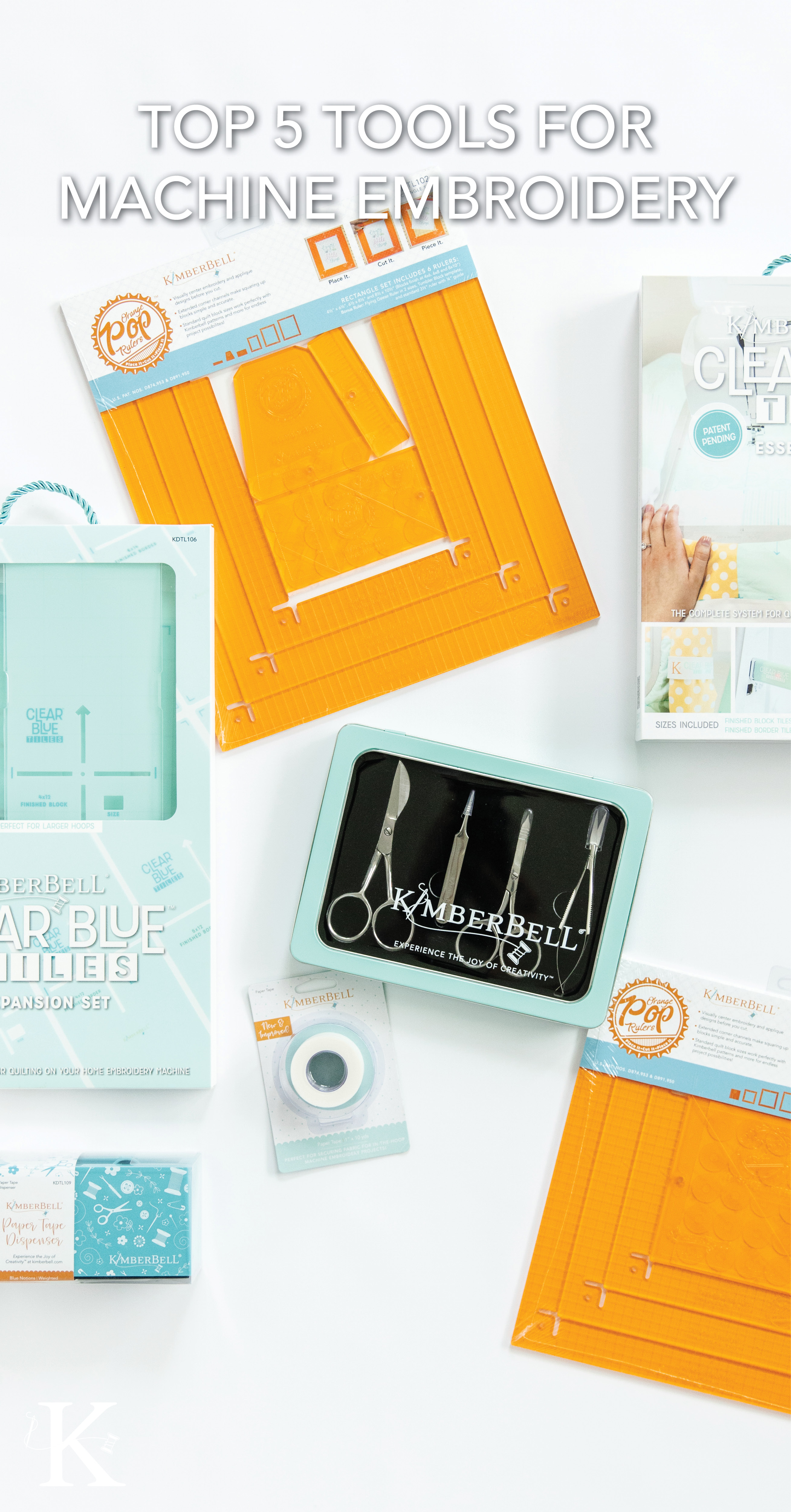 Whether you're brand-new to machine embroidery or a seasoned pro, the right tools make ALL the difference in the world!
We recently reached out to our team and Kimberbell fans on social media to see which five tools they love and use the most. Here's what they said!
#1: Stabilizer
Over and over again, stabilizer came up as the main thing you need for successful embroidery. Kelly Johnston from our Kimberbellas [and Fellas, Too!] Facebook group said:
"Basically, the main point is that stabilizers can make or break a successful design."
She's absolutely right. 😊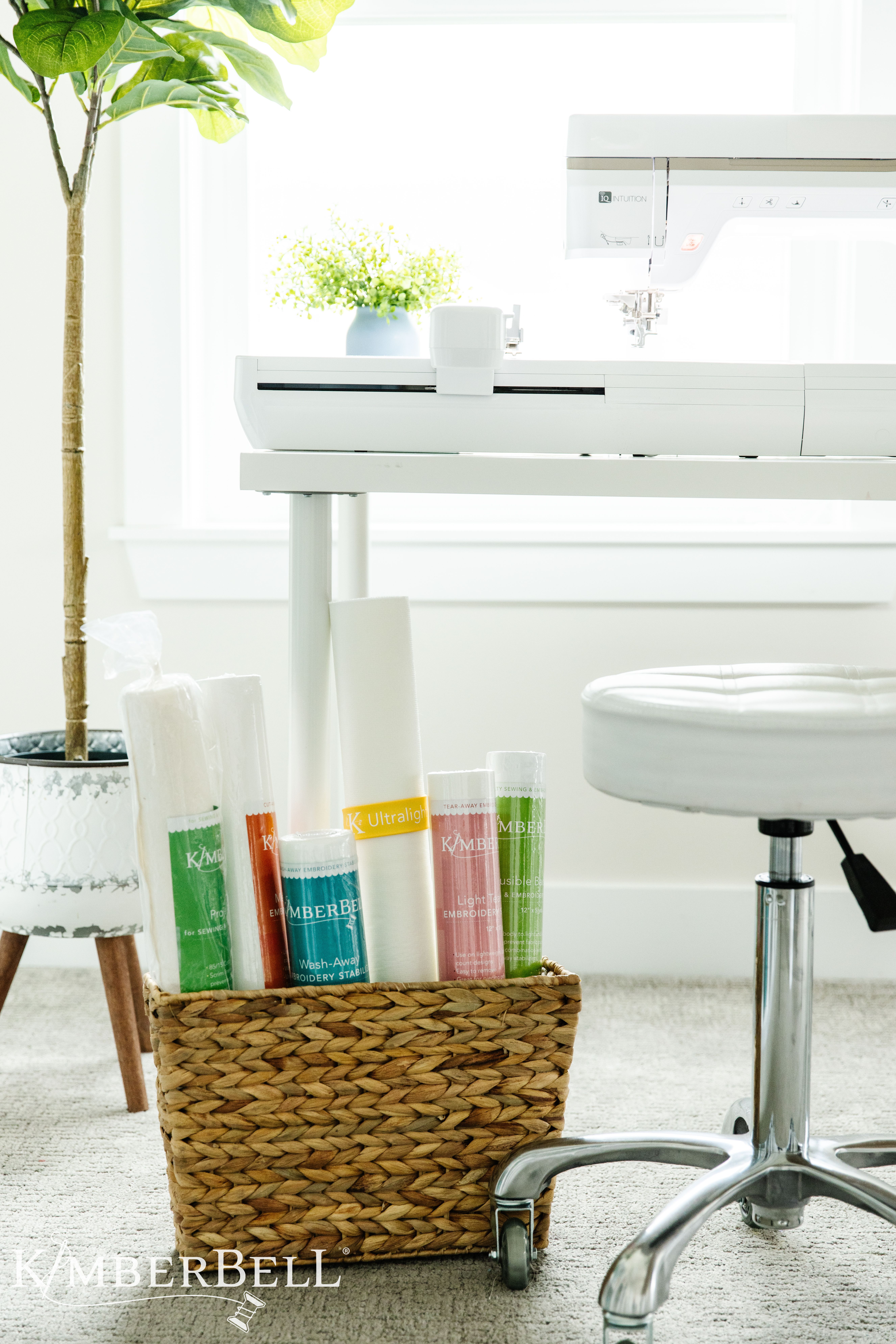 It's crucial to use the right stabilizer for the job. (Don't fall into the trap of using the same type of stabilizer for every project!)
Leeta, another Kimberbella, agrees:
"They sold me a roll of iron-on tear-away with my first machine and I used that stuff for everything because I didn't know about anything else (except for water-soluble stabilizer). I think I still have a stack of blocks I embroidered that need the paper peeled off the back!"
Kimberbell Stabilizer
So, how do you know what type of stabilizer to use? Good news! We've got your back. 😊 Kimberbell Stabilizers are extremely shoppable, with our innovative color-coded system and clear labels.
Also, the packaging and step-by-step instructions for every Kimberbell project lists exactly what stabilizers you'll need, along with the color-coded symbol so you can easily find them.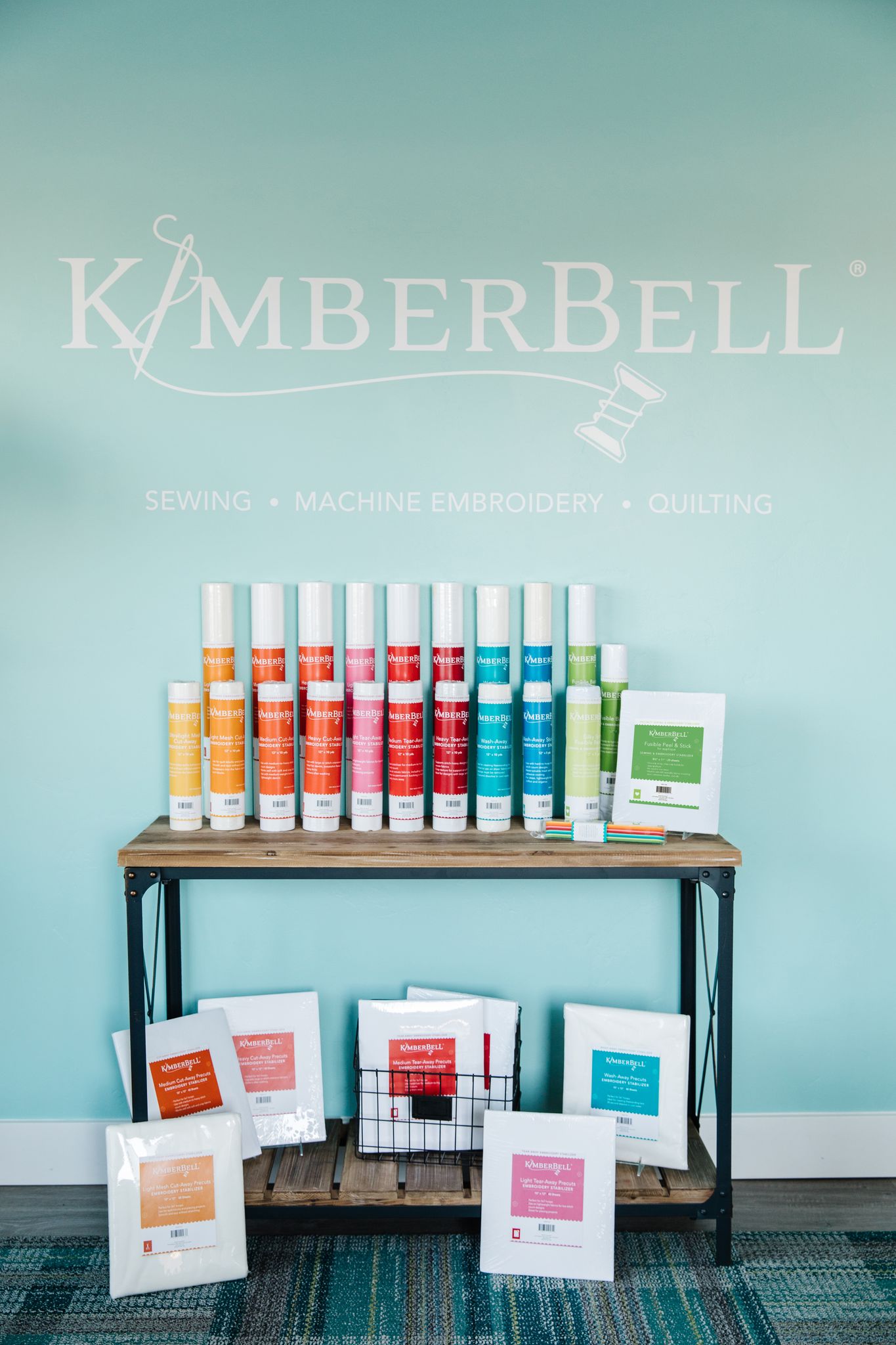 We also have blog posts (See my Stabilizer Spotlight posts!), video tutorials, and educated shop owners who would love to answer your questions.
Here are some stabilizer favorites from our Product Development Team! From Michelle, Kimberbell Product Assurance Specialist:
"Favorite stabilizer? It depends on what I'm making. For quilts, definitely Light Mesh Cut-Away, 100%. But for anything with heavy stitching, I always love a Medium or Heavy Cut-Away."
To learn more about Kimberbell Cut-Away, click HERE.
From Camilla, Kimberbell Digitizer:
"My favorite stabilizer is probably Wash-Away Sticky-Back because you can do a whole lot of different things with it and it holds onto your project really well."
Learn more about Kimberbell Wash-Away, Tear-Away, and Specialty Stabilizers by clicking the links!
As we developed the Kimberbell Stabilizer line, we thoroughly tested every type of stabilizer there is, resulting in a product we're proud of. Now, onto machine embroidery tool #2...
#2: Applique Scissors
The second tool that continually came up among both our team and our Bellas and Fellas were applique scissors. Having the right tool for the job makes a really big difference with your results!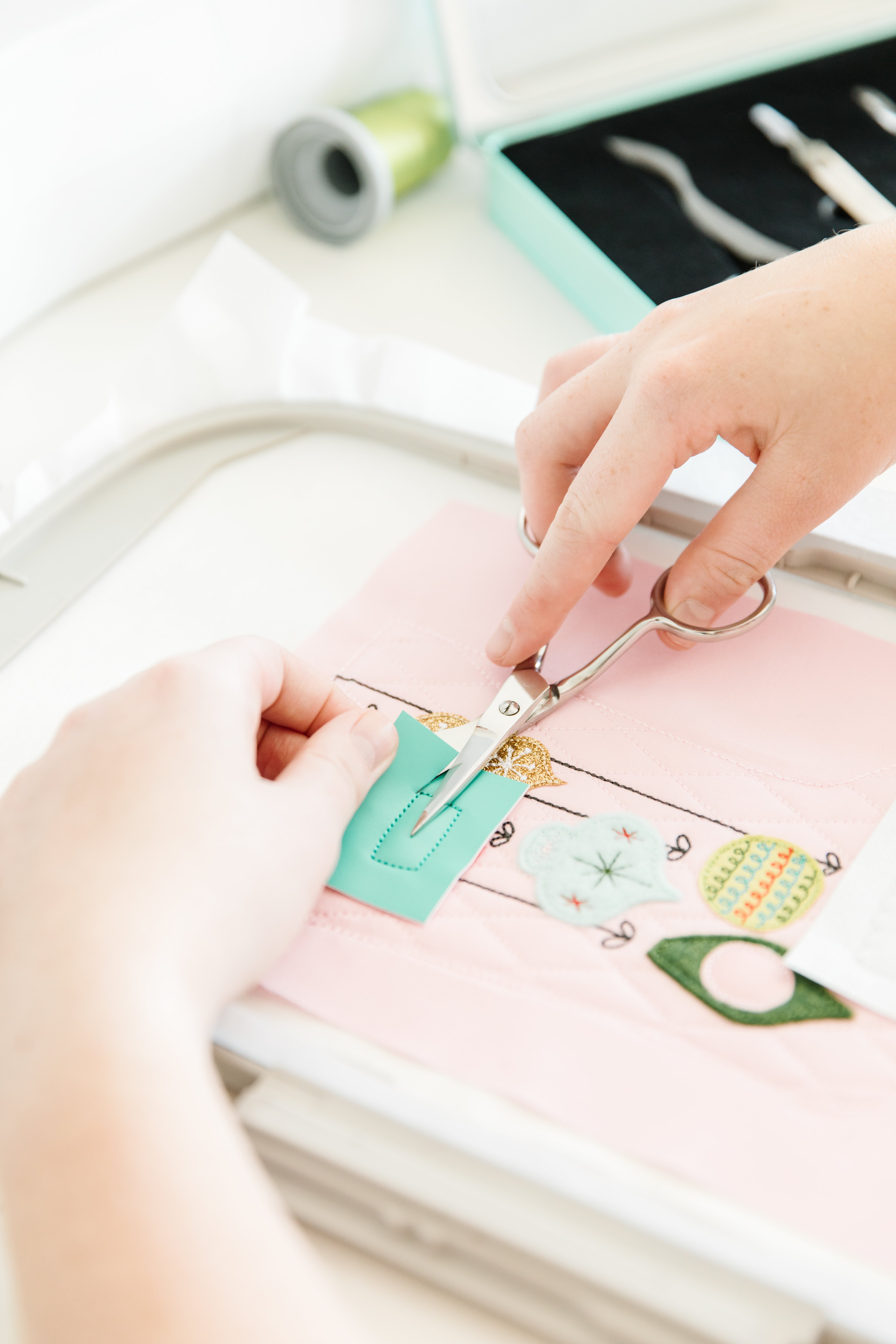 Applique scissors allow you to cut super close to your threads without clipping the stitches. Bridget Christensen said this on our Kimberbell Facebook group: "Applique scissors are a game-changer!"
Yep, they are.
That's why Duckbill Applique Scissors are included in our Deluxe Embroidery Scissors & Tools Set. The extra-sharp blades are ideal for cutting applique fabric and the large, double-loop rings provide a comfortable grip!
Here's a quick look at why Kimberbell scissors are a "cut" above the rest (I really can't help myself with the puns sometimes.)
When asked what she wished she would've known when she first started embroidering, Camilla had this to say:
"Having the right pair of scissors to trim out your applique pieces is really important. I've tried to do it with other kinds of scissors and it always looks really chunky and sloppy, like you were just hacking around it.
If you use the right kind of scissors, you can make raw-edge applique look really good, you can make collage applique look really good...there are all kinds of different things that look a whole lot better when you have a good, clean edge on them. The right kind of applique scissors are a really good way to get that nice, clean edge and the Kimberbell scissors are great for that."
You can find Kimberbell's Deluxe Scissors & Tools Set at your favorite quilt shop! ✂️
#3: Clear Blue Tiles

®
Coming in at #3 are Kimberbell Clear Blue Tiles. This revolutionary product has been out for a couple of years now and wow...they are changing the lives of machine embroiderers in a dramatic way!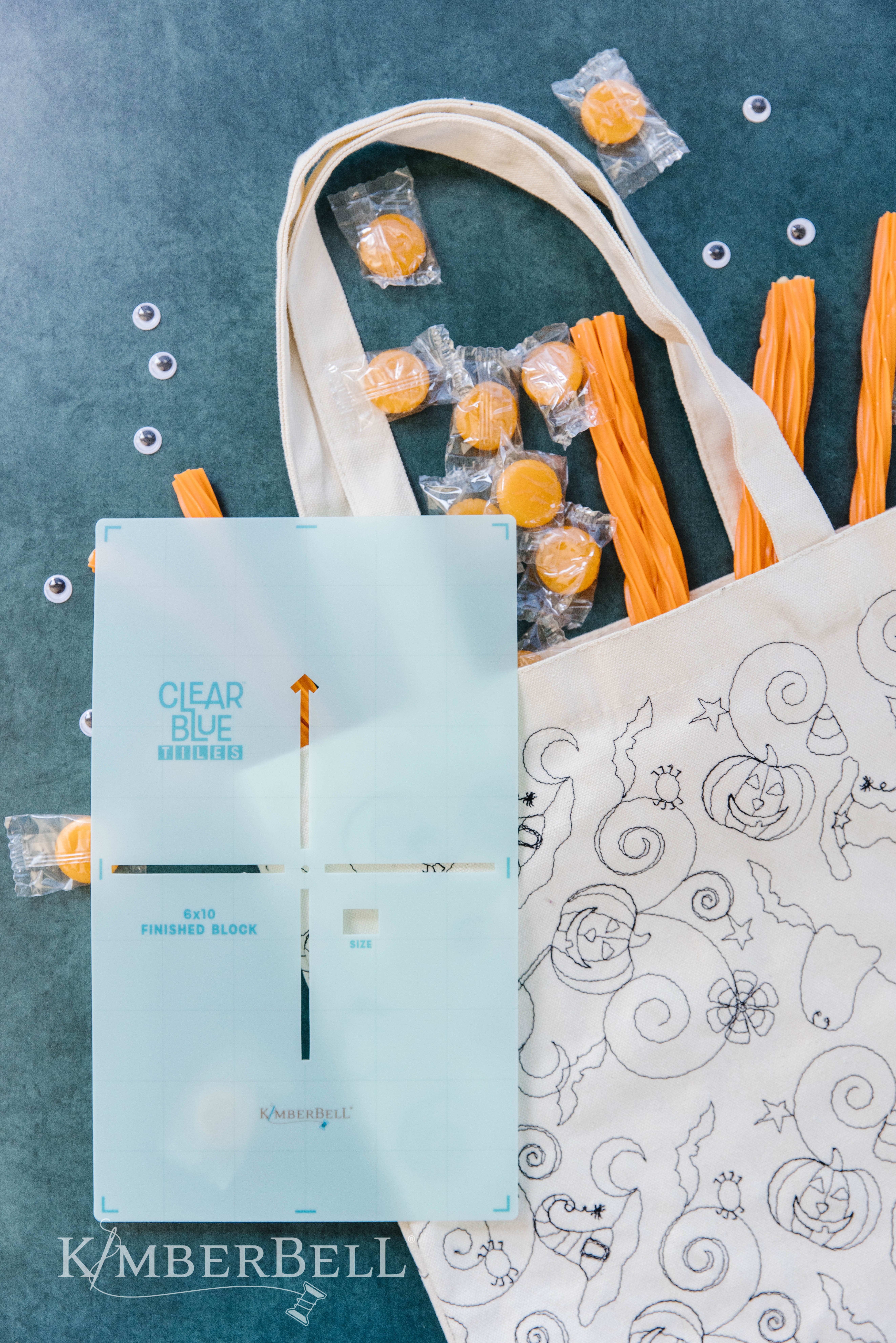 Clear Blue Tiles allow you to do background quilting on quilts, pillows, table runners, blanks...you name it! You don't have to line anything up perfectly or do scary math or anything else. It's just so easy!
As a matter of fact, you don't even have to have a large hoop. Clear Blue Tiles work even with the smallest of embroidery machine hoops. Simply choose your tile sizes, use them as kind of a "rubber stamp" to mark your fabric, then choose the embroidery file that matches the size of the tile. That file will stitch exactly where you placed the tile and the result is continuous, all-over quilting.
Learn more about our Clear Blue Tiles system HERE and check out our ever-growing library of background quilting designs HERE! With Clear Blue Tiles, you'll be using your embroidery machine to its full capacity.
#4: Kimberbell Paper Tape
Number #4 on our list is Kimberbell Paper Tape. This small tool makes a BIG difference! Paper Tape sticks down applique pieces, zippers, and more so they don't get caught under the pressor foot. (No one wants that!)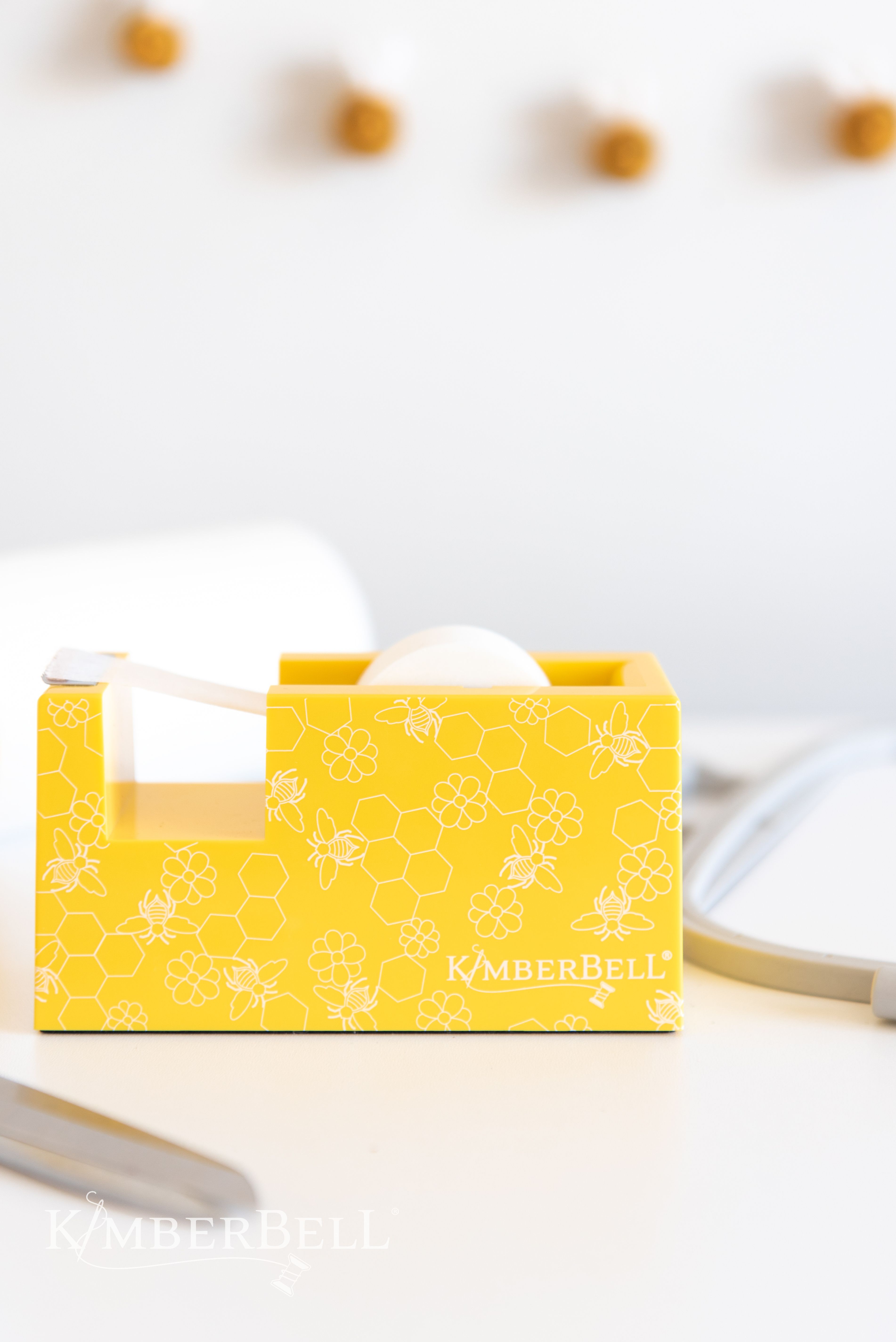 Think of the last time you placed a piece of applique fabric down. You don't want it to get caught in the needle, right? Maybe you've used a spray adhesive to prevent that very thing. But adhesives can gum up your needle. (Plus, they smell pretty bad!)
Paper Tape holds down your applique fabric, won't gum up your needle, and easily tears away from your project when you're done—even when you stitch over it. We always use Paper Tape when doing background quilting or piecing in-the-hoop! (Actually, we use it in about every project.)
We also have darling, collectible Kimberbell Paper Tape Holders that you can purchase through your favorite quilt shop. (How fun is that?)
#5: Needles
Last on our list are needles. Can we do machine embroidery without needles? Nope! So let's not undervalue them. It's important to have lots of needles on hand (in different sizes).
So, what needle do you use? There sure are plenty to choose from! We really like anti-glue needles when using sticky-back stabilizers, as they help the needle glide right through. A lot of people like titanium needles, too.
We encourage you to talk to the quilt shop where you purchased your embroidery machine to see what kind of needle they recommend. And remember to change your needle often! The testers in our Product Development Lab change needles after every 7-8 hours of use.
Click HERE to read some good, general information about needles. 😊
Bonus Tips (Honorable Mentions)
As an added bonus, here are just a few honorable mentions we heard from our team and our Bellas & Fellas:
Mini Irons are great for pressing little areas as you go!
Slap Bands hold your fabric out of the way while background quilting with Clear Blue Tiles. (Two slap bands come in the Clear Blue Tiles Essentials Set!)
Pre-Wound Bobbins are a MUST. Whether you purchase pre-wound bobbins by the box or simply wind your own, life is SO good if you can just pop a new bobbin in when you need to!
Orange Pop Rulers

®

are an easy way to square up embroidered blocks to exactly the size you want.
For a deeper dive into Kimberbell Tools, please read my "Understanding Kimberbell Tools" post HERE. I also invite you to listen to our Machine Embroidery With Kimberbell podcast each week to learn even more!
Click HERE to listen to the episode from July 12, 2023 where Kim and Deanna go into this subject in greater detail. As always, we invite you to Experience the Joy of Creativity ® with us!
Happy Stitching! 😊