Unboxing the Live Creatively Bella Box: A Close Look at Kimberbell's Exclusive Machine Embroidery Projects, Bonus Designs, and More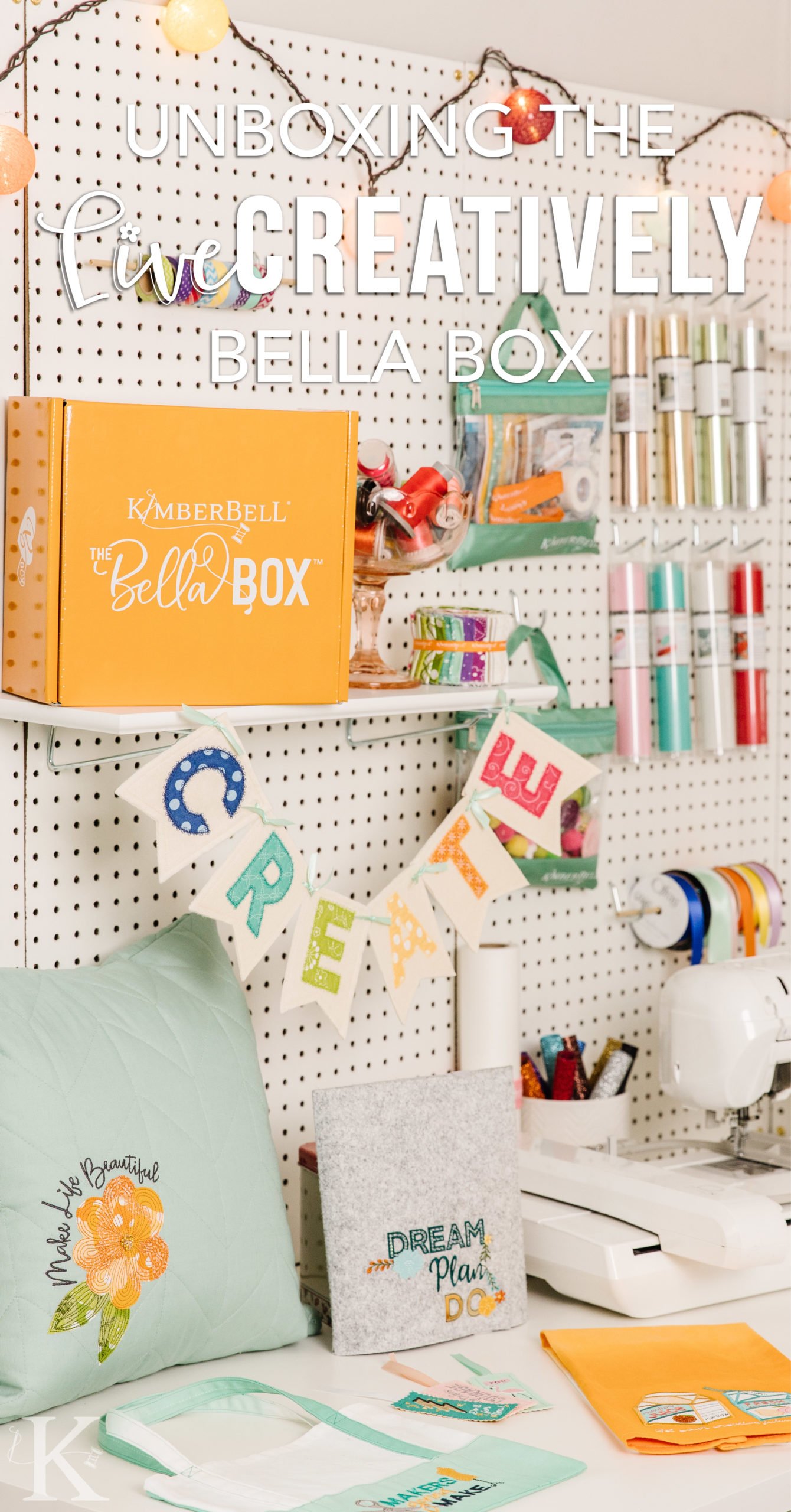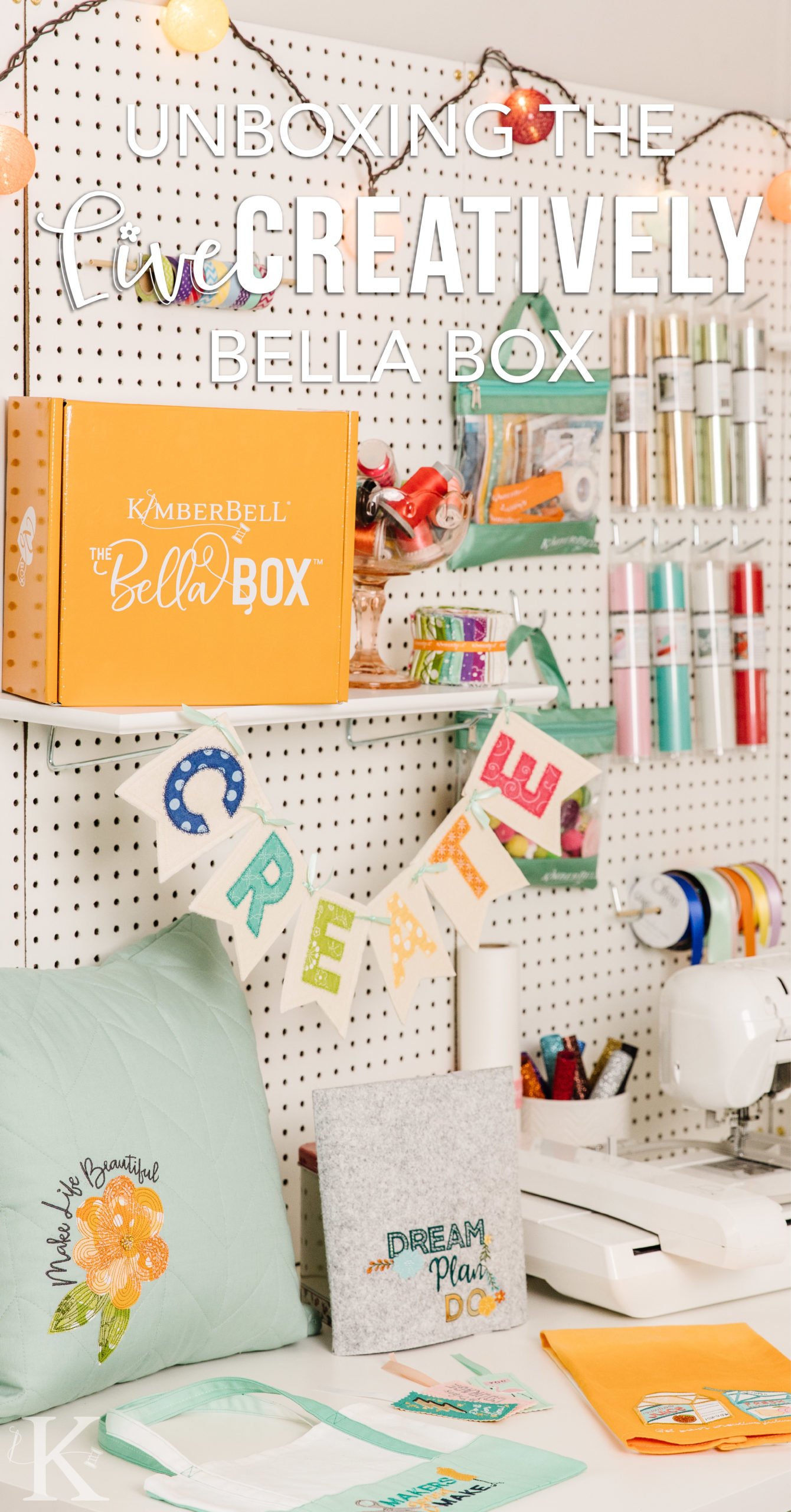 Sometimes it's SO hard to keep a secret.
Because The Bella Box™ is a mystery box, we have to be very hush-hush around here until the boxes are delivered. Trust me—you're not the only ones waiting for the big reveal! We can't wait to share each fabulous project with you.
And today's the day! I can finally (finally!) tell you exactly what's inside the Live Creatively Bella Box. Let's take that much-anticipated look, shall we?
EXCLUSIVE PROJECTS
"Make Life Beautiful" Collage Pillow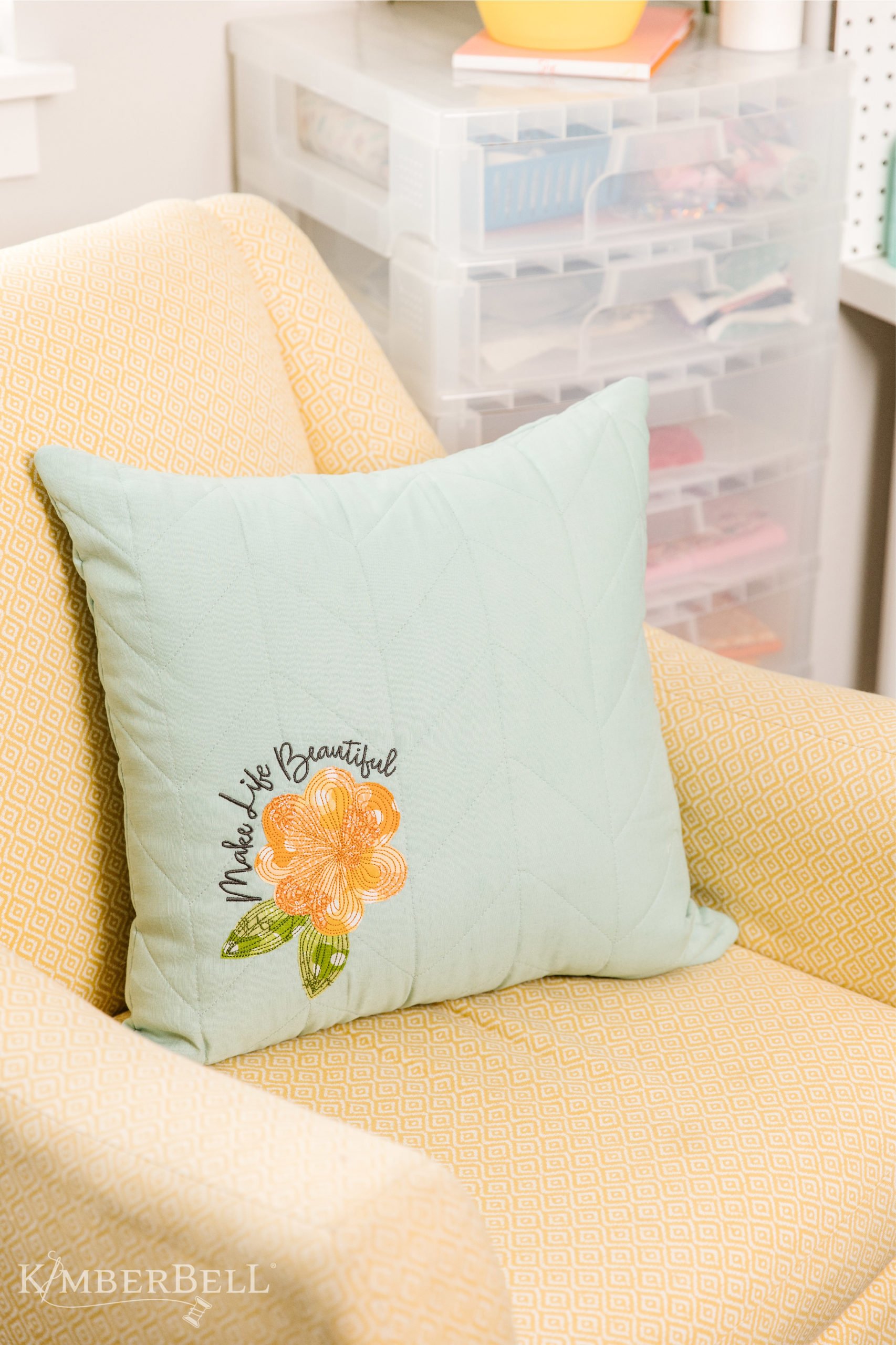 This project is going to blow your mind as you try collage quilting the easy way!
Choose coordinating fabrics from the included charm pack and stitch the whimsical flower pattern on our fully-lined, prequilted pillow blank!
We are so excited for you to try this incredible (and easy) technique.
"Dream, Plan, Do" Folio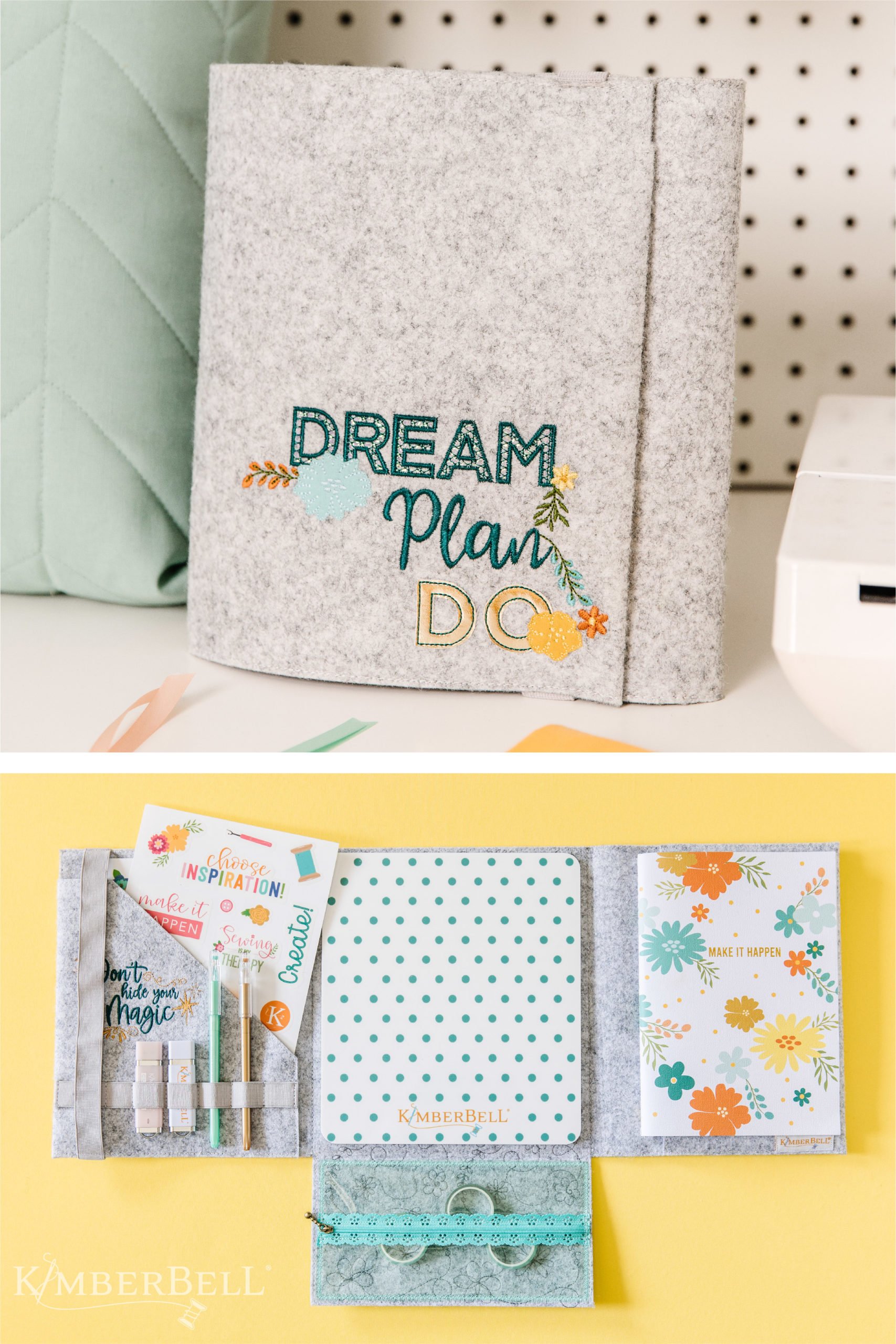 Store creative materials and ideas in your "Dream, Plan, Do" Folio! A see-through pouch is perfect for pencils and pens, while elastic pockets snugly hold flash drives, markers, and more. Add creative "spark"le with background quilting and a variety of Kimberbellishments!
This is definitely something you'll use day in and day out as you Live Creatively!
"Creative Juices" Tea Towel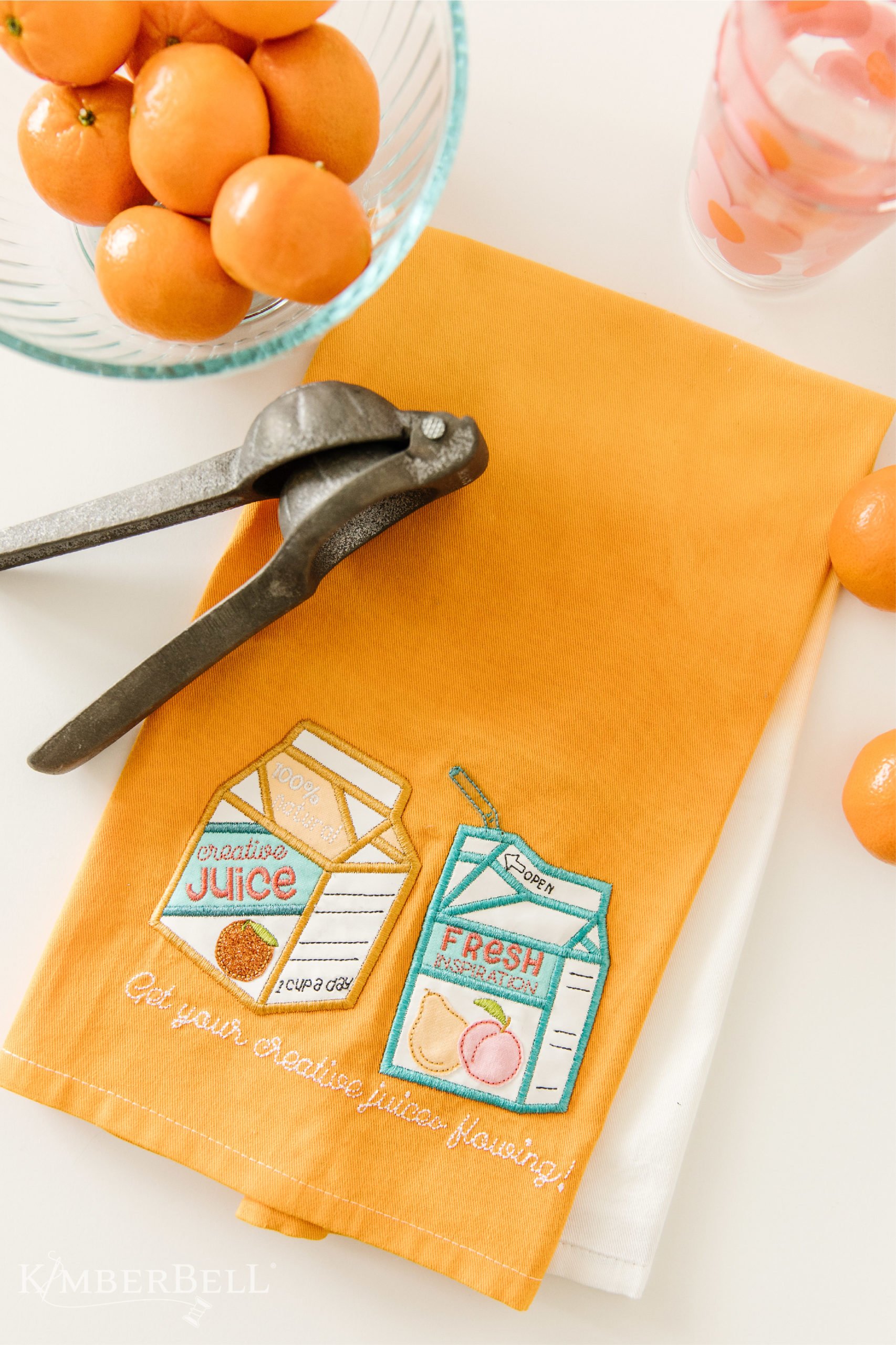 "Get your creative juices flowing!" Stitch a tangerine tea towel, hand-dyed in gorgeous ombré color, and add a splash of Applique Glitter for some extra zest. You might say our "Creative Juices" Tea Towel is an a"peel"ing project for every machine embroidery enthusiast. :) (Sorry, I just couldn't help it.)
In addition to enjoying Kimberbell's winning smoothie recipe in The Bella Box mini magazine, be sure to check out our other Creative Juice Recipes HERE!
Be Inspired Bookmarks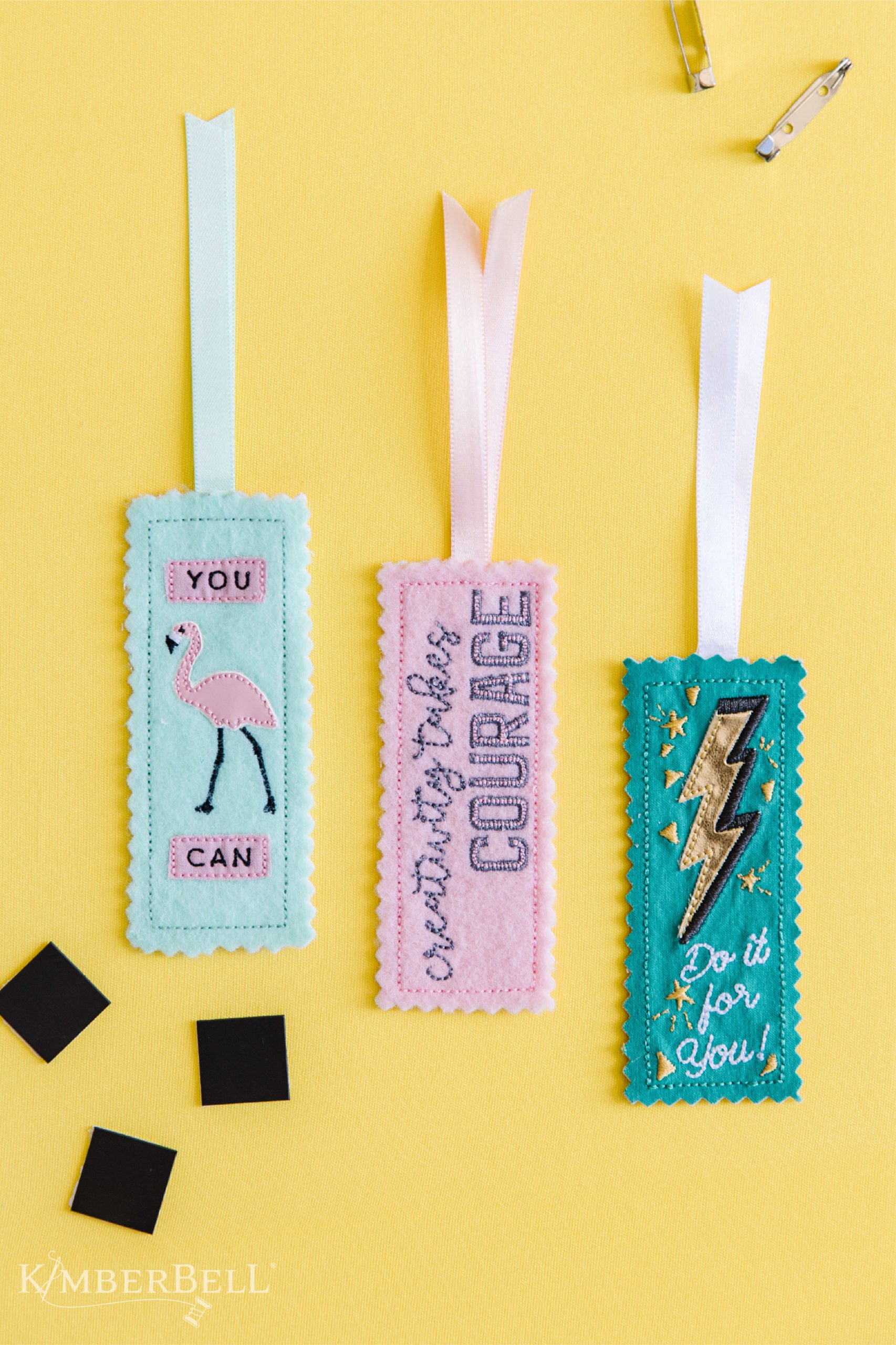 Take time to Be Inspired with three sentiments to make you smile: "Creativity takes courage," "Do it for you," and "You can." Choose fabric, ribbon, and other embellishments from The Bella Box to make bookmarks, pins, magnets, and more!
Make Be Inspired Bookmarks for children, teachers, neighbors, and anyone needing a lift.
"Create" Pennant Banner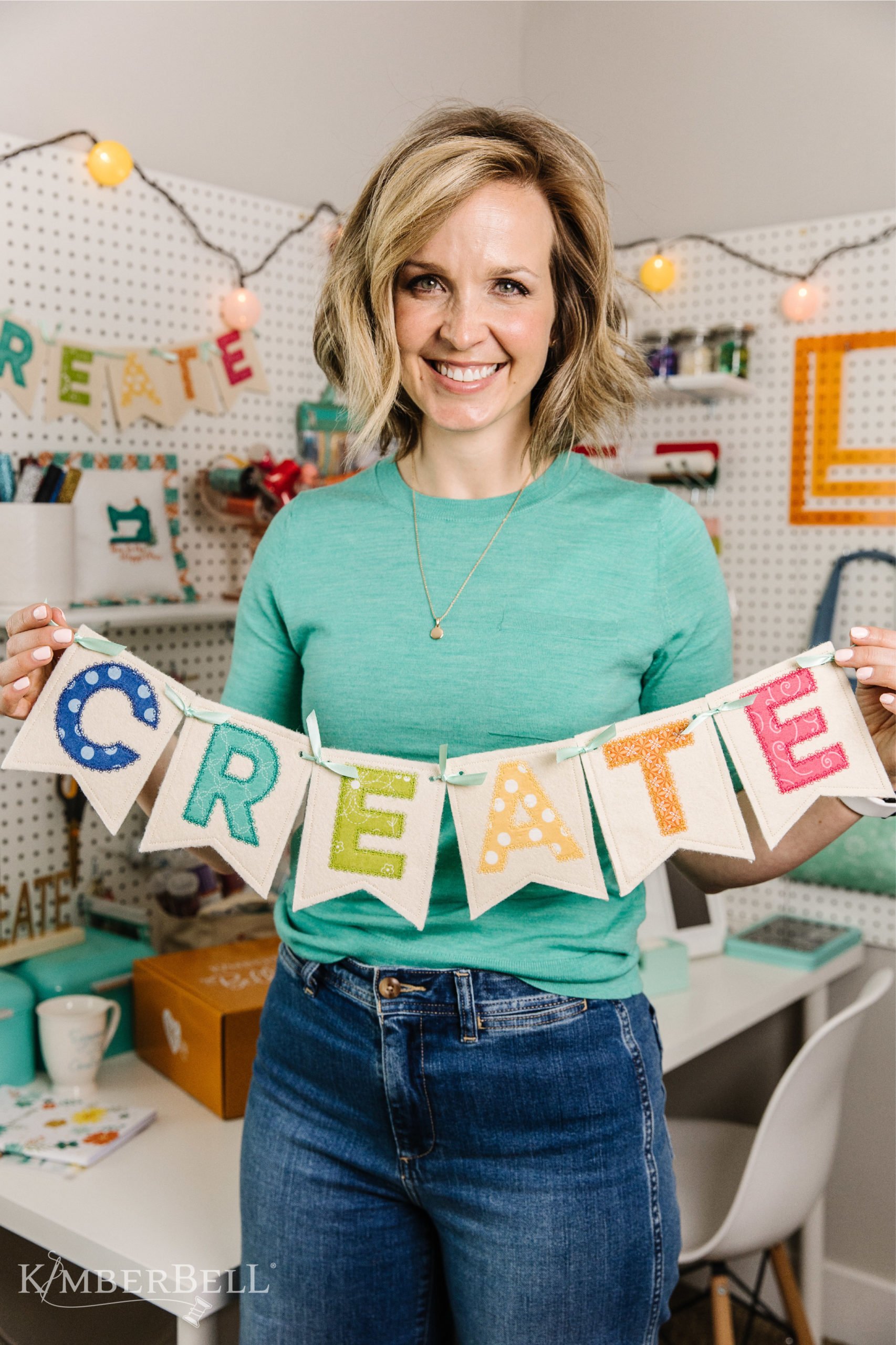 Brighten your creative spaces with Kimberbell's "Create" Pennant Banner! Stitch cheerful applique letters on a background of creamy Buttermilk Embroidery Felt. , then add eyelet holes to string pennants together.
Made entirely in-the-hoop, Kimberbell's Create Pennant Banner is inspiring decor for your happy place.
"Makers Gonna Make" Tote
Slip your folio, sewing supplies, and projects-in-progress into the "Makers Gonna Make" Tote! Made from our aqua ombré tea towel, this beautiful bag features handy pockets, sturdy handles, and darling designs.
Add an applique dress form, stitched sentiment, and scissors of shiny Embroidery Leather before sewing the bag with simple French seams!
Instructions
But what about Kimberbell's full-color, step-by-step instructions? Good news! They are on the USB this time. Why? Because frankly, we wanted to make room for that wonderful tape dispenser. Honestly, the box is so packed and so heavy that we simply couldn't fit the pages of instructions inside. (And we figured you'd rather have the tape dispenser and other goodies!) Many Kimberbellas and Fellas just look at the instructions on their screens, while others prefer printing them out. Either way works great, and the instructions on the USB are every bit as detailed and wonderful as you've come to expect.
EXTRA GOODIES
Because of everything in it, many people compare The Bella Box™ to a Kimberbell Event delivered right to their doorstep. I think that's a pretty accurate way to describe things–except The Bella Box™ comes with even more! Take a look: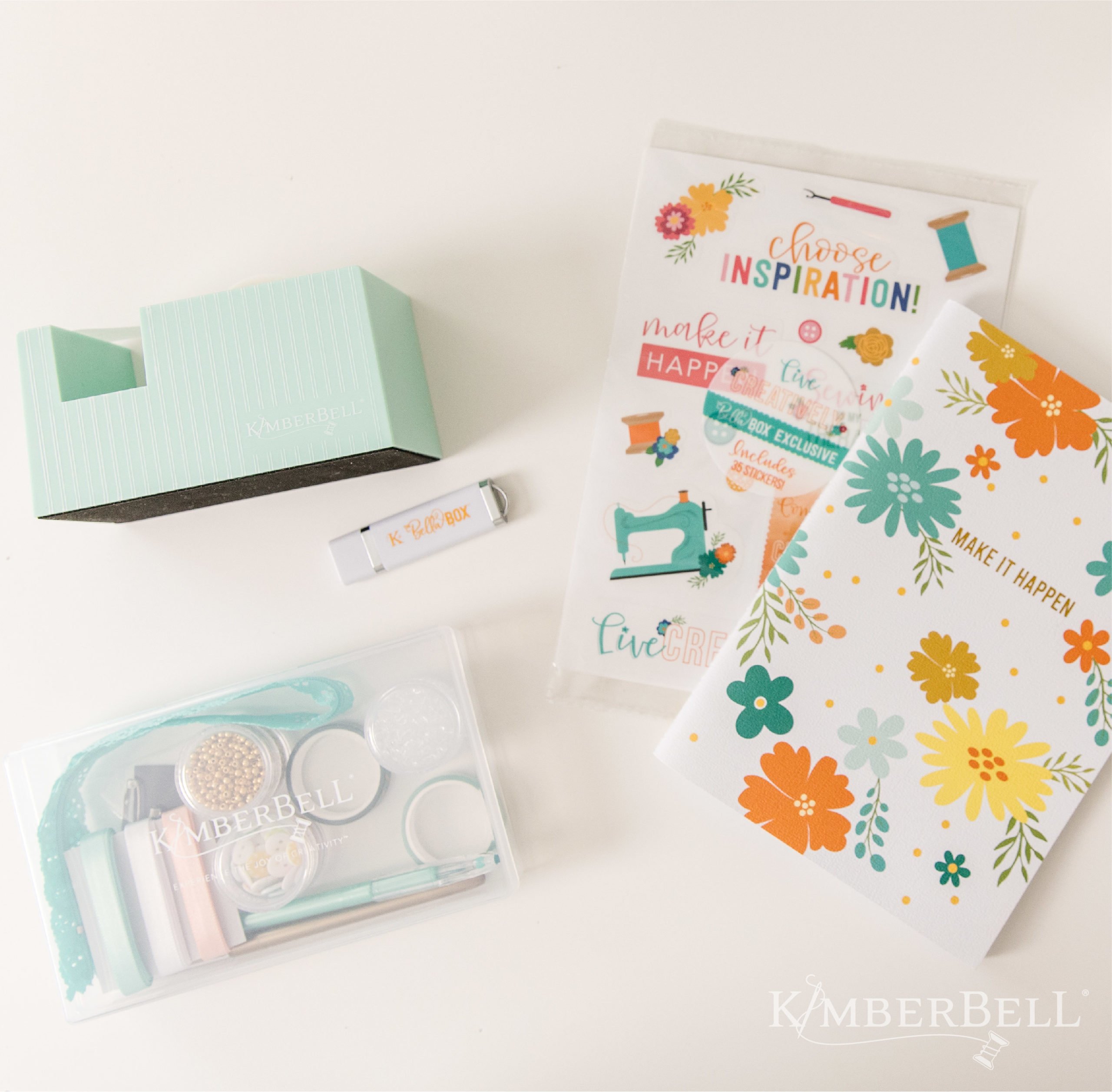 In addition to the fabric charm pack, embroidery designs, and everything needed to create SIX complete machine embroidery projects, the Live Creatively Bella Box also comes with embellishments, stickers, our mini magazine, and more! For one thing, we've added our exclusive Kimberbell Paper Tape dispenser to this box--something Kimberbellas and Fellas have wanted for a looooooong time. This darling dispenser is perfectly sized for our Paper Tape.
Clear Blue Tiles Sneak Peek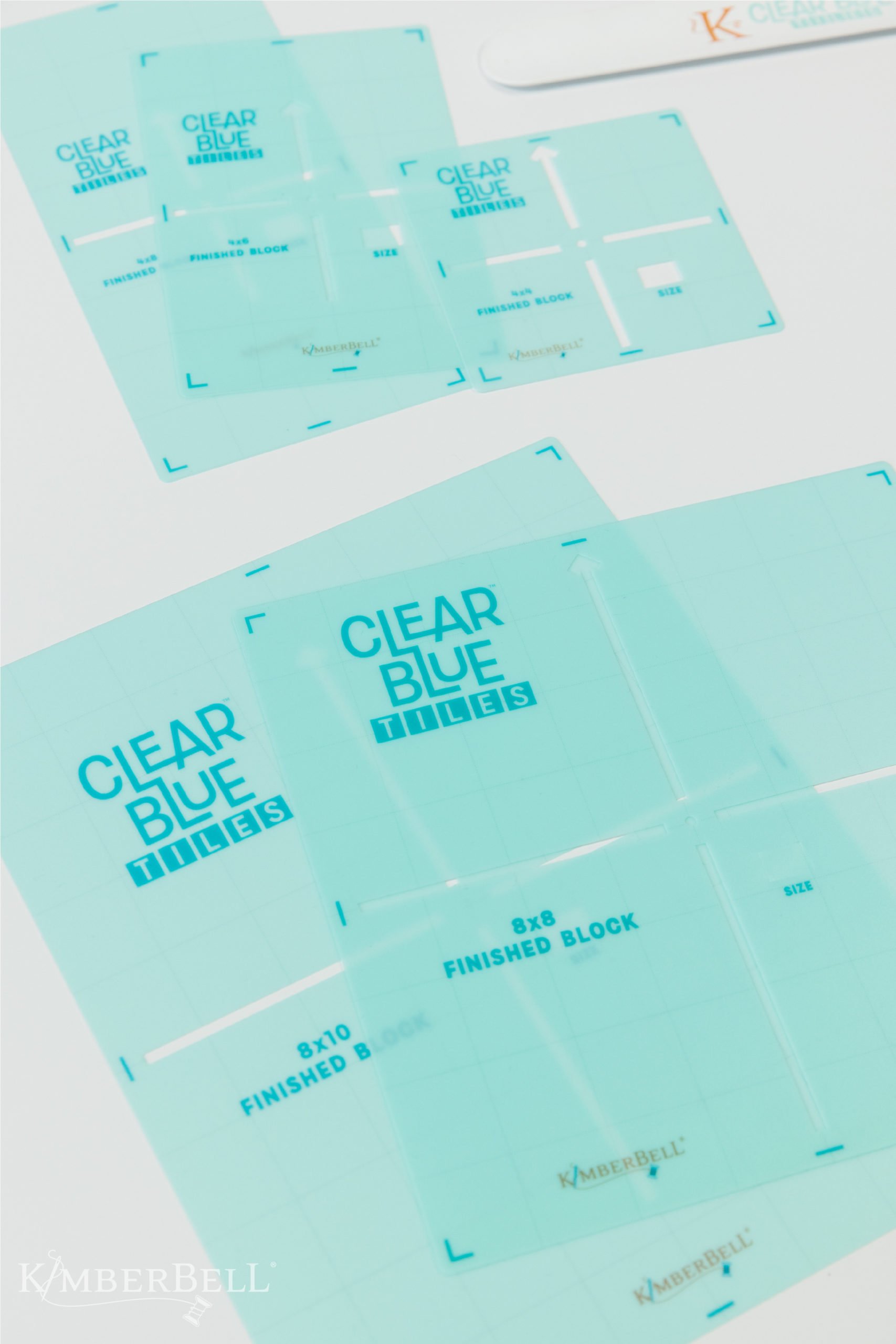 One of my favorite products included in The Bella Box is a Clear Blue Tile.
So. Very. Exciting.
But...why? What's the big deal about Clear Blue Tiles?
My friends, they're going to change your life. Kimberbell Clear Blue Tiles™ make it possible to stitch background quilting designs through layers of top fabric, batting, and back fabric on home embroidery machines. You can do allover quilting for a continuous flow, or customize each block with a different design! Simply choose your tile, mark your fabric, and pick the embroidery file to match the size. Clear Blue Tiles are a complete quilting system that works beautifully with even the smallest of hoops for lap quilts, baby blankets, Kimberbell® Bench Pillows, feature quilts, table runners, and so much more...
...And we'll tell you all about them in great detail very soon, I promise. Look forward to purchasing Clear Blue Tiles from your favorite quilt shop!
In the meantime, use your Bella Box Clear Blue Tile to quilt your Dream, Plan, Do Folio. Detailed steps are in your instructions!
BONUS PROJECTS
Not only do you receive the six exclusive machine embroidery projects and goodies as described above; you also get SIX downloadable bonus designs! Each of these designs celebrates an aspect of creativity.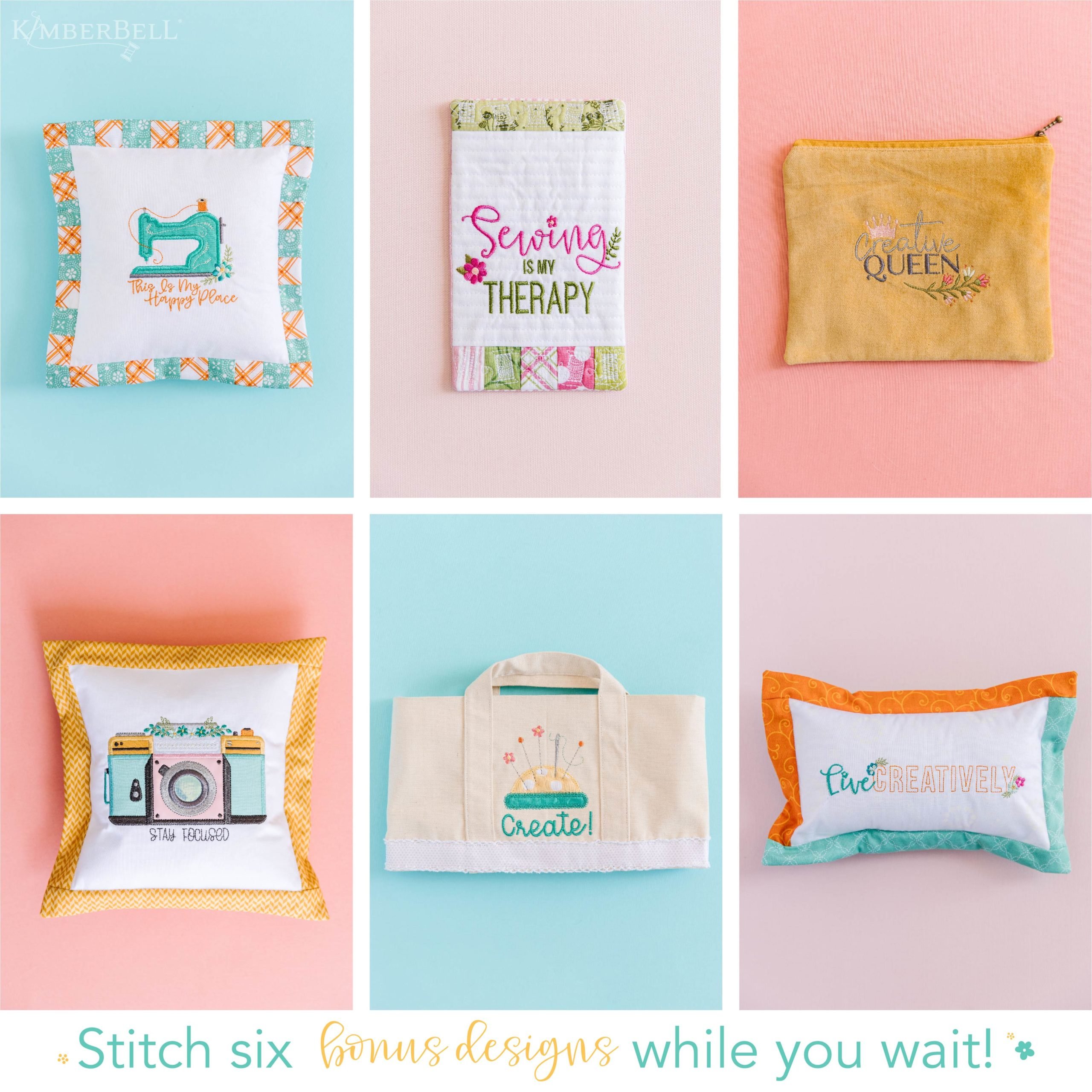 STITCHED
The Bella Box is so much more than a commodity; it's an experience. And part of that (very fun) experience is STITCHED.
STITCHED is Kimberbell's crazy online competition (not unlike a reality T.V. show) where Kimberbell teams make spontaneous projects and try to win the coveted golden spool trophy. At the beginning of the show, team captains are given a surprise "ingredient" (a particular Kimberblank) and they have only 30 minutes to transform that blank into something that will completely wow the voting audience. It's fast-paced and fun and highly entertaining! (Read my "Behind the Seams" STITCHED story HERE.) Watch the last STITCHED show HERE.
Stitched will air next week, and I can hardly wait. Please join us and be part of the fun!
LIVE CREATIVELY
So...are you ready to discover and delight in new possibilities? The Bella Box is all about celebrating the creative life, from banners to bookmarks and everything in between. Our hope is that the whole Bella Box experience brings you joy from start to finish! Buy your Live Creatively Bella Box TODAY before they're gone. (Remember, there's a limited supply and when they're gone, they're gone!)
In the meantime, guess what? We're already working on the next one...
And it's gonna be fabulous. But my lips are sealed!
It's SO hard keeping a secret.
[embed]https://youtu.be/CMfFO9I9RCM[/embed]