Behind the Scenes of Kimberbell's "Live Creatively" Stitched Show for Machine Embroidery Enthusiasts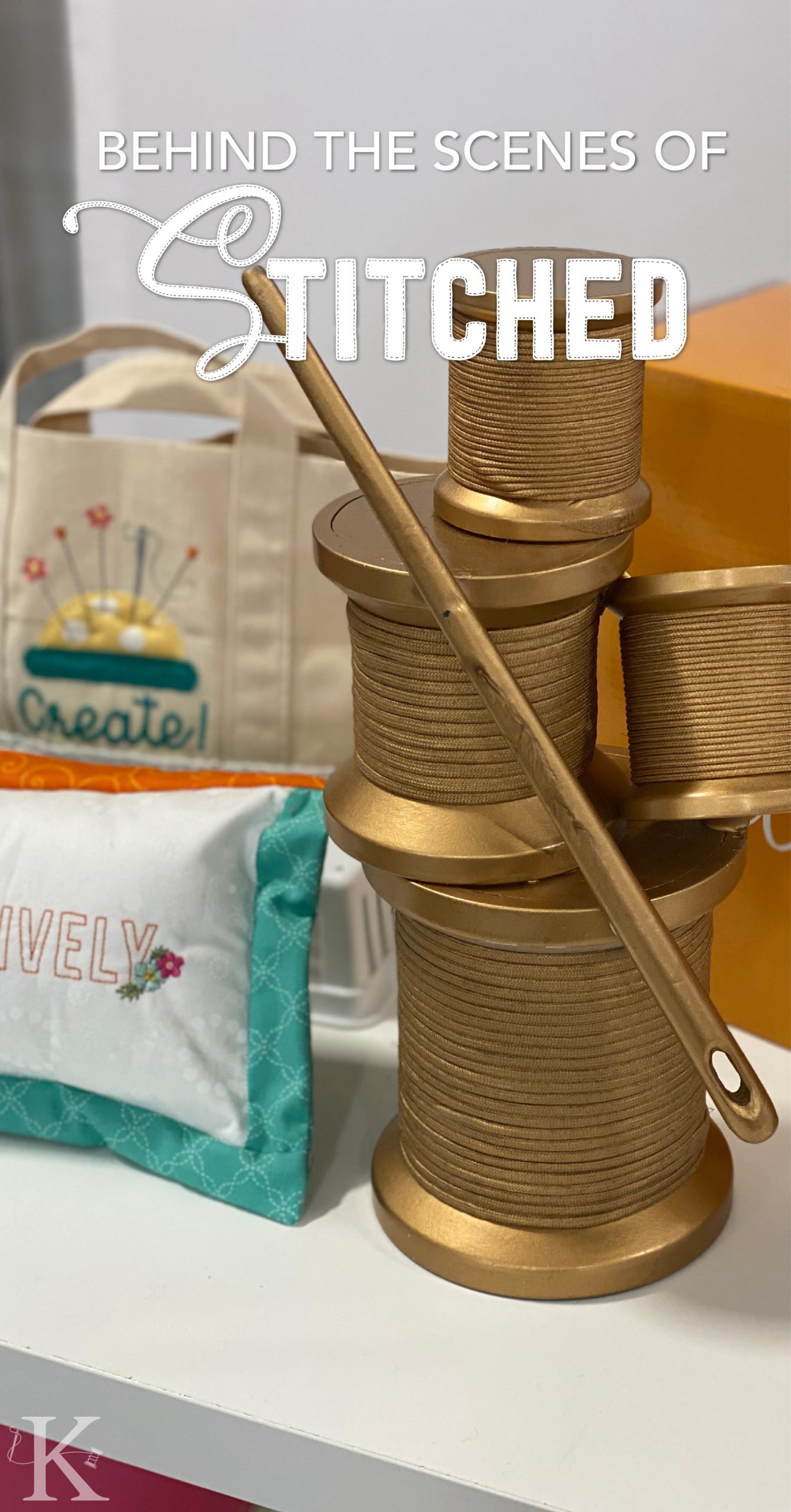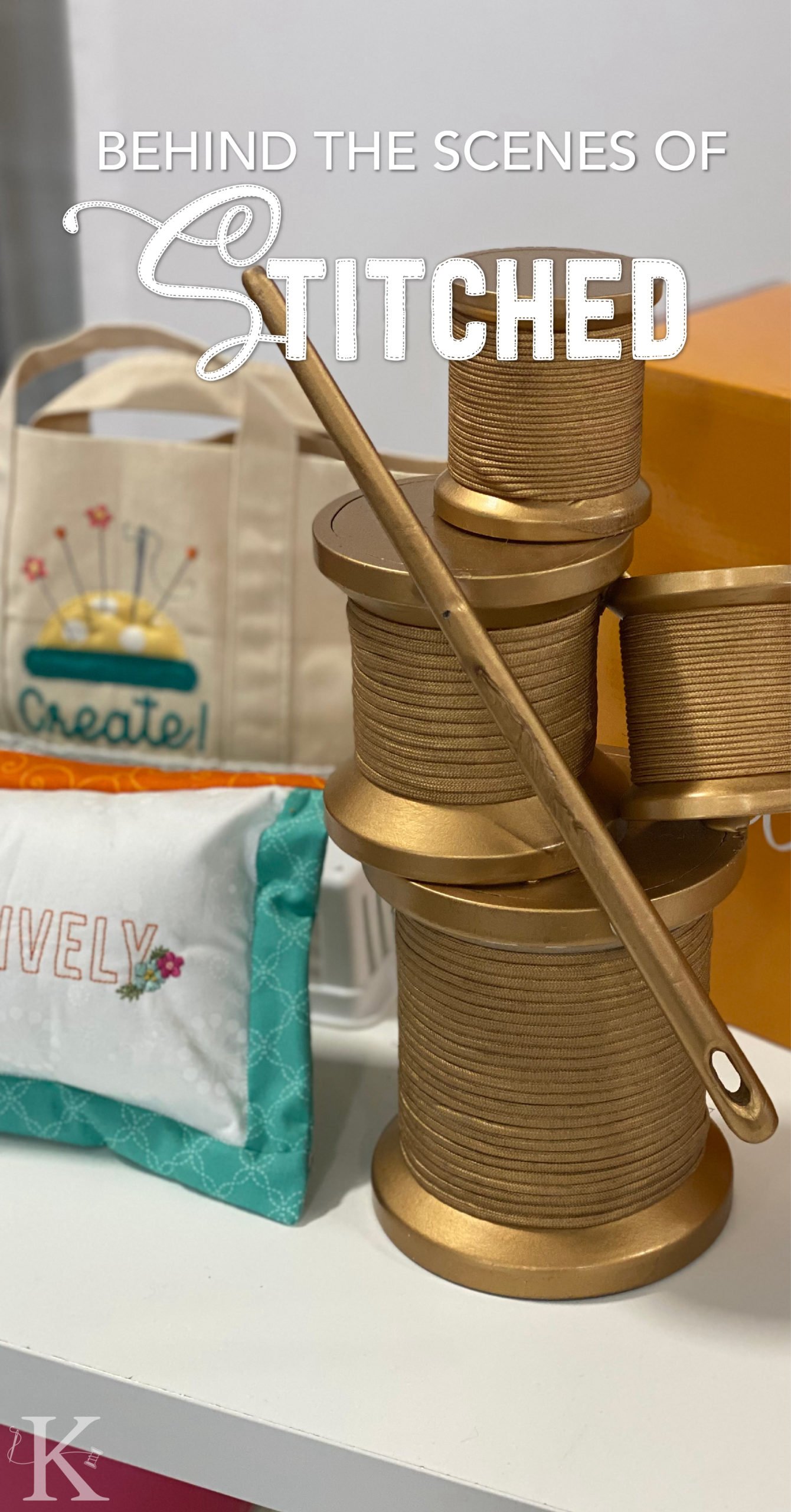 Are you READY (Ready...ready...) FOR (For...for...) STITCHED?! (And the crowd goes WILD for everyone's favorite machine embroidery game show!)
Okay, maybe it's not technically a game show. But how else do I describe Stitched? A reality show? A friendly competition? A celebration of The Bella Box?™ A big ol' party?
Yep. Stitched is ALL of those things...and a whole lotta fun, besides. I wish I could take each one of you to Kimberbell headquarters to experience Stitched in person and feel the palpable excitement in the air. But, since I can't, I'll do my best to describe the experience.
Let's take a peek behind the scenes of Stitched!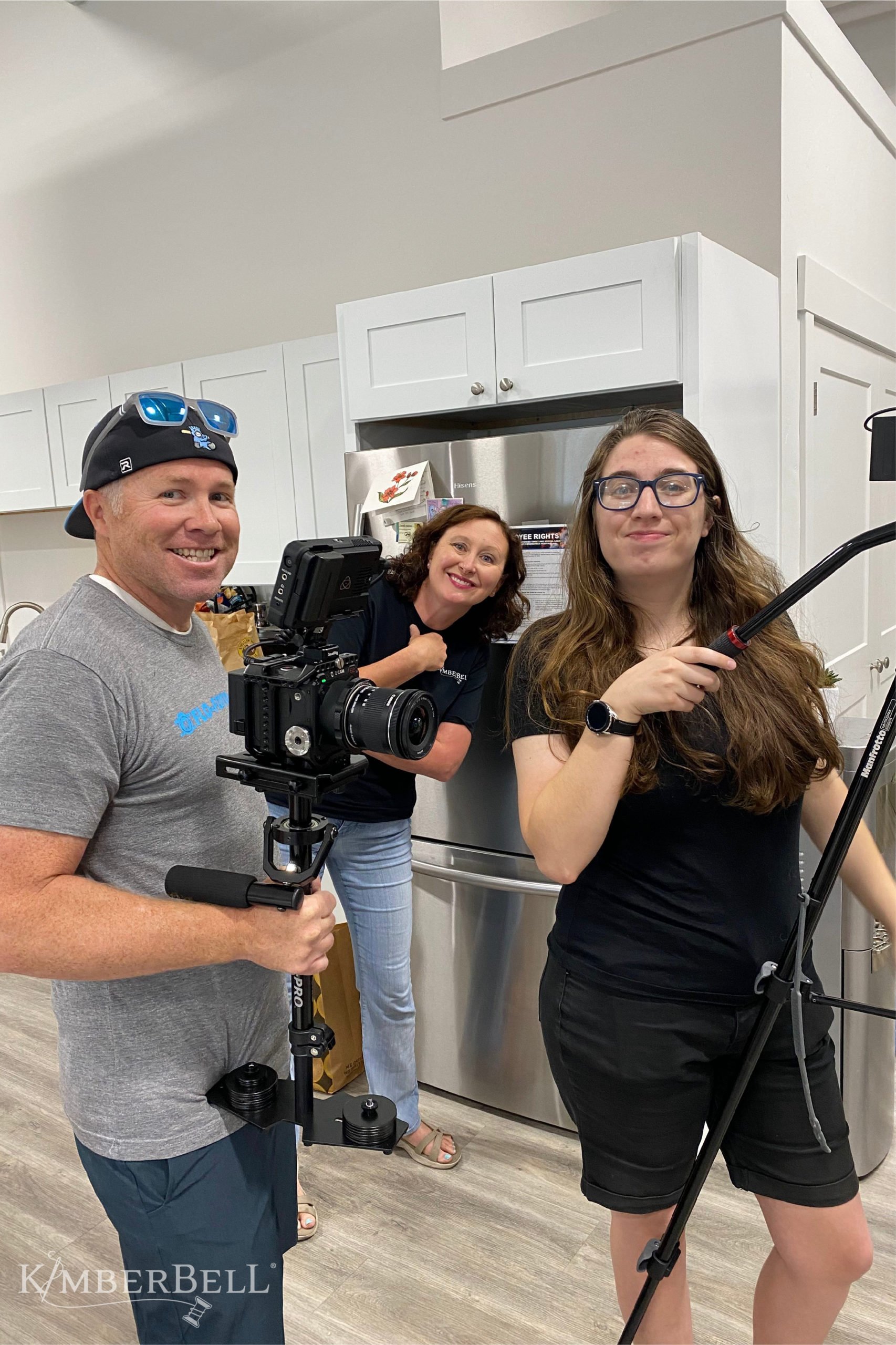 The Bella Box™
But first, let's talk briefly about The Bella Box.™ (After all, Stitched wouldn't be possible without The Bella Box!)
Available twice a year from Kimberbell, The Bella Box is filled with what you need to make SIX exclusive machine embroidery projects. The Live Creatively Bella Box is packed to the brim with embellishments, blanks, fabrics, design files, a Kimberbell Paper Tape dispenser, and more! We also throw in product samples, collector's items, SIX bonus designs…and, of course, the invitation to Stitched.
The Bella Box is absolutely packed with goodies, as anyone who has received one will attest. Click the image below to "open" the box and see what's inside!

Order your Live Creatively Bella Box today before they're gone! Now, on with the show:
So...What IS Stitched?
Have you ever seen the show Chopped on The Food Network? Well, Stitched is kinda like it...only with machine embroidery instead of food. Three teams of Kimberbell employees unwrap their SECRET INGREDIENT on the show (a Kimberbell Blank) and have exactly 30 minutes to transform that blank into something amazingly creative. For this particular competition, teams were also required to use:
At least one Live Creatively Bella Box bonus design
Sweet as Candy Fresh Mint Vinyl (also from The Bella Box), and
3-5 Kimberbellishments from the embellishment wall
Teams could also use any item from the Live Creatively Bella Box, as well as any available Kimberbell fabrics and threads. The ultimate goal is to make the most creative project, secure the votes of the viewing audience, and win the coveted golden spool trophy. Doing so gives you ultimate bragging rights at Kimberbell for the next several months.
Sigh. The winners can be soooooo hard to live with. (I'm totally kidding. Actually, they're great.) :)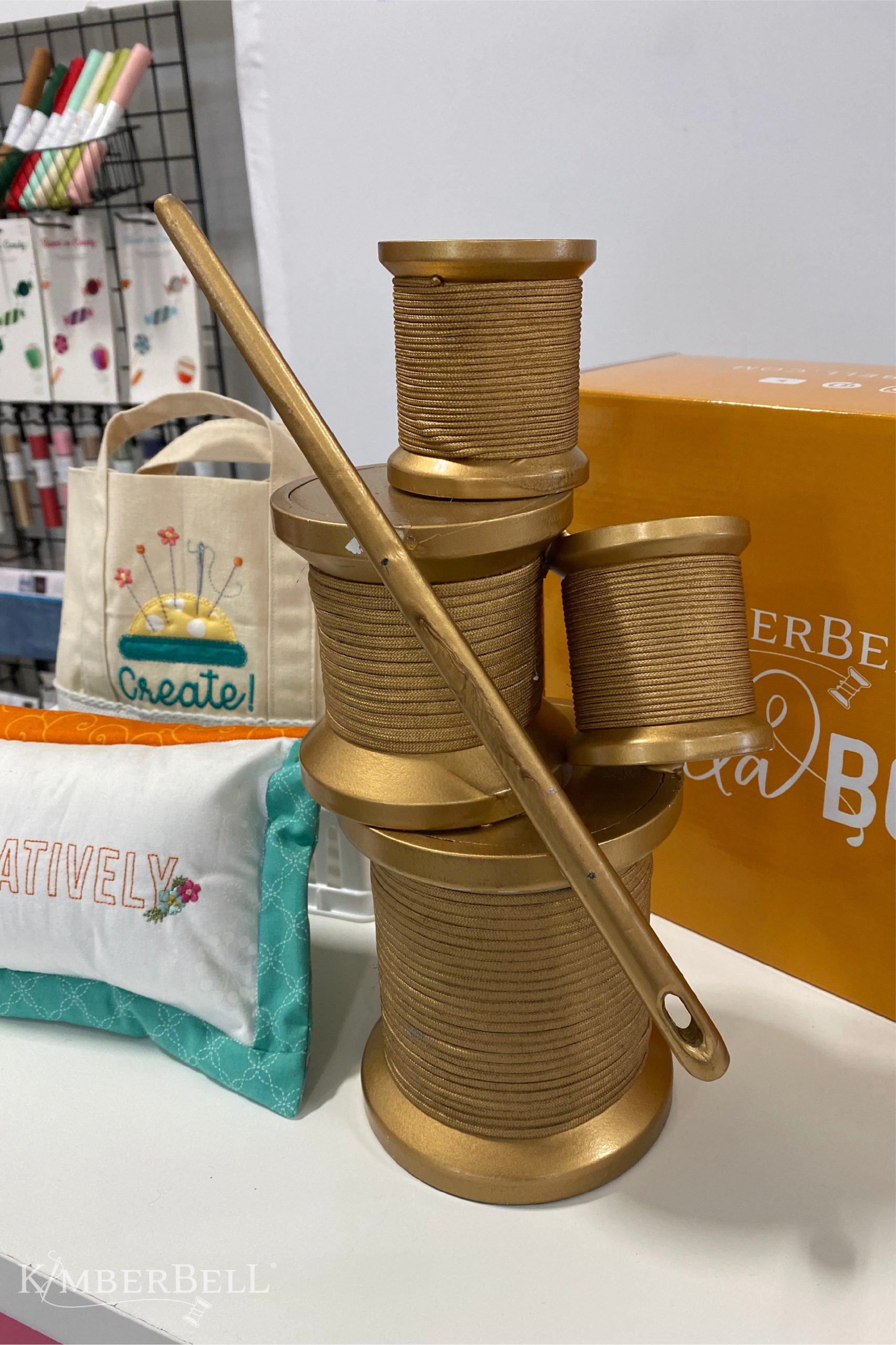 Choosing the Teams: A Family Affair
For this particular competition, we thought it would be a fun twist to involve employees who are actually related to each other. You see, several of the staff have family members who also work for Kimberbell.
For example, Emily (Product Manager) is the daughter of Kari (Product Assurance Specialist). Michelle (also a Product Assurance Specialist) is a family friend, so she's as good as another daughter/sister. So we chose these three ladies as team leads and pitted them against each other for the sake of good, clean entertainment.
Hey, all's fair in love, war, and television. And Stitched is all of these things. :)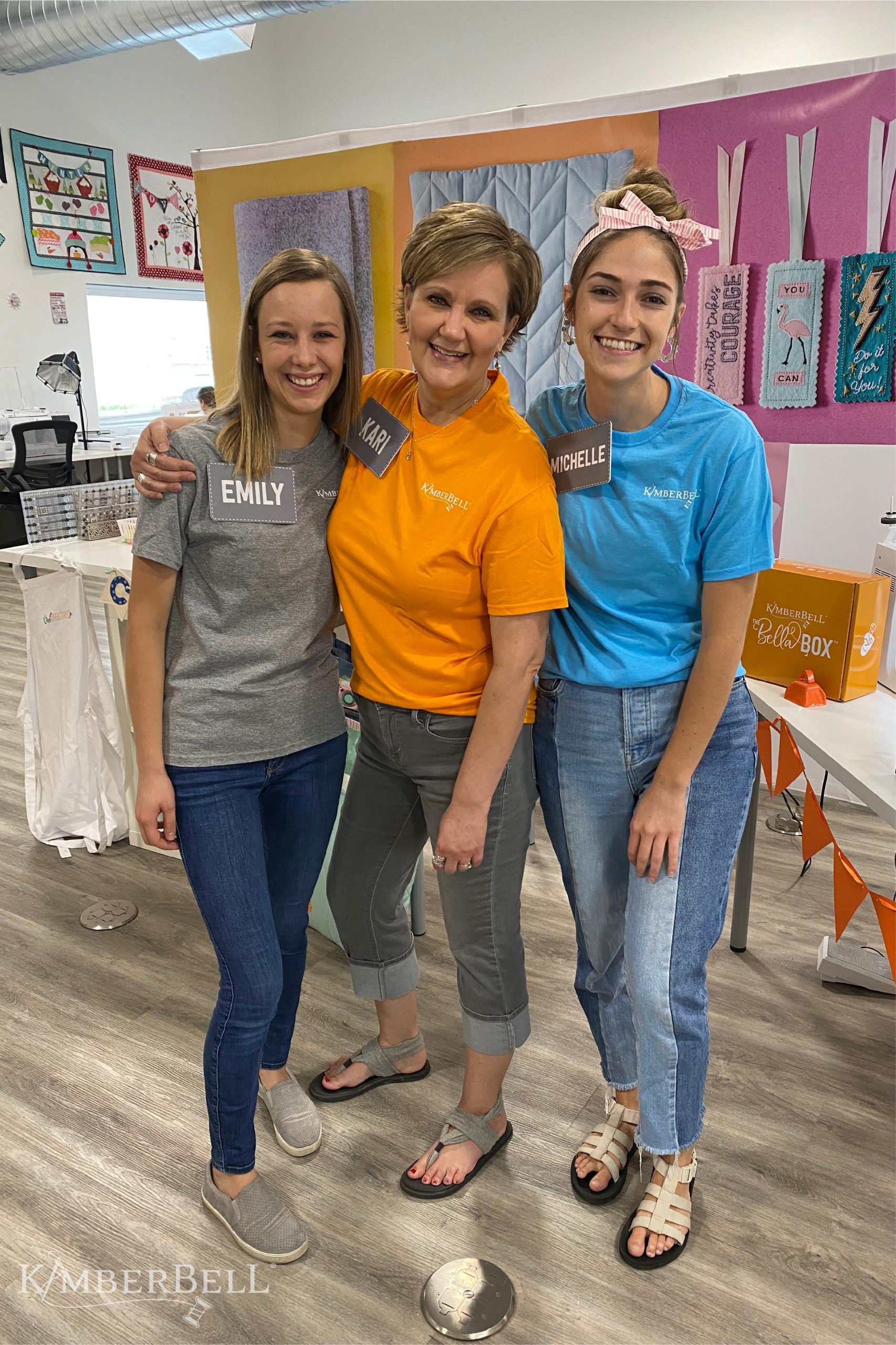 But that's not all. Emily (Human Resources) is the daughter of Ryan and Kim (Owners); Todd (Inventory Clerk) is the son of Joy (Business Partnerships); Dakota (eCommerce Specialist) is the daughter of Anita (Distributor Relationships); and Ryan (Shipping Assistant) is the son of Deanna (Finance).
Whew. I hope I didn't mess that up too much. Here are some behind-the-scenes family photos to give you the idea: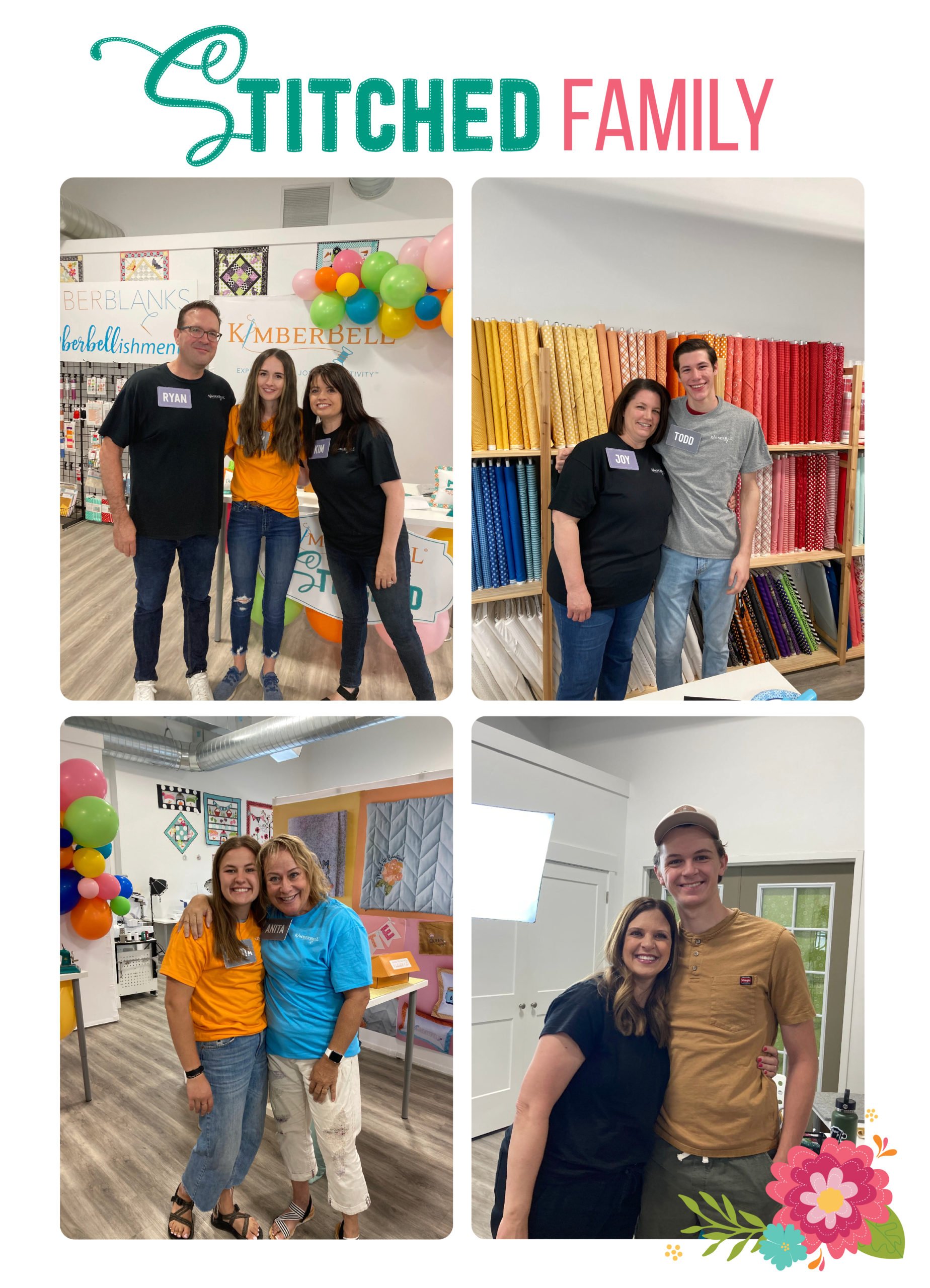 Of course, we scrambled everyone up so family members were on opposing teams. (No strategizing at the dinner table, please!) No one knew who was on whose team beforehand, but it was mother against son and daughter against mother. A gritty fight to the finish, fueled by the powerful, raw emotions of family relationships.
However, other than occasional snarky comment ("You're not too old to be grounded!") I'm happy to report that all relationships survived the experience. At the end of the day, contestants showed up with the right attitude...
...when they weren't trying to shoot each other with water and/or hot glue.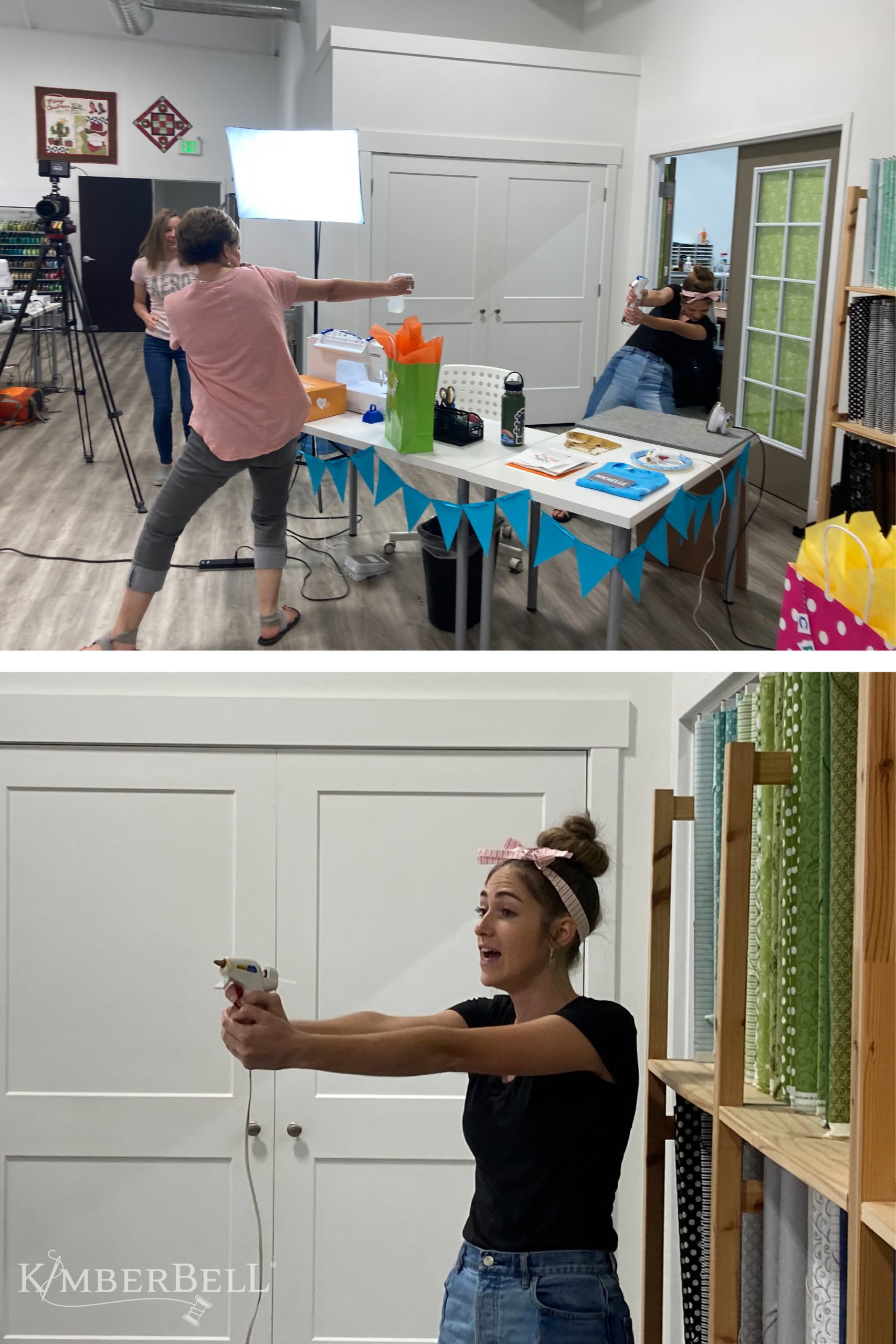 The Set
As you might imagine, it takes quite a bit of work to transform the Product Development Lab into the Stitched set. Not only do we move all of the machines and tables and put up a ton of decorations, we also set up the Kimberblanks and Kimberbellishments wall. This wall is like the "pantry" on Chopped, but has only one of each product. (We keep thinking that a good fist fight over, say, a roll of Applique Glitter would make great television.)
But alas, no fist fights ensued, which further proves that Kimberbell employees are nice to the core and probably not good candidates for other reality TV shows like Survivor. (Now, that's an intriguing idea. A Kimberbell Survivor. Hmmmm.)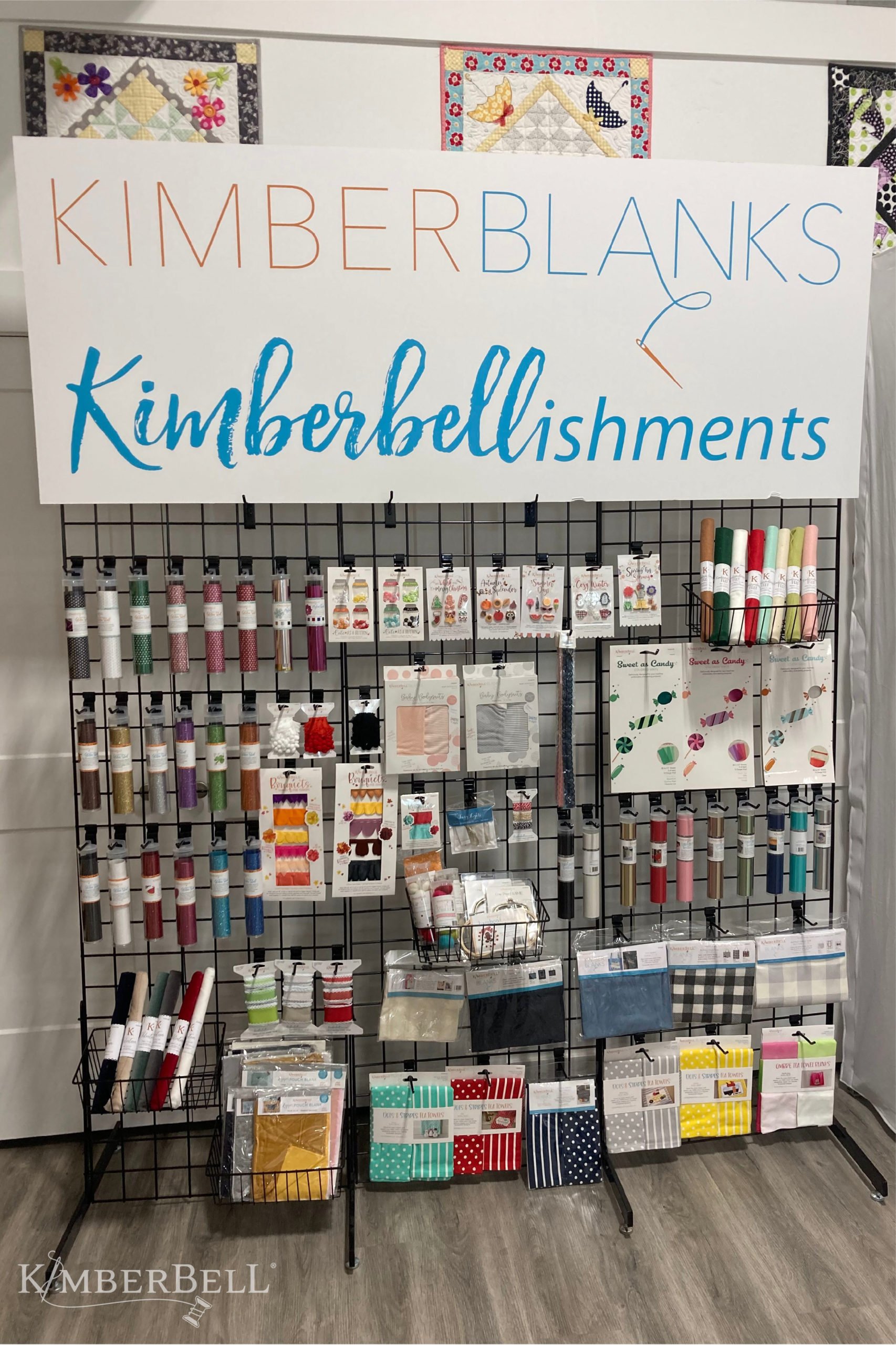 Annnnnd....Action!
As Kim, Ryan, and the contestants took their places, the air thrummed with a tangible excitement. It was time to start! The camera people pushed their magic technological buttons and just like that, Stitched was rolling. Although the show was pre-filmed to ensure the best viewing experience for you, there were no retakes. No script. No teleprompters. Just 30 minutes of head-to-head creativity, brought to you by the competitive Kimberbell teams.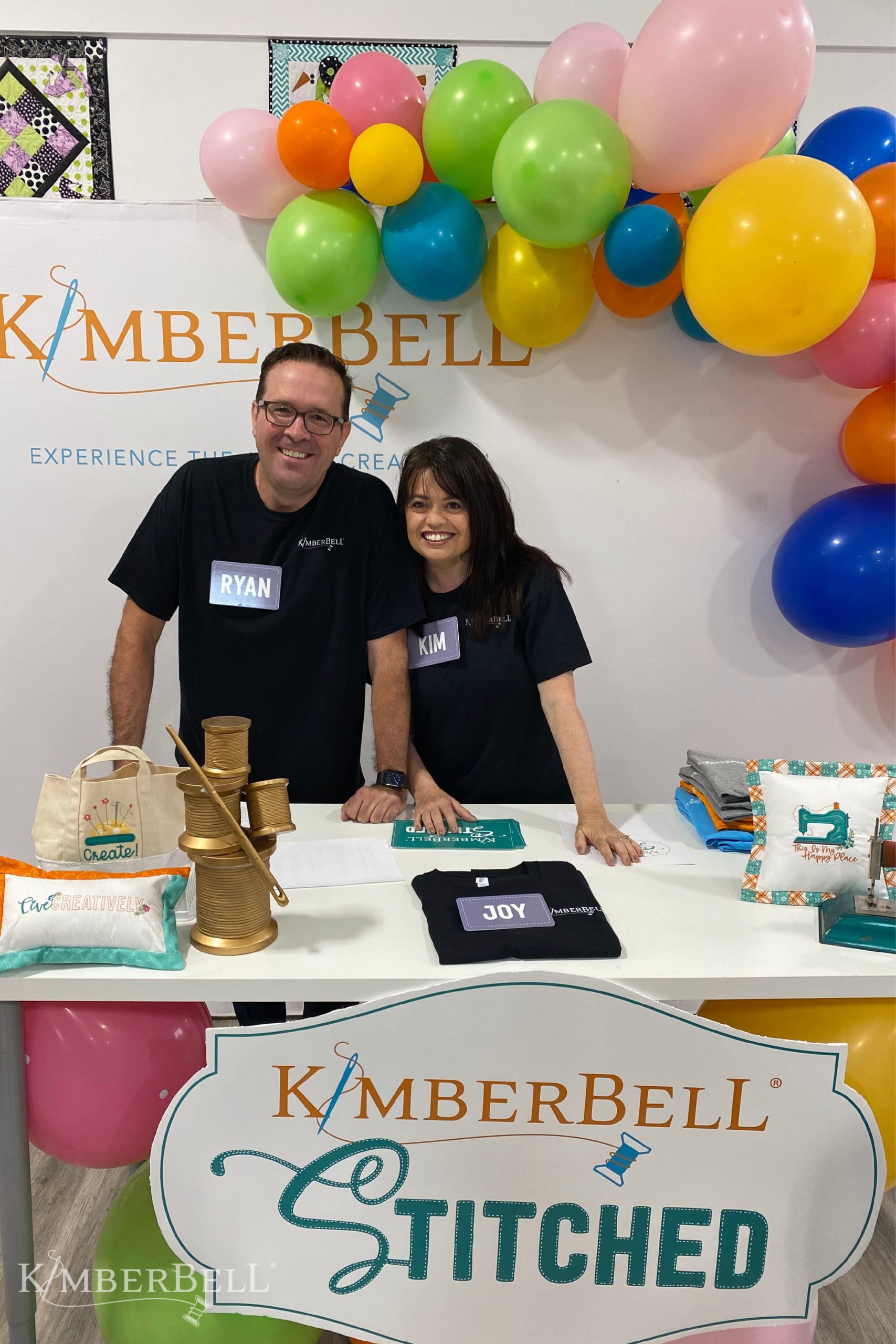 The first item of business was to open the SECRET INGREDIENT:
Teams immediately started sketching their ideas, running to the embellishment wall, and sewing like their television careers depended on it.
Because they did. :) And I know I say this every single time, but WOW. The creativity of the teams blow my mind!
The
ORANGE

Team

The Orange Team (Kari, Dakota, and Emily) set out to make what they called a "Kimberbell Event Attache." They worked like mad to transform their Quilted Pillow Cover Blank into a portable bag with pockets for Orange Pop Rulers, Kimberbell Scissors, Clear Blue Tiles, and everything else you'd like to take with you to a Kimberbell Event.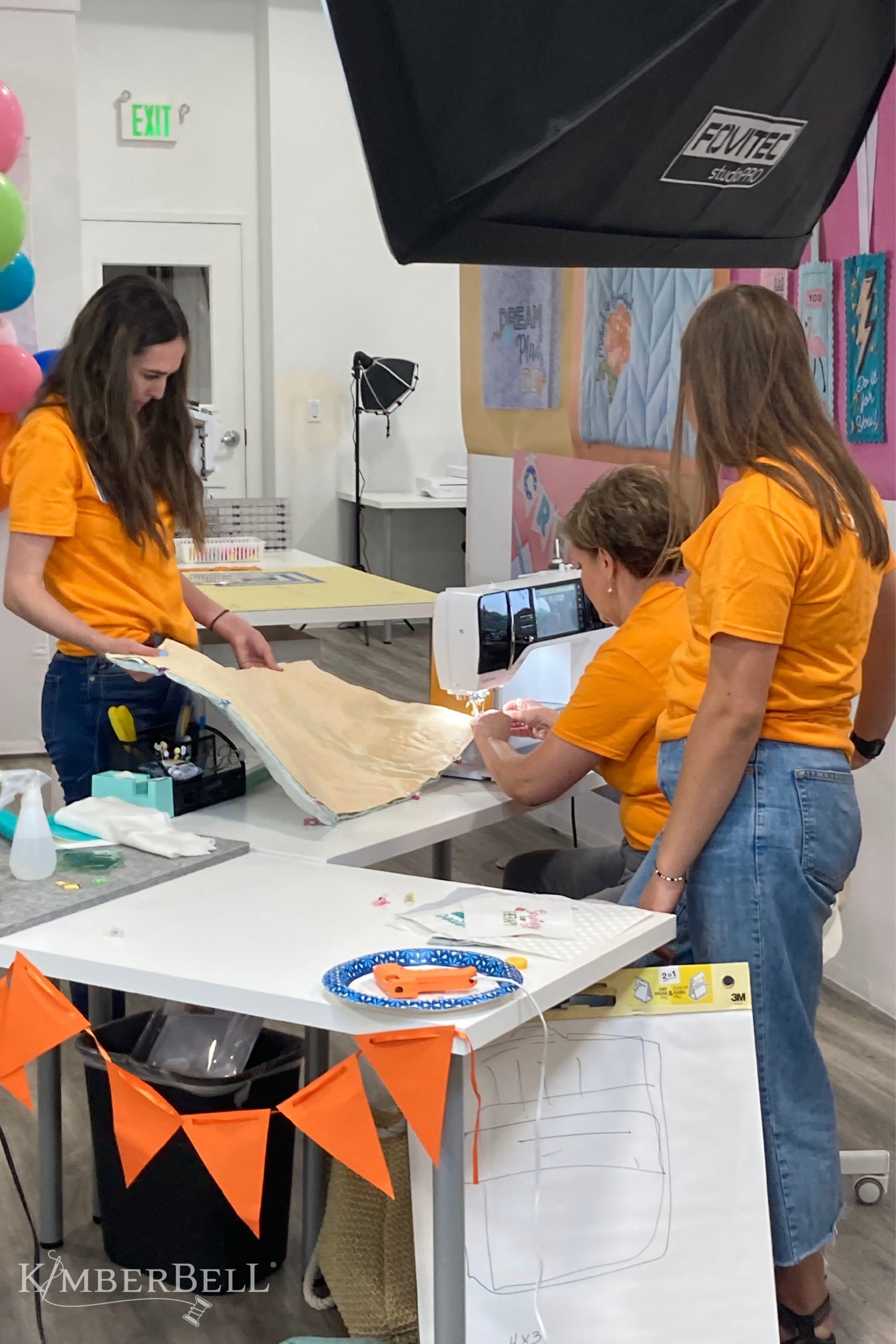 The
BLUE

Team

The Blue Team (Michelle, Anita, and Ryan) took their Velveteen Zipper Pouch blank and transformed it into an adorable wall hanging, with the Stay Focused bonus design on top and a Sweet as Candy Vinyl "glass" frame on the bottom. The zipper in the middle opens into a pocket that stores extra pictures. (The creativity of these people!)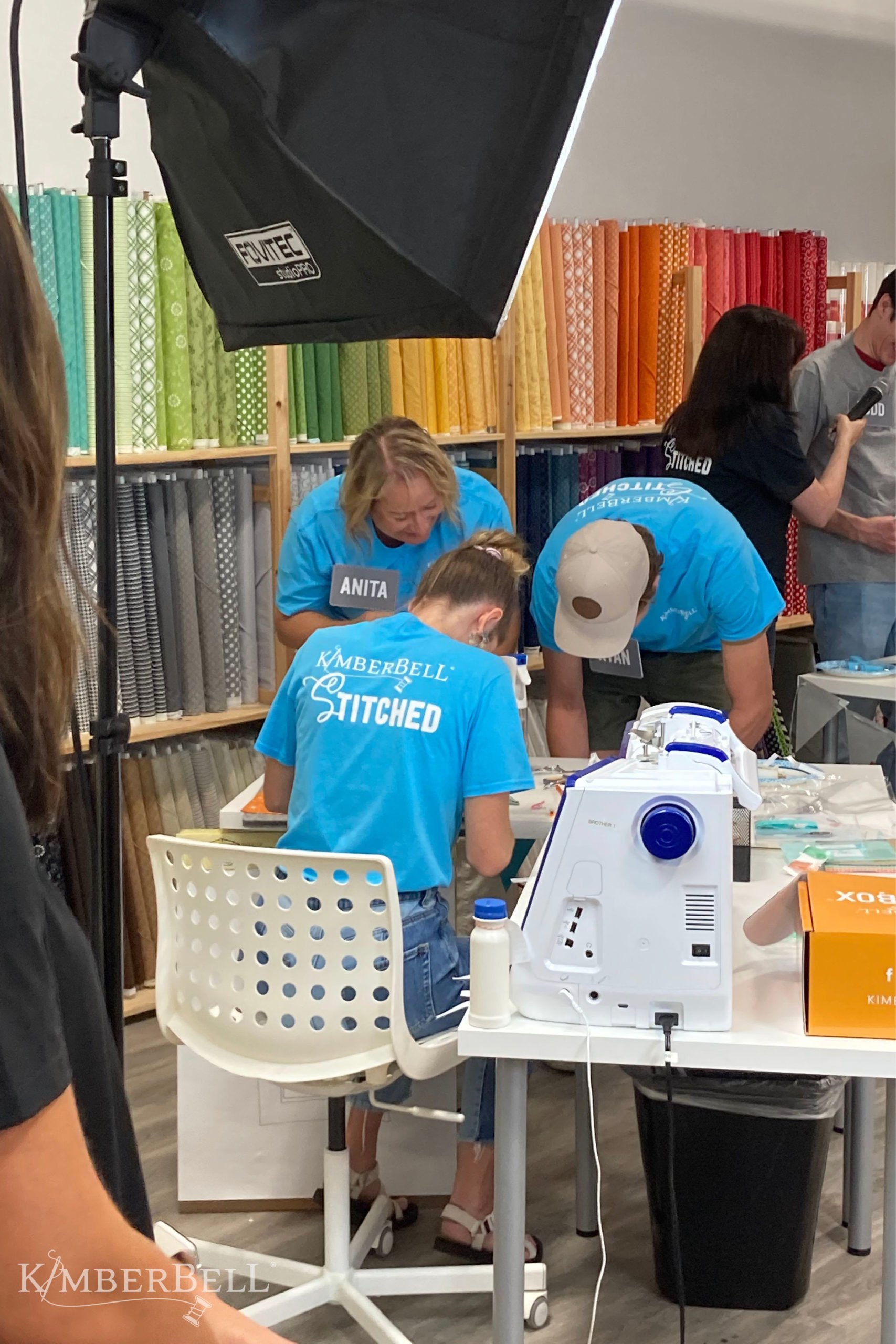 The
GREY

Team

Emily, Todd, and Deanna got busy making a darling camera case from their Buffalo Check Tote, complete with a shoulder pad, Kimberbell Bouquets: Pull Flowers, buttons, and a zipper pocket for snacks! (Way to "Stay Focused," Grey Team!)

Sabotage!
Now, we can't make things TOO easy on the contestants, right? So during the competition, we hit them with a couple of sabotages. The first was the "Creative Juices" sabotage: everyone had to stop stitching while one of their teammates chugged a mysterious creative juice. Are you wondering what the juice was? Well, it turns out that it was a really thick yogurt drink. Gross. (I'm not a fan of yogurt. Good thing I didn't have to drink it!)
The second sabotage was called "Family Ties," where two teammates tied their ankles together with a loop of Crocheted Edge Trim.
But do you know what? The sabotages didn't really slow anyone down. That competitive spirit kicked in and carried each contestant right to the finish line...even if some of them were hopping with three legs and a sidekick!

That's a Wrap!
After the fastest 30 minutes in history, the machines stopped humming, the hot glue stopped flowing, and the scissors stopped snipping. Time was up, and the Stitched competition was officially over.
It's always so fun to see the completed projects: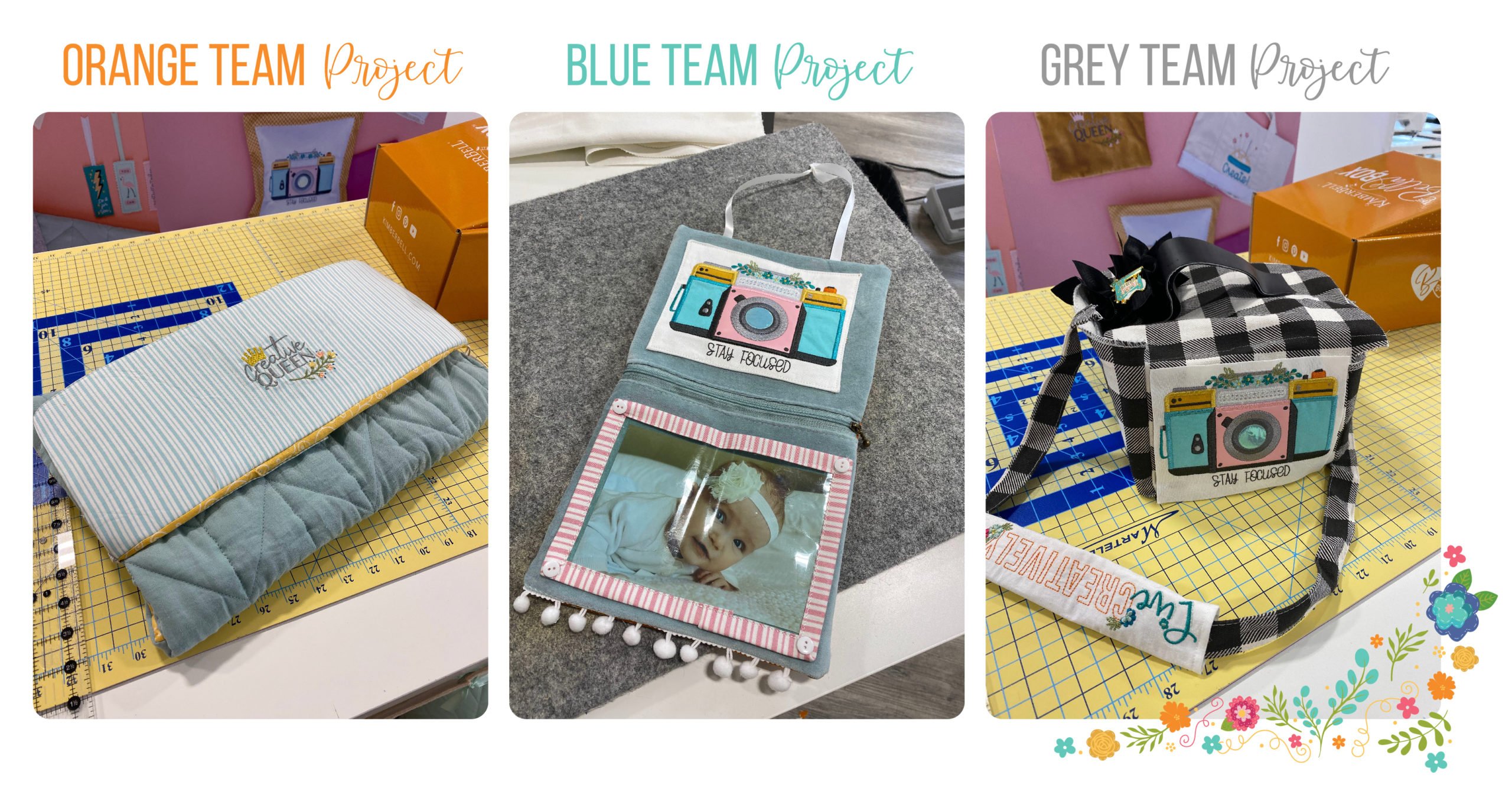 And with three highly creative projects to choose from, how on earth do you proclaim a winner? I'll tell you how: you let the audience vote, much like Dancing with the Stars. (Hmmmm. A Kimberbell version of Dancing with the Stars...)
Immediately following Stitched, we posted the finished projects on our Kimberbell Designs Facebook Page and let the audience tell us which is their favorite. Voting is left open for several days, so everyone has plenty of time to watch the show and cast their vote!
The Winner
And when the votes were tallied, the winner was...
(Drumroll, please.)
...The ORANGE Team!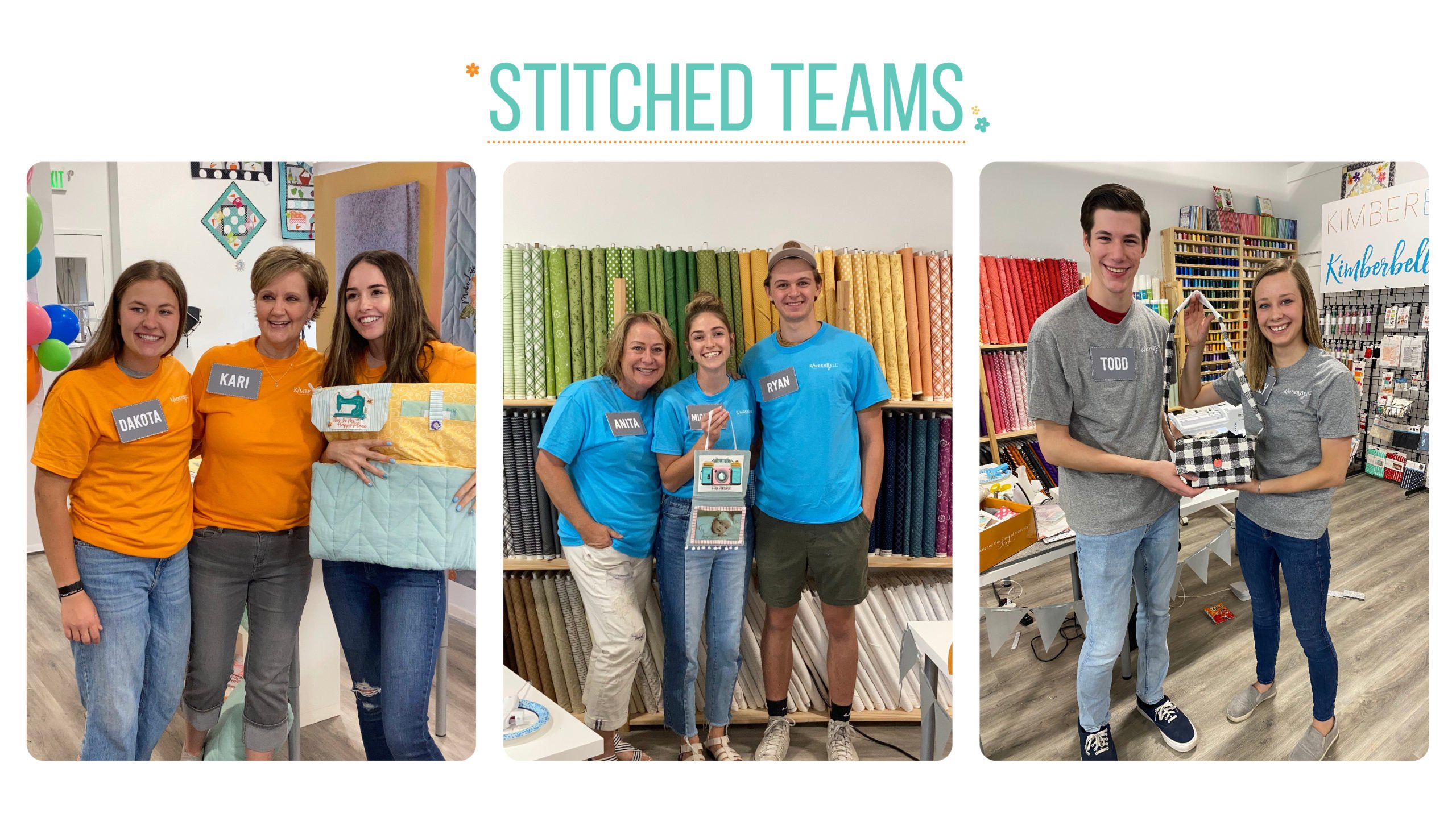 Yep, Dakota, Kari, and Emily were the winners of the golden Stitched trophy this time. (And there's no living with them now. I'm kidding. KIDDING!) All of the teams did an amazing job, and, apart from the water fights which were somehow ever-present throughout the competition, there really was a good camaraderie among the participants. Everyone was such a good sport!
Well, that's about it. After the cameras stopped rolling, the only thing left was to clean everything up. Down went the embellishment wall, the decorations, and the balloons. The Product Development Lab was returned to its highly-efficient state, and our work day went on.
But we were all a little more tired--I mean inspired--than we were before. Much like The Bella Box, Stitched is an experience that's simply worth it. (If you missed it, just click HERE and watch!)
Thank you, our Kimberbella (and Fella) friends, for enjoying Stitched with us. Kimberbell, The Bella Box, and the participants may be the creative force behind Stitched, but YOU are the whole reason we do the show.
We sure love having this much fun with you! :)