Kimberbell's "Handmade Holiday" Stitched Show (PLUS the 12 Days of Christmas Poems)!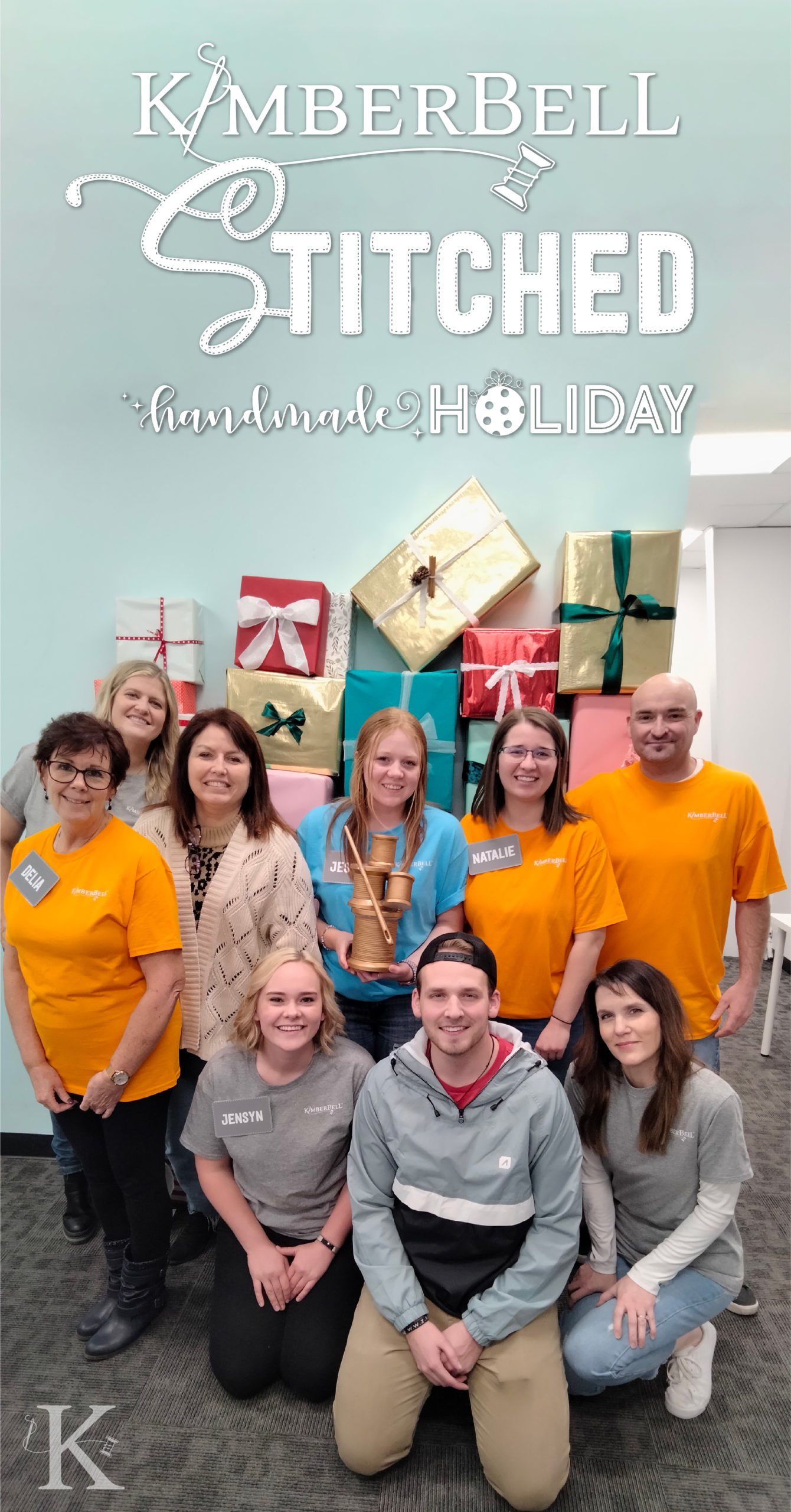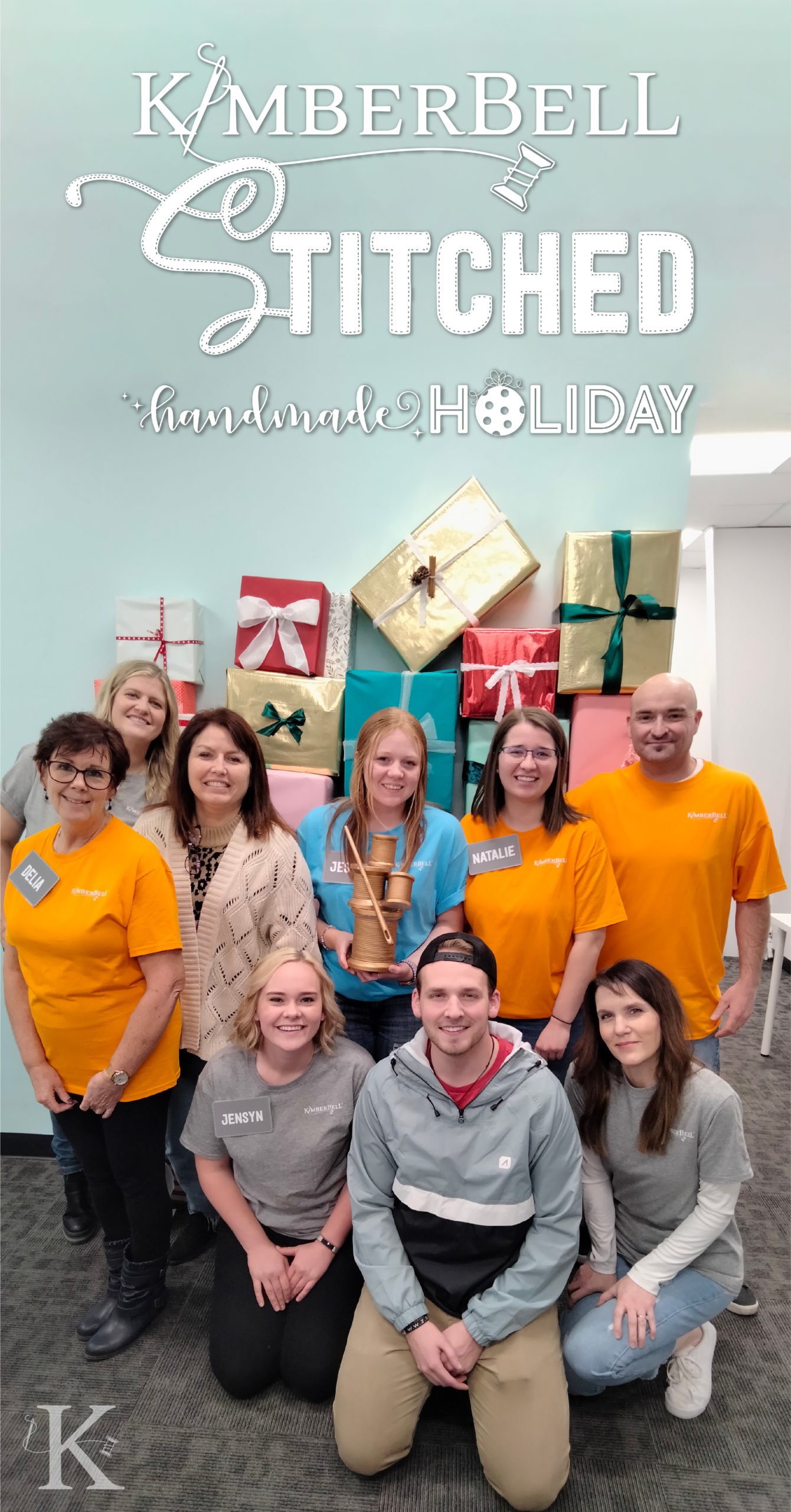 Did you catch Kimberbell's Stitched show last week? If you didn't, STOP RIGHT NOW and watch!
(I don't mean to sound bossy. Truly, I don't. But I also don't want this post to spoil things for you, so click below to enjoy the show!) :)
[embed]https://youtu.be/yoFh8hr5Jtw[/embed]
Okay, now that you've seen our Handmade Holiday Stitched, you know that the three teams totally surprised everyone at the end by coming together on a group project.
This has never been done before, and believe me when I say we were all very surprised! I mean, normally, this is a knockdown, drag-out competition between the three teams as they battle to win the coveted golden spool trophy (as demonstrated in the Live Creatively Stitched show). But not this time. In keeping with the giving nature of the Handmade Holiday Bella Box, the teams collaborated on a 12 Days of Christmas project to give to a family in need!
But I'm getting ahead of myself. Let's meet the teams, talk a little about the competition, and share those 12 Days of Christmas poems so you can think of giving to a family you know!
The Orange Team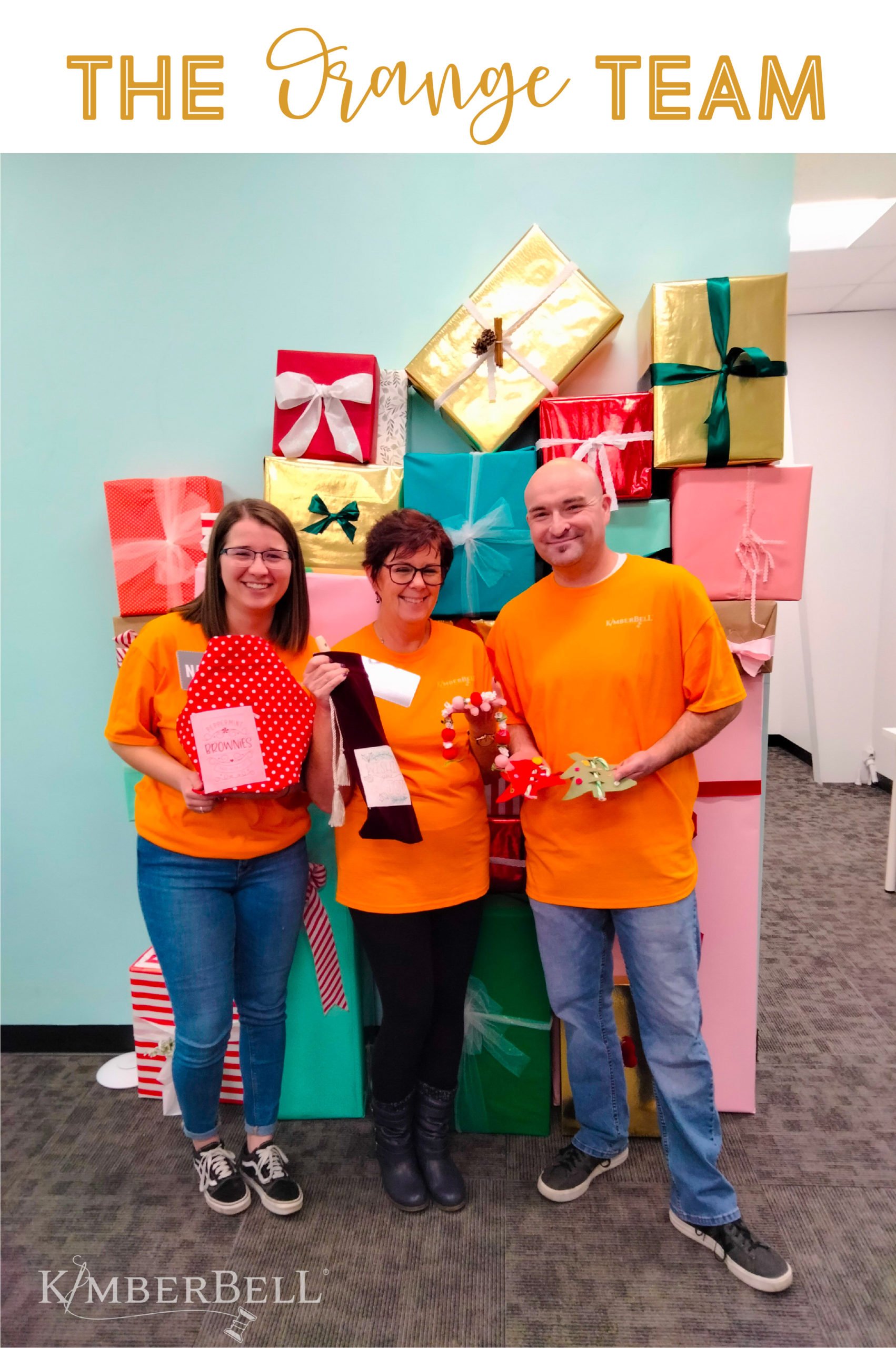 The Orange Team was led by none other than Delia (a.k.a. "Grandma Pickle") from Product Development and her two cohorts: Natalie from Quality Assurance and Darren from IT. (It should be noted that Darren has never stitched a thing in his life. What a good sport, right? :) )
The Grey Team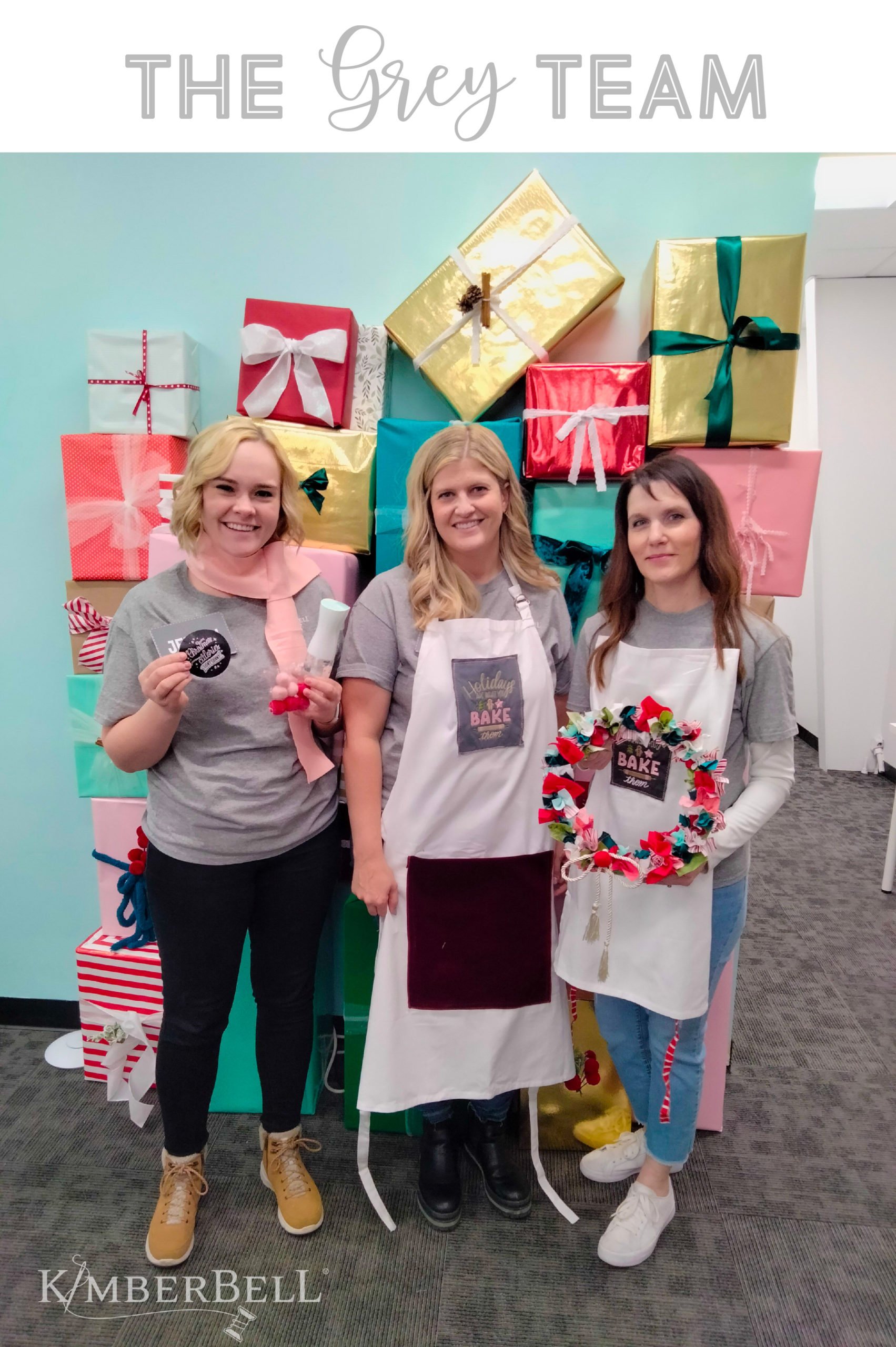 The Grey Team was comprised of Jensyn from Product Development, Tori from Product Management, and Angie from Customer Care. (Do you recognize Angie from The Bella Box mini magazine? She's featured at the front!)
The Blue Team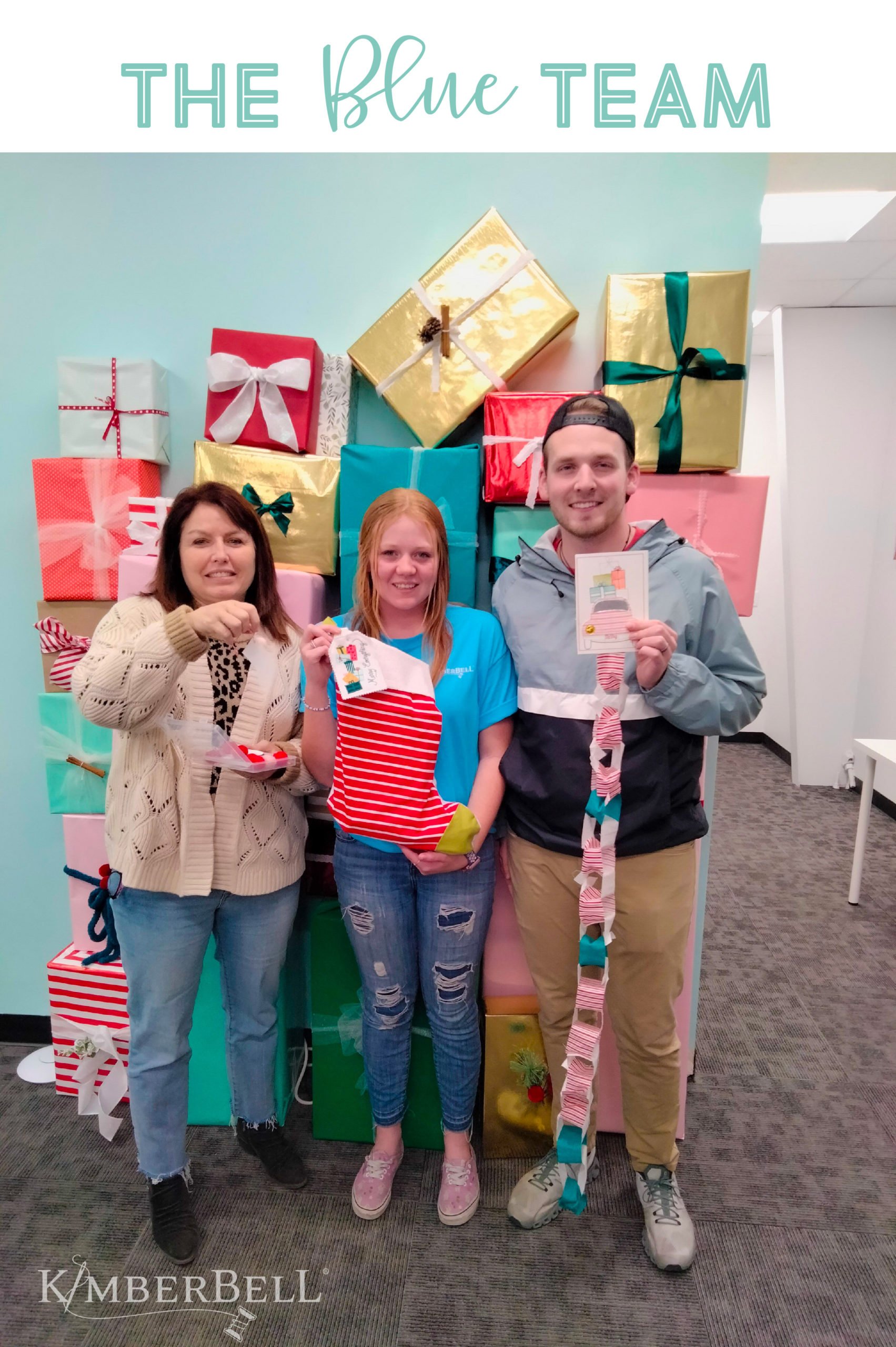 The Blue Team included Kristie from Product Management, Jessee from Product Development, and Tyler, Inventory Clerk. (Tyler's only sewing experience came from his middle school home economics class. Shout out to whomever his teacher was.)
The Competition
The evening began with Kim and Ryan announcing the teams. Our team captains were excited, nervous, and eager to get rolling! Their mission, if they chose to accept it (and they did) was to take the Handmade Holiday Bella Box and use the contents to make an entirely new project--something giftable or service related.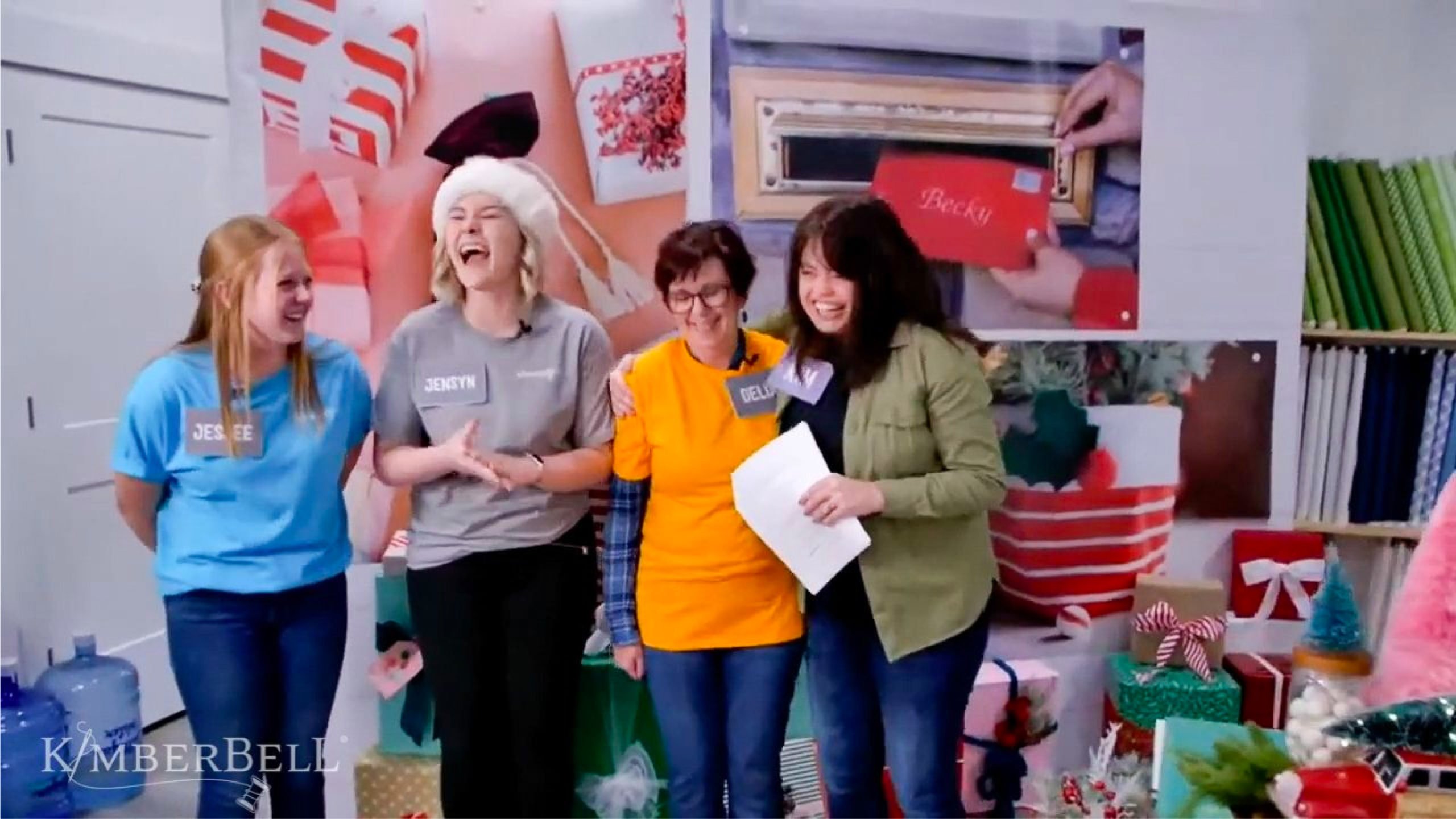 Teams were also asked to:
Use something from the Handmade Holiday Bella Box
Finish the project within the time limit
Use the Wool Felt Balls found in The Bella Box
Teams could also use any of Kimberbell's fabrics and threads. With teams put together and the rules reviewed, it was time to start the clock! Only 30 short minutes to come up with entirely new projects. (Believe me, it's the fastest 30 minutes in history!)
Sabotages and Surprises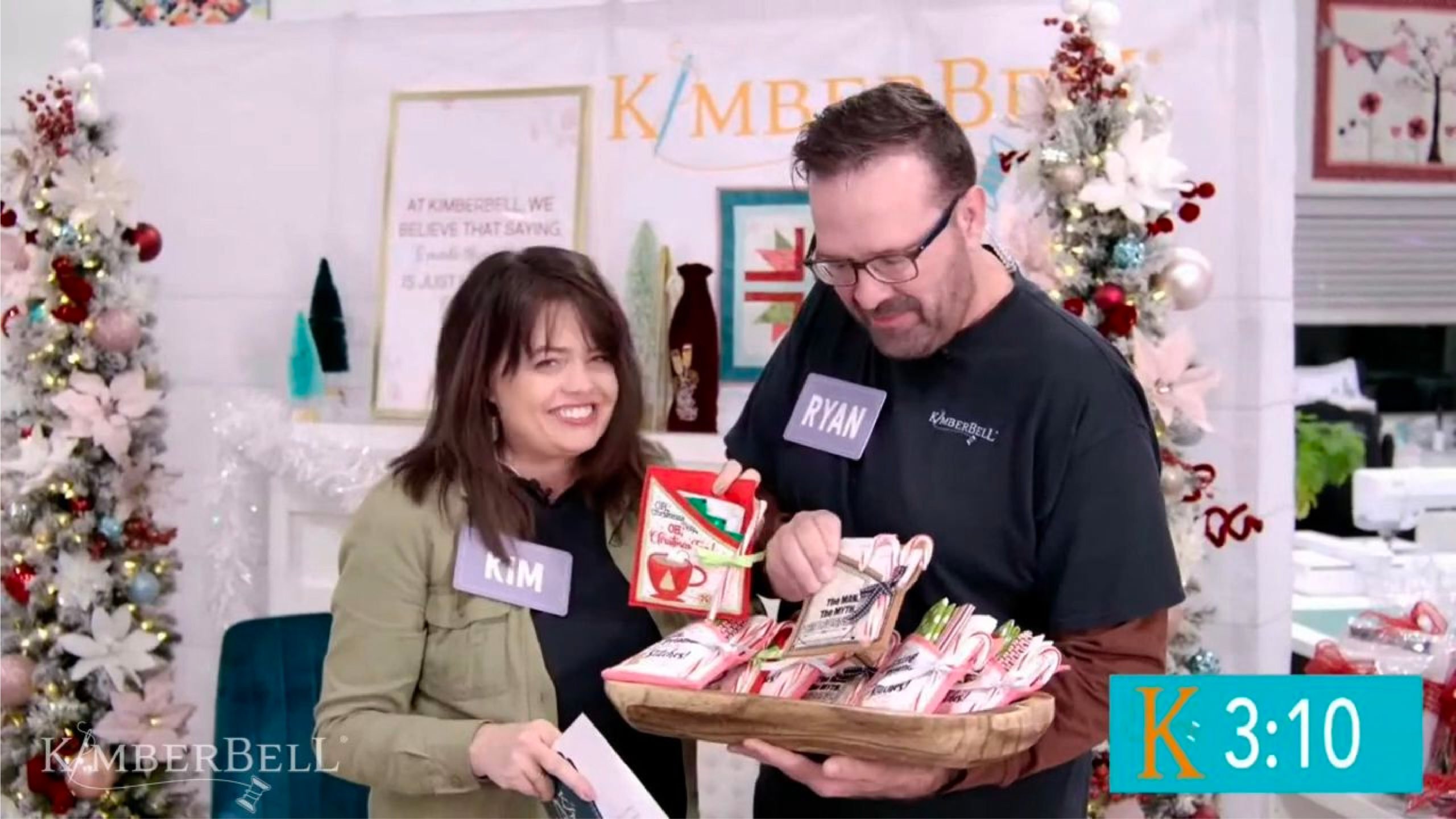 Half the fun of the competition is throwing a sabotage or two into the mix. So after about 15 minutes or so, teams were asked to open a red candy-striped present and wear its contents. (As it turns out, they were just fun hats which added to the spirit of the thing.)
The second "sabotage" actually turned out to be more of a "Heart-Felt" surprise! Kim and Ryan gave a Heart-Felt Gift Pocket (stuffed with fun things) to every Stitched participant. Surprise!
12 Days of Christmas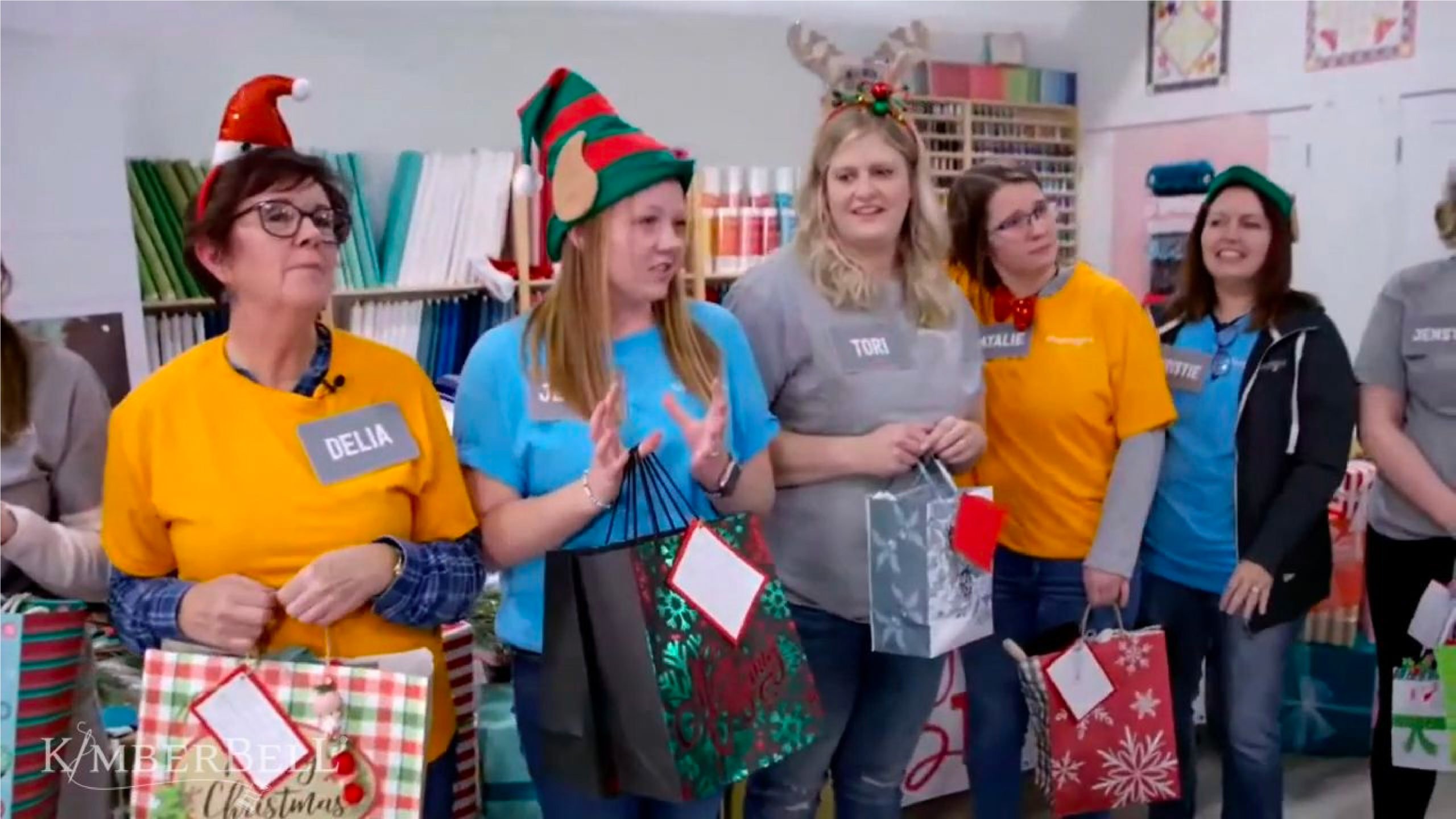 But the biggest surprise of all was at the end. We all expected (counted on, really) the teams to have separate projects and explain why theirs was the best...you know, the normal Stitched thing. But instead, they flipped things around on us and all came together with one BIG service project: the 12 Days of Christmas.
There were 12 projects in all, one per day, and each had a separate little poem to go with it:
A countdown chain made of fabric
A fabric wreath
A Christmas garland with Wool Felt Balls, popcorn, and cereal
A stocking made from a Dots & Stripes Tea Towel
A mom and little helper apron
A wine bag with a rolling pin and cookie mix
Ornaments made from watercolor cards
A snowman kit (craft items to embellish a real snowman) including the spray bottle for spritzing the snow with food coloring
Felt candy cane decor
Pancake mix and chocolate chips
A snowflake family craft
A treat bag made from the Dots & Stripes Tea Towel
Everybody Wins!
Because everyone came together for this project, we didn't hold our normal vote-for-your-favorite-team-to-win-the-trophy thing. But, in the spirit of giving, we've reformatted the gift tags to share with you! Simply enter your name and email address, then click "Download" for the printable file. [et_bloom_inline optin_id="optin_58"]
Happiest of holidays from your friends at Kimberbell! :)