Looking Forward to Kimberbell's Sugar Plum Jubilee Event!

'Tis a hot summer's day, and all through my house I'm preparing to stitch a nutcracker and mouse!
I've got my Attendee Kit, scissors, and thread, while visions of sugar plums dance in my head...

Well, there you have it. I'm so excited about attending Kimberbell's newest machine embroidery event, I've been moved to write poetry. :) I simply cannot wait to attend the Sugar Plum Jubilee Spark Event (virtually) this Friday!
You know, I've seen Tchaikovsky's The Nutcracker no less than 25 times at least. I'm not kidding (my sister was a ballerina). So, with the ballet as a much-loved tradition in my family, I was beyond thrilled when Sugar Plum Jubilee was announced a few months ago—especially after seeing the beautiful projects and all of the dreamy textiles!
Spark Events are only four hours long—not a huge time commitment—so Sugar Plum Jubilee fits nicely into my Friday morning. During the event, I'll make a festive garland (shown above) starring the Nutcracker, Mouse Prince, Drum, Dome Cake, and Sugar Plum Fairy designs (shown larger below). All Spark Event projects are made in 4x4 and 5x7 hoops, just the right size for my entry-level machine.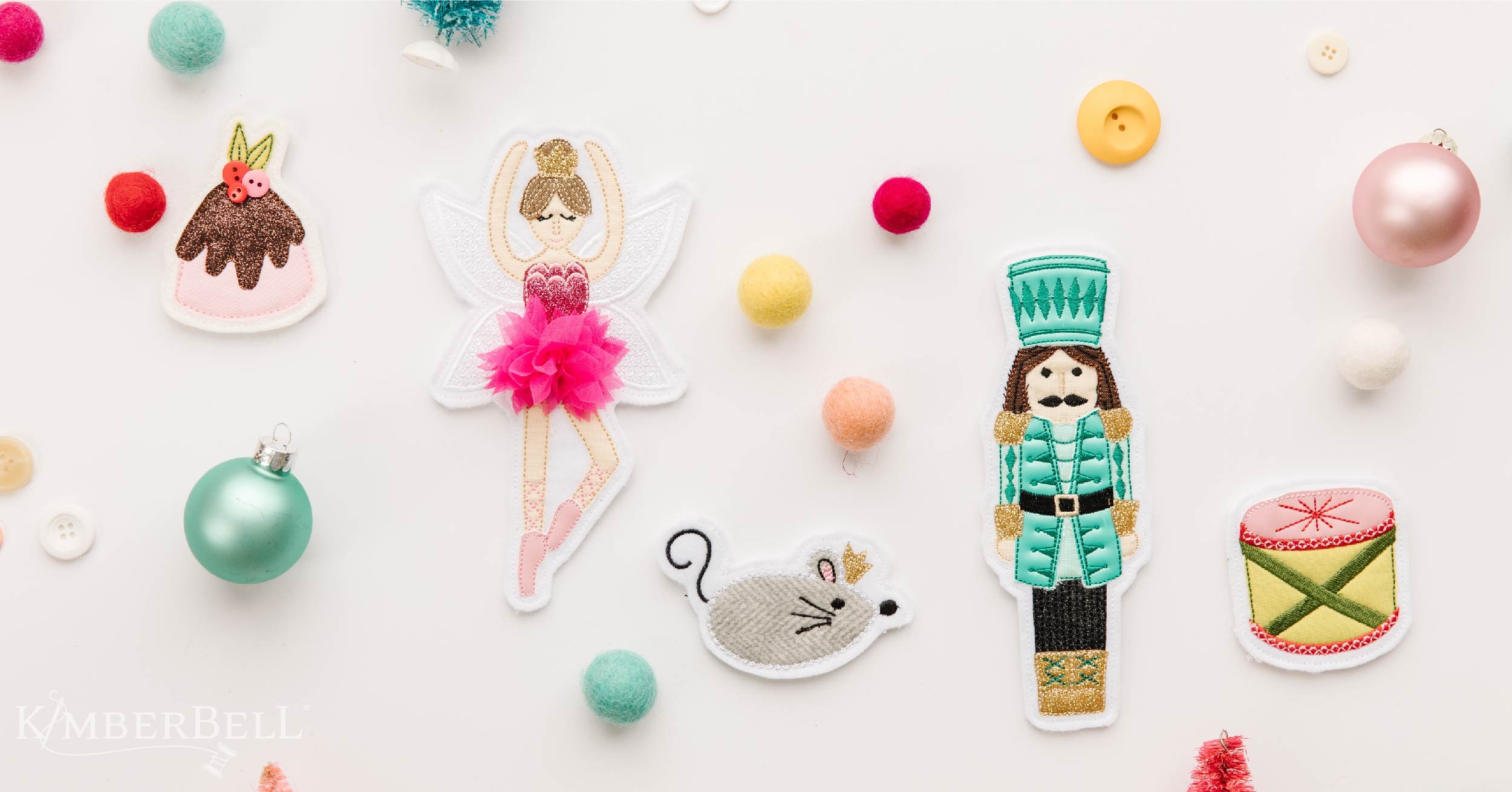 But the fun doesn't stop there. My design CD will also include seven (yep, SEVEN) additional designs that I can stitch later (and believe me, I will). Take a look at how gorgeous these are and imagine the possibilities!
Mouse King
I love all of the different textures on the Mouse King! His little Cuddle® cape! His Applique Glitter crown! His Embroidery Leather boots! He may be the ballet's antagonist, but the Mouse King is always a crowd-pleaser. What would you do with this royal rodent? Put him in a frame or on a stocking? Something else? (I can't wait to see what Kimberbellas do with these designs.)
Peppermint Stick
The Peppermint Stick is made of Applique Glitter candy wrapped in a package of iridescent Mylar and Clear Vinyl. Just think of what pretty gift tags these would be with a plate of Christmas candies! I remember the Christmas when my mother-in-law decorated her tree with items you could eat: popcorn strands, cookies, caramels...it was the yummiest Christmas ever. We just walked by the tree and grabbed a snack! This Peppermint Stick would have been a beautiful addition that year.
Peppermint Swirl
And speaking of tasty treats, take a look at the Peppermint Swirl! This is only one design, but you can use different applique fabrics and threads to make a variety of candy "flavors" within an iridescent Mylar wrapper. So sparkly! Can you see this tied to a Sweet Tube filled with peppermints?
Tree
I just love this bottlebrush Tree made of Mylar and Embroidery Leather. With just one design file, you could make a whole forest for The Nutcracker characters, or stitch the tree for Christmas cards, ornaments, place cards...and the list goes on!
Swan
Though not exactly a character in The Nutcracker ballet, this fairy-tale Swan is a nod to another of Tchaikovsky's great works: Swan Lake. Isn't she elegant with Applique Glitter feathers?
Ornament
The Ornament design is dazzling with shiny applique Mylar. Would you hang this ornament on your tree, stitch it on a stocking, make a garland, or something else? Think of all of the colors you could use!
Holly Berries
What a pretty gift tag these Holly Berries are. Have you ever worked with Embroidery Leather before? It's soft and supple and adds a smooth dimensional element to applique designs. Kimberbell Embroidery Leather comes in a variety of colors, including the Cherry Red shown here.
The design CD includes 12 designs in all: five designs that you stitch at the event and make the garland with, and the seven extra designs we just looked at. My imagination is exploding with ideas!
I also have to give a standing ovation for the Sugar Plum Fairy and her tutu made of Kimberbell Bouquets: Pull Flowers. (Oh, the creative people I work with!) If you've never tried Pull Flowers before, they take literally two seconds to make and add wonderful dimension to many projects. There are so many colors, styles, and widths.
I would have been all about a puppet show like this when I was a kid. Just think of the hours of fun!
You could dress up a Christmas dessert buffet! My sister's ballet company would have gone crazy for these backstage. Or birthday party decorations for your little ballerina or danseur! Or thank you gifts for dance instructors! Or! Or! Or! :)
Ahhhhhhh!!!! Super-chic table dressings. I'm loving all of the creams and golds, here. So elegant! So fancy!
Also, take a look at these charming Holiday Houses. This bonus CD is FREE to Sugar Plum Jubilee Spark Event attendees who purchase $100 worth of product in the Kimberbell Popup Shop. SO darling! A traditional Christmas village. Wow, This could be FUN.
Well, all of this is what I'll be up to this Friday. I hope you'll join me in signing up for a Sugar Plum Jubilee through your favorite quilt shop! If you're someone who is wanting just a taste of what machine embroidery is all about, Kimberbell Spark Events are the perfect place to start. (BTW, Vintage Flora is another Spark Event you'll definitely want to check out!)
I can't wait to tell you all about it.

Fun fact: My husband and I were actually in the opening scene of The Nutcracker years ago as "party parents." Watching James TRY to put on the required mascara is probably the funniest thing I've seen in my entire life.