Going to Kimberbell's Vintage Flora Spark Event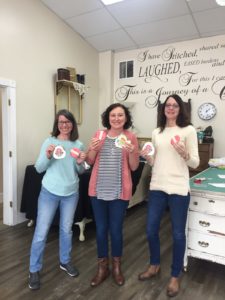 Okay. I should probably clarify something: my job title here at Kimberbell is "Marketing Writing Associate." This means I sit at my computer every day and do a lot of writing about Kimberbell products...and not a whole lot of stitching of said Kimberbell products. Yes, I usually come to the employee sew night held in our Product Development Lab because I just have to make some Kimberbell project I just can't live without (I made all of the Nativity Ornaments and I love, love, LOVE them!) but generally speaking, I spend my days writing.
BUT in January 2020, I got to attend Kimberbell's Vintage Flora Spark Event at My Girlfriend's Quilt Shoppe and wow, what a great experience! I'll admit, I was a little nervous at first. I've never installed a brass clasp or a zipper before--my embroidery prowess is 98% machine magic and 2% Jenny skill (which includes loading the design, hooping the fabric and stabilizer, changing the thread, and, most importantly, asking Laurie or Katie for help if something goes awry). So let's just say I was worried that the zipper and brass clasp would be my undoing. But guess what?
I did it. The zipper, the brass clasp, the whole shebang. And it was easy! Do you know what? Those full-color, step-by-step instructions that Kimberbell is famous for? THEY WORK. In fact, just to give you a taste of exactly how I was feeling right after the event,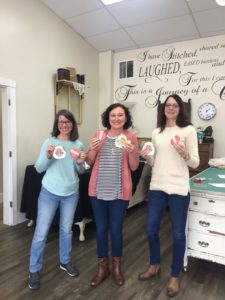 here's the group message I sent to the Kimberbell Staff after coming home from Vintage Flora (copied verbatim, multiple exclamation points and all):
"...I used the Vintage Flora instructions just this morning at the event. They were so clear, I actually understood the steps and came out with two projects to be proud of! Way to go, Product Development! The instructions were AWESOME!!!! I join Sherry in applauding you!!!"
Full disclosure: I don't remember who Sherry is. (Sorry, Sherry!) BUT the point is that I was super excited to make these projects and I totally experienced the joy of creativity.™
Here's how Vintage Flora works: Because it's a "Spark Event," you make two projects in four hours (at most). So you feel a HUGE amount of satisfaction without the huge time commitment! When you arrive, you get to make Lucy's Lace Zipper Pouch completely in-the-hoop, zipper and all. It's darling and the whole zipper scenario couldn't have gone more smoothly. Lucy's Lace Zipper Pouch has scalloped stitches and a buttermilk Lace Zipper with eyelet and a brass pull...it's beautiful and I, Jenny Lyman, made it. By myself.
After making Lucy's Lace Zipper Pouch, event attendees get to choose to make EITHER Gloria's Golden Garden OR Pearl's Pink Petals Clasp Purses. Many of the attendees, including Becky and Taunya (on each side of me in the picture) went for Pearl. But I knew right from the start that Gloria was the purse for me. Apart from really loving Gloria the character (see The "Purse"onalities of Vintage Flora), I was really drawn to the overall design and the beautiful yellow and blue colors.
Again, those Kimberbell instructions carried me through from start to finish and the teachers at the quilt shop were absolutely wonderful at demonstrating how to install the clasp. (Okay, full disclosure again: I'm actually the person who wrote the directions on the back of the Clasp Purse Frame packaging. But, you know, it was nice to remember that those steps work and do guide you to the desired result. And the teachers were so helpful, too!)
Even though you only stitch two projects at the event itself, your Vintage Flora CD includes EXTRA design files you can stitch later. Besides Lucy's Lace Zipper Pouch, you go home with either Gloria's Golden Garden or Pearl's Pink Petals PLUS a CD with all of the designs, including Bernadette's Blooms, Cordelia's Corsage, and Edith's Bit of Eden for your purse-making pleasure.
If you get the chance to attend Vintage Flora (or any Kimberbell Event, for that matter), DO IT. Not only are the projects fun and super-satisfying to make, the camaraderie you feel with other attendees is just so fun. We talked, we got to know each other better, we laughed, we showed off our projects, we ate refreshments…
It was just a lovely, lovely morning. I encourage you to experience the joy of creativity™ at Kimberbell's Vintage Flora!