Christmas in July with Kimberbell's Two-Day Winter Wonderland Event!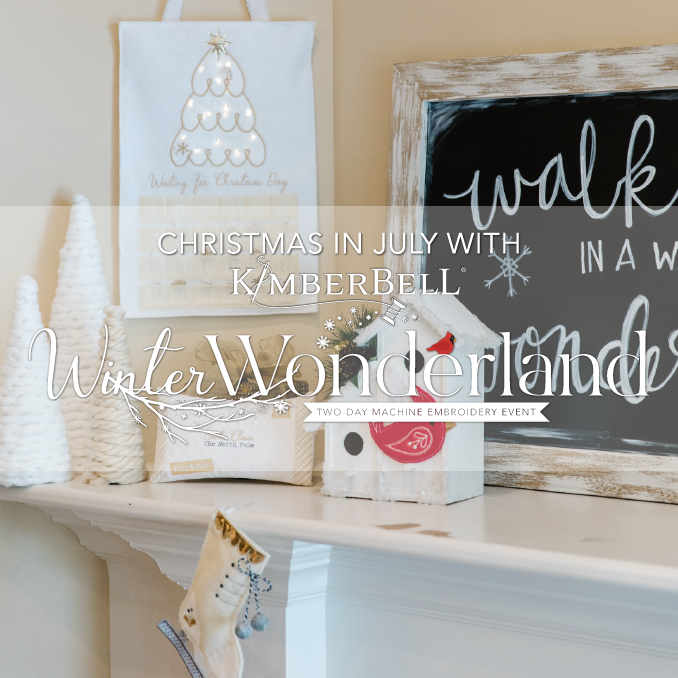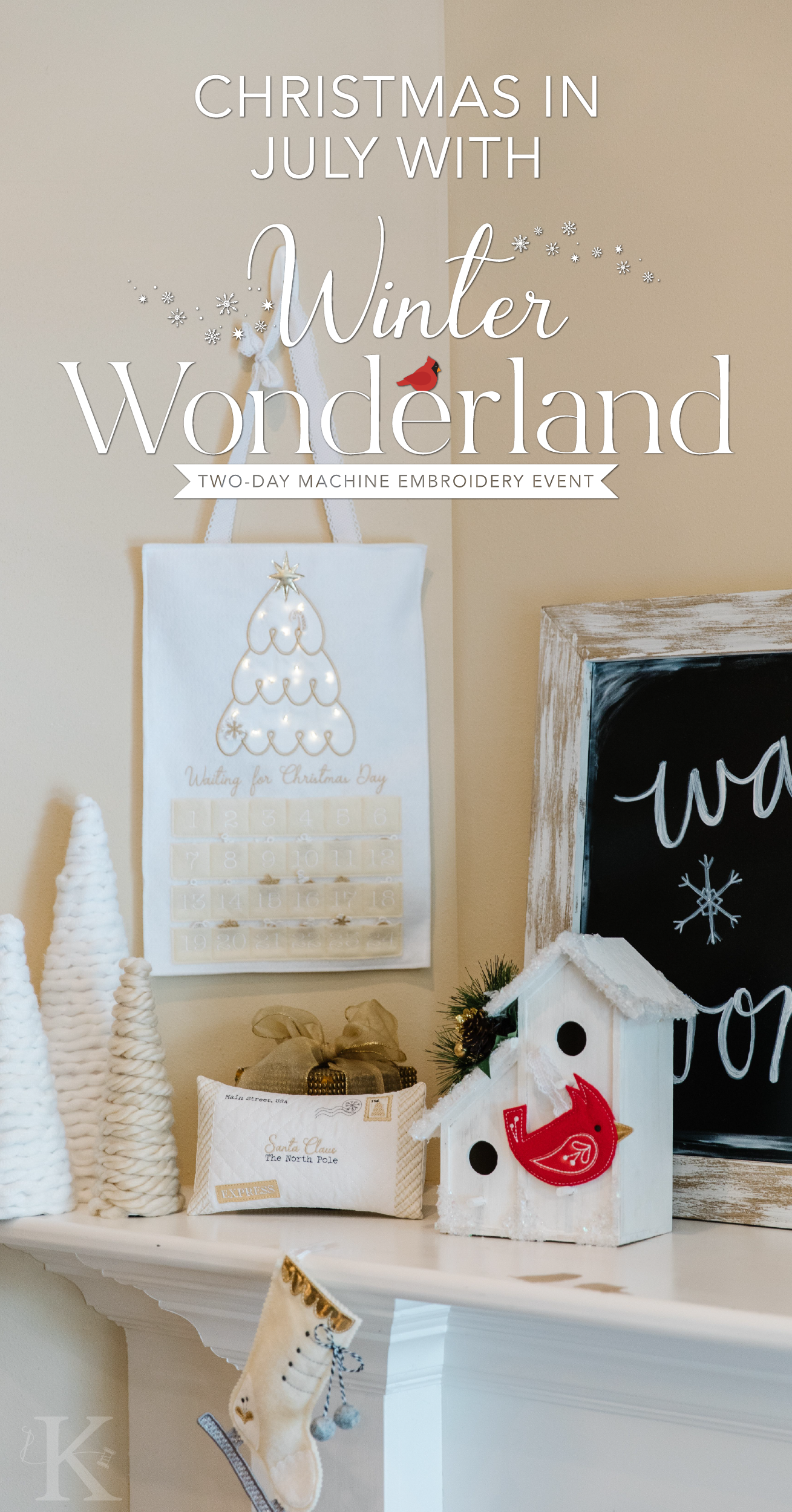 To the tune of"Walking in a Winter Wonderland" (and-a one, and-a two):
Got my thread and my backing,
And it's time to get cracking!
These designs are so great,
I really can't wait,
For stitching in a Winter Wonderland!
And now that song will be in your head all day. You're welcome. ❄️
Kimberbell's Winter Wonderland two-day machine embroidery event is simply magical. And I want YOU to have the chance to stitch the beautiful projects before it's too late! This event retires later this year and shops are already scheduling their Christmas in July events, so there's no better time than now to reserve your spot.
Here's what you can expect to make at your Winter Wonderland event!
Create projects in whites, golds, crimsons, and creams in 6x10 and 5x7 hoops (with additional sizes available). Let's take a closer look at each project.
December Days Advent Calendar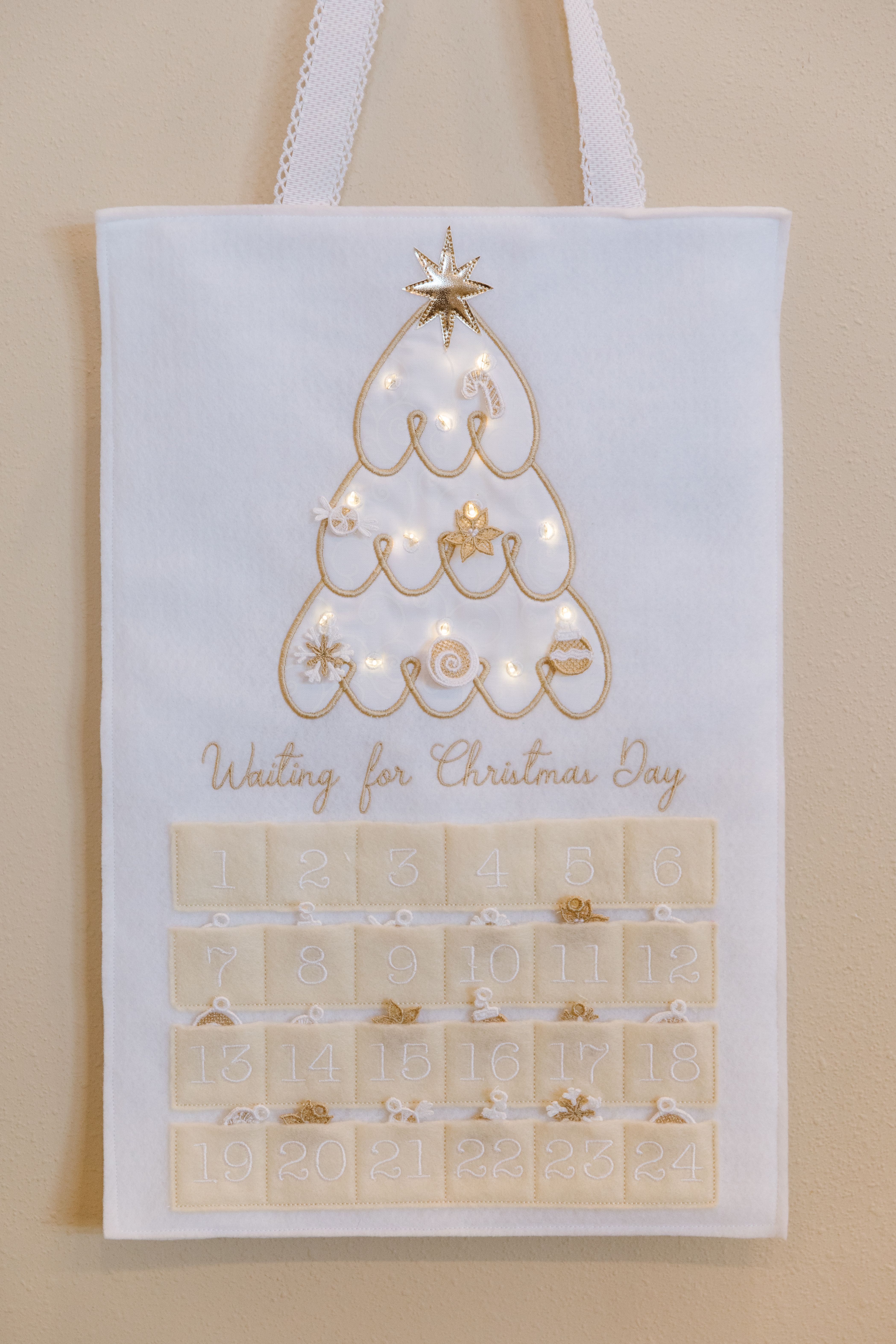 Count down to Christmas with Kimberbell's December Days Advent Calendar! Our whimsical Christmas tree gleams brightly with twinkling fairy lights topped by a gold Embroidery Leather star. Fill the 24 pockets with Mini & Merry Lace Ornaments and anticipate decorating your tree one day at a time!
Made with multiple hoopings in a 6x10 hoop , the December Days Advent Calendar includes a wooden dowel and festive loop of Crocheted Edge Trim.
Mini & Merry Lace Ornaments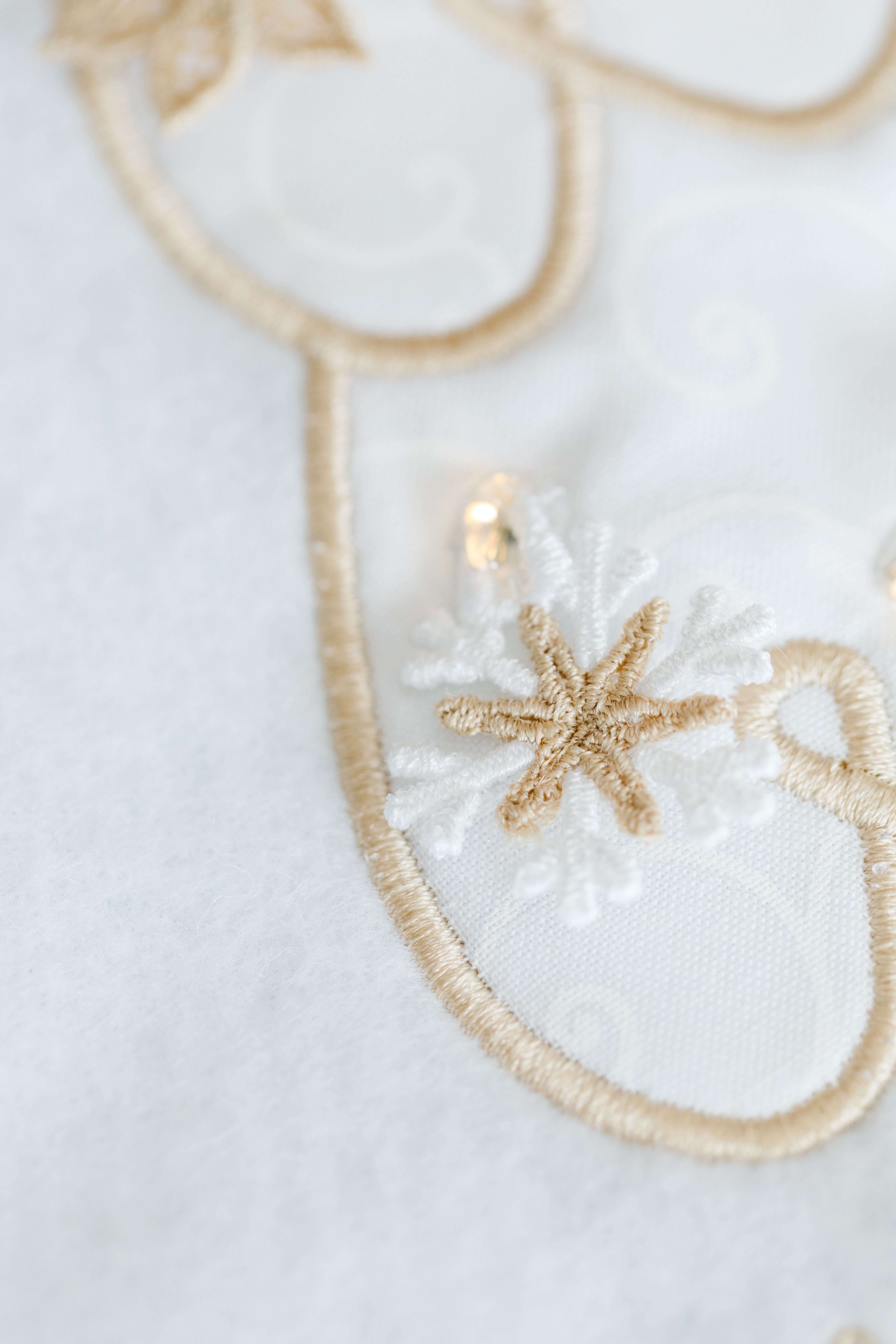 Perfectly sized for tiny pockets, Kimberbell's Mini & Merry Lace Ornaments include snowflakes, candy canes, peppermints, poinsettias, and more for a total of six designs. Repeat these patterns in new thread colors for 24 unique ornaments!
Stitch all designs in a hoop of Kimberbell Wash-Away stabilizer, dissolve the backing to create lace cutwork, then slip into the pockets of our December Days Advent Calendar.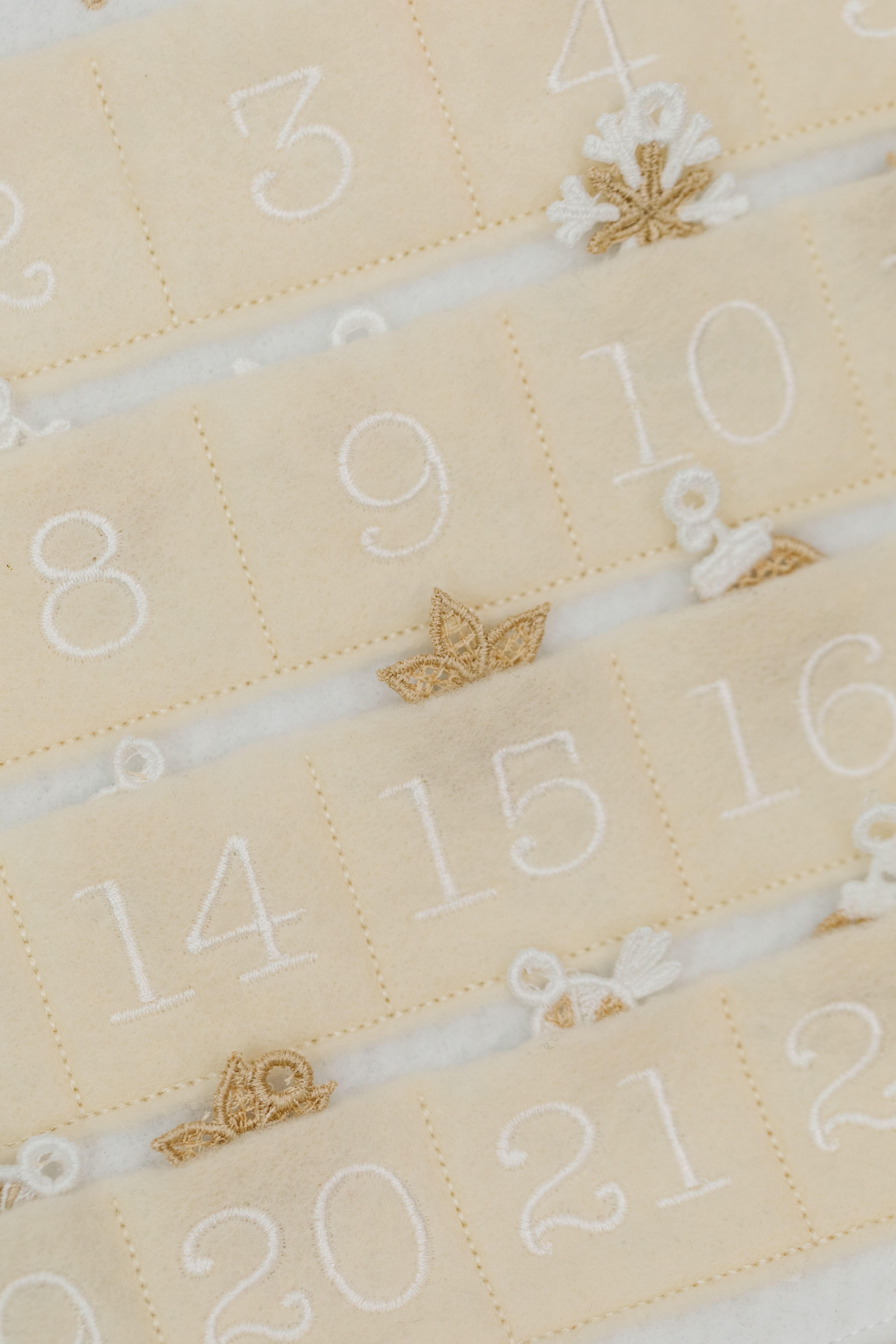 Dear Santa Bench Buddy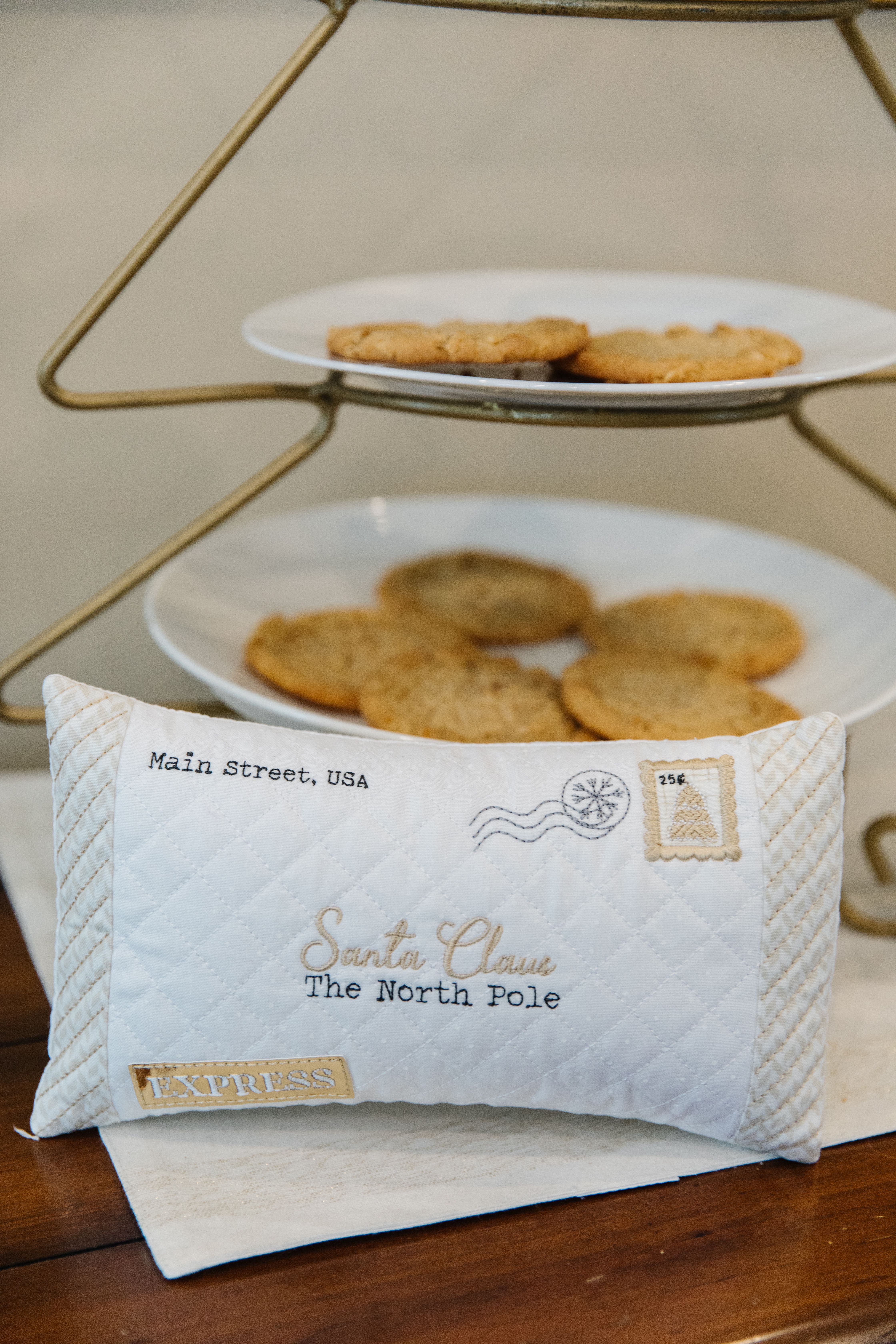 Kimberbell's Dear Santa Bench Buddy is signed, sealed, and on its way to the North Pole! Edged with diagonal postal stripe stitching, the background features crisscross quilting, an adorable applique stamp, and an "EXPRESS" sticker of gold Embroidery Leather.
Made in a 6x10 hoop, our Dear Santa Bench Buddy perfectly fits our 9 ½ by 5 ½" Pillow Insert and is delightful decor for your holiday home.
Dream Skate Felt Stocking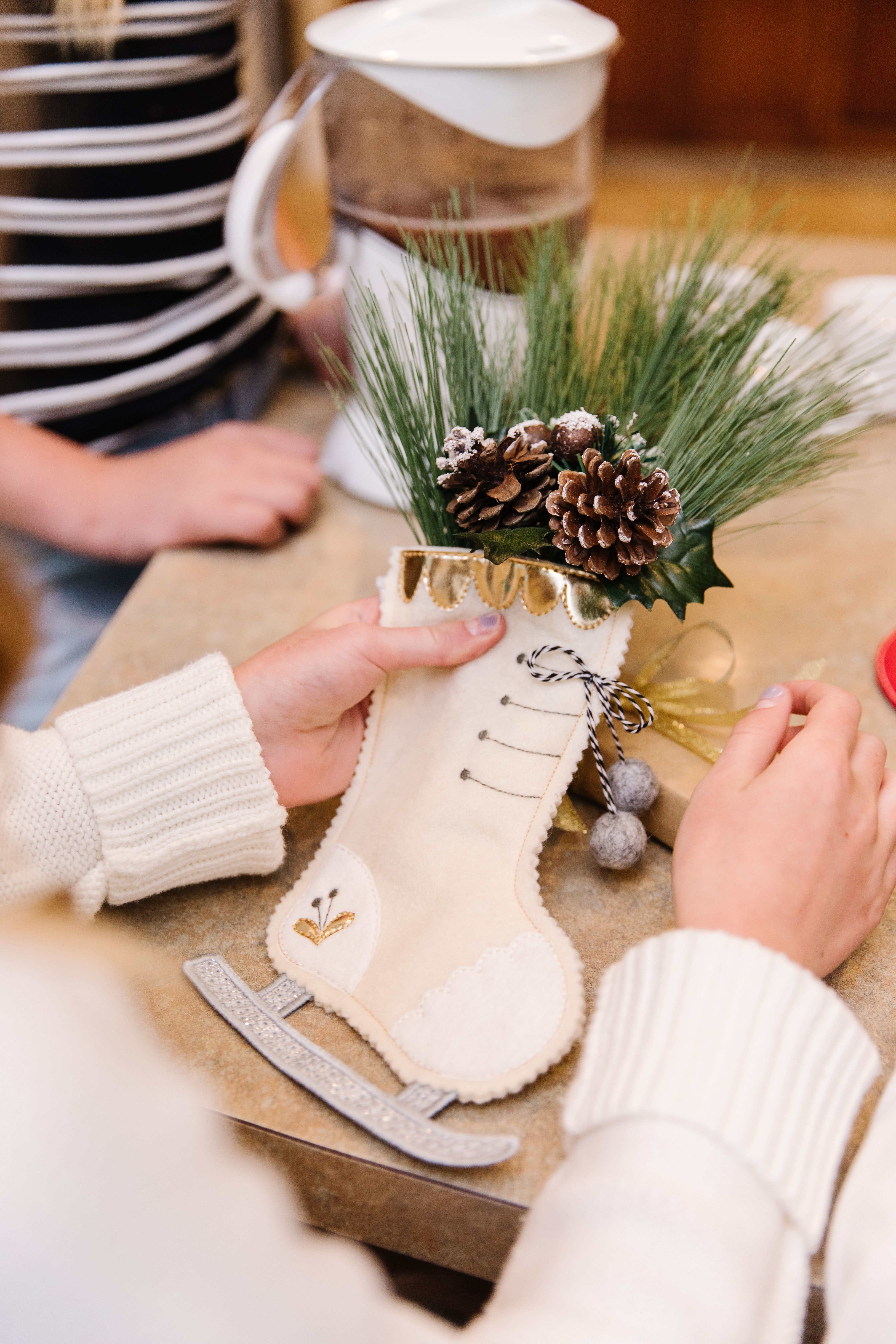 Glide through the holiday season with Kimberbell's Dream Skate Stocking! Made from soft Embroidery Felt, each boot is pinked around the edges and trimmed in gold Embroidery Leather. Glitter Dot Organza adds dazzling sparkle to the blade, while a loop of Crocheted Edge Trim hangs the stocking from banisters, mantles, and more!
Make your skate in a 6x10 hoop while at the event and leave with three additional sizes for 5x7, 8x10, and 9x14 hoops. Just take a look at what you can do with the variety of sizes!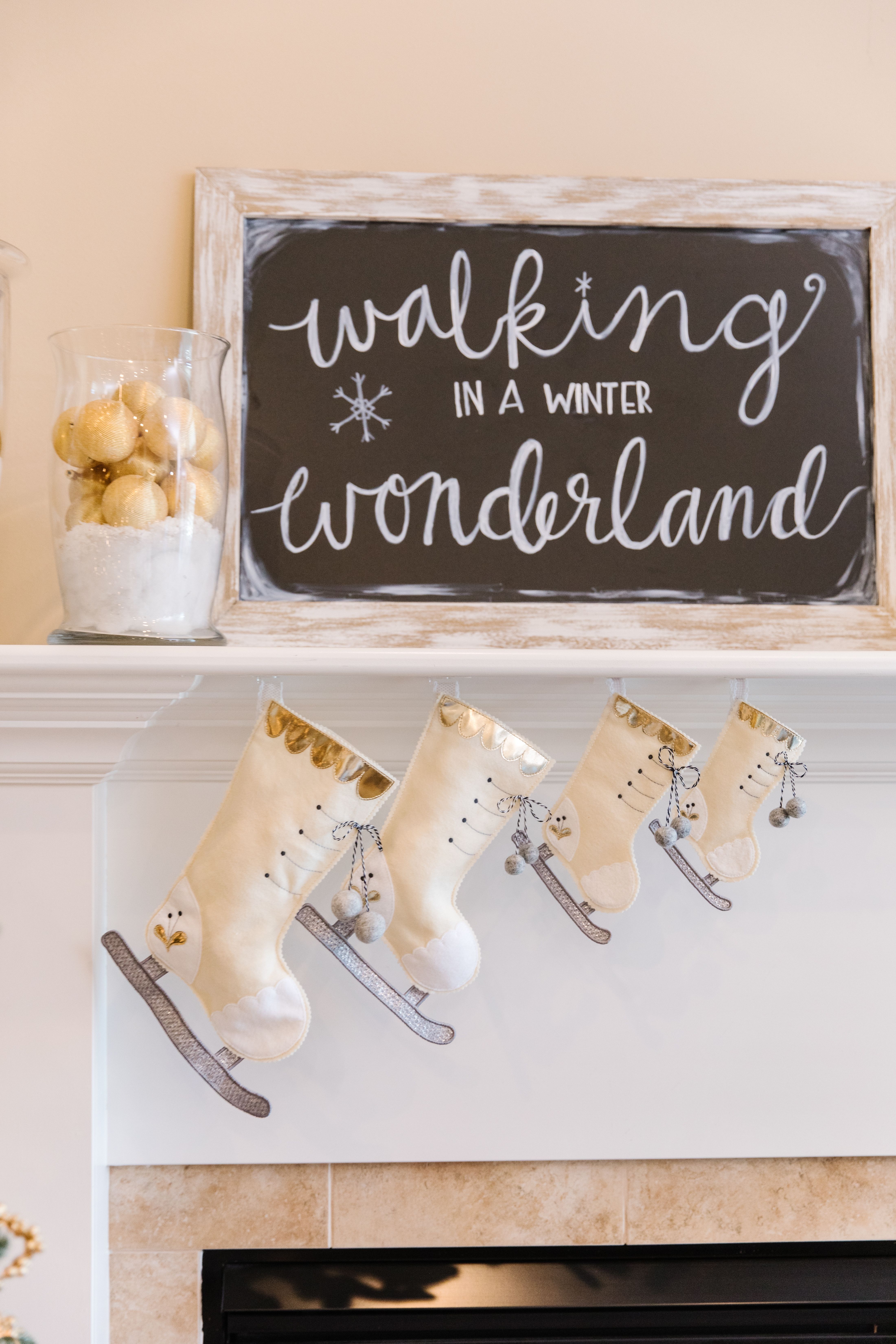 Winter Cardinal Ornament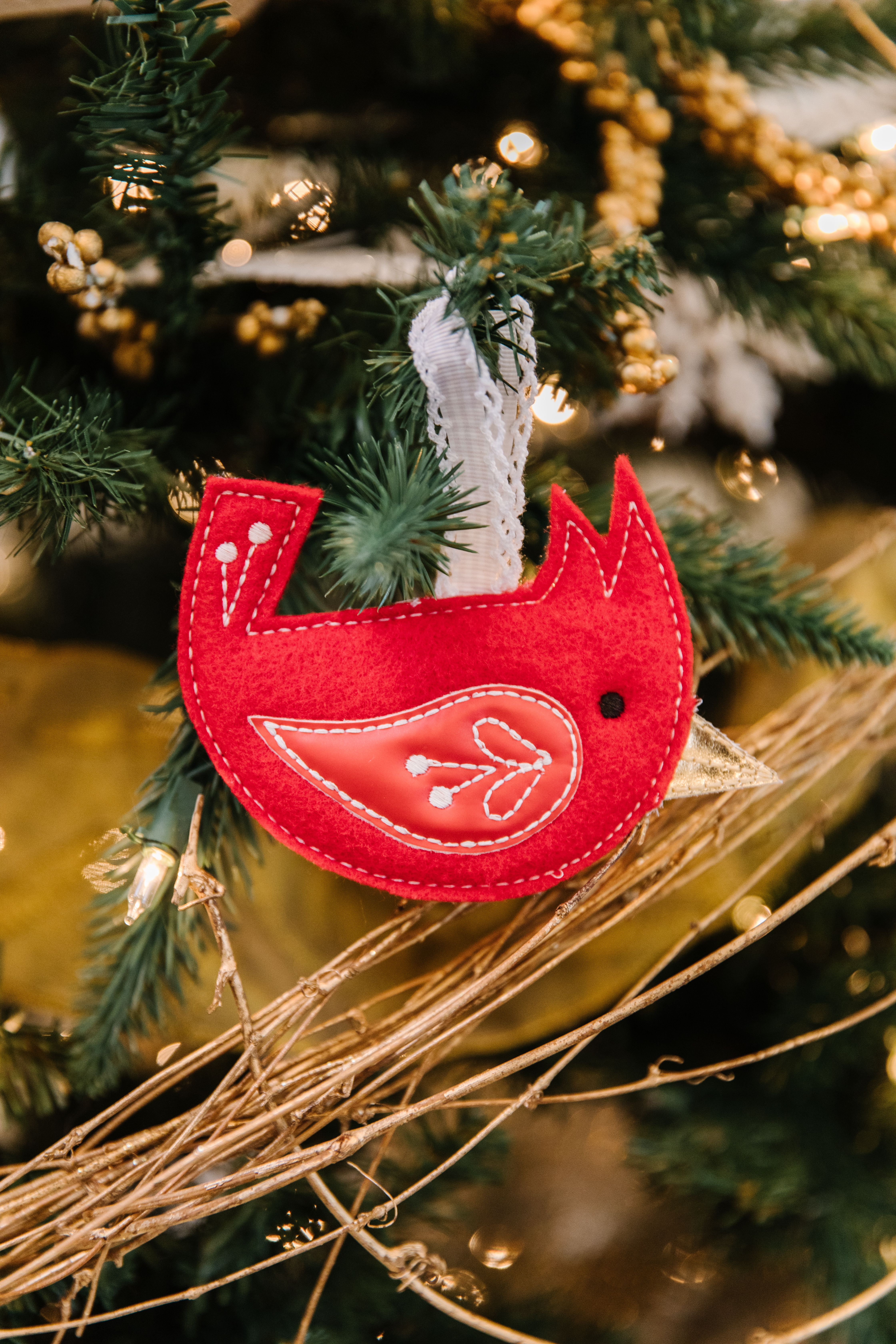 On the first day of Christmas, my true love gave to me...a cardinal to hang on my tree! Kimberbell's Winter Cardinal Ornament is made entirely in-the-hoop from crimson felt and Flexi Foam. The beak and wing feature two colors of Embroidery Leather, while decorative stitching and raw-edge applique give the folksy feel of traditional hand embroidery.
Finish your ornament in a 5x7 hoop at the event, top with a loop of Crocheted Edge Trim, and go home with a smaller size for a 4x4 hoop!
Event Bonus CD: Seasonal Sentiments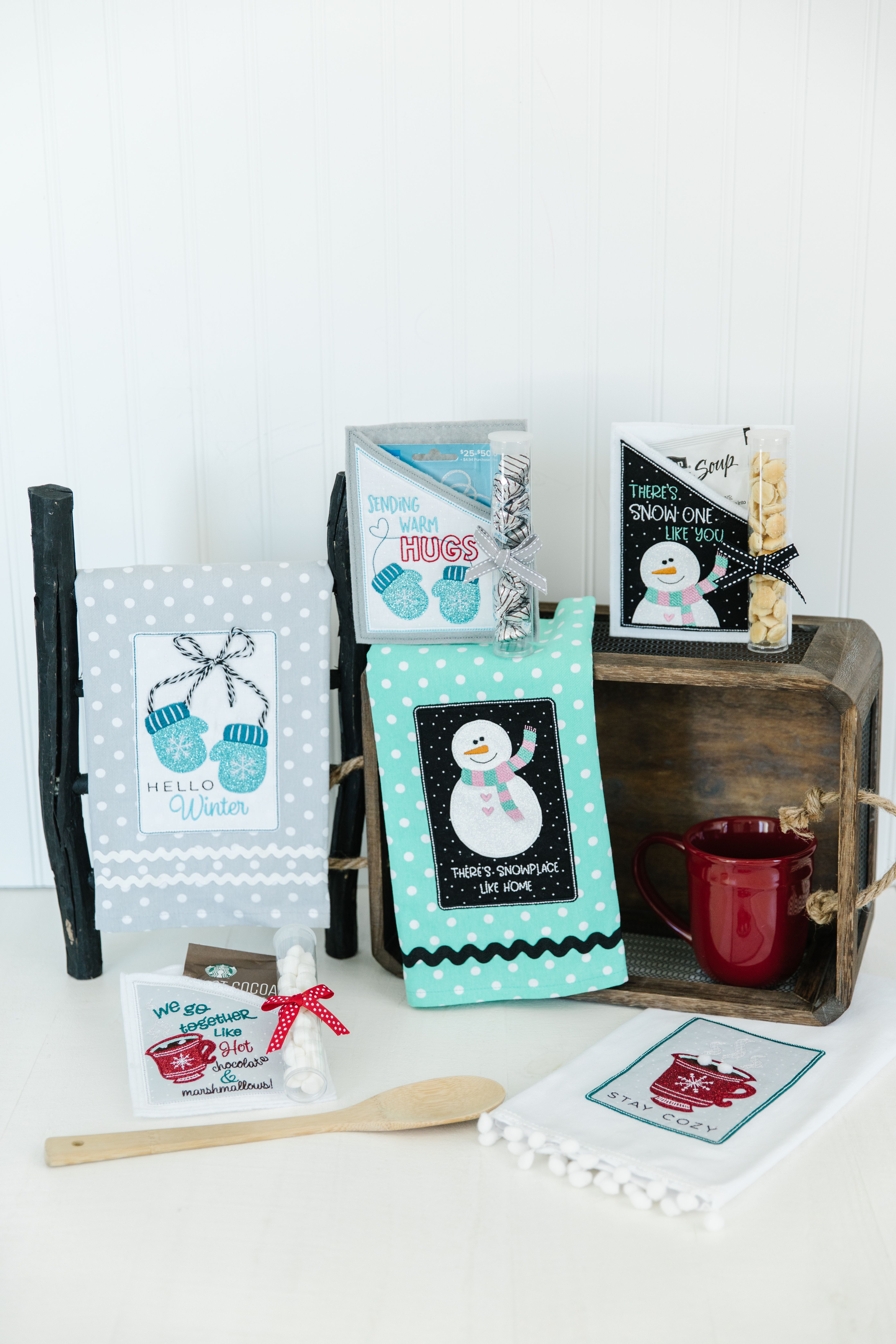 One of the perks of attending a Kimberbell Event is the opportunity to earn the event's exclusive bonus CD. Here's how it works:
When attendees spend $100 (or more) in the Kimberbell Popup Shop while at the event, they earn the FREE bonus CD. (You can't get these designs anywhere else!) Your shop will explain the details of how to qualify.
The Bonus CD for Winter Wonderland is called Seasonal Sentiments. Take a look!
Seasonal Sentiments are the Kimberbell way to say you care! Add "Stay Cozy," "Hello Winter," or "Snow Place Like Home" to Dots & Stripes Tea Towels and deliver with a batch of cookies or warm loaf of bread. Then pass along a gift pocket to say, "There's Snow One Like You," ""We Go Together Like Hot Chocolate and Marshmallows," or "Sending Warm Hugs!"
Fill the pockets with soup or cocoa packets and attach a Sweet Tube filled with tasty treats. With embellishments such as Applique Glitter, Crocheted Edge Trim, Tassels & Poms, and more, Seasonal Sentiments are cheerful gifts for family and friends!
Remember, Kimberbell's Winter Wonderland event will retire later this year, so now's the time to sign up for all the fun!
Are you ready for a second verse? (Remember, this is the "Walking in a Winter Wonderland" tune!)
When your projects are done
You'll have had lots of fun!
From the skate to the lights,
Nothing delights
Like stitching in a Winter Wonderland.