"Treat" Yourself to Home Sweet Haunted Home, Kimberbell's Fa-Boo-Lous Two-Day Machine Embroidery Event!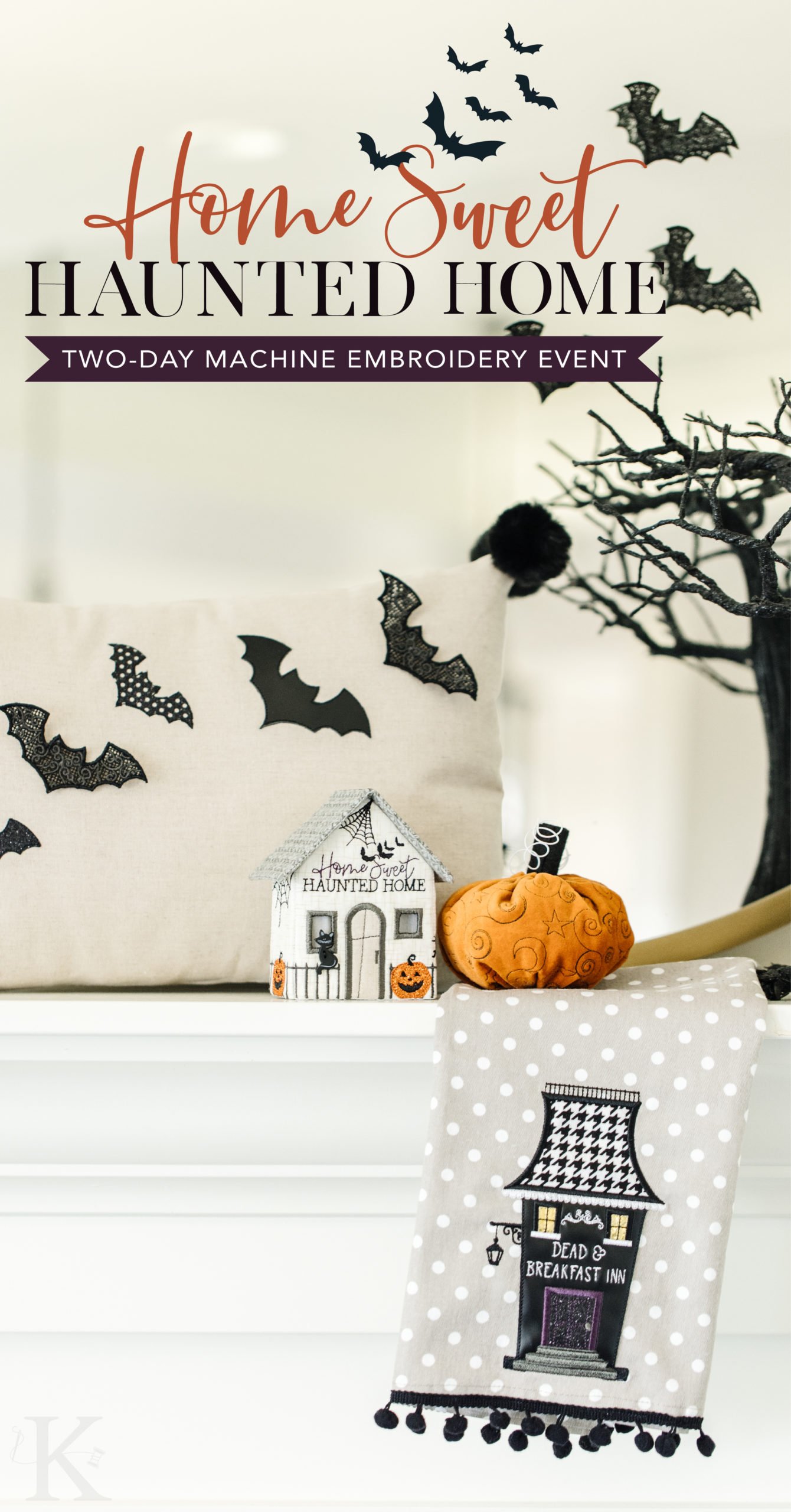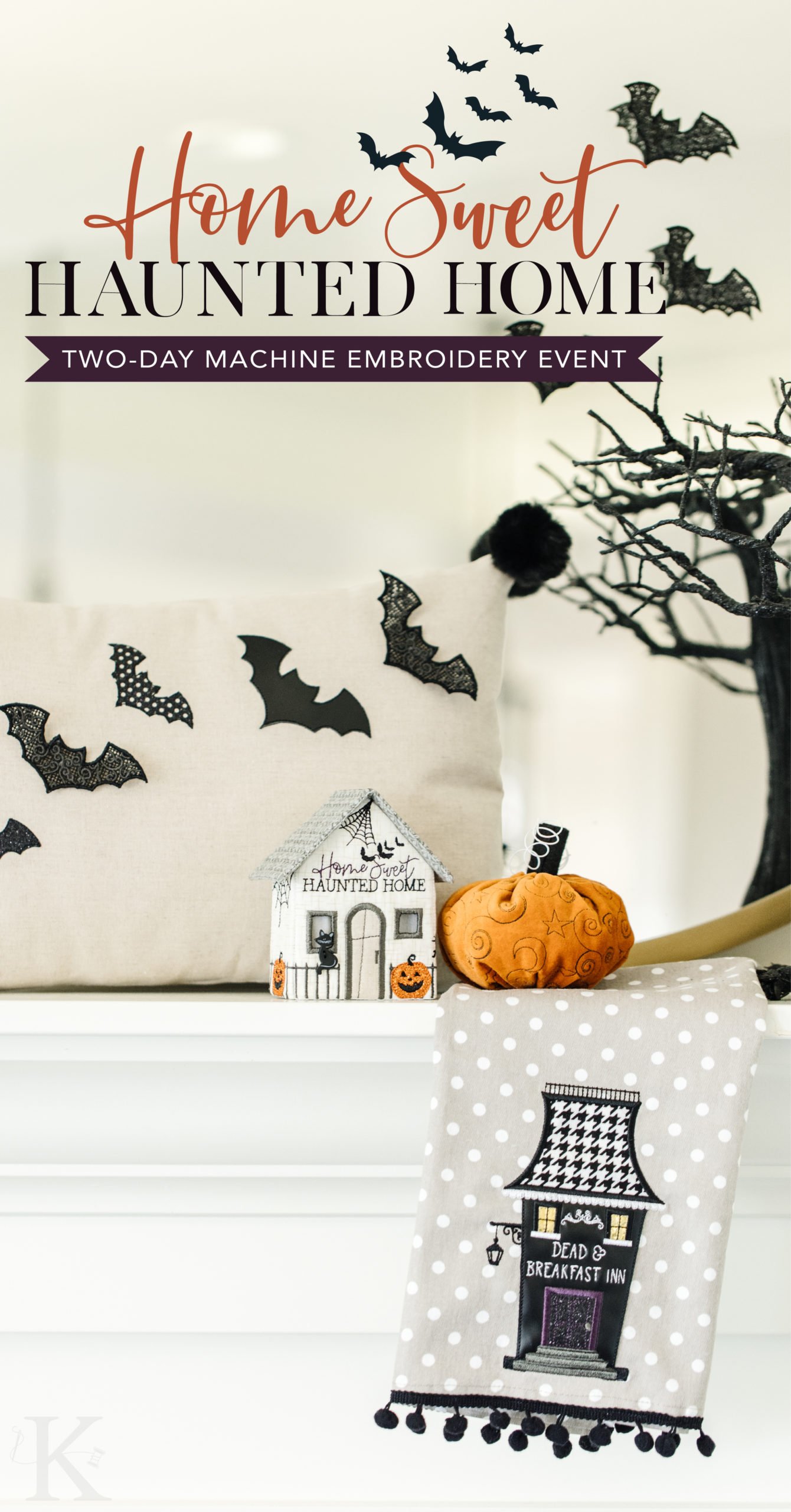 Are you looking to raise your "spirits?" Treat yourself to Home Sweet Haunted Home! At Kimberbell's two-day machine embroidery event, you'll create five bewitching projects with other stitching enthusiasts. Find a shop hosting Home Sweet Haunted Home HERE and sign up today!
Let's take a closer look at the projects you'll make for your Home Sweet Haunted Home.
Dead & Breakfast Tea Towel

First, stop for a spell at the Dead & Breakfast Inn! Stitch your ghoulish getaway on a Polka Dot Tea Towel with Mylar windows, an Applique Glitter door, and walls of shiny Embroidery Leather. After embroidering your design in a 5x7 hoop, edge with dare-ling pom-pom trim.
Haunted Home 3D House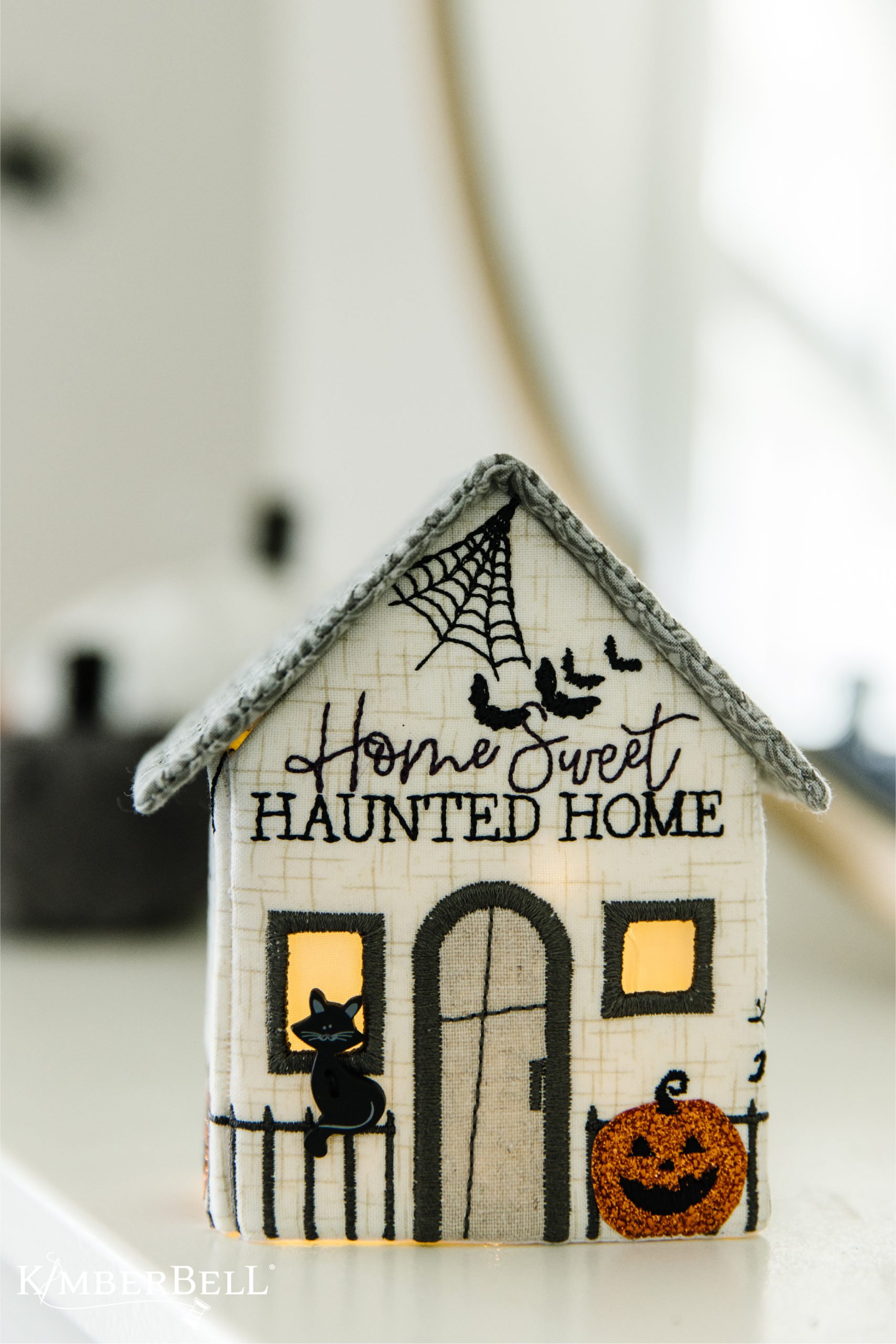 Fairy Lights cast an enchanting glow from Kimberbell's Haunted Home 3D House! Made with Shape Form stabilizer, this giftable cottage is charming for bookcases, table settings, mantles, and more. Stitch each piece in a 5x7 hoop, then add the roof with a dab of hot glue! With a black cat button and an Applique Glitter Jack-o'-Lantern, this dimensional project is a Halloween treat.
Perfectly Quilted Pumpkins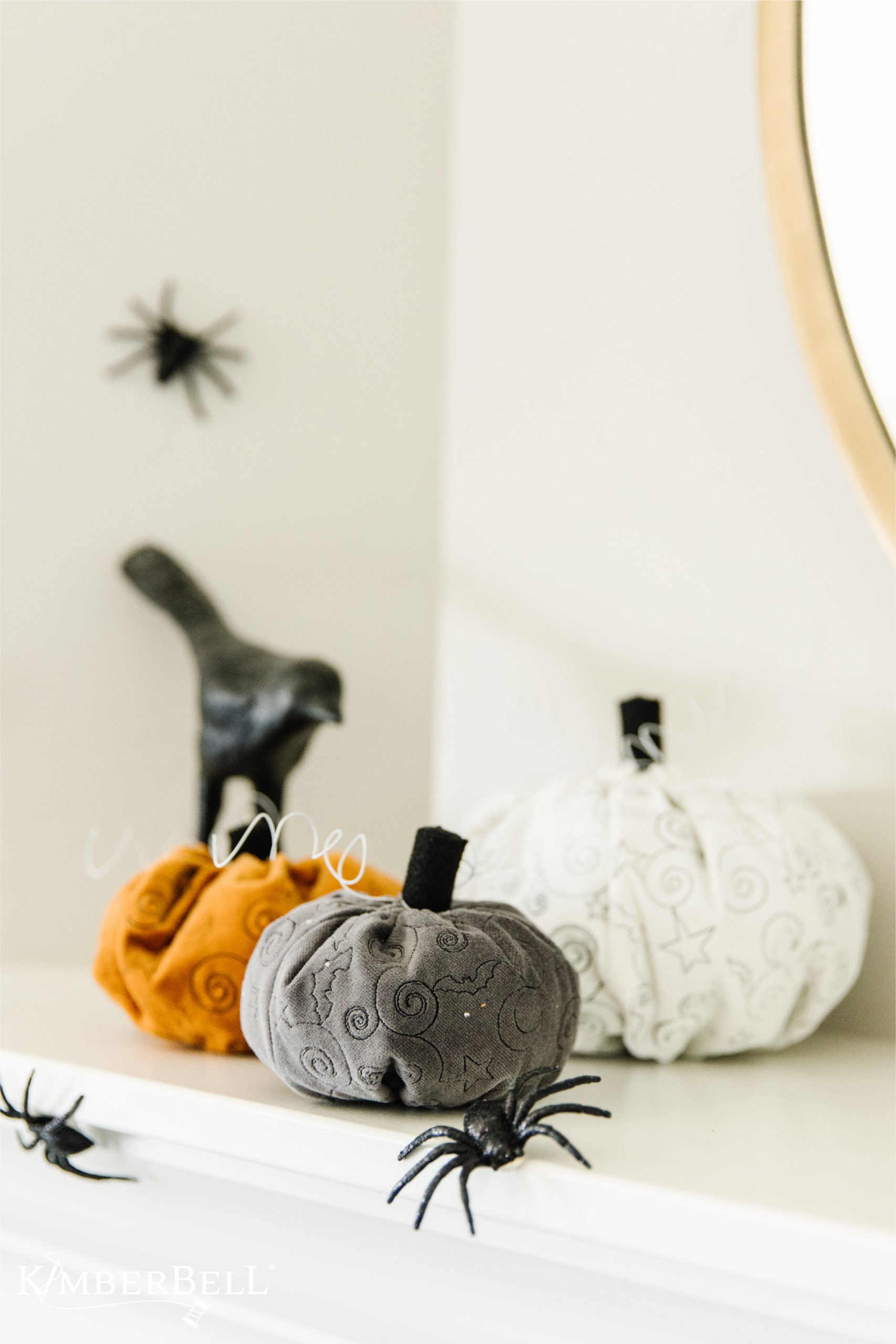 Kimberbell's Perfectly Quilted Pumpkins "grow" right in-the-hoop! Quilt the Velveteen fabric with a spook-tacular pattern, then form the pumpkin by gathering the top and bottom. Kimberbell Twine, an Embroidery Felt stem, and curly vines add darling dimension to your poofy pumpkin! Make in a 6x10 hoop at the event, and go home with two additional sizes.
Flyaway Bats Throw Pillow
With tantalizing textures and sleek colors, Kimberbell's Flyaway Bats Throw Pillow is boo-tique chic. Black as midnight, each bat is made from a different Kimberbellishment or technique, such as freestanding lace, Embroidery Leather, and Applique Glitter. Make in a 5x7 hoop, stuff with our 12 x 18" Pillow Insert, and add darling poms to each corner!
Lace Bats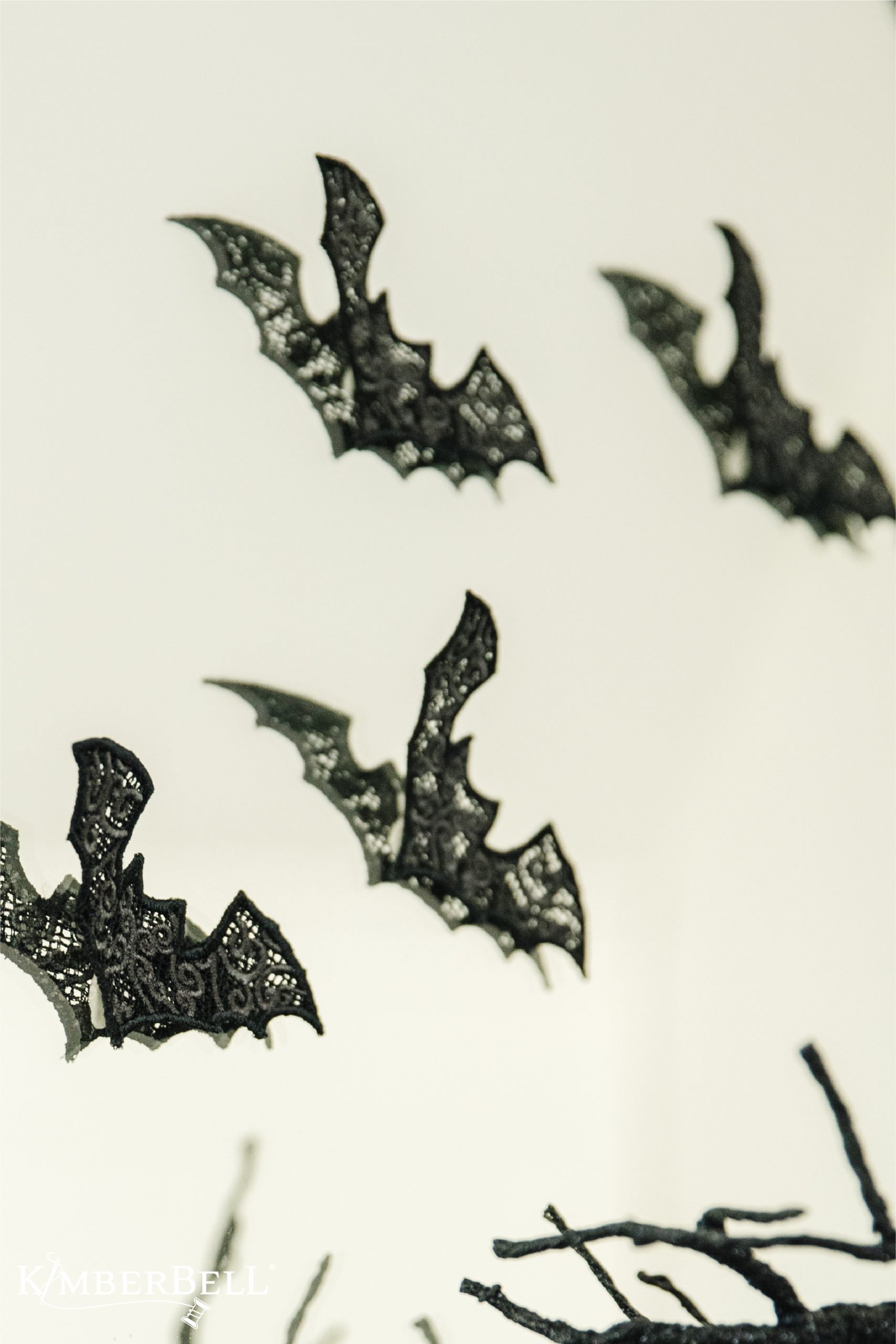 Take a flight of fancy with Kimberbell Lace Bats! Stitched on Wash-Away stabilizer, these boo-tiful bats are delightful decor for pillows and more. Make a couple of bats for your Flyaway Bats Throw Pillow, then create a whole colony for a variety of Halloween projects! Simple to stitch and very giftable, Lace Bats are an easy project to go "bats" over.
The Project Kit
When you attend a Kimberbell Event, your shop will give you the Event Kit, which includes everything you need to make the projects: Kimberbell Paper Tape, precut fabrics, Kimberbellishments, Kimberblanks, your event lanyard and collectible pin, and full-color, step-by-step instructions.
Here are all the goodies found in the Home Sweet Haunted Home Event Kit:
[embed]https://youtu.be/DdG455_YZlw[/embed]
Event Bonus CD: Spooky Felt Friends
One of the perks of attending a Kimberbell Event is the opportunity to earn the event's exclusive bonus CD. This is how it works: when an attendee spends $100 (or more) in the Kimberbell Pop-up Shop while at the event, they earn the FREE bonus CD, which you simply can't get anywhere else. (Your shop will explain the details of how to qualify!) The Bonus CD for Home Sweet Haunted Home is Spooky Felt Friends.
Made entirely in-the-hoop from Embroidery Felt and Flexi Foam, these happy haunts feature Embroidery Leather and bedazzling Applique Glitter. Stitch the spook-tacular Ghost, Pumpkin, and House designs, then complete your collection with the Bat, Raven, and creepy-cute Spider! Each design comes in two sizes for 4x4 and 5x7 hoops. Finish with a loop of Crocheted Edge Trim or string together with Wool Felt Balls and Kimberbell Twine.
[embed]https://youtu.be/SfIHfmT5yps[/embed]
ALL event projects are made in 5x7 and 6x10 hoops, with additional sizes also available to stitch later. From pumpkins and spiderwebs to bats and more, there's no place like Home Sweet Haunted Home. Sign up today at your favorite quilt shop...
...if you dare!