"It's Always S'more Fun Together" Cookies (Inspired by Kimberbell's Summer Nights One-Day Machine Embroidery Event)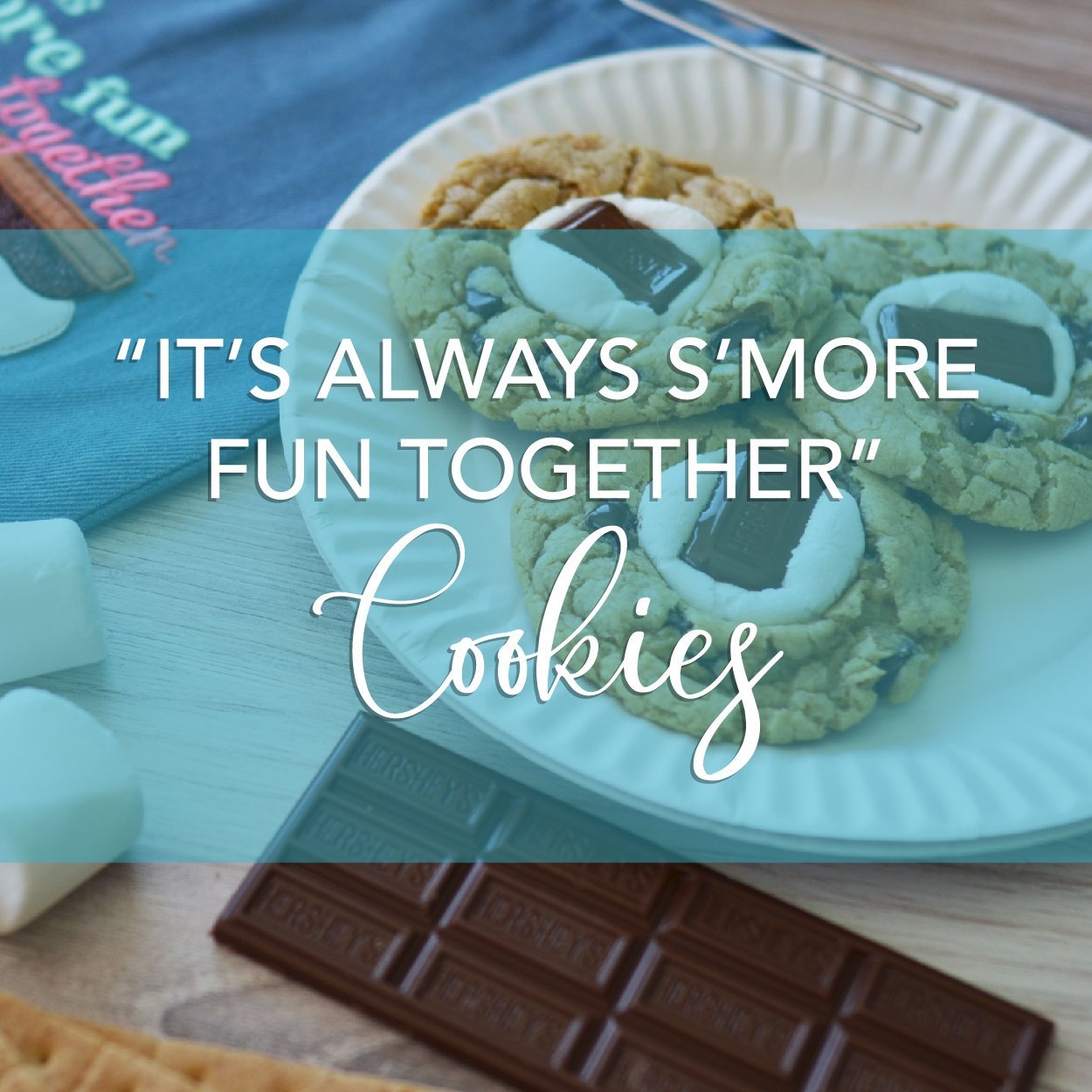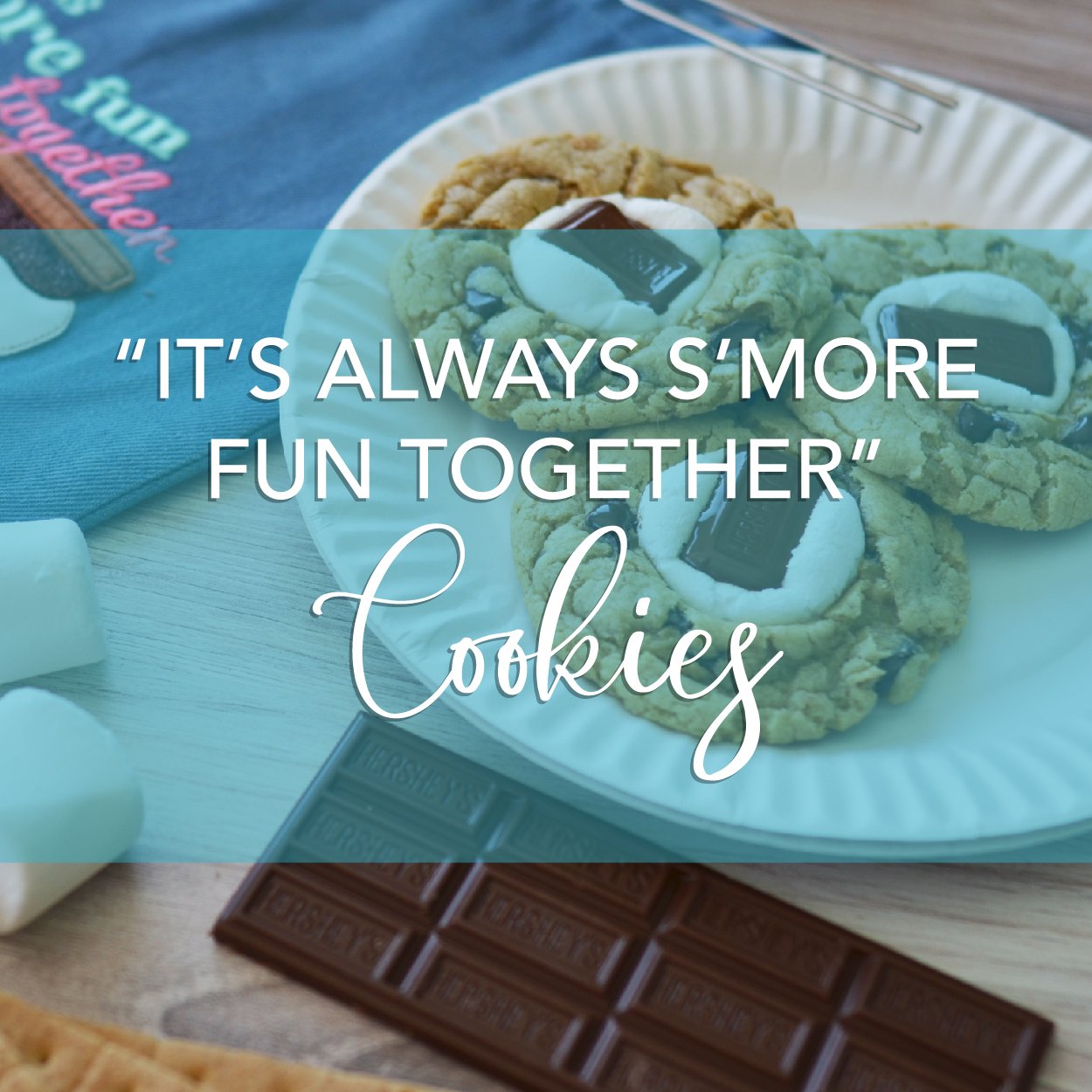 Nothing "s'more" fun on a warm summer night than family, friends, and...s'mores! But what if you don't have time for the whole campfire scene? This delicious recipe, inspired by Kimberbell's Summer Nights one-day machine embroidery event, combines graham crackers, marshmallows, and chocolate into one perfect, gourmet cookie.
Trust me---these will be the hit of every neighborhood barbecue, family picnic, school party, and church social you bring them to. 'Cause once you have one, you're definitely going to want s'more!

"It's Always S'More Fun Together" Cookies
Ingredients
1 package graham crackers (9 full-sized graham crackers)
6 Tbsp. butter, melted
1 Tbsp. sugar
Dash salt
1 cup butter, softened
2 cups brown sugar
2 eggs
2 Tbsp. milk
2 tsp. pure vanilla extract
1 tsp. baking soda
2 tsp. baking powder
1/2 tsp. salt
3 1/2 cups flour
2 1/2 cups chocolate chips (I prefer semi-sweet)
24 large marshmallows
4 small (1.55 ounce) Hershey bars
Directions
Use a food processor to crush graham crackers into small crumbs.
Add 6 Tbsp. melted butter, 1 Tbsp. sugar, and a dash of salt to the cracker crumbs. Mix all together in the food processor and set aside.
In large mixing bowl, cream softened butter and brown sugar for about two minutes.
Add eggs, milk, and vanilla to butter/sugar mixture and mix for another two minutes.
In a separate bowl, combine baking soda, baking powder, salt, and flour.
Add flour. mixture to creamed sugar/butter mixture until combined.
Add graham cracker mixture and mix gently with your hands.
Roll dough into 2-inch balls and place on lightly greased cookie sheet.
Bake at 350 degrees for about 6-7 minutes (or until the edges begin to crack).
While cookies are in the oven, cut the 24 marshmallows in half.
Press a marshmallow into the center of each hot cookie and return to the oven for 1 1/2 more minutes. (Marshmallow will puff up!)
Remove from the oven and let cookies sit for 2 minutes.
Press one Hershey bar piece into the center of each marshmallow.
Remove cookies from the sheet and allow to cool on a wire rack.
Yield: About 48 cookies.
But the fun doesn't stop with cookies, my friends. Find a quilt shop hosting Summer Nights today (click HERE) and sign up to create the "Sweet Stash" Roll-up Bag, Pink Roadster Mug Rug, and "S'more Fun" Roasting Stick Tote!
Take a look:
[embed]https://youtu.be/-RU1ZLa3HyU[/embed]
Ah. Cookies, nostalgia, darling designs...now that's a recipe for sweet Summer Nights.
Enjoy!