Fall in Love with My Punny Valentine, Kimberbell's One-Day Machine Embroidery Event!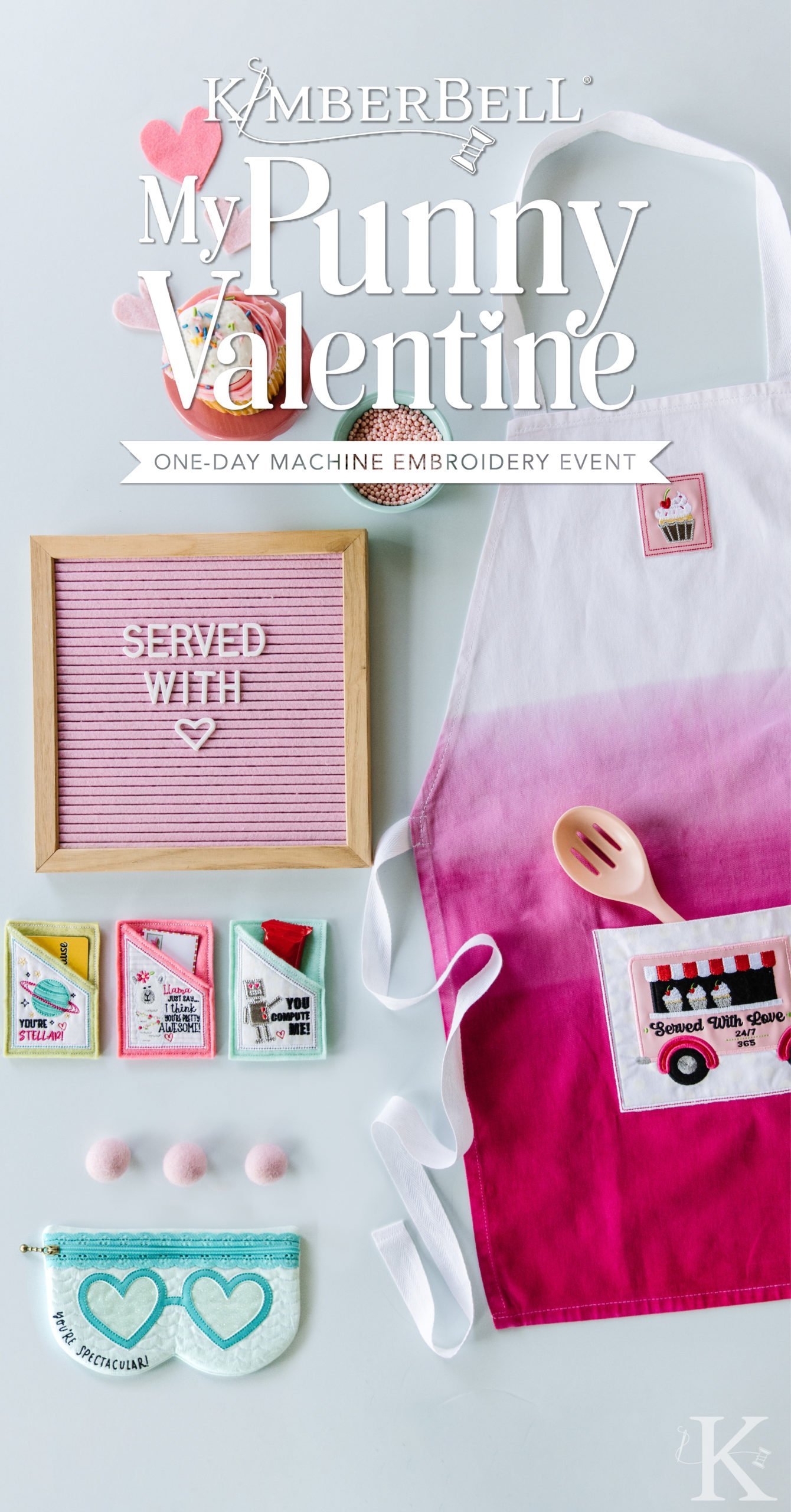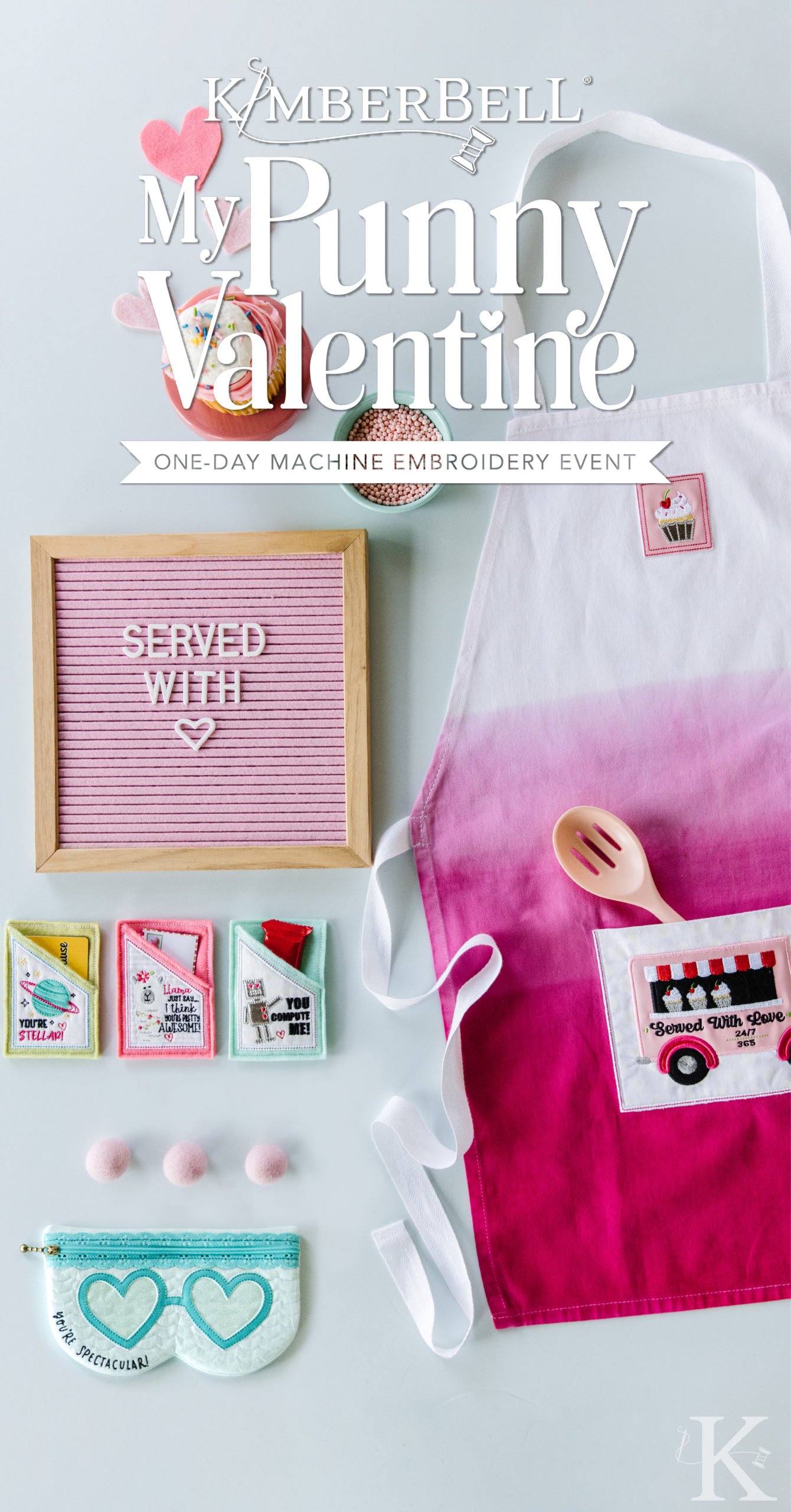 Celebrate love and laughter with My Punny Valentine! At Kimberbell's one-day machine embroidery event, you'll make five witty and wonderful projects with other stitching enthusiasts. Find a shop hosting My Punny Valentine HERE and sign up today!
In the meantime, let's take a closer look at each "lovely" project.
"Served with Love" Apron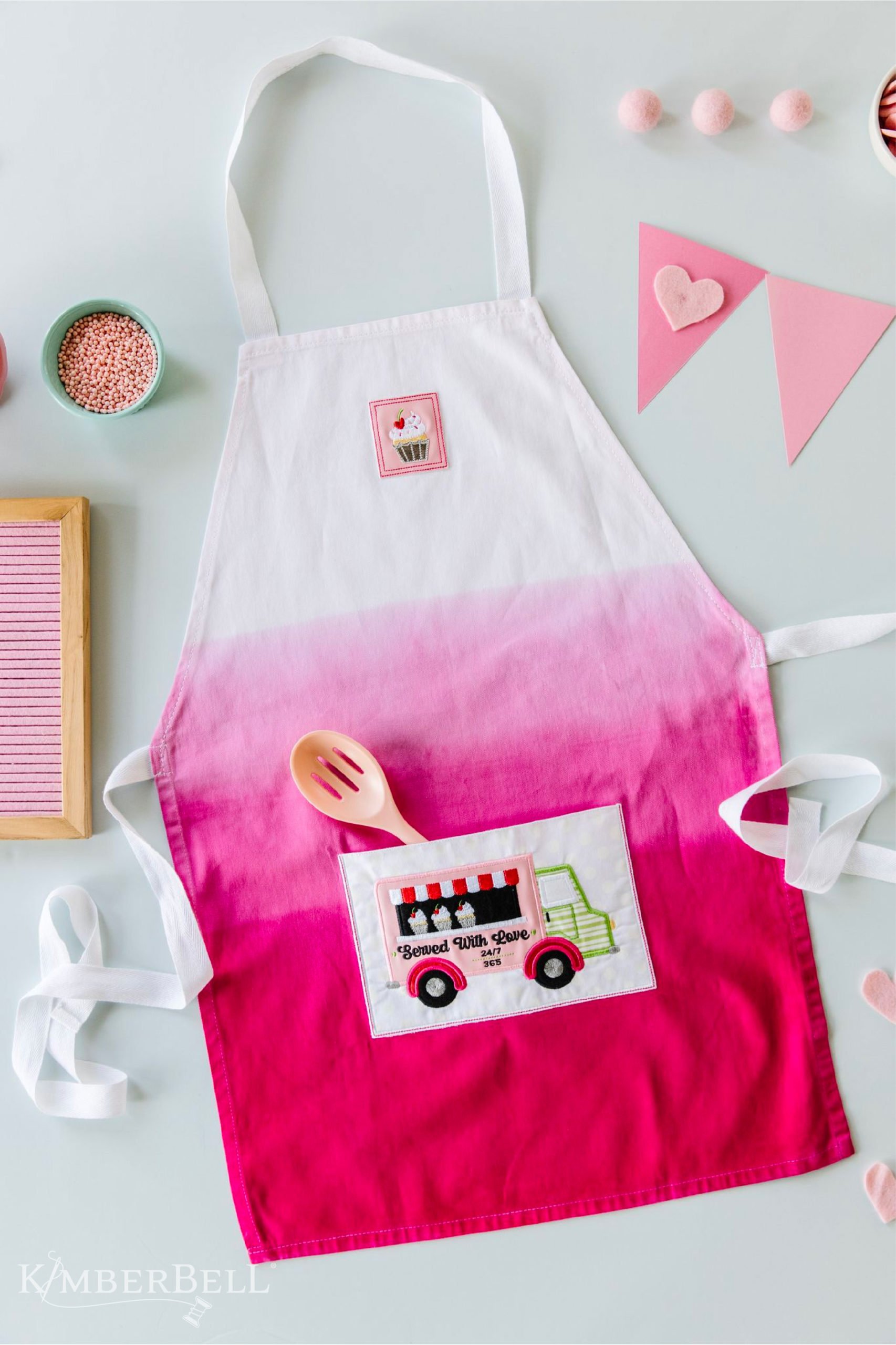 Everything's better when "Served with Love!" Made from Kimberbell's pink ombre tea towel, this pretty apron features a roomy pocket and a sweet cupcake patch. Stitch your "Served with Love" Apron at the event, and add darling dimension with Embroidery Felt and Embroidery Leather!
Gift Pockets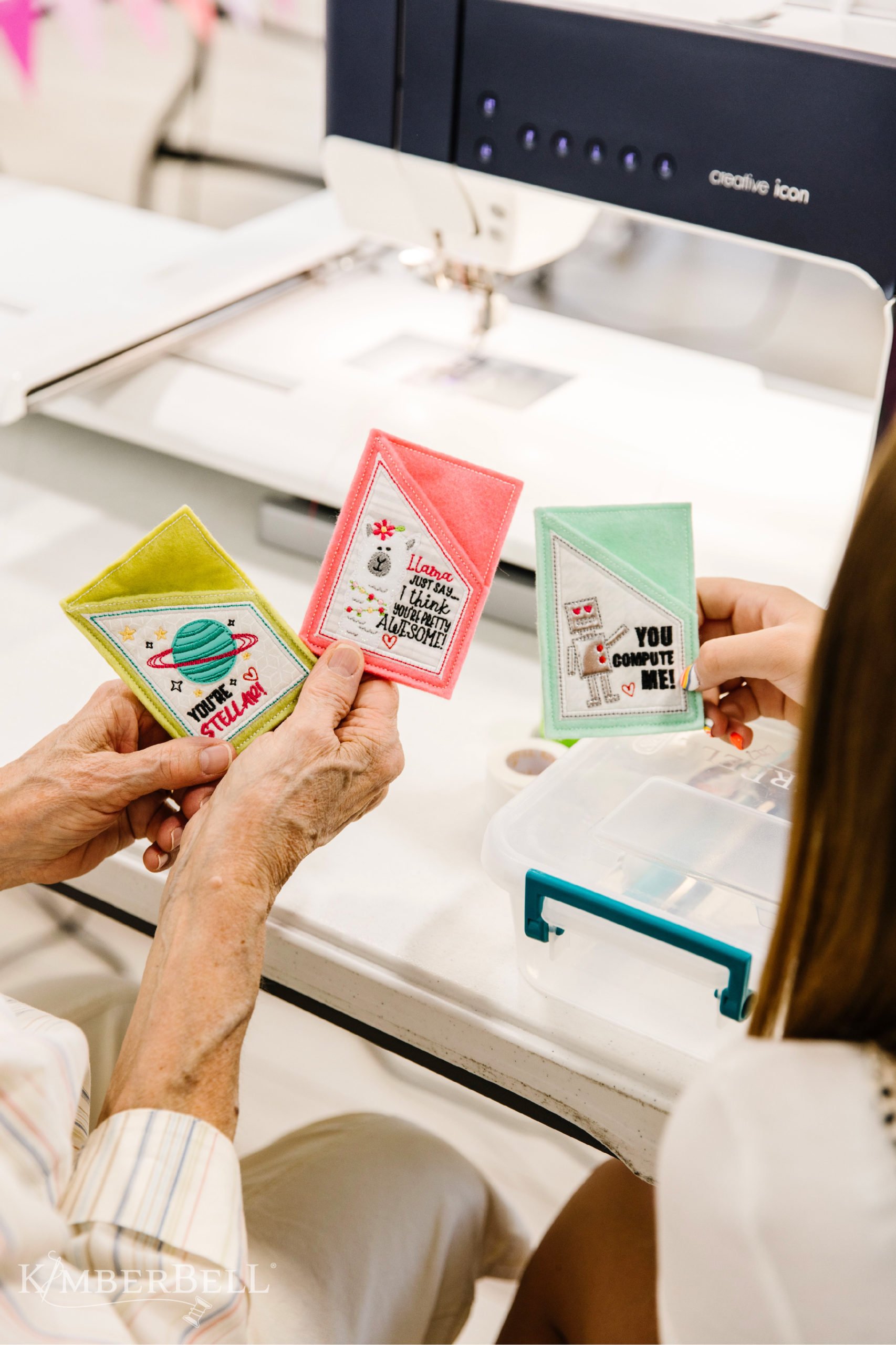 Sweetly sized for a Valentine surprise, our "You Compute Me," "You're Stellar," and "Llama Just Say" Gift Pockets are made of soft Embroidery Felt. Make all three designs in just one hooping and add Embroidery Leather and Applique Glitter for delightful dazzle!
"You're Spectacular" Zipper Pouch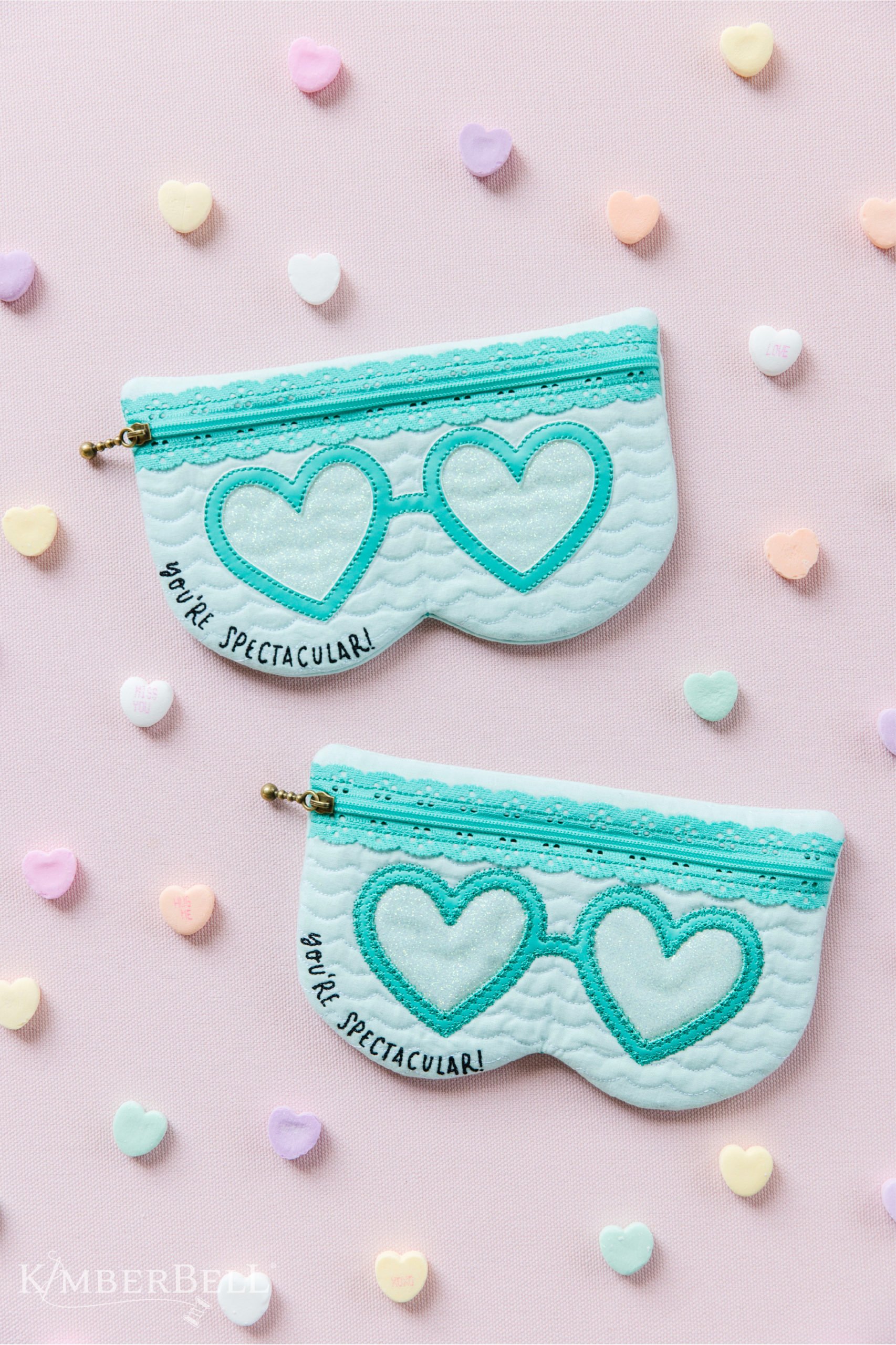 Say "You're Spectacular!" with Kimberbell's darling zipper pouch! Heart-shaped spectacles sparkle and shine with Applique Glitter, Embroidery Leather, and Sweet as Candy Clear Vinyl. Create your fully-lined pouch at the event and install the zipper right in-the-hoop!
Alternate Designs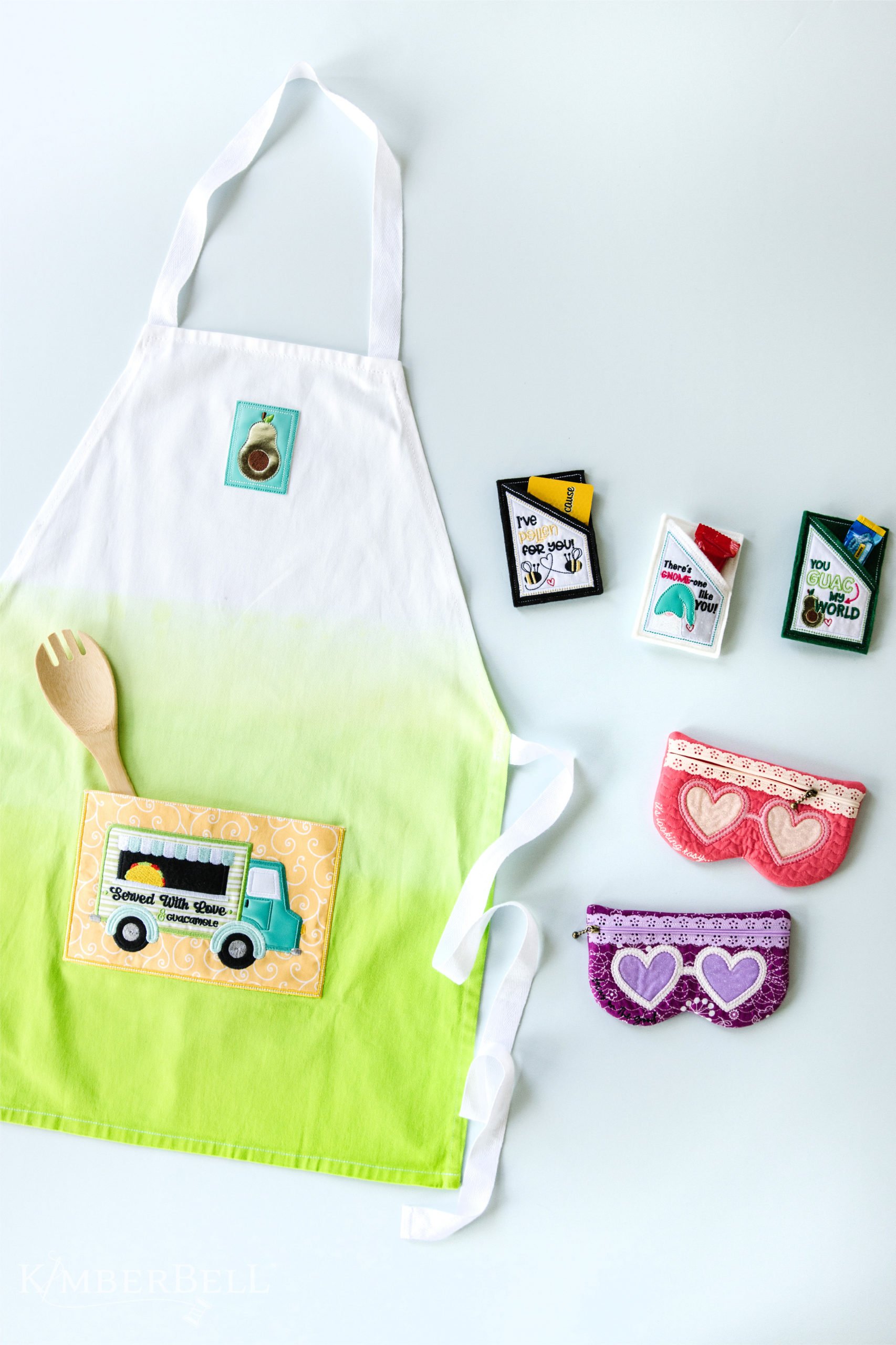 But that's not all. Each project also comes with an alternate design (or two...or three...) so you can have fun stitching even more projects at home! Additional Gift Pocket designs include "I've Pollen for You," "There's Gnome-one Like You," and "You Guac My World." Alternate zipper pouch phrases are "It's Looking Rosy," and "Focus on the Good," and the apron has a taco truck version: "Served with Love & Guacamole." (Check out the adorable avocado patch made of green Embroidery Leather!)
At Kimberbell, we are extremely fond of Mexican food. :)
That Personal Touch
It's easy to add your name to the Gift Pockets for that extra personal touch and slip a treat inside: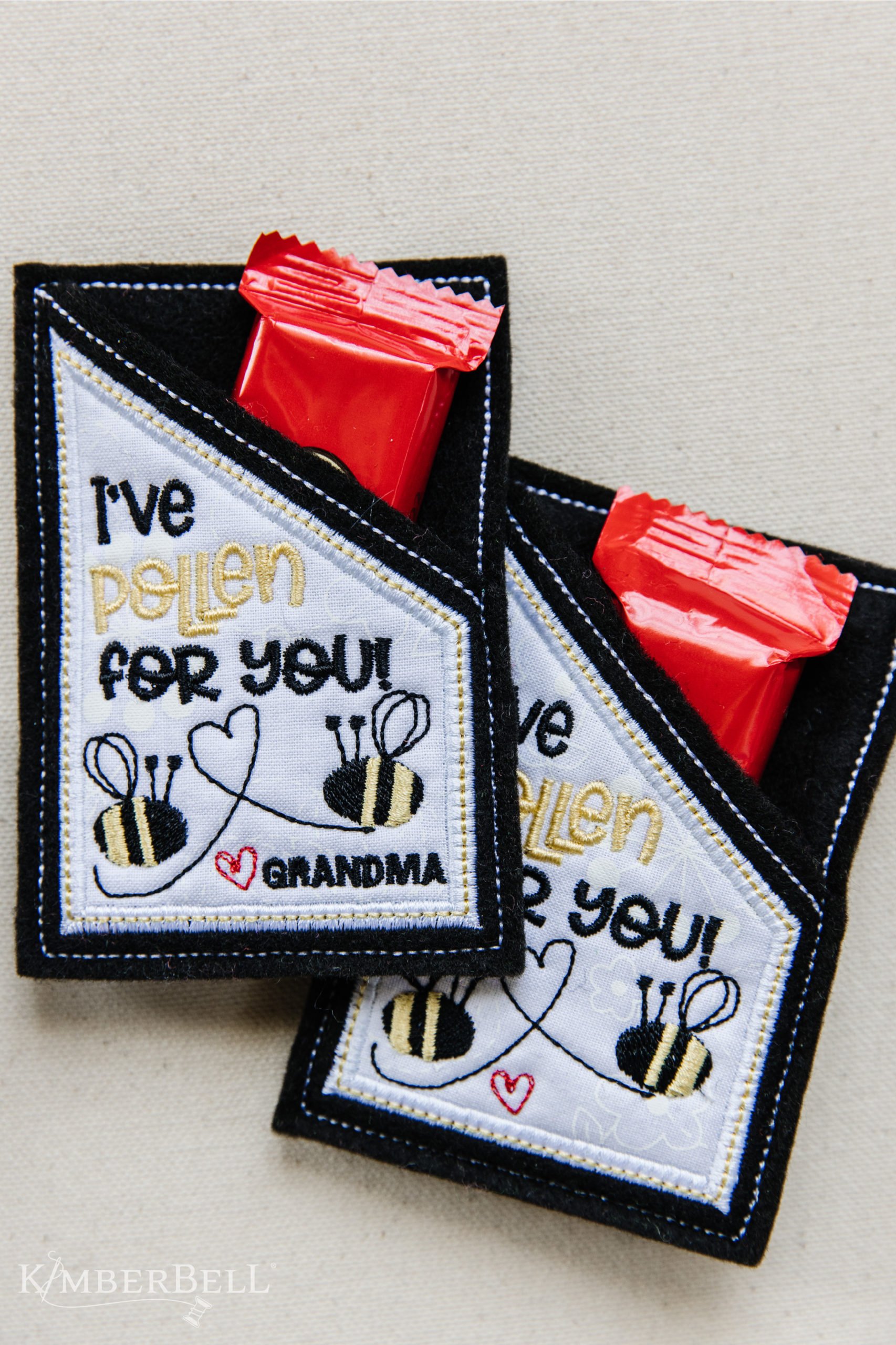 The Sweet Shoppe Event Bonus CD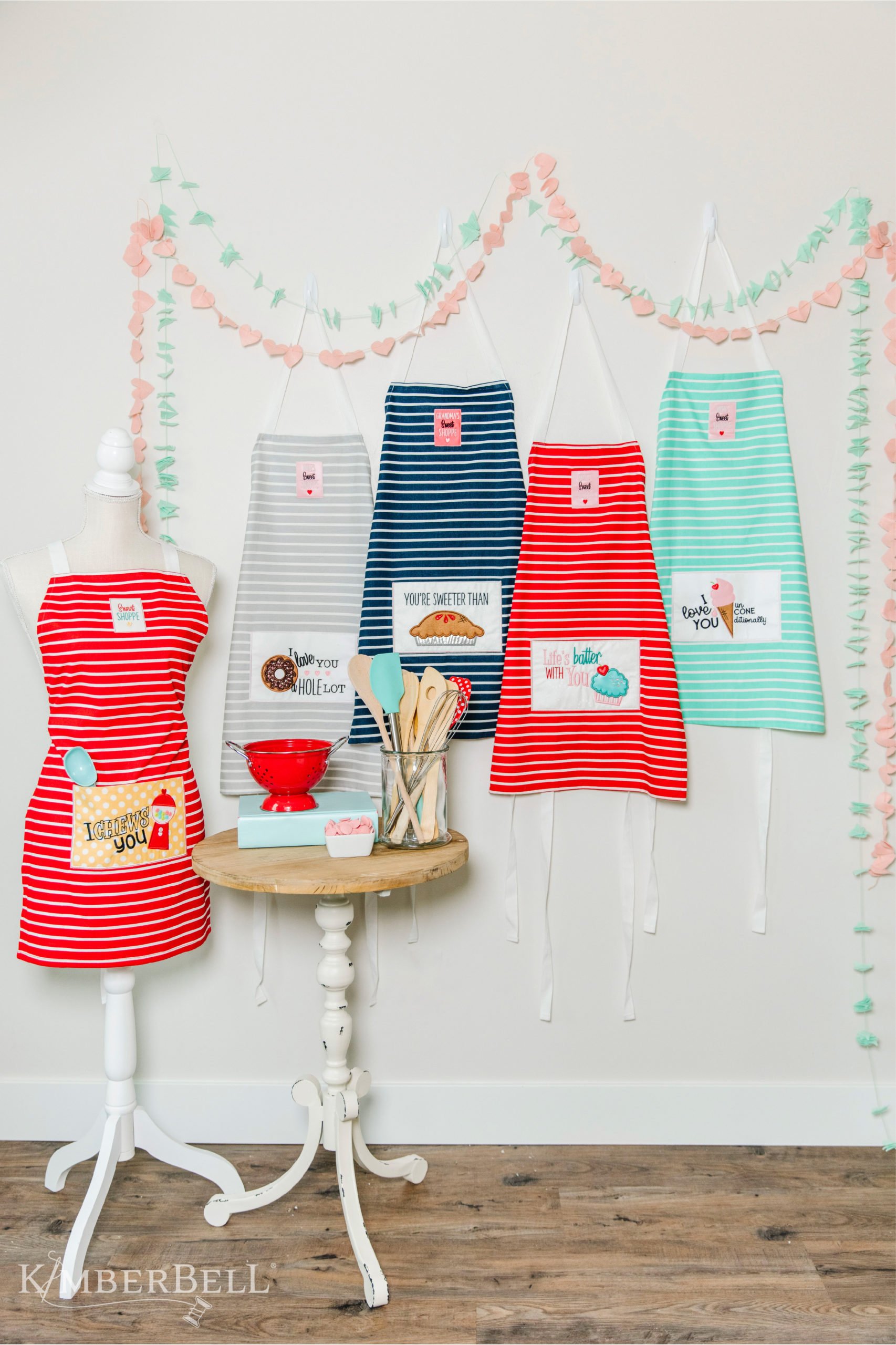 One of the perks of attending a Kimberbell Event is the opportunity to earn the event's exclusive bonus CD. This is how it works: when an attendee spends $100 (or more) in the Kimberbell Pop-up Shop while at the event, they earn the FREE bonus CD, which you simply can't get anywhere else. (Your shop will explain the details of how to qualify!) The Bonus CD for My Punny Valentine is The Sweet Shoppe.
The Sweet Shoppe includes eight delicious designs for aprons, tea towels, and more, all made in 5x7 and 6x10 hoops. Stitch pockets with I "Chews''You, A "Hole" Lot, Sweeter Than Pie, Batter with You, and Un"cone"ditional Love, then garnish with Sweet Shoppe, Mom's Sweet Shoppe, or Grandma's Sweet Shoppe labels!
Sprinkle a tasteful touch of Applique Glitter, Embroidery Leather, and more for extra sparkle and shine.
ALL event projects are made in 5×7 and 6×10 hoops, with additional sizes also available to stitch later. Sign up for My Punny Valentine today at your favorite quilt shop!