Bella of the Month: Michelle Fite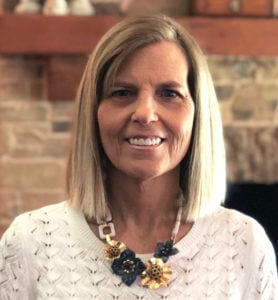 Meet Michelle Fite, Kimberbell's May 2020 Bella of the Month!
How long have you been a machine embroidery enthusiast?
"I have been sewing for more than 50 years and in the last few years have made at least 100 quilts. However, my interests changed in February 2019 when a friend shared with me the machine embroidery projects she had made. I was blown away. It didn't take me long to buy my first machine. I opted for an embroidery only machine, as I already had a sewing machine I was pleased with and thought I could have two things going at the same time. :)
Within one week I was majorly hooked and just couldn't get enough designs to embroider! I upgraded my machine within four months."
What is your favorite Kimberbell product so far?
"I was introduced to Kimberbell when my local quilt shop displayed "We Whisk You a Merry Christmas." It was the cutest project I'd ever seen, so I bought everything needed to complete it. I next found the Hello Sunshine! Quilt and proceeded to buy everything for that project as well. I didn't actually begin the Hello quilt until five weeks ago and had a blast embroidering every block. I'd have to say "Hello" is my favorite because it launched a craving for beautiful and fun things to embroider. I've not looked back and you might say I'm addicted to anything Kimberbell!"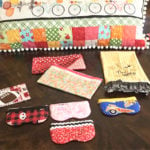 In what ways do you experience the joy of creativity?
"Creating these projects fills my heart with joy and satisfaction, as each embroidery design brings someone to mind that I want to make it for. I'm very proud of my completed projects and love giving them as gifts. I'm not afraid to dive in on any kind of embroidery project and I enjoy encouraging others to jump right in!"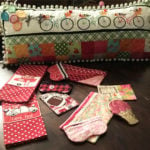 Please tell us one fun fact about yourself.
"Sewing has always been great therapy for me. And clearly, because of the amount of quality time I indulge, I need tons of therapy! LOL! Reality check: I'm terrible at completing projects. I like the embroidery part the best, then I tend to lay it all aside until later to complete the final details. The problem is that I'm having trouble meeting up with 'later!'
Thank you, Kimberbell, for a new love which is very inspirational to me."
Congratulations, Michelle Fite, on being chosen as our May 2020 Bella of the Month! Thank you for all you do to encourage others in our Kimberbell community.

Bellas (or Fellas!) of the Month are engaging, positive members of the Kimberbell community. Through sharing encouragement, experiences, tips, and ideas, the Bella (or Fella) of the Month helps machine embroidery enthusiasts more fully experience the joy of creativity™.