"Make Something Sweet" With Our Fresh Lemonade Recipe (Inspired by Kimberbell's Red, White, & Bloom Quilt for Sewing and Machine Embroidery!)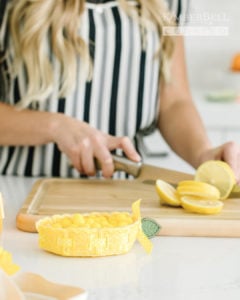 It's a hot July day. You just got home from the parade and it's time to fire up the grill! But first, you'll want to take a cool, refreshing swig of fresh lemonade.
Ahhhhhh. Life just doesn't get better than this! Named for Kimberbell's Red, White, and Bloom feature quilt for sewing and machine embroidery, our fresh lemonade recipe hits the spot when it's summer hot.
Red, White, & Bloom Lemonade
Ingredients
9 large lemons
1 1/4 cups granulated sugar (more or less to taste)*
6 cups cold water
Plenty of ice
Lemon slices or wedges (optional)
*Note: The sugar/lemon juice ratio is completely up to you and whether or not you prefer your lemonade more tart or more sweet!
Directions
Juice the lemons and strain the pulp.
Mix the lemon juice with the sugar and stir well until sugar is dissolved.
Add water and chill for at least one hour.
Pour lemonade over ice and garnish with lemon slices.
Enjoy!
Pour yourself another glass and enjoy again. ;)

Psst! These baskets from Kimberbell Curated: Citrus & Sunshine are a delightfully sweet way to store those lemons! :) Find these designs and more at your favorite quilt shop.