The "Purse"onalities of Vintage Flora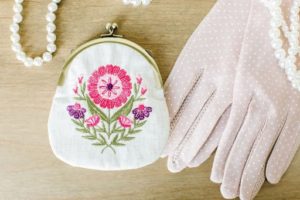 When I think about my Grandma Marjorie, I think of how absolutely classy she was in every single way. She came from what I wistfully call, "The Era When People Looked (and Acted!) Nice." Grandma would never dream of popping into a store wearing jeans. Her hair was combed, her lipstick was carefully applied, and if she needed a restroom she'd say she was going to "see Mrs. Murphy" because she wouldn't be so crass as to say where she was really going. Grandma epitomized everything good and refined and ladylike, and I loved hearing her stories of trolley cars, dance halls, and going without sugar "for the duration."
Maybe that's why I was particularly thrilled to write descriptions for Kimberbell's Vintage Flora Spark Event, where each project was inspired by women who, like my Grandma, cultivate beauty within their spheres of influence. I can't tell you how real these ladies became to me: Bernadette, enjoying a sunny afternoon with her grandkids. Pearl, so proud of her prizewinning roses. Gloria's free spirit, Cordelia's flower shop, and Edith's garden teas all sprang to life in my mind--culminating with the modern-day Lucy, who, like me, feels a strong connection to her heritage.
So, without any further ado, it is my very great pleasure to introduce you to my dear friends Pearl, Gloria, Bernadette, Cordelia, Edith, and Lucy: the "purse"onalities of Vintage Flora!*
Pearl's Pink Petals Clasp Purse
Everything's coming up roses for Pearl; she just learned that her flowerbeds won first place in the garden show! Delighted by this news, Pearl asks her friends to meet her at the lunch counter downtown. Wearing a smart pillbox hat and white gloves, Pearl tucks her blue ribbon into her clasp purse and rides the trolley to share her good news. (Her friends are, of course, tickled "pink!")
Gloria's Golden Garden Clasp Purse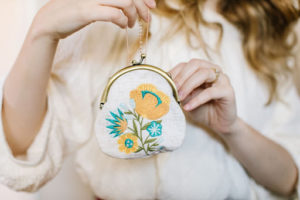 Gloria rises with the sun each morning to wander through her wildflowers, her bare toes warmed by the rich, dark earth. Her garden is a rainbow of color growing wild and free, and Gloria hums happily as she clips her best blossoms for the farmer's market. With all proceeds going to local charities, Gloria sells baskets of her cheerful sprays and carefully stores every dollar in her vintage clasp purse.
Bernadette's Blooms Clasp Purse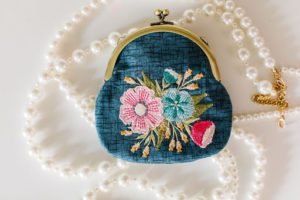 Bernadette's favorite place is her garden, especially when her grandchildren come for a day of digging, planting, and pruning. She nurtures their tender spirits with the same loving care she gives to each plant, rejoicing in seeing them thrive. After an hour or two, Bernadette reaches into her classic clutch and gives a silver dollar to every happy helper. (After all, the ice cream truck is expected to drive by at any moment!)
Cordelia's Corsage Clasp Purse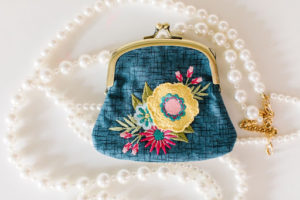 When Cordelia opens her flower shop, she sets her clasp purse inside the old wooden register and greets her customers with a smile. From simple bouquets to elaborate displays, people flock to Cordelia's Corsage for births, funerals, and everything in between. With her eye for beauty, Cordelia loves choosing buds and blossoms for happy brides, shy grooms, and young couples heading for a night at the dance hall.
From cozy teas to society luncheons, Edith is widely known for her garden soirees. She plans each event with the same thoughtful care she gives to her garden, with every detail in its perfect place. Gardenias, daisies, and marigolds line the charming flagstone paths, leading to a newly painted gazebo. Edith herself is dressed to the nines, from her wide-brimmed hat to her coordinating clasp purse!
A member of her local historical society, Lucy regards heirlooms as valuable links to her heritage. From faded photographs to delicate doilies, Lucy draws strength from the lives and stories that came before her. Small family treasures are stored in Lucy's Lace Zipper Pouch, the quilted scallops, eyelet lace, and vintage brass pull connecting the past, present, and future with the timeless threads of elegance.
*Note: At Kimberbell's Vintage Flora Spark Event, the attendee makes two projects: Lucy's Lace Zipper Pouch and EITHER Pearl's Pink Petals OR Gloria's Golden Garden Clasp Purse. The attendee then goes home all design files, including three additional designs to stitch later: Bernadette's Blooms, Cordelia's Corsage, and Edith's Bit of Eden.