Receive a FREE (and Festive!) Peppermint Avenue Design for Sewing and Machine Embroidery at Participating Fill in the Blank Shops!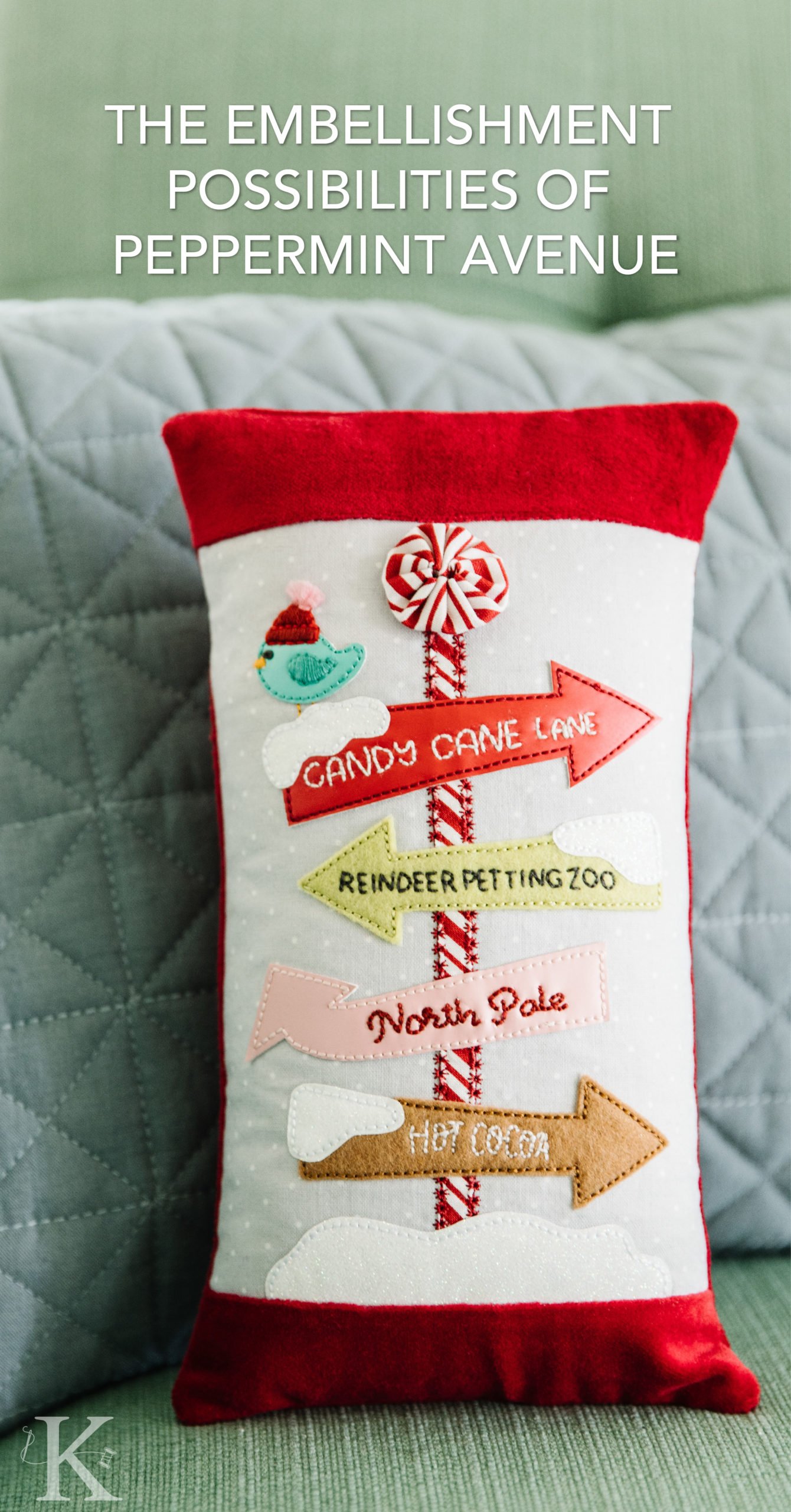 Kimberbell's Peppermint Avenue is a crossroads of creativity, with a variety of textures taking the pillow to a whole new level of "wow." And just as the (adorable!) candy-striped pole points the way to different destinations, each featured embellishment leads to a whole world of possibilities! Let's explore the different "routes" you can take with Peppermint Avenue, September's Fill in the Blank project for sewing and machine embroidery!
Embroidery Leather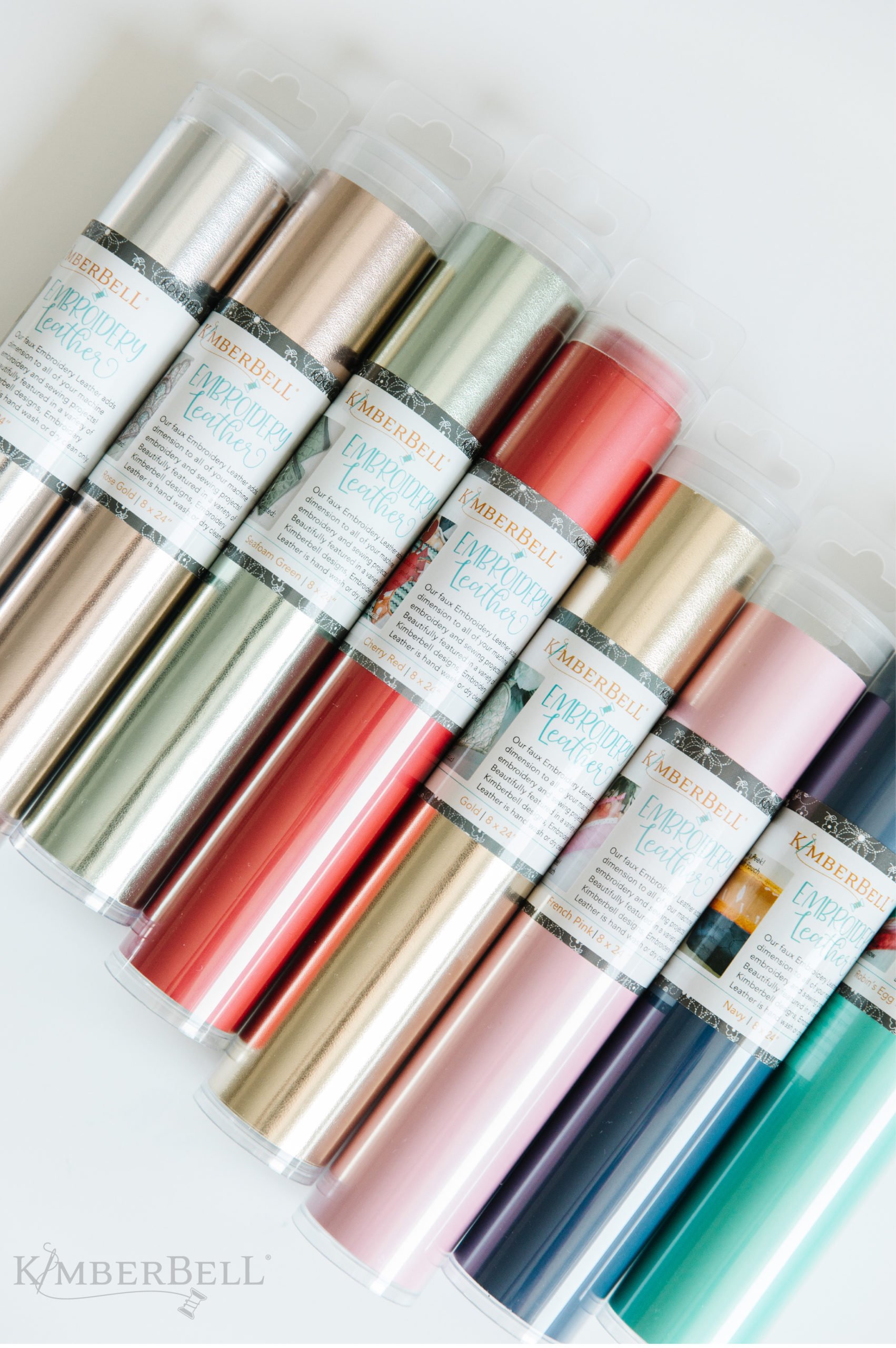 Stitch your Candy Cane Lane and North Pole signs on Cherry Red and French Pink Embroidery Leather, then top with a bird of Robin's Egg Blue. Smooth and supple, Embroidery Leather is a dream to stitch on and comes in a rainbow of beautiful colors.
Applique Glitter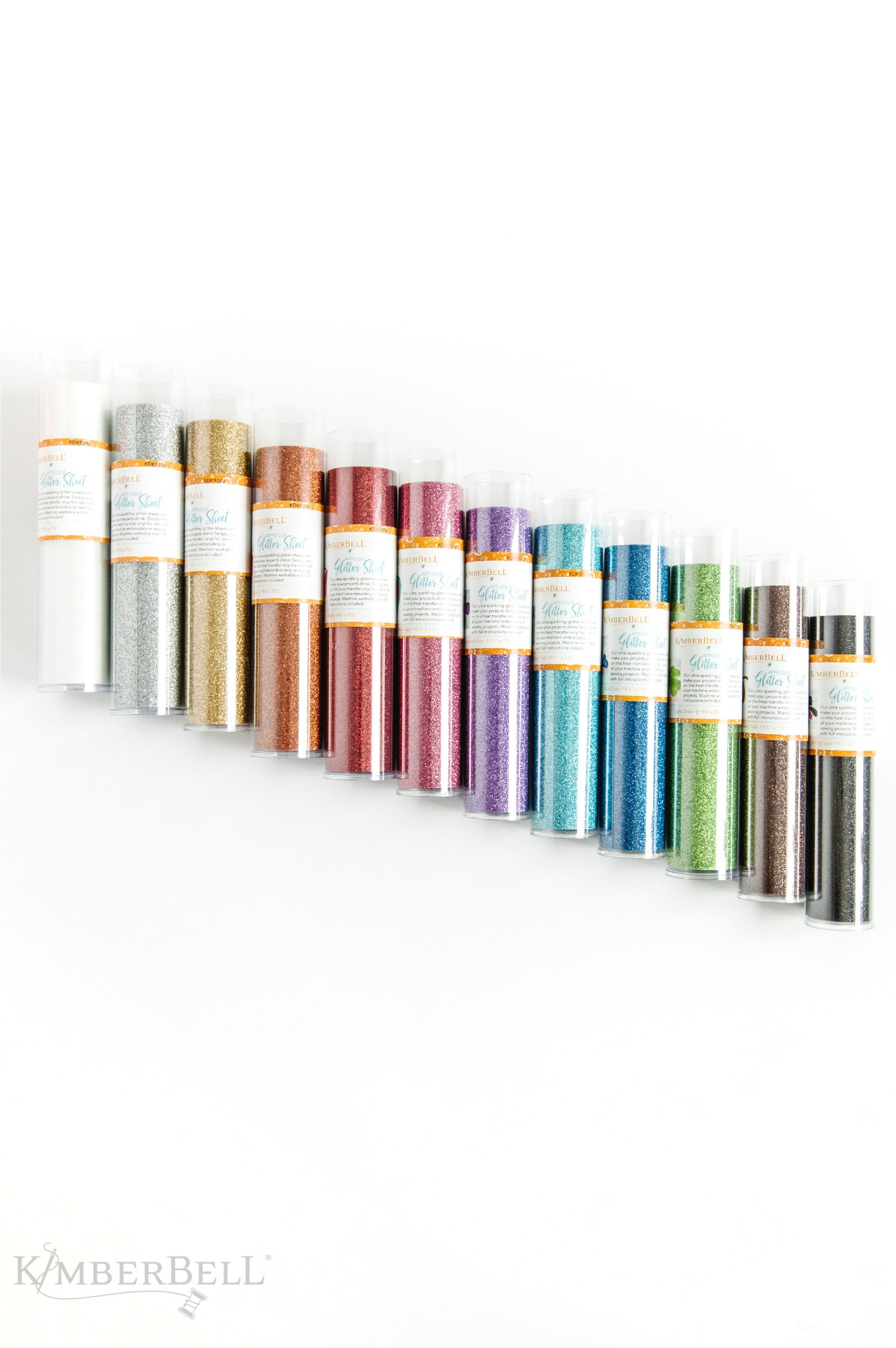 Just as snow sparkles like diamonds in the bright winter sunshine, Applique Glitter brings realistic enchantment to Peppermint Avenue snowdrifts. And one of the best things about Kimberbell Applique Glitter is that it doesn't make a mess at all! No shedding. No glittery hands. Just a whole lot of sparkly fun!
Embroidery Felt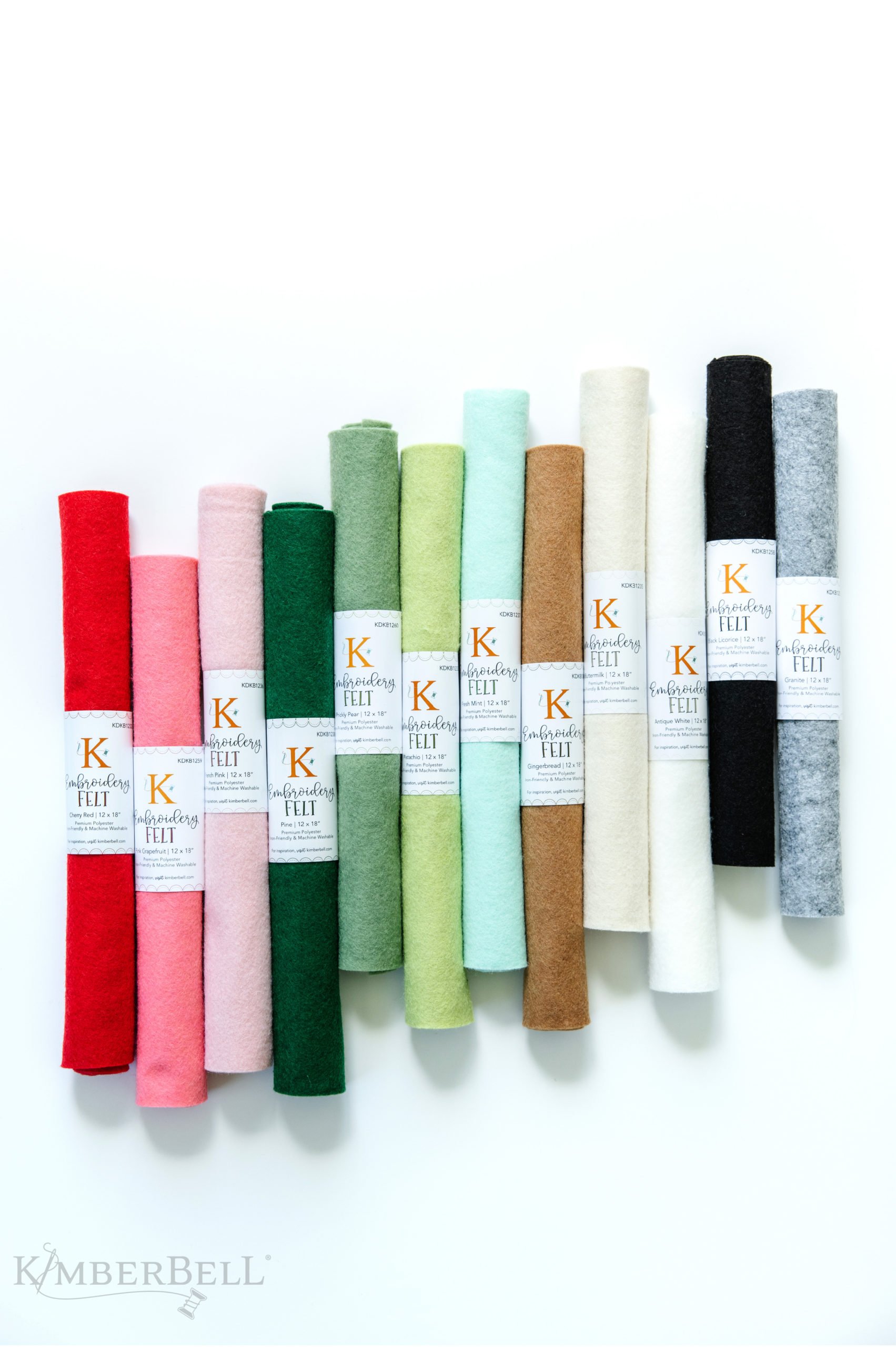 Super soft and easy to stitch, our premium Embroidery Felt comes in a wide array of lovely colors. Stitch your Hot Cocoa and Reindeer Petting Zoo signs on Gingerbread and Lime Green colors for a delightful dash of texture and charm.
Velveteen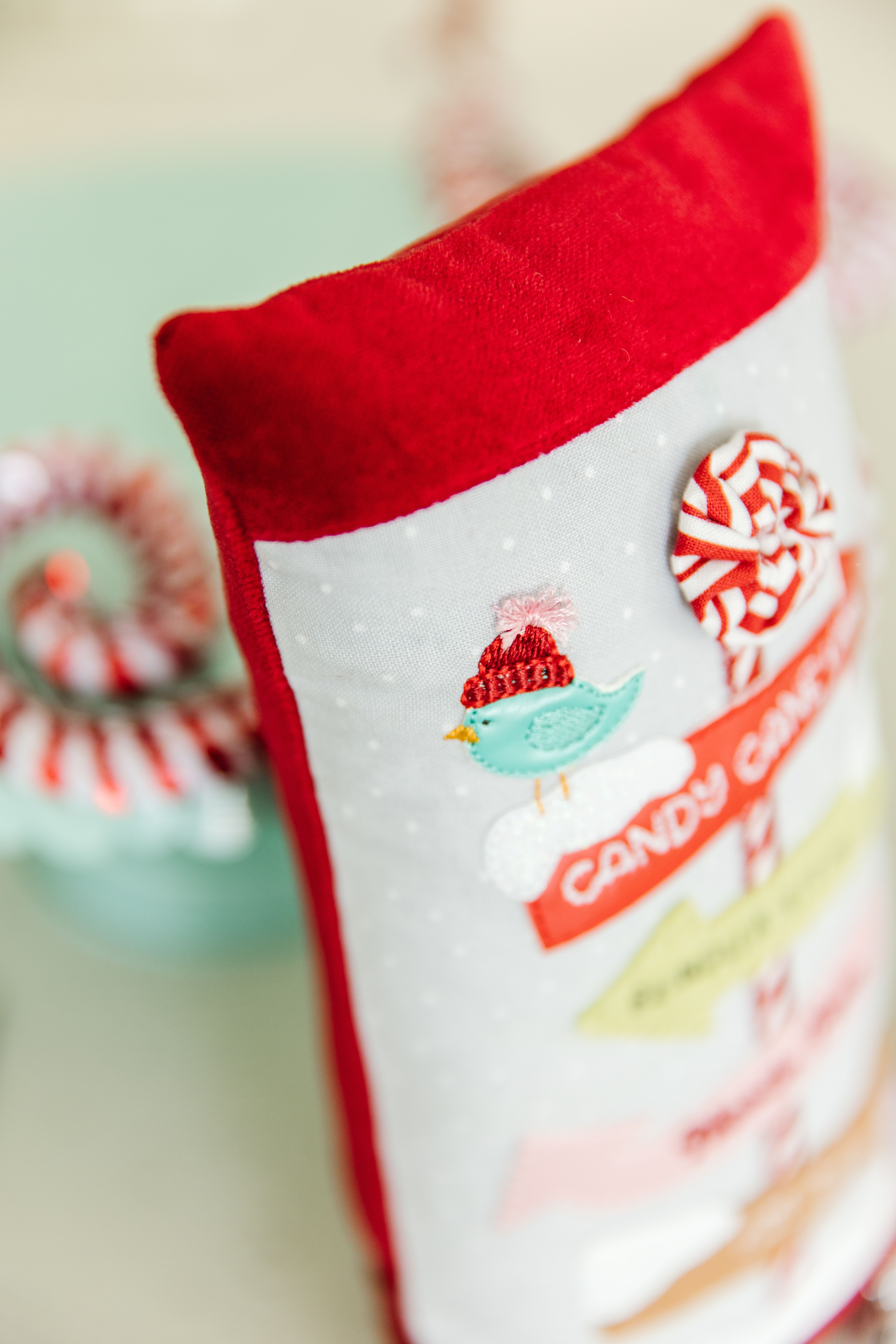 Add lush and luxurious dimension to your Peppermint Avenue Bench Buddy with a splash of Kimberbell Velveteen! Rich Crimson is a striking contrast against the snowy background, taking your project to the next level of home decor. Each of the seven Velveteen colors comes in a 12 x 24" sheet.
Peppermint Avenue and Candy Cane Lane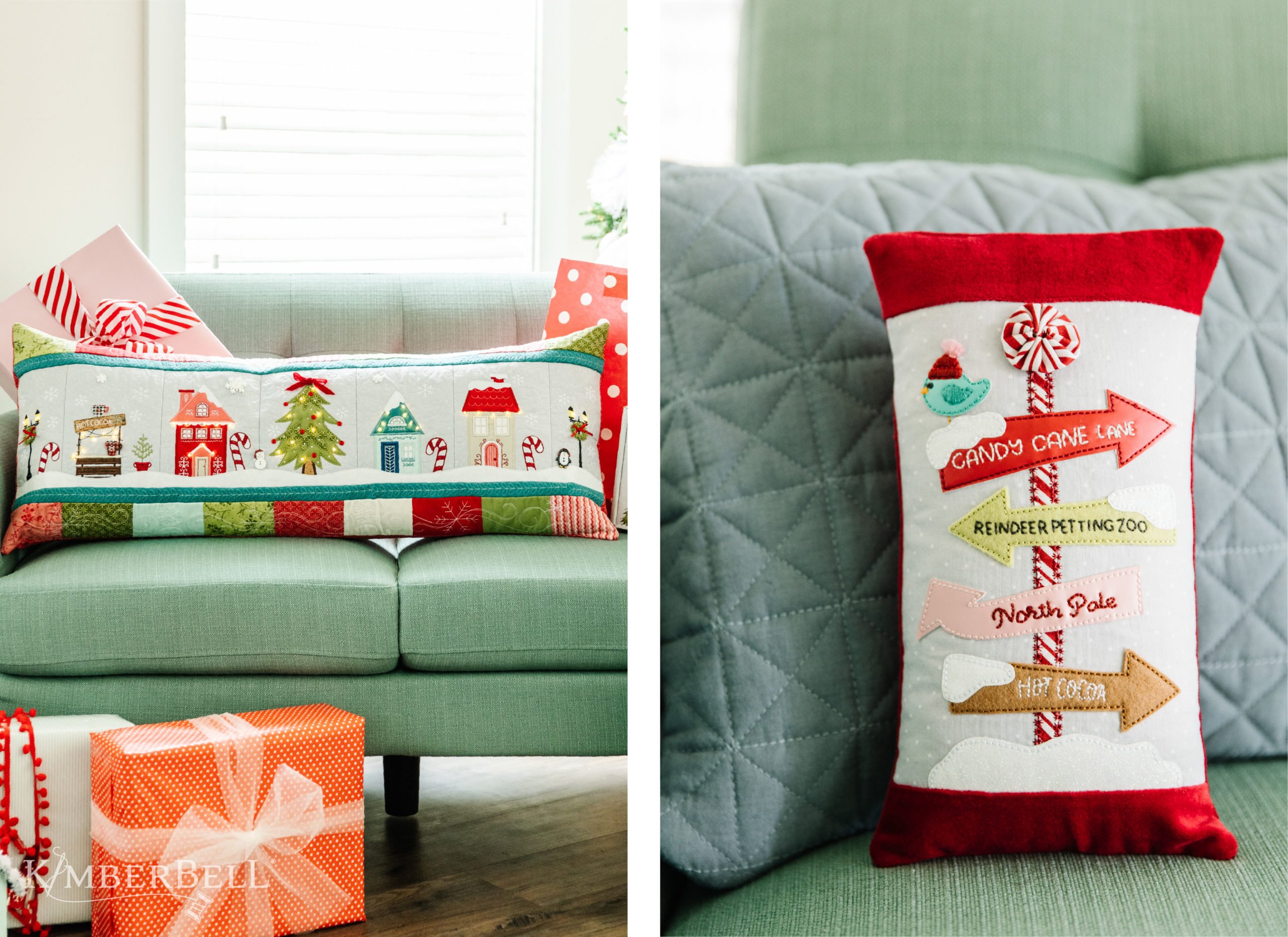 Peppermint Avenue perfectly coordinates with Kimberbell's Candy Cane Lane Bench Pillow. So...where can you find these festive holiday projects? Contact your favorite quilt shop for Candy Cane Lane, and look for Peppermint Avenue at participating Fill in the Blank shops. Both are available in both sewing and machine embroidery versions and feature many of the same embellishments. :)
Fill in the Blank
Have you discovered Kimberbell's Fill in the Blank projects? Each month, participating shops offer a specific Kimberblank such as Peppermint Avenue's 9 1/2 x 5 1/2 Pillow Insert. When you purchase the blank, the shop will share the exclusive Peppermint Avenue design with you for FREE!

Shops ship the blank and share the free design via email, so don't worry if you don't have a participating shop close by. Use our store locator to find a Fill in the Blank shop today and ask about the techniques, designs, and blanks available every month!