Merry Christmas Y'all Pillow for Machine Embroidery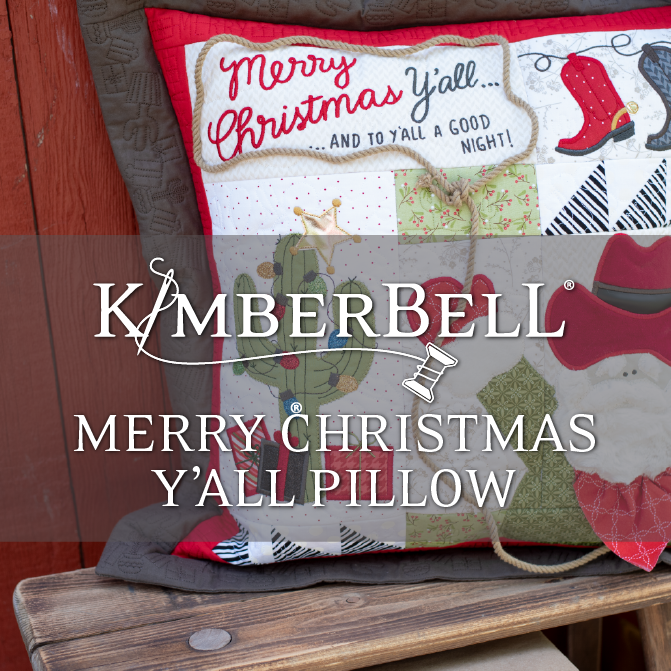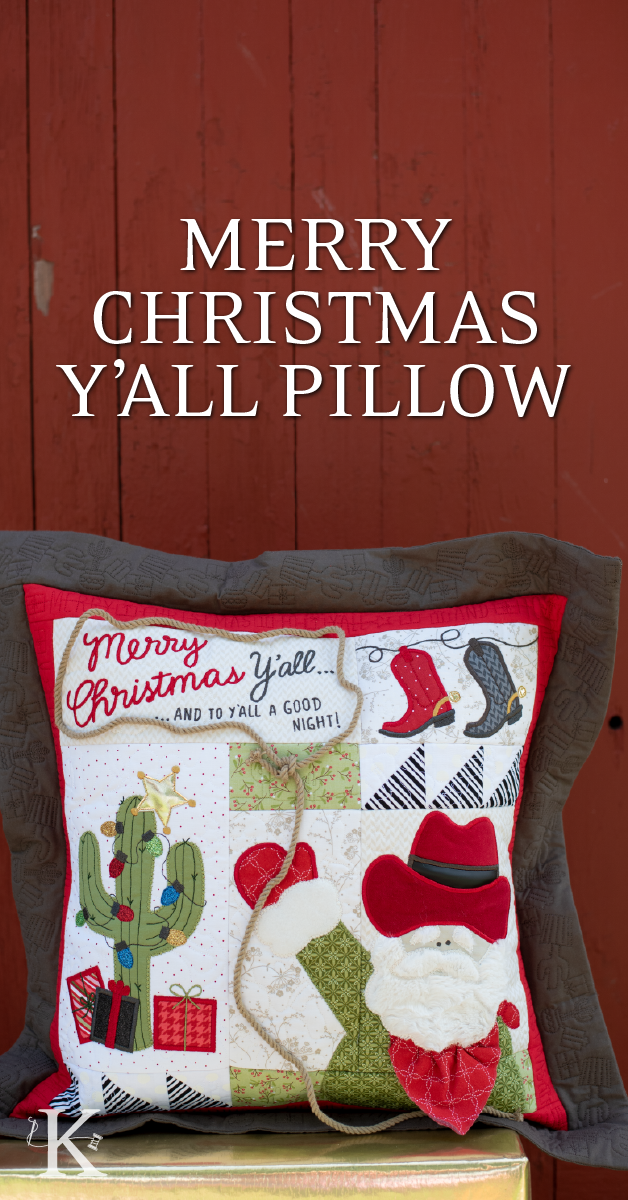 Howdy, friends! Ready to "spur" your creativity? Kimberbell's Merry Christmas Y'all Pillow is now available as a digital download from kimberbell.com! (Pssst...if your favorite quilt shop has an affiliate link, be sure to enter their number in so they get credit!)
Before we take a closer look at the background quilting, the embellishments, and the whole kit and caboodle, I reckon we should hear the story of how it all began...
A Cowboy Legend
Once upon a time there was a 40 x 40" wall hanging created by Kimberbell Designs. Made on the sewing machine, this ol' classic was all decked out with applique, ribbons, rick rack, and more! Cowboy Santa even held a dimensional lasso.
You might say it was a legend in its time. (Did any of you make this original quilt? If so, please post a picture in the comments!) And BTW, you can still make this sewing version HERE!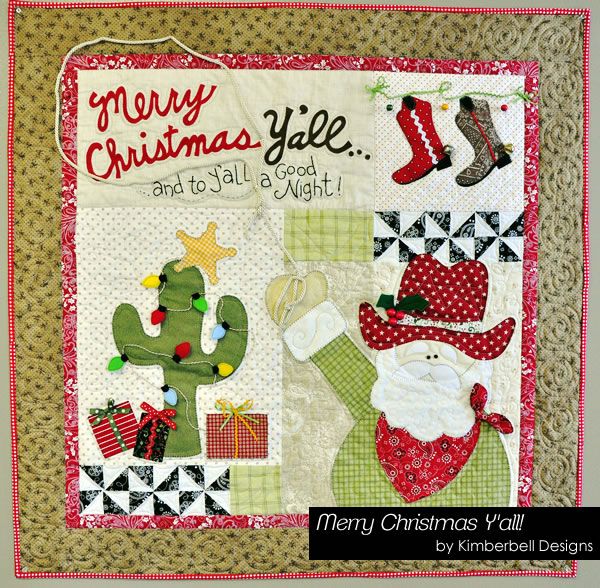 Blazing New Trails
Well, 'round these parts we like to mix things up now and again...you know, keep 'em fresh. So we've turned our classic wall hanging into a 22 x 22" pillow you can make on your embroidery machine, complete with Cowboy Santa, background quilting, and a whole roundup of embellishments. (Yee-haw!)
Note: You'll need a 6x10 (or larger) hoop to create this pillow on your embroidery machine. There is also some sewing required.
Let's take a closer look at the techniques featured in this (mighty purty!) project.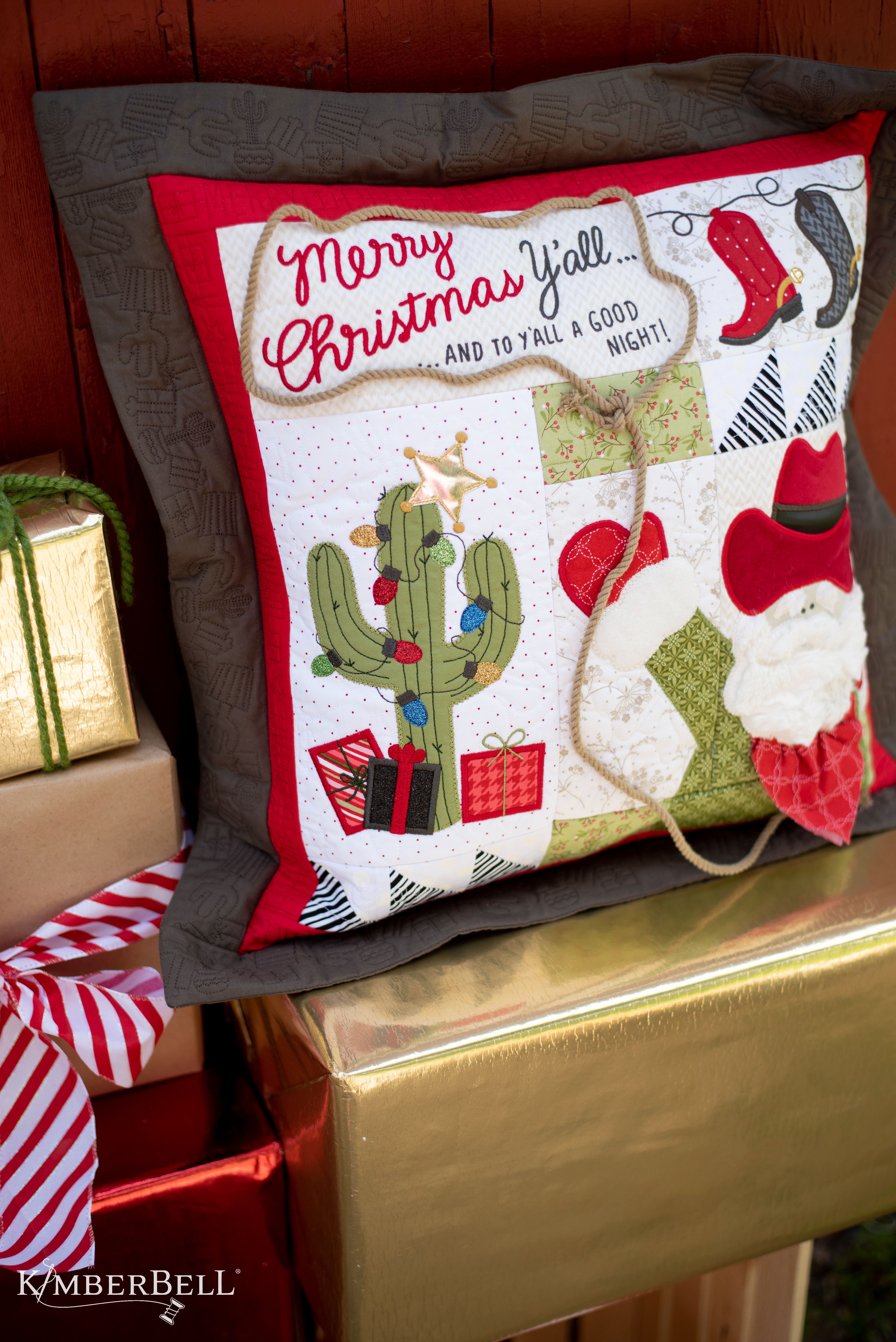 O, Christmas Cactus
Every Southwest celebration needs a Christmas tree. And when pine is in short supply, a stately saguaro will do just fine! (Unless you get poked, but that's another story.) 🌵
Topped with a shiny sheriff's star of gold Embroidery Leather, our applique cactus is bedecked with Applique Glitter lights and festive Christmas presents.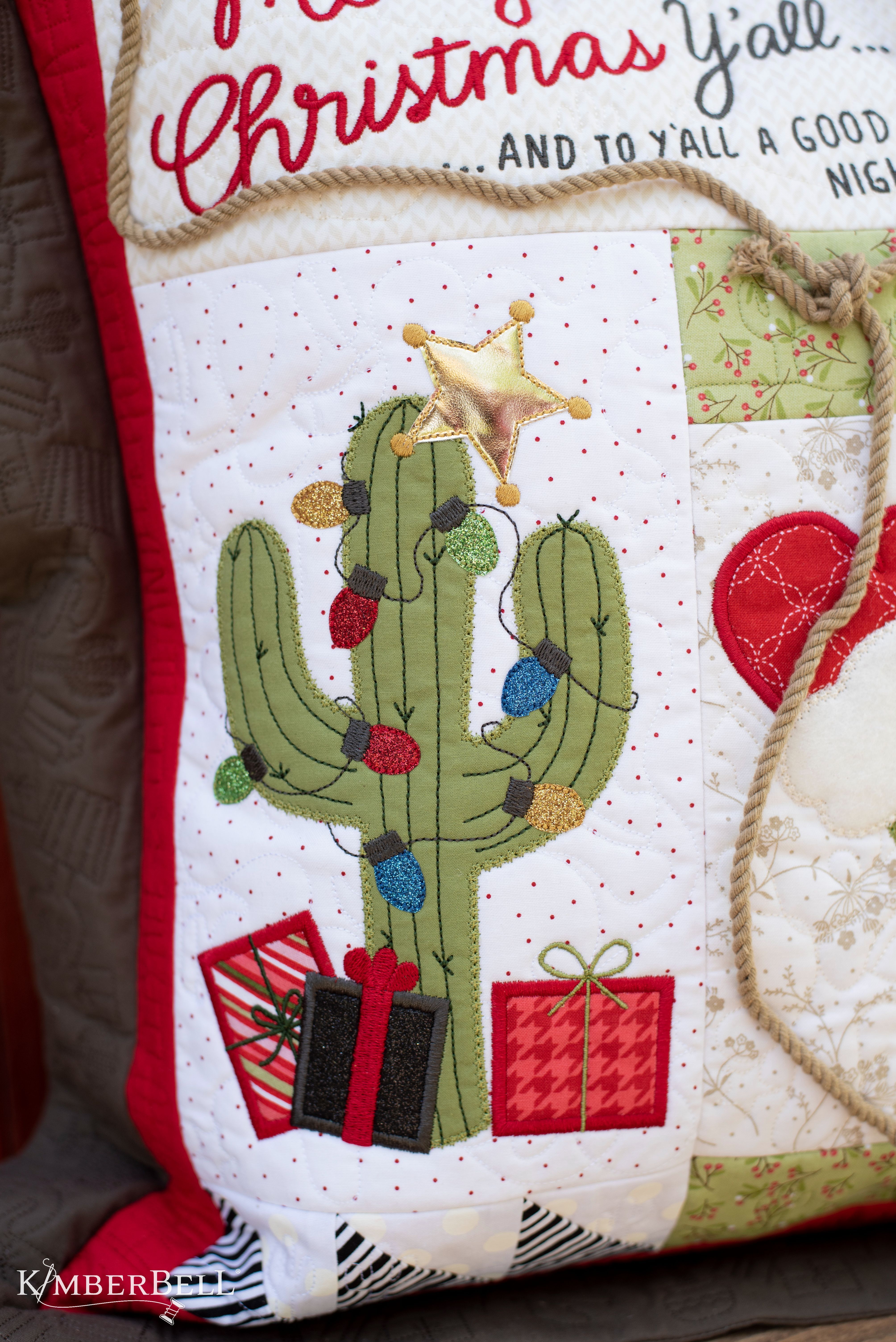 Jolly Ol' Buckaroo
As you can see, Santa's lookin' real good with a dimensional neckerchief and smart Stetson of crimson Velveteen. Trim his beard with soft Cuddle® fabric and he's ready to lasso a lotta Christmas cheer!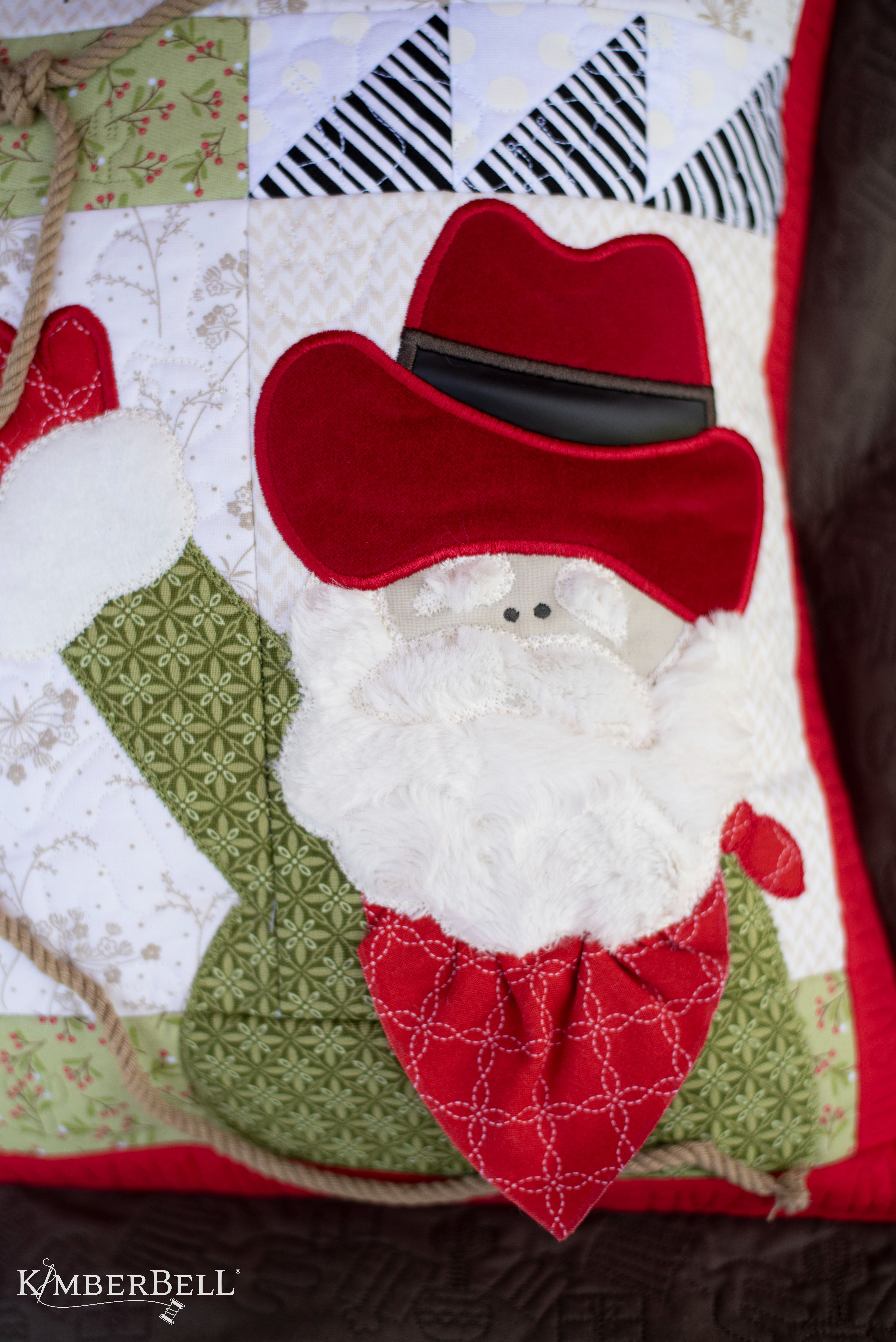 These Boots Were Made For Stitchin'
And that's just what you'll do with cheerful applique fabric and Embroidery Leather spurs. Hang each boot on the clothesline with care, then add a row of half square triangle blocks below (all pieced in-the-hoop)!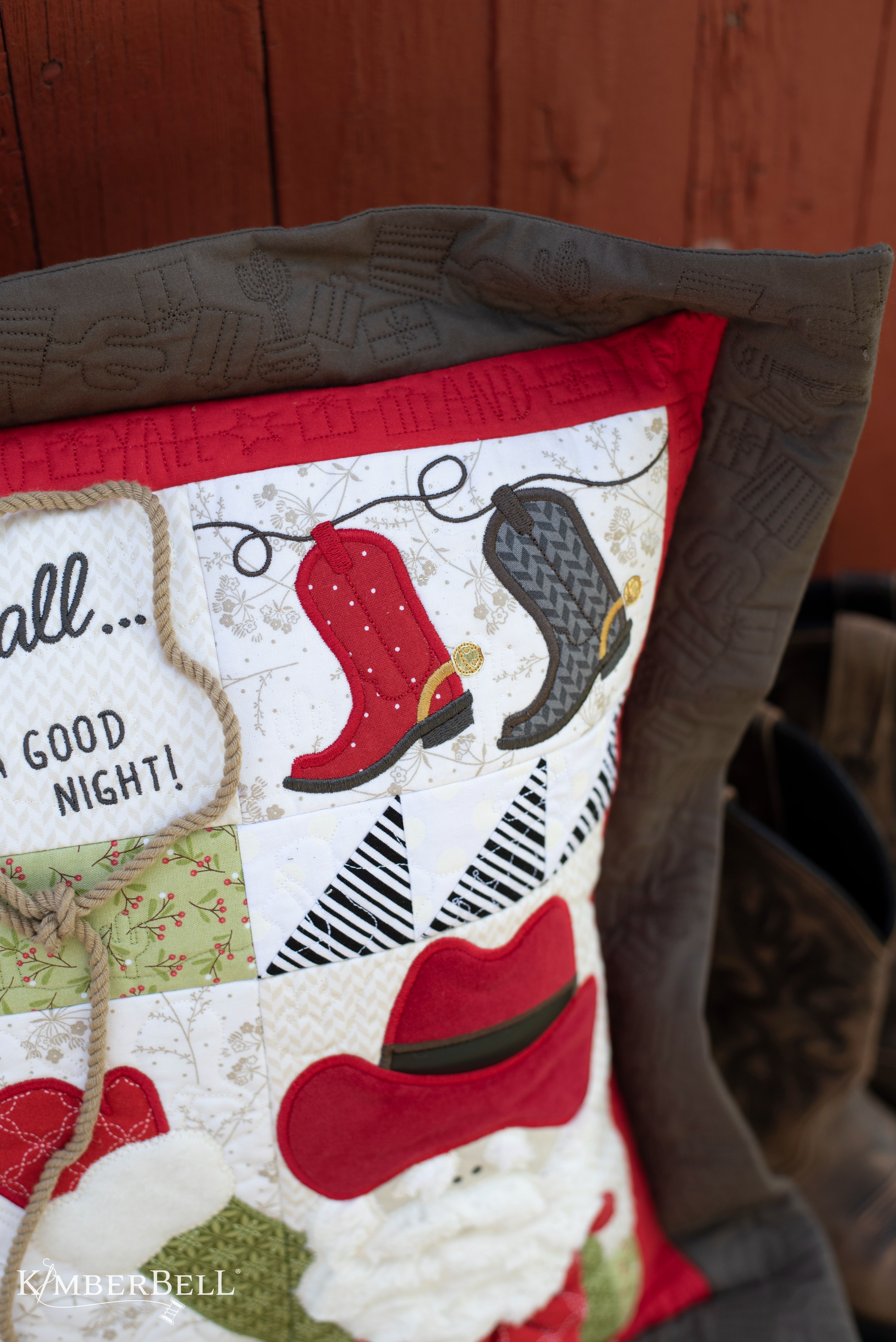 Quilting Bee
Now, in our neck of the woods, the womenfolk like to hold quiltin' bees and such. And quiltin's never been easier OR more fun than with our coordinating, Western background quilting designs!
Purchase and download the Merry Christmas Y'all Quilting Bundle HERE!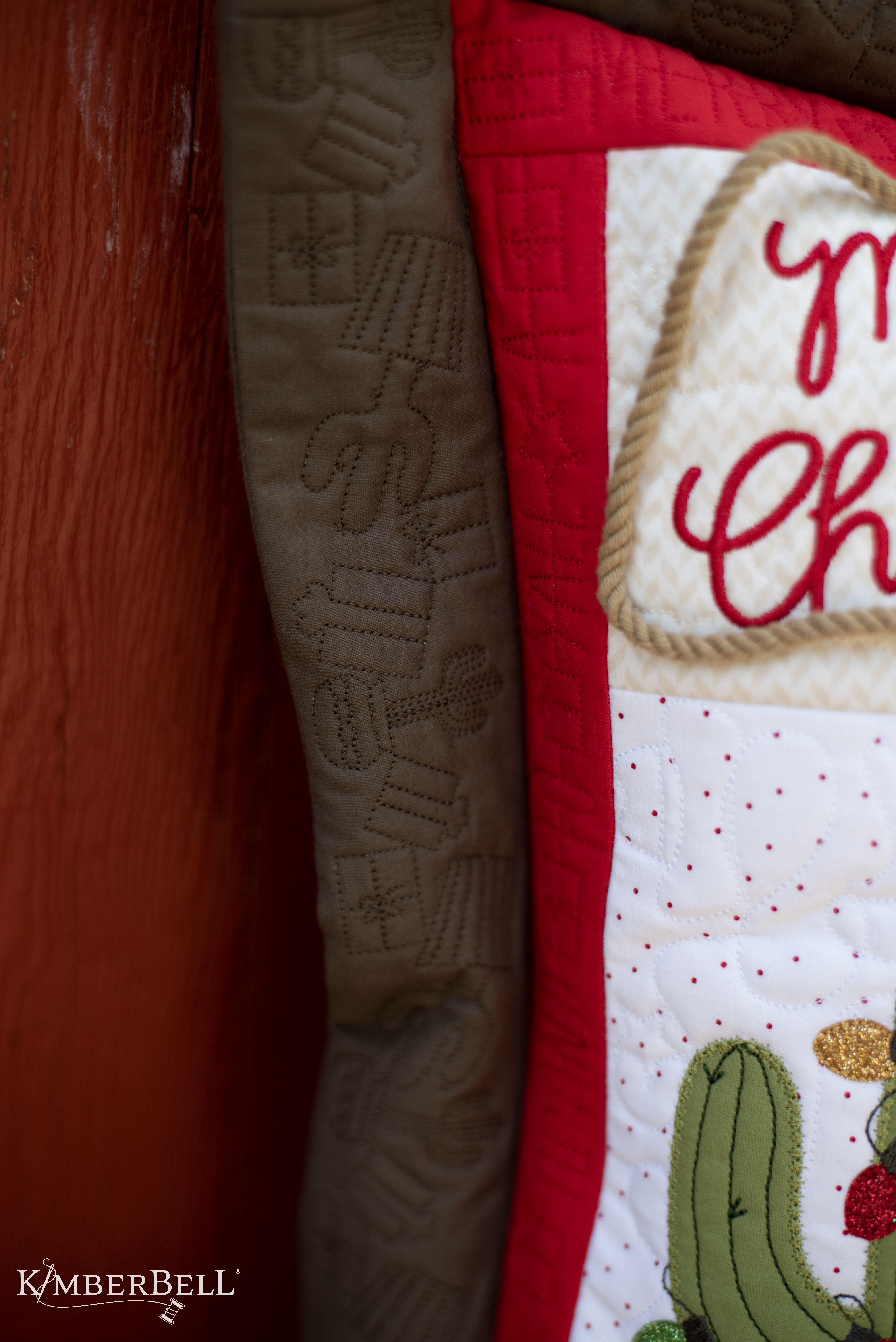 Ropin' (and Hopin') for a Merry Christmas
Nothing's better than sharing the holidays with the folks you love best. That's why Santa wishes, "Merry Christmas to y'all, and to y'all a good night!" within his dimensional lasso!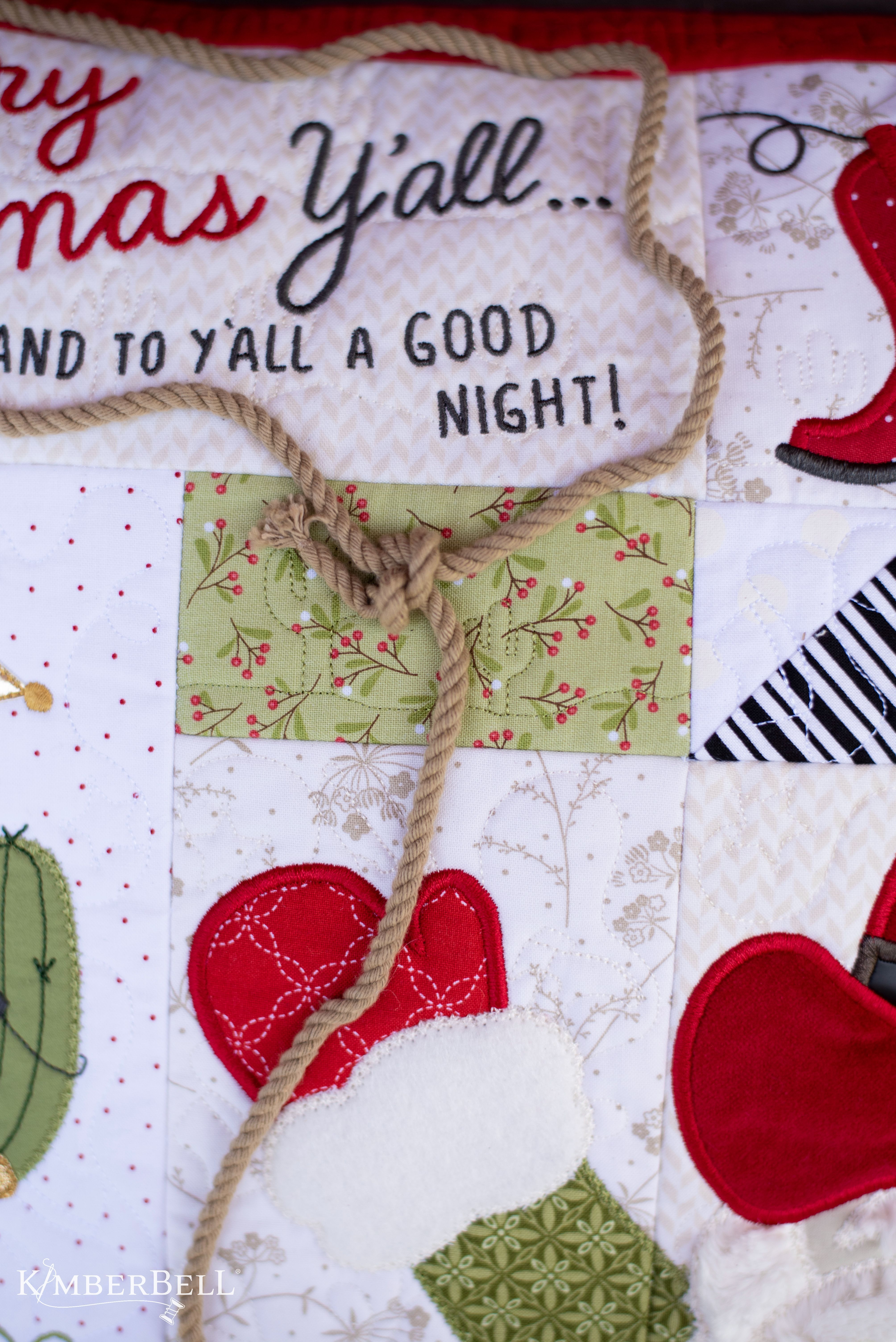 So...what do you think? Ready to hit this project with both barrels? Purchase and download the Merry Christmas Y'all Pillow today and enjoy every minute of that (not-so-dusty) creative trail.
And after all that, I guess there's just one thing left to say...
Merry Christmas, Y'all!