As Kimberbell's Operations Manager, Robert keeps busy overseeing the Warehouse, Assembly, and Kitting Teams. Not only do they receive and ship large quantities of inventory every day, they also package products such as Orange Pop Rulers, Applique Glitter, Embellishment Kits, and more--including Certified Event Kits and The Bella Box!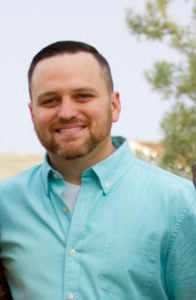 Robert has worked at Kimberbell for just over a year, first starting as the Warehouse Manager before moving into his current role. He very much likes the people he works with and the culture at Kimberbell.
"I enjoy being able to problem solve as a team and come up with innovative solutions," Robert says. "In the past, I have worked in operations at very large and very small companies and I like applying my experience here at Kimberbell as we continue to adapt and grow."
Shortly after Robert started working here, he and his wife, Morgan, attended the Pumpkin Spice & Everything Nice Kimberbell Certified Event.
"We caught the bug and 'she' got an embroidery machine for Christmas. Since then, Morgan has expanded her sewing and embroidery talents and enjoys making felt projects for the kids, as well as anything Kimberbell. She started out making the Happy Hoop Decor: Christmas Nativity Ornaments, followed by Cinch Sacks, Mini Wall Hangings, and Pennants & Banners. Morgan's next goal is to make a Bench Pillow. When she's not on the machine, I find myself making Crossbody Bags, Zipper Pouches, and appliqued aprons for our kids, nieces, and nephews."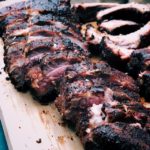 When he's not overseeing operations at Kimberbell or spending time on his "wife's" embroidery machine at home, you can find Robert cooking a variety of delicious foods.
"My wife and I run a barbecue catering business as a side hustle. We enjoy running the business as a family and watching our six kids become more involved as they grow up, sharing family recipes with others and working alongside each other."
Hard work has been an important part of Robert's life since his early days growing up on a ranch in California. While earning his bachelor's degree in agriculture from Utah State University, Robert worked as a veterinary technician and feed mill operator. Since graduating, Robert has worked in warehousing and operations in dairy food production, small engine and power tool parts ecommerce, and for a livestock nutrition company.
"I knew very little about quilting and machine embroidery when I joined Kimberbell," Robert says, "but I'm excited to be part of such an amazing company and industry."
We're glad Robert's here, too. Be sure to check out one of his family's favorite recipes: RV There Yet? Ice Cream Sandwiches!