Knowing Your Kimberbell Tools: Clear Blue Tiles and Orange Pop Rulers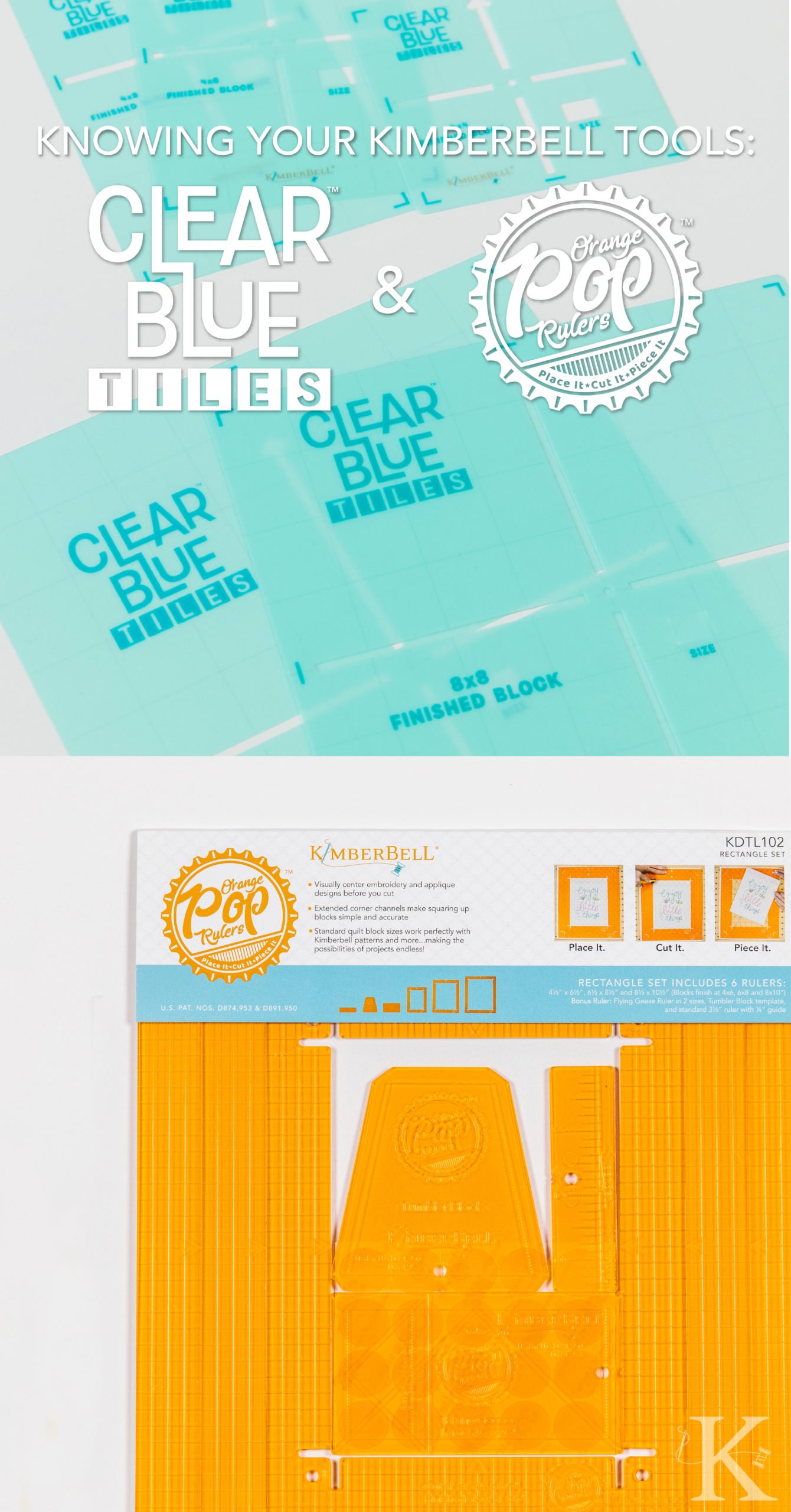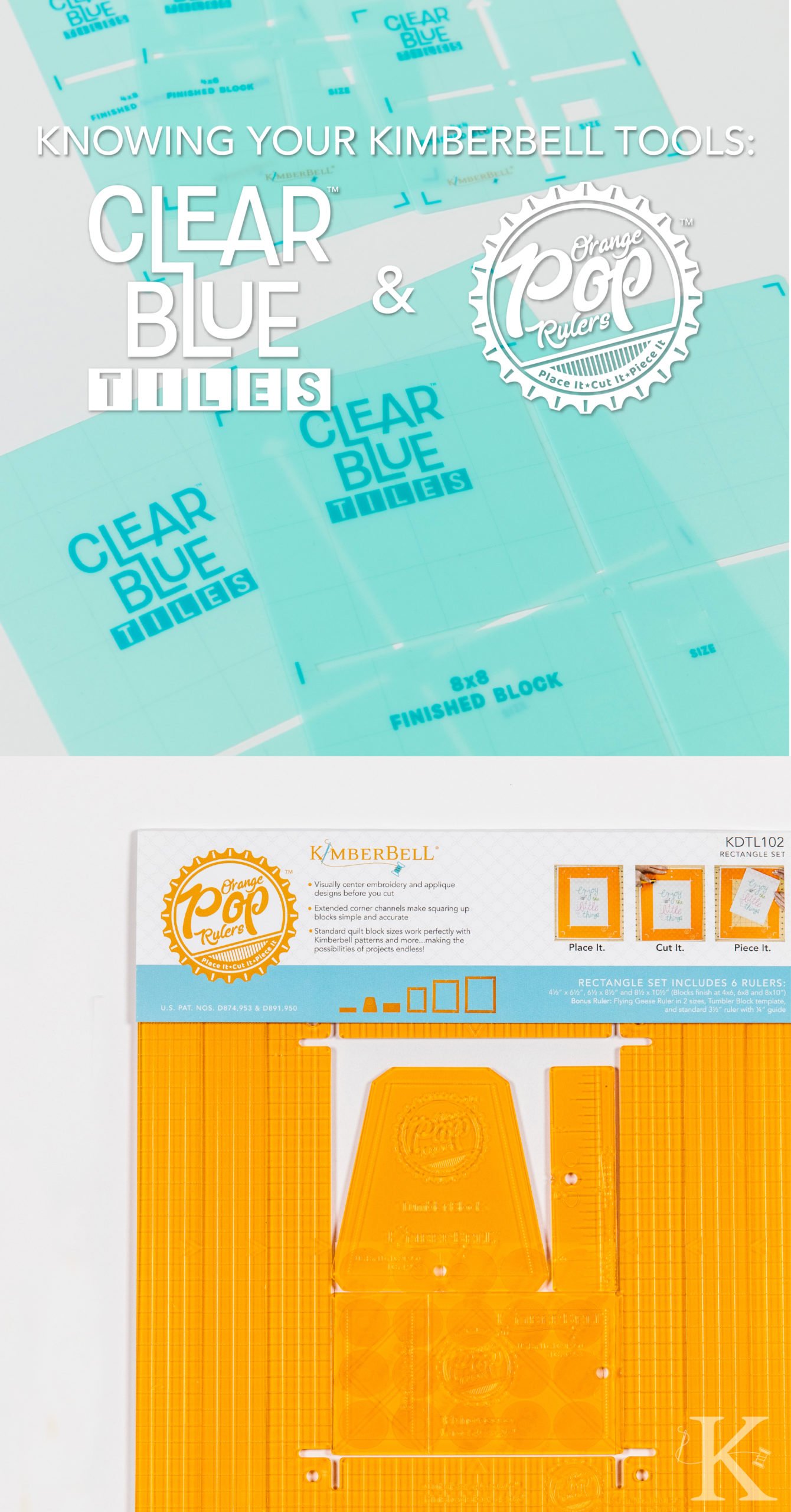 At Kimberbell, our passion is inviting others to Experience the Joy of Creativity™. And a big part of experiencing actual joy (instead of frustration) is having the right tools in your hands.
Why?
Well, have you ever tried to do a project when you didn't have the right tool? Years ago, my husband and I were adding crown molding to a room in our house and it was a STRUGGLE. After wasting several expensive pieces because we couldn't get them to fit just right, we finally went to the hardware store and purchased a tool that held the board at the exact angle we needed.
It was a total game changer. (And, ironically, the cost of the tool was much less than all the trim pieces we wasted!) But here's my point: having the right tool makes all the difference in the world, whether you're hanging crown molding or stitching a project on your embroidery machine.
Innovative Tools
Kimberbell not only designs the machine embroidery and quilting projects you love, but we also come up with the innovative tools to make your life easier. These tools aren't created because we wake up one day with the random urge to invent a new tool. Rather, they're created because we do a lot of machine embroidery. (Our Product Development Team stitches all day, every day, on every type of machine...so yeah, a LOT!)
When you're embroidering that much, it naturally follows that you sometimes run into hiccups and frustrations. And, when you run into these hiccups and frustrations, you start looking around for the right tool to help.
And sometimes the right tool isn't there.
So you invent the right tool. :)
Let's take a look at both Orange Pop Rulers and Clear Blue Tiles and talk about how each helps stitching enthusiasts in very specific ways.
Orange Pop Rulers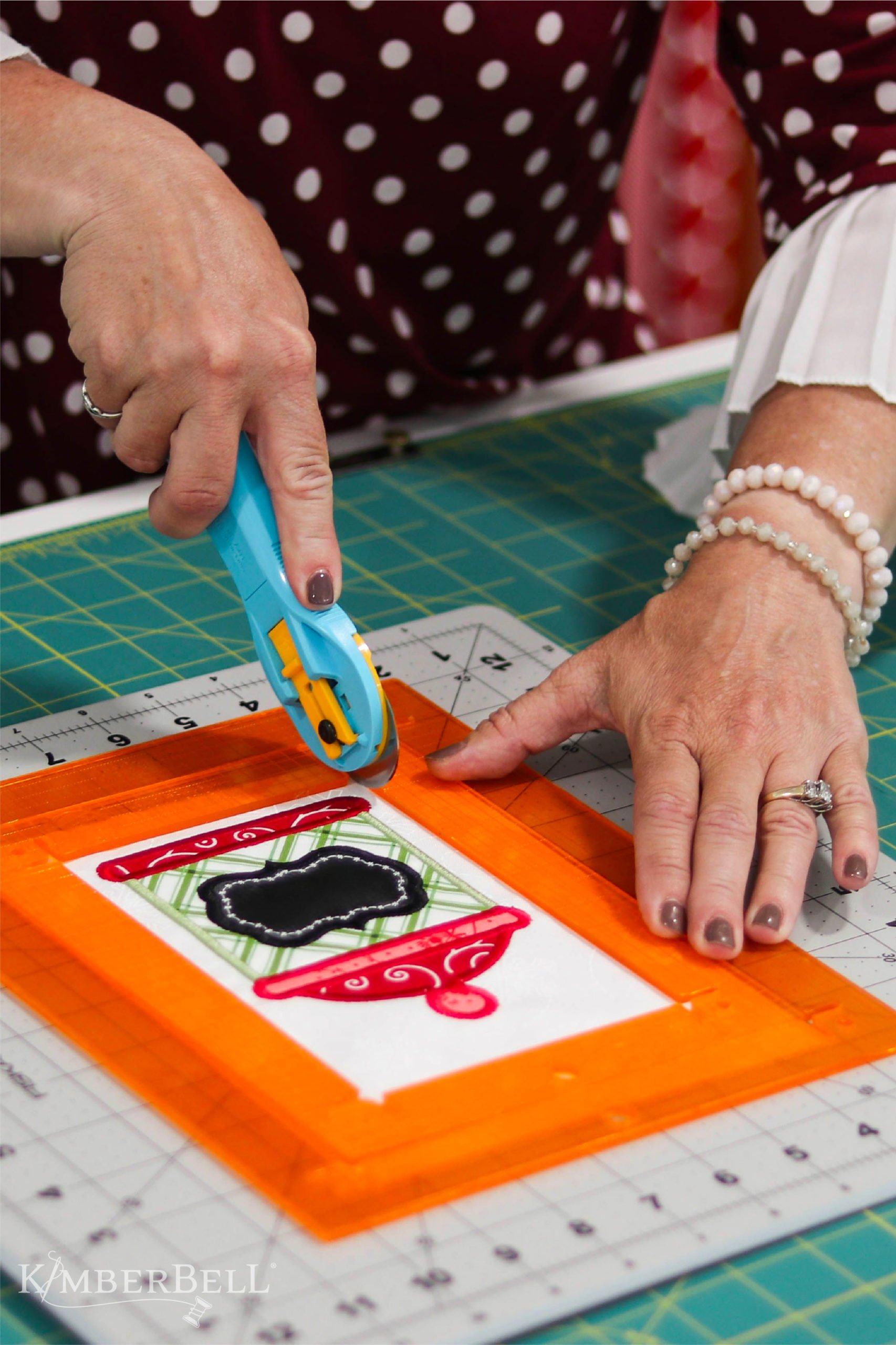 Orange Pop Rulers have an open frame that allows you to visually center your embroidery or applique design before you cut. Once you've experienced the Orange Pop Ruler difference, there's no going back to the guesswork and math calculations of yesterday! But they're not just handy for Kimberbell projects; you can use Orange Pop Rulers with great success on T-shirt quilts, denim quilts, and so much more.
Take a look:
[embed]https://youtu.be/Gk4sCExoaK0[/embed]
Orange Pop Rulers come in both square and rectangle sets in a variety of sizes, and each set comes with additional rulers as well. Using these rulers make it so much easier to center your designs, cut your blocks, and get back to making the quilts and Bench Pillows that you love.
Tip: Stand up while using your Orange Pop Rulers, and use a rotating mat. If you're right-handed, start cutting your block on the left side of the frame so the blade is right against the edge of the ruler. If you're left-handed, start cutting on the right side.
Visually centering your designs with Orange Pop Rulers before you cut makes all the difference in the world. Remember to start with a larger piece of fabric than what the finished size will be, because fabric will always pull in when stitched. Use the smallest size of ruler to center your design, then nest the next size up until you have the size of block that you need!
Tip: Additional rulers add more surface area to hold when you cut, so go ahead and pop those on!
Orange Pop Rulers work beautifully for machine embroidery, sewing projects, and even hand embroidery. Please enjoy our Orange Pop Rulers Dream Cookies inspired by these remarkable tools.
Clear Blue Tiles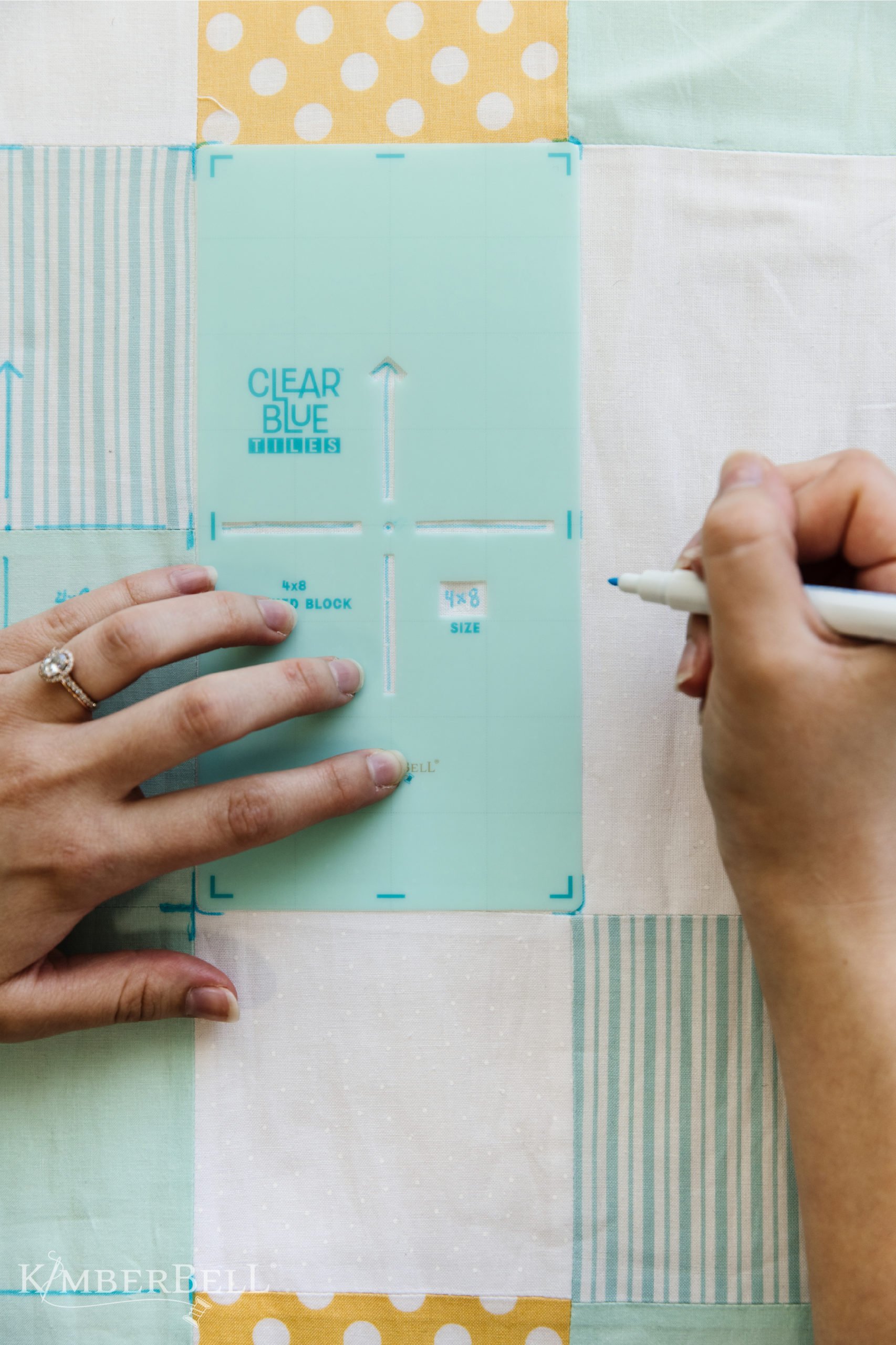 Clear Blue Tiles are a complete system for quilting on your home embroidery machine. The stitching goes through all three layers of a quilt sandwich (back fabric, batting, and top fabric), with traditional, continuous quilting on both sides of your project. Clear Blue Tiles help you achieve the look of custom quilting in-the-hoop, without having to worry about math formulas or carefully lining up the elements of a design. It all just flows, like you'd used a long-arm machine!
And all you do is place your tile(s), mark your fabric, and choose the embroidery file to match the size. Clear Blue Tiles have the same scale as all of the coordinating embroidery designs, so you can use a variety of tiles on the same project for professional, finished results.
[embed]https://youtu.be/u23MGIMxAfY[/embed]
Clear Blue Tiles come in the Essentials Set (absolutely the set you need to start with, as it includes the design files and User Guide that you'll need) and the Expansion Set for larger hoop sizes. Learn more about Clear Blue Tiles HERE.
Tip: We've created a whole video series teaching you how to use the tiles, so look for those on YouTube!
Orange and Blue Background Quilting Designs

Many have wondered which background quilting patterns on kimberbell.com work with which tool. Well, it's simple!
Background quilting designs shown in ORANGE on kimberbell.com are block-by-block designs ideal for Orange Pop Rulers, not Clear Blue Tiles.
Designs shown in

BLUE

are allover quilting designs ideal for Clear Blue Tiles (although blue designs can also be used with Orange Pop Rulers).
The Right Tools
At Kimberbell, we use Orange Pop Rulers and Clear Blue Tiles just about every single day. After all, the right tool helps us focus on the fun..without the frustration! Just think of the possibilities with Orange Pop Rulers, Clear Blue Tiles, and your own creative inspiration.
Find both Orange Pop Rulers and Clear Blue Tiles at your favorite quilt shop!