Introducing Kimberbell Heart-Felt Gift Pockets for Machine Embroidery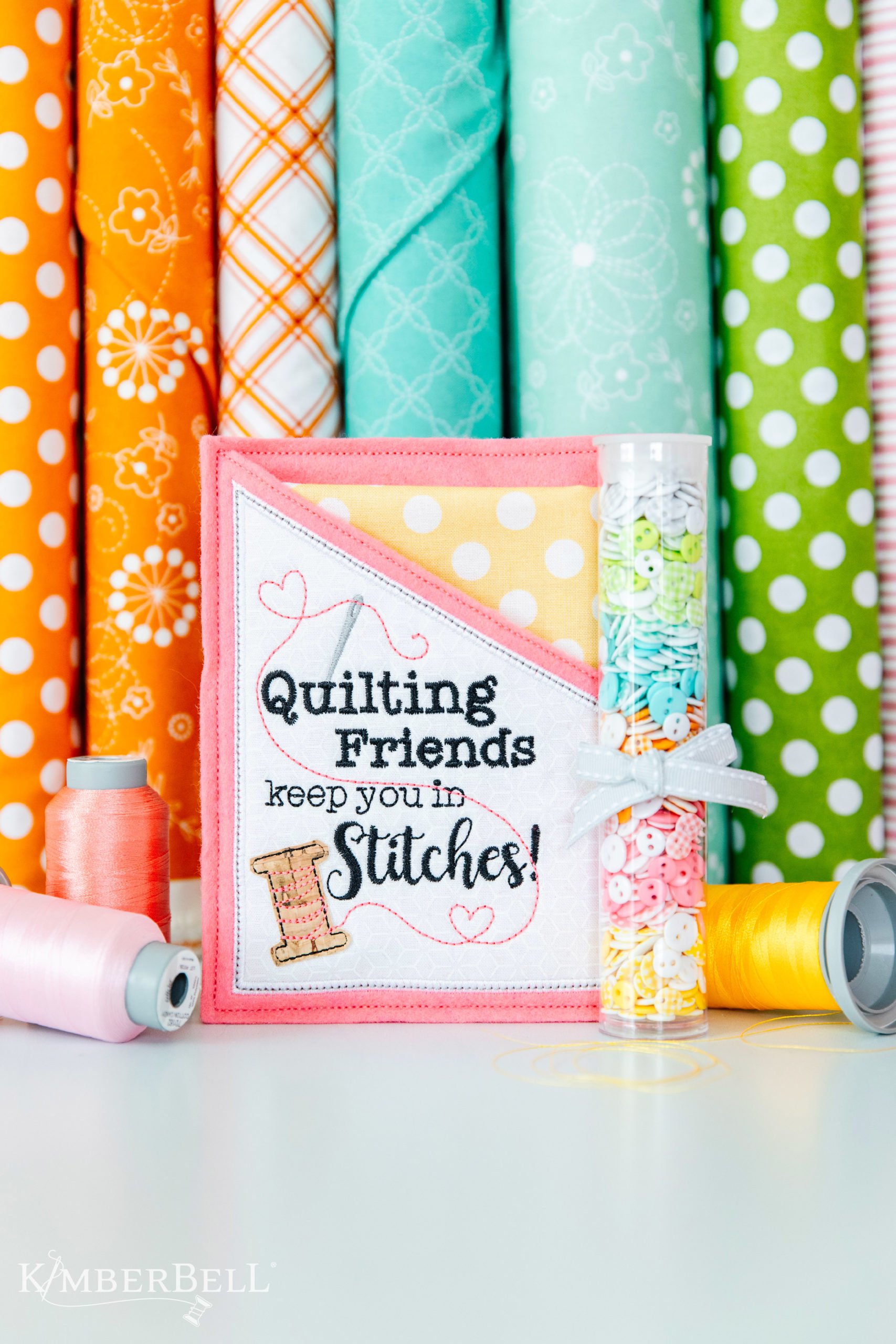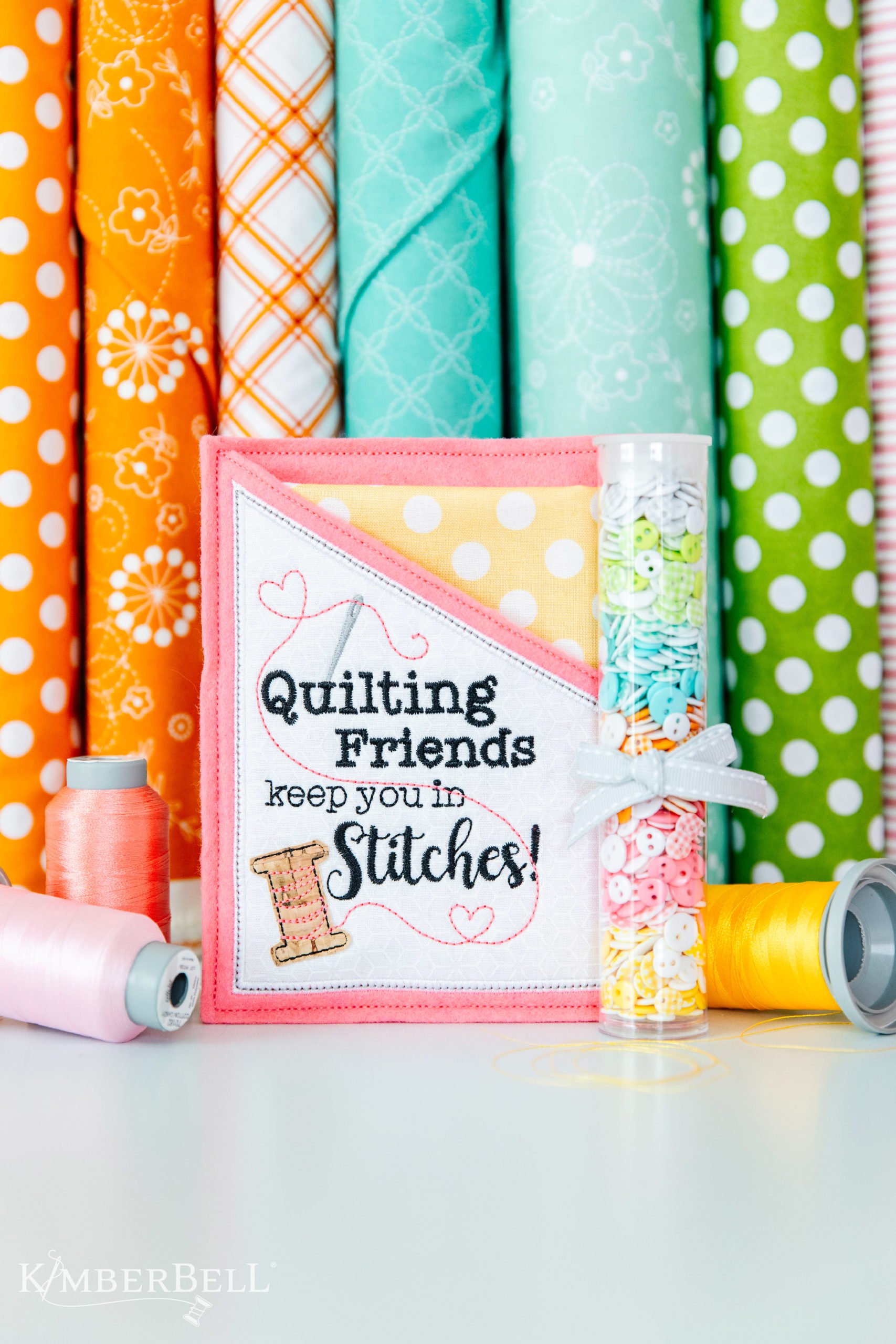 Share kindness and smiles with Kimberbell Heart-Felt Gift Pockets, now available from your favorite quilt shop!
Stitched in a 5x7 machine embroidery hoop, this giftable collection includes 12 designs for a variety of occasions. Create each pocket from a beautiful rainbow of Embroidery Felt, attach a Kimberbell Sweet Tube, and fill with treats, gift cards, and other fun surprises!
There's no doubt about it: Heart-Felt Gift Pockets are a delightful way to brighten a day. Let's take a closer look at each design!
Just Popping By
"No one's butter than you!" A striped bucket overflows with Mylar popcorn on our Just Popping By gift pocket. Fill with movie tickets, popcorn packets, and more!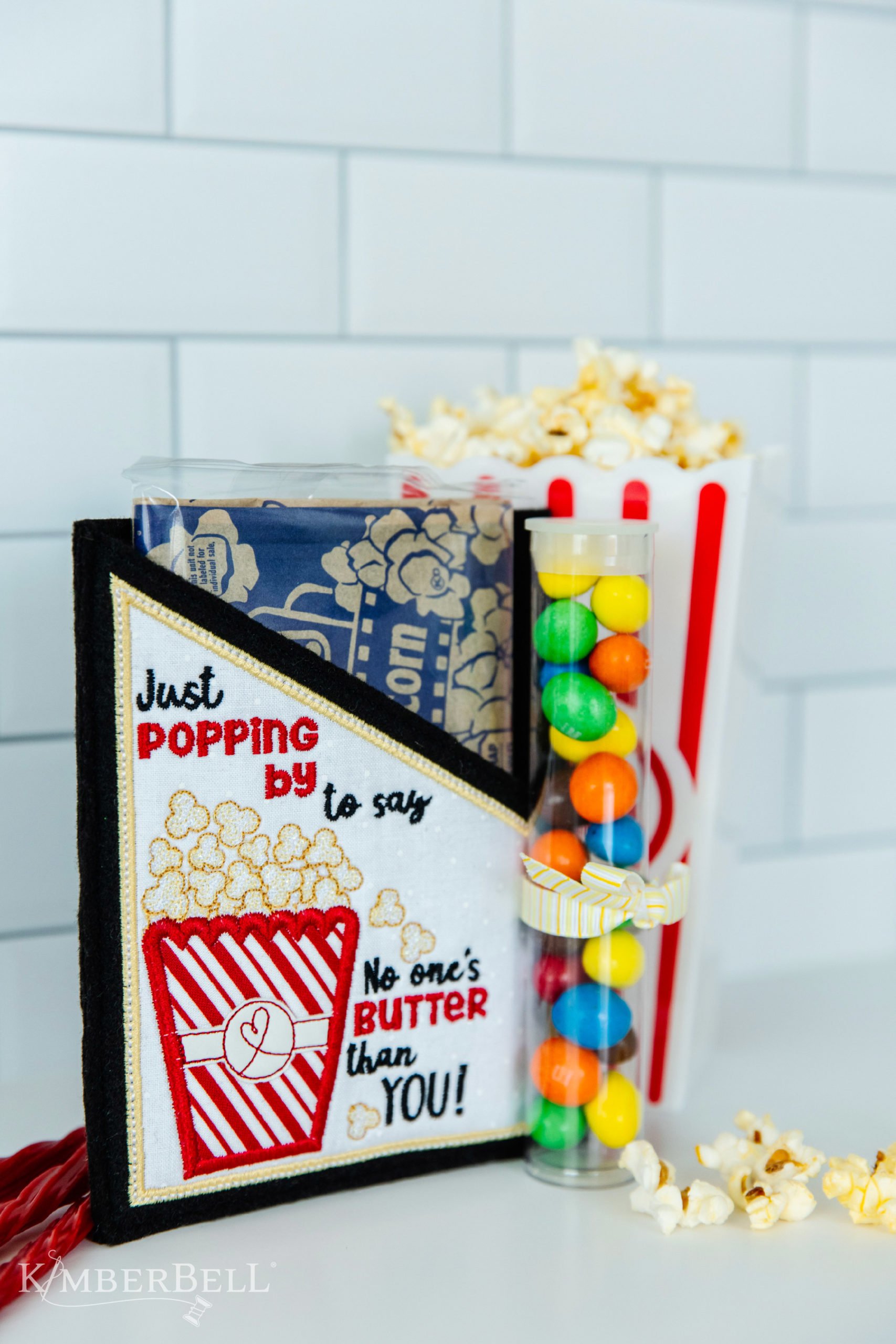 Pocketful of Sunshine
Surprise a friend with a Pocketful of Sunshine! Our cheerful applique sun and stitched sentiment will brighten anyone's day...especially when stuffed with treats.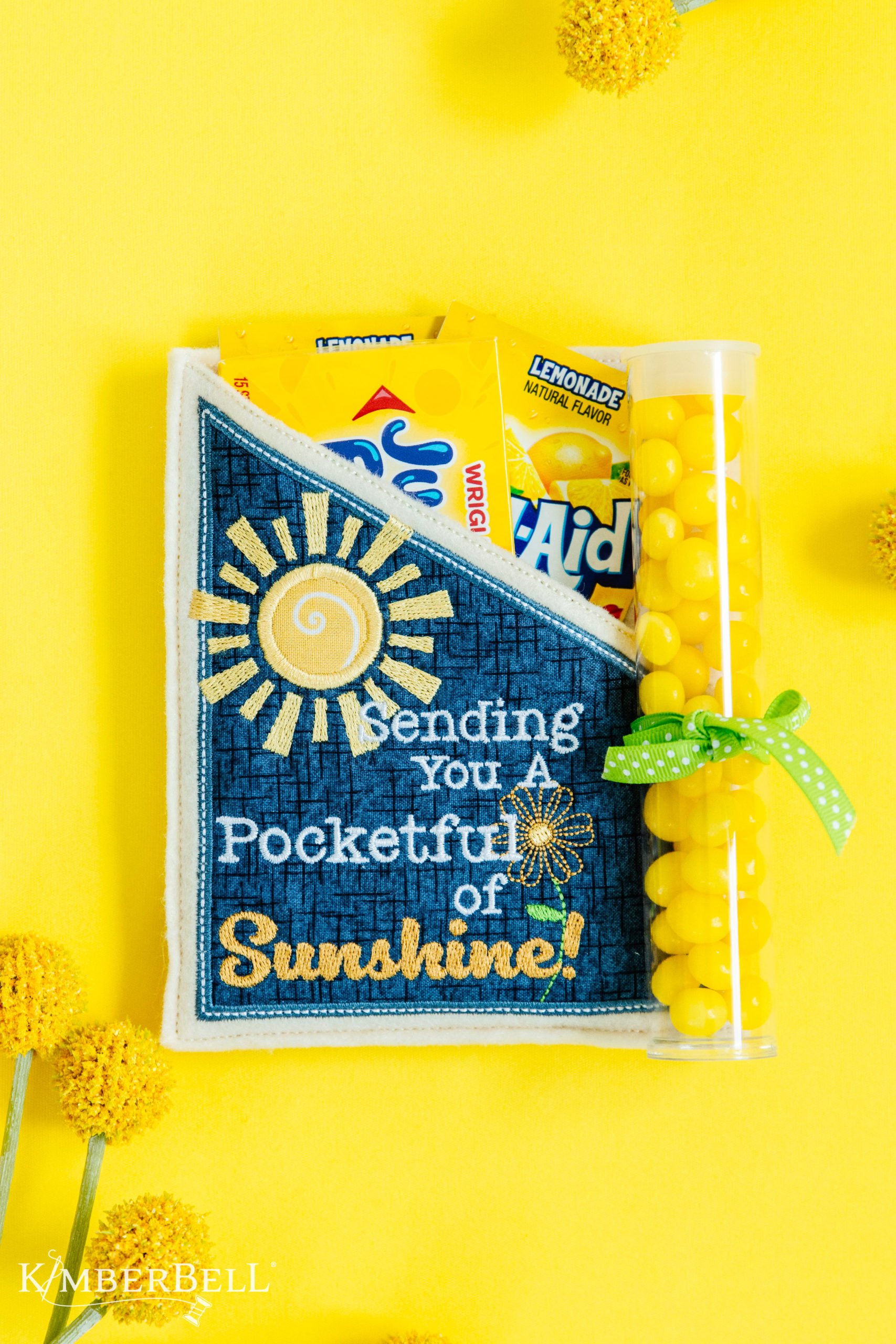 Under the Weather
Know someone who's Under the Weather? Our gift pocket is the right medicine with a darling umbrella and sweet mini hearts. Fill with soup packets, cough drops, and more!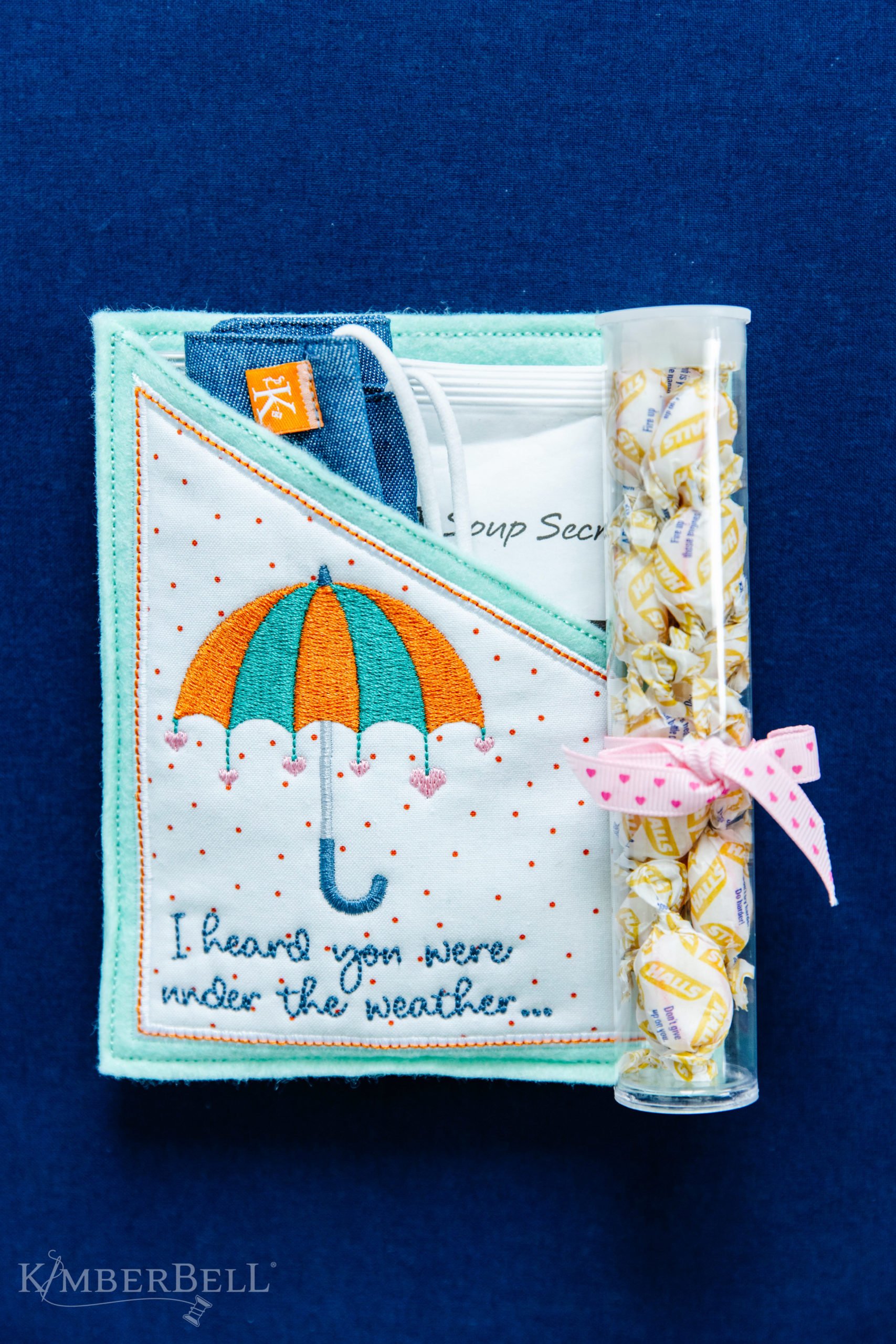 Tough Cookie
An applique cookie of brown Embroidery Felt reminds every Tough Cookie to "Hang in there!" Slip a fancy cookie or other fun treats into this warm gift pocket.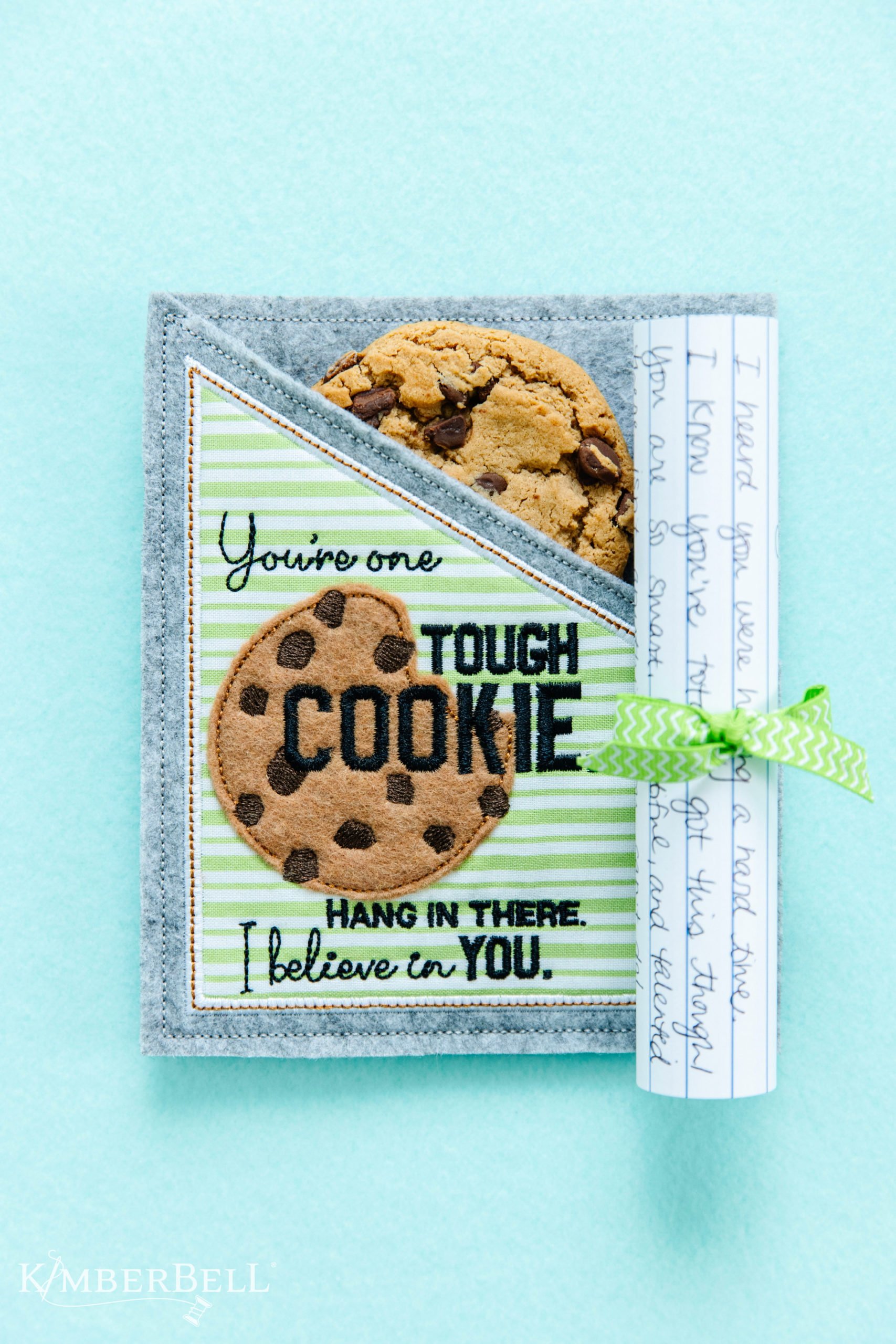 Galentine's Day
Wrapped in Embroidery Leather foil and iced with Applique Glitter, our Gal-entine's Day gift pocket holds Valentine treats for your very best friends.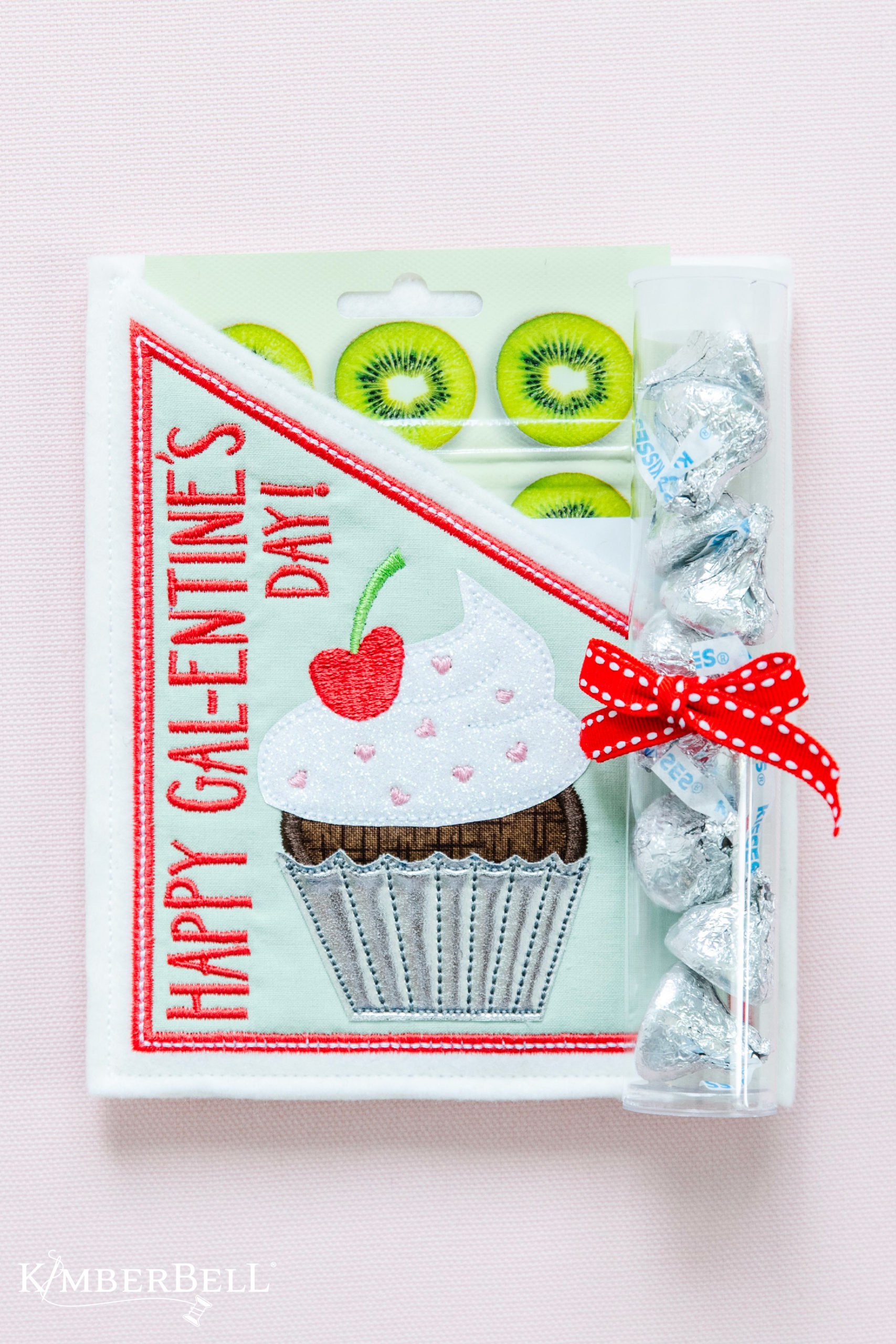 Extra Dough
Celebrate the graduate with a little Extra Dough! A congratulatory sentiment and stitched mortar board are "capped" off with gift cards, money, and more!
Fabulous Birthday
Share Fabulous Birthday wishes! Smooth Embroidery Leather and sparkly Applique Glitter make this flamingo the life of the party. Just slip your gift inside the pocket!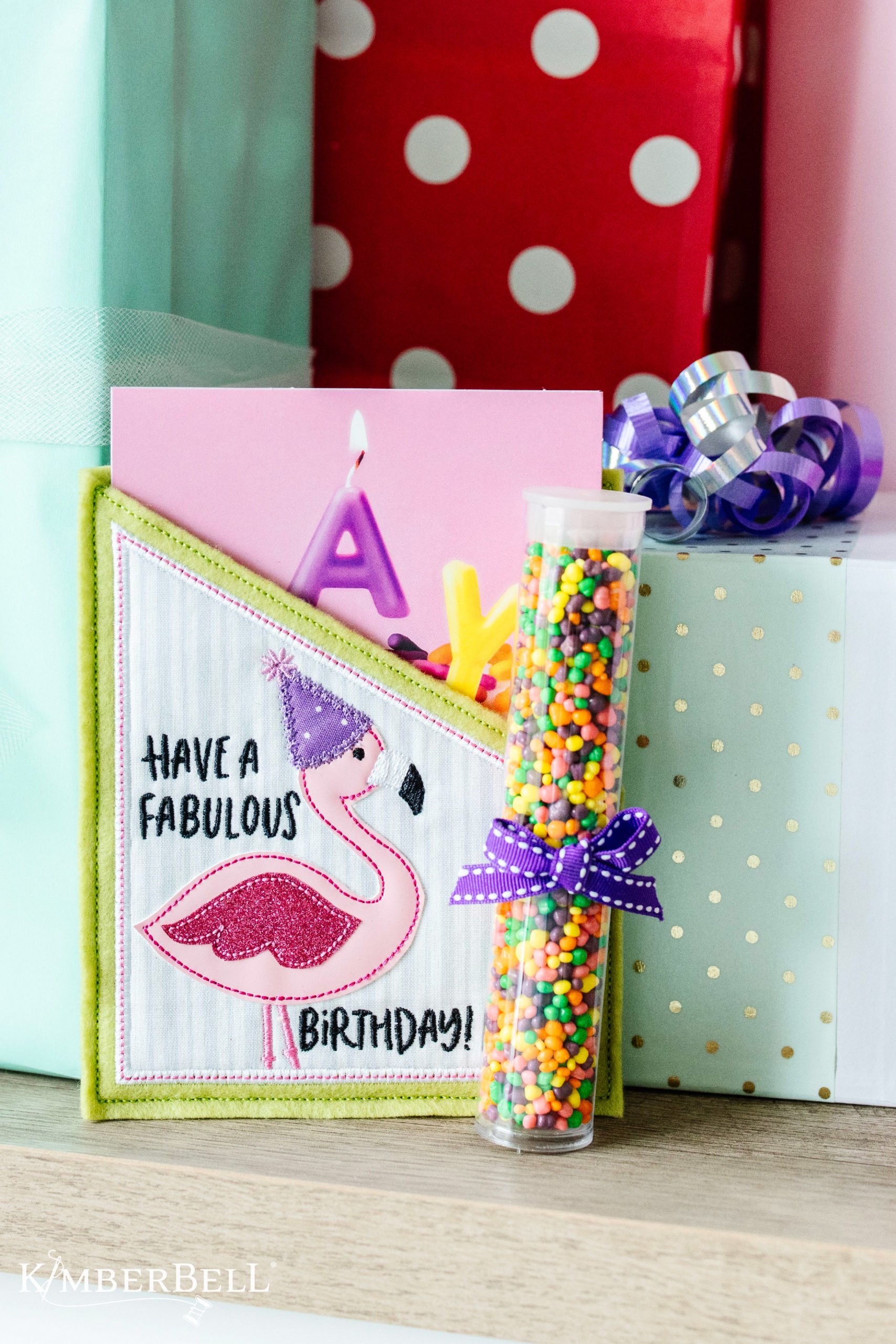 Quilting Friends
"Quilting Friends keep you in stitches!" Swirly thread unravels from an embroidery cork spool on this darling gift pocket. Fill with fat quarters and giftable notions!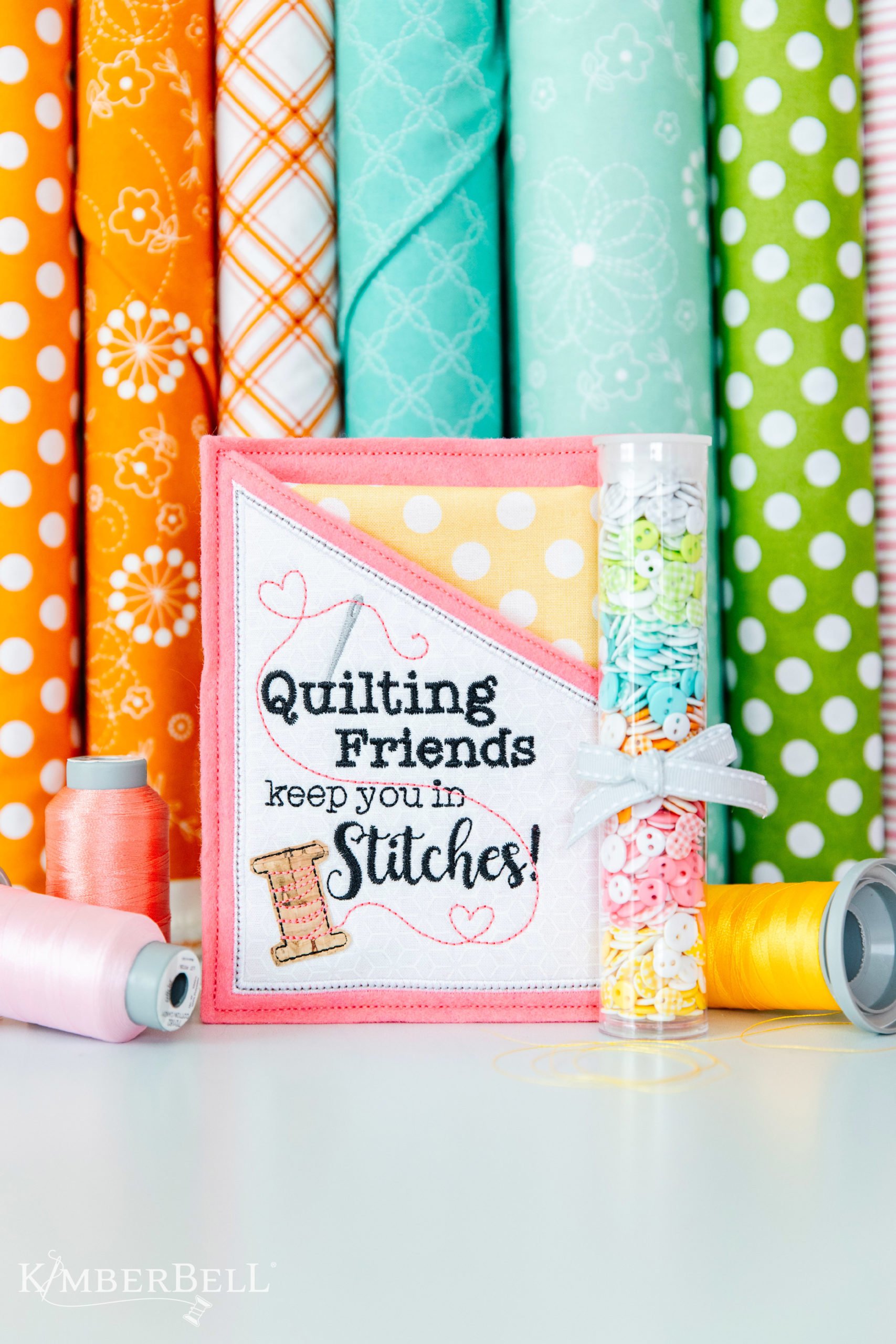 Christmas Tea
Sit down with a friend for some Christmas Tea! Stitch the heartwarming mug of Embroidery Leather, then slip favorite teas and other treats inside the cozy pocket.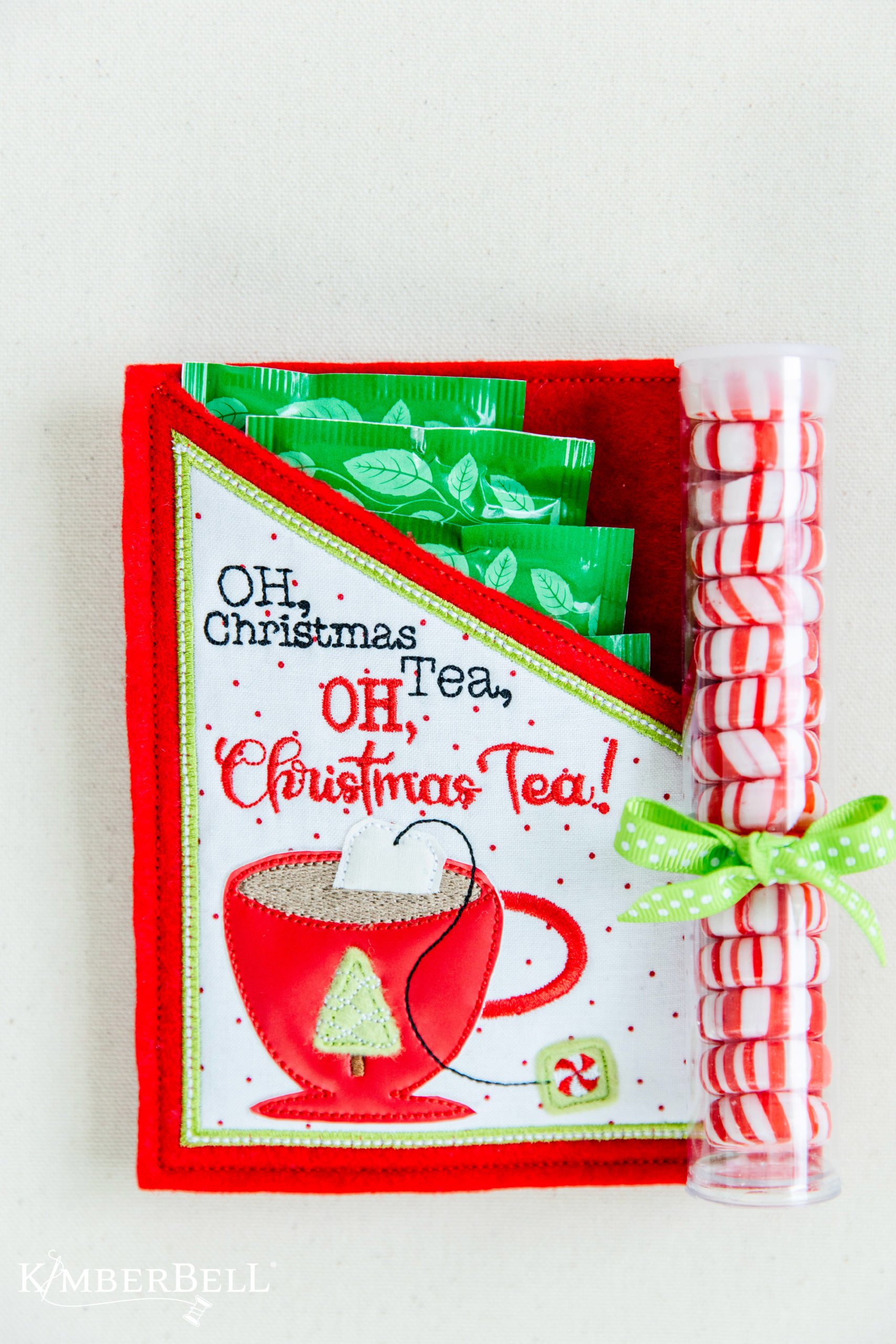 I Donut Know
Embroidery Leather icing and stitched sprinkles say, "I donut know what I'd do without you!" Fill with cocoa packets and gift cards, then attach a sleeve of mini doughnuts.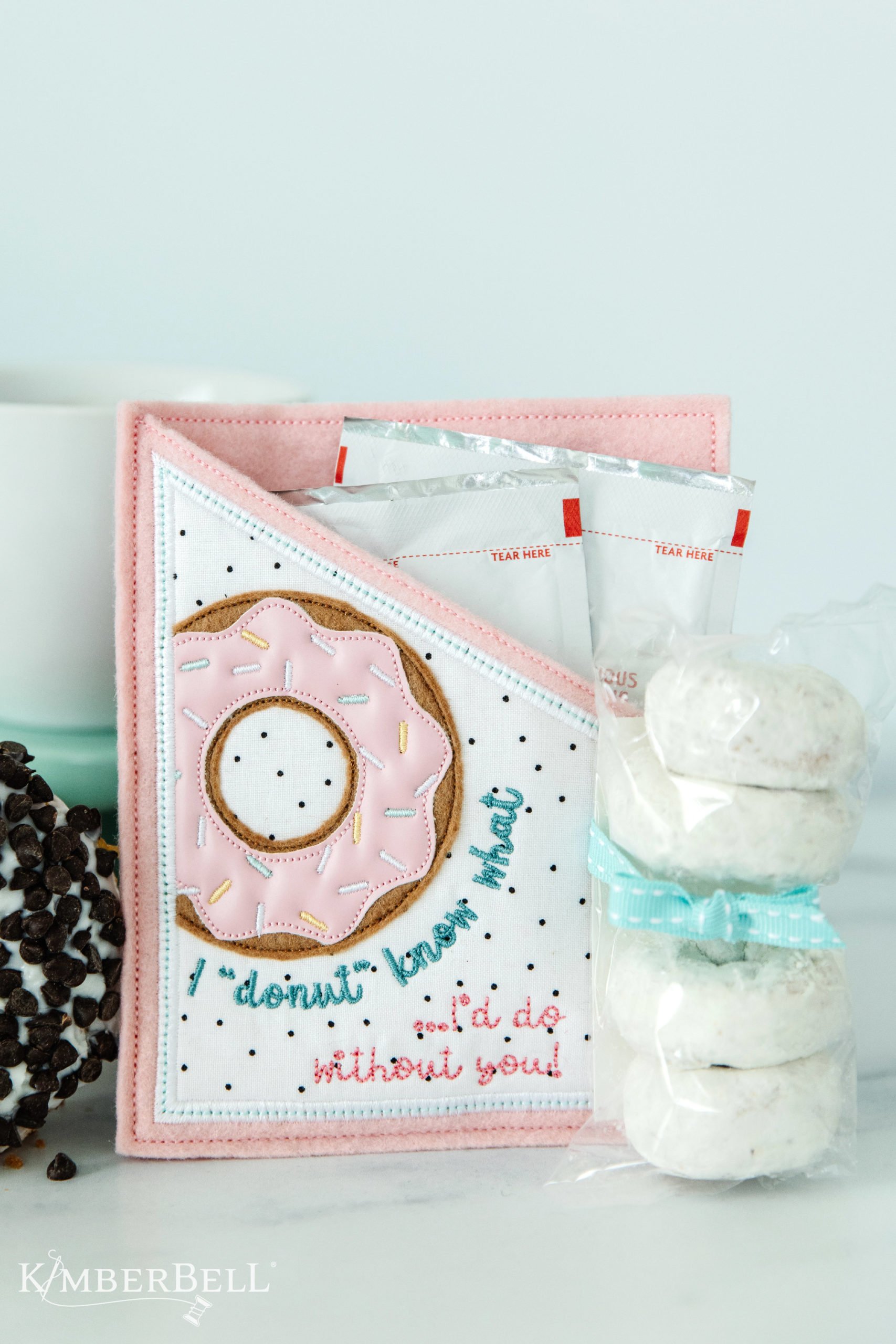 No Tricks
We've got "No tricks, only treats" in this boo-tiful gift pocket! Embellish with enchanting Applique Glitter and share oh-so snackable Halloween candies.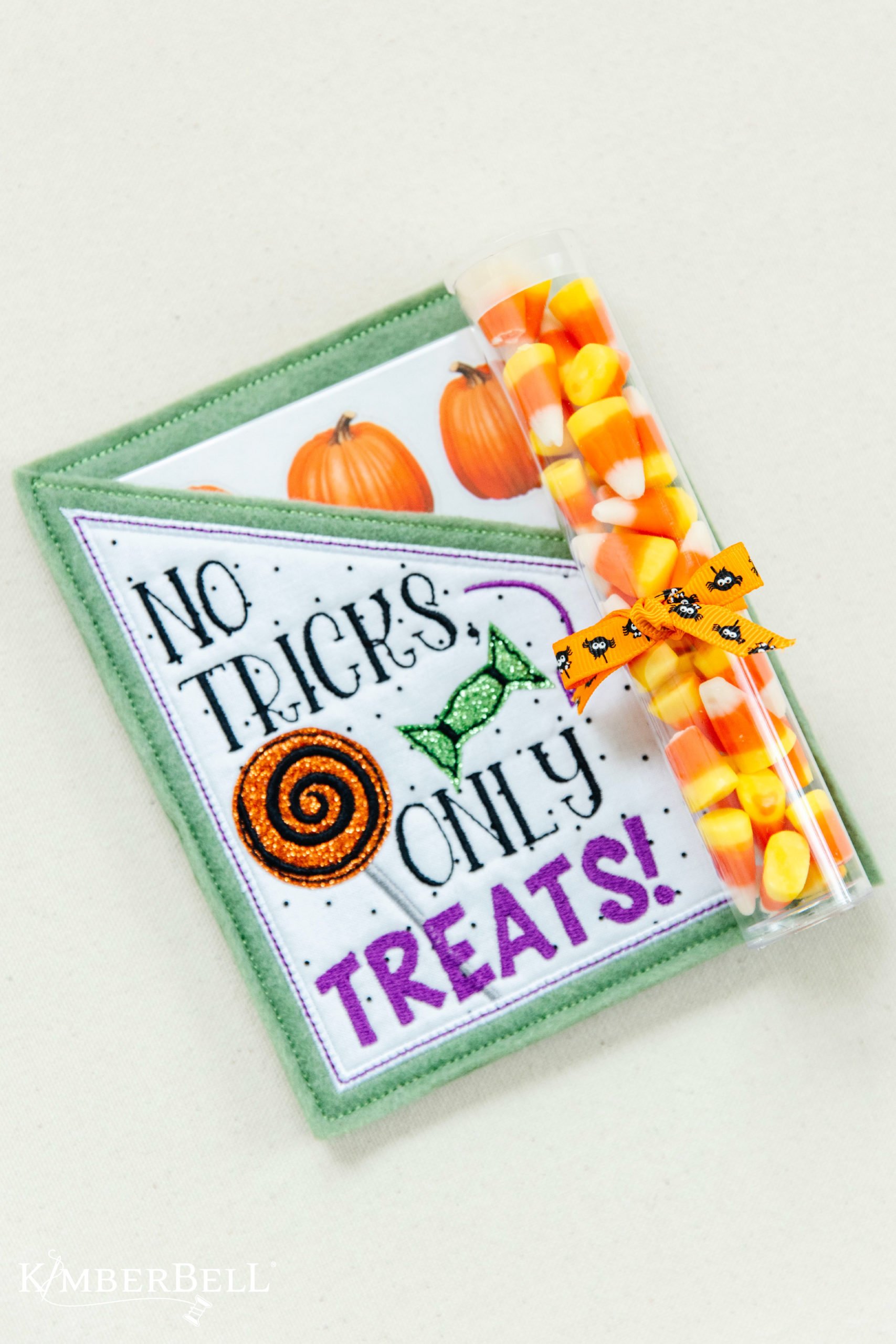 The Legend
The Man. The Myth. The Legend. Tell your fella he's your favorite with gift cards, golf tees, and all his favorite snacks!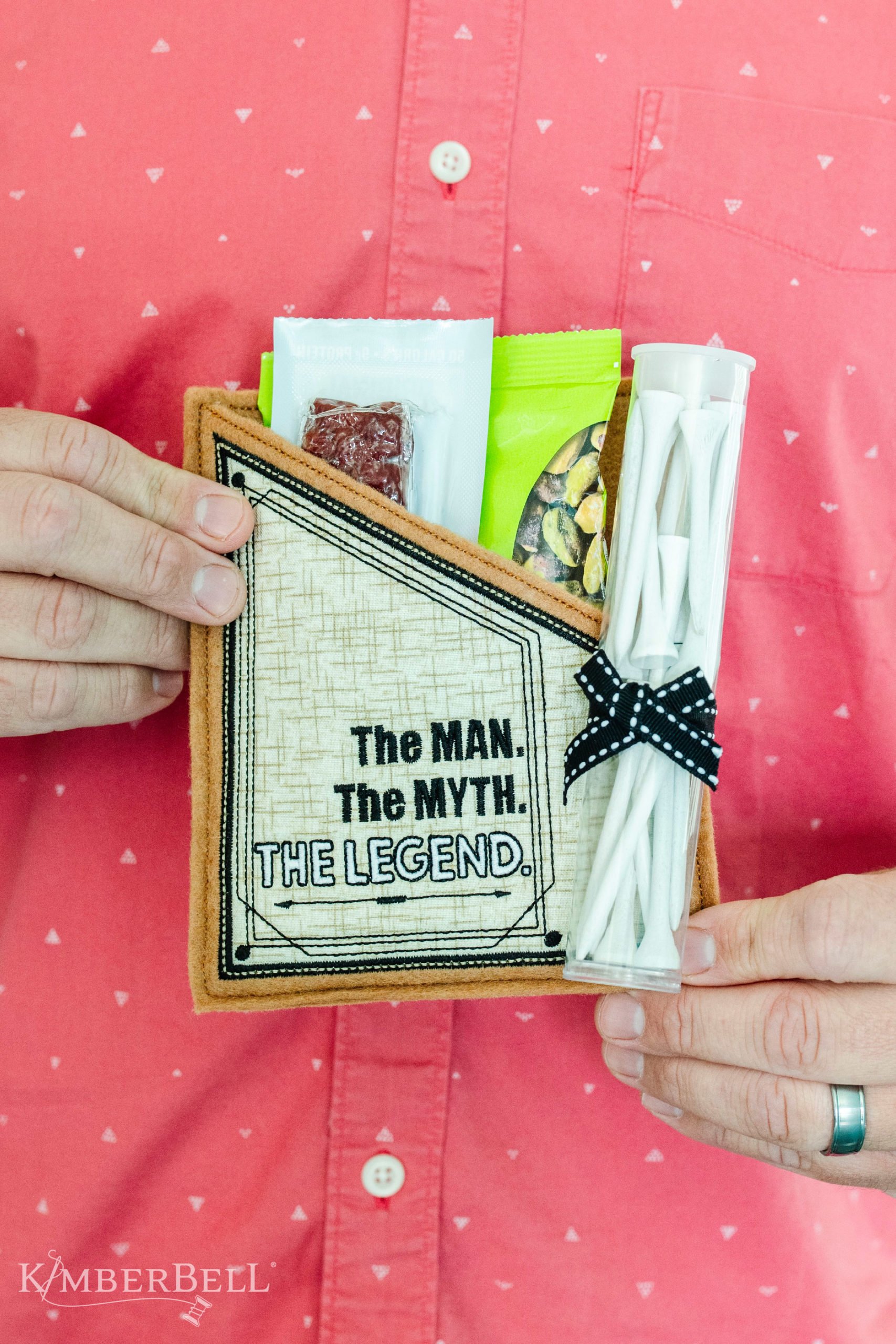 Find Kimberbell Heart-Felt Gift Pockets today at your favorite quilt shop!