Coming Soon! Kimberbell's Spring Showers Quilt for Machine Embroidery.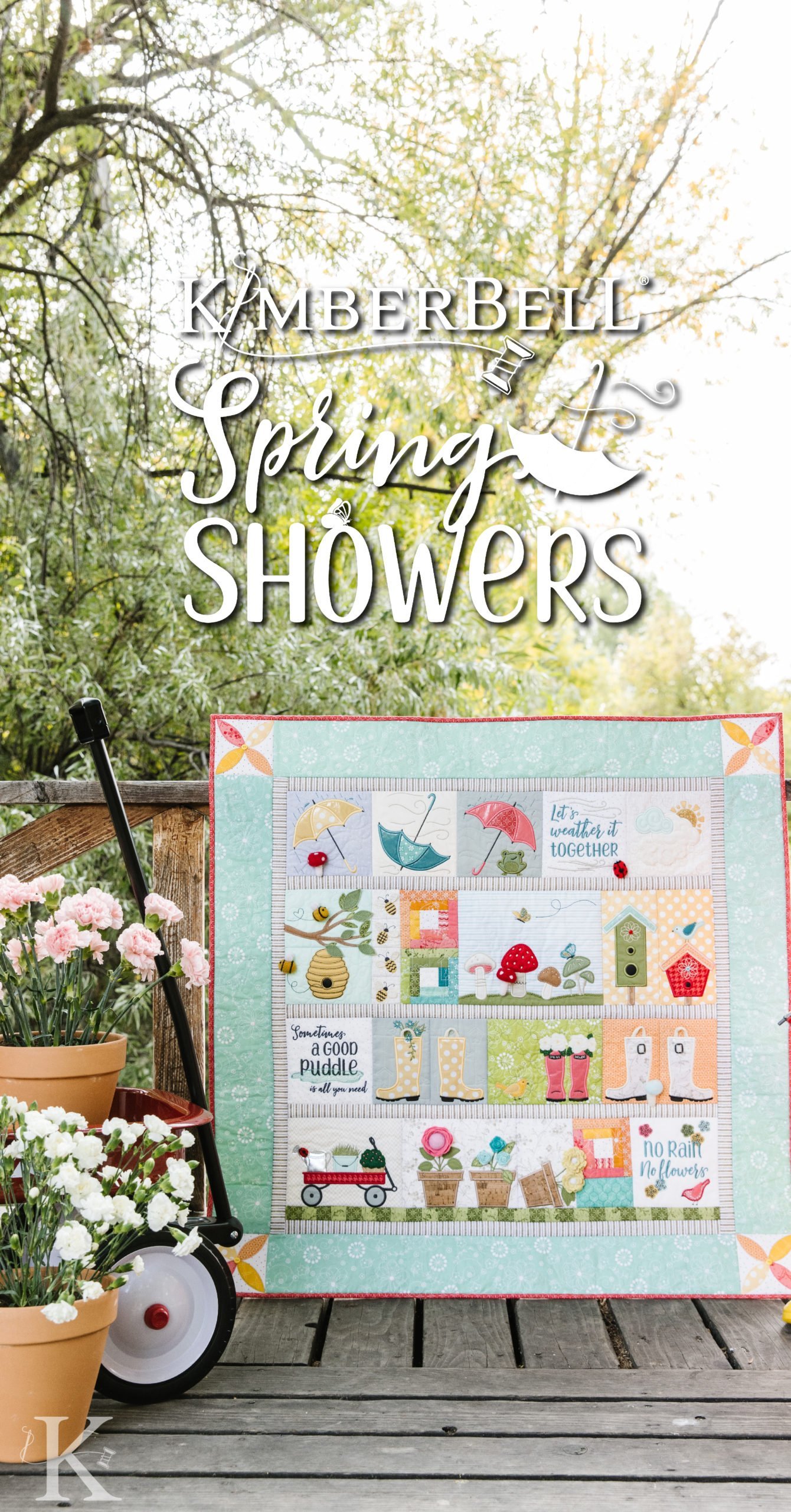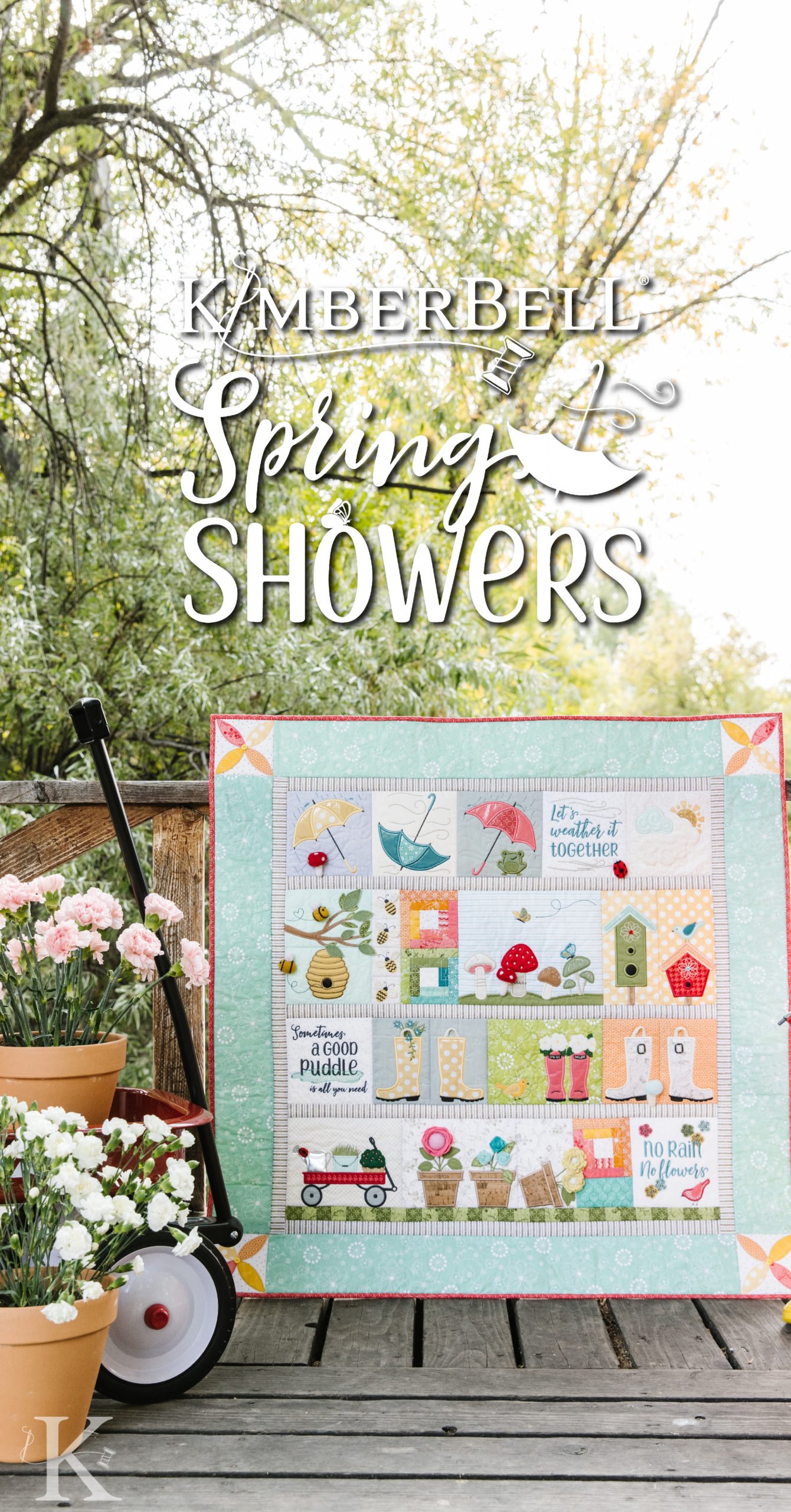 Have you heard the forecast? Spring Showers are heading to your favorite quilt shop! (And no...we're not talking about the weather.) :) Our fresh and fabulous 40 x 40" quilt celebrates spring in all of its glory, with blossoms, butterflies, and so much more.
Let's take a closer look at just a few of the features, embellishments, and dimensional details you can look forward to with Kimberbell's Spring Showers!
"A Good Puddle"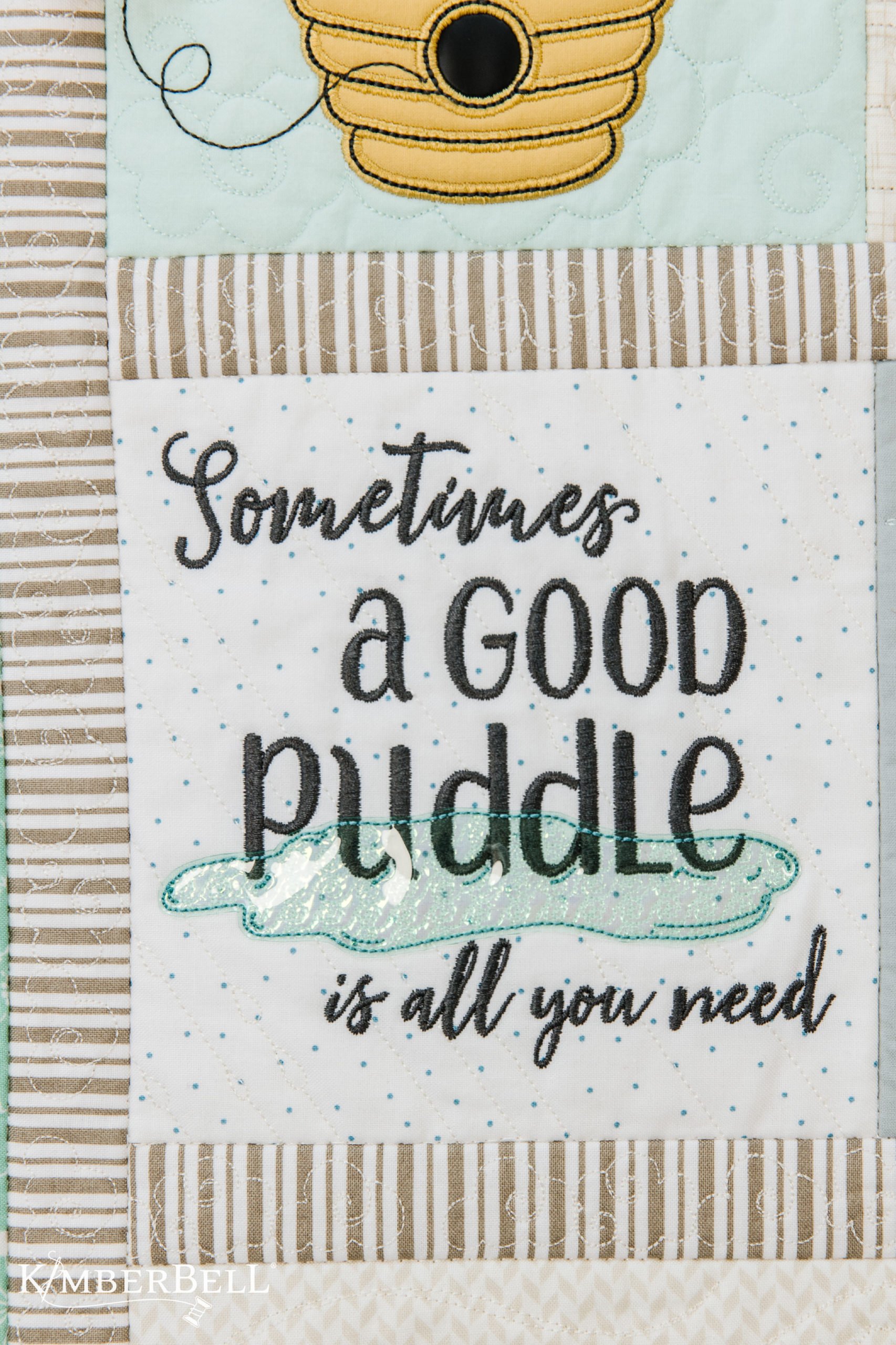 "Sometimes a good puddle is all you need!" And there's never been a prettier puddle than ours, made from layers of Sweet as Candy Vinyl and sparkling Mylar. (Now, doesn't that just make you want to jump into this project with both feet?)
Buckled Boots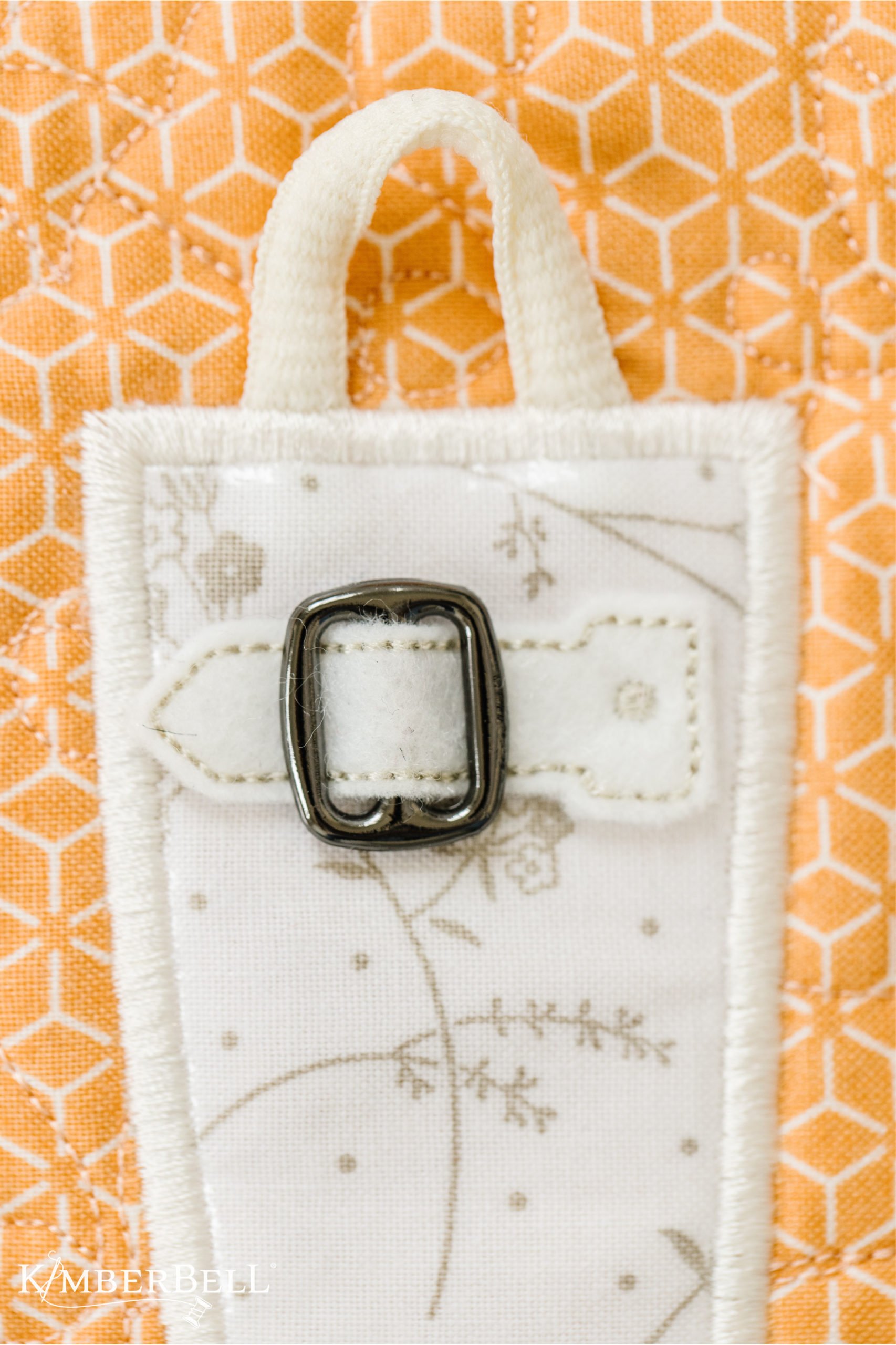 Speaking of puddle jumping, you'll make a real splash when wearing your applique rain boots. (Just look at the buckle and darling strap of Embroidery Felt!) Rain boots are also featured on two other blocks in pink and yellow, with a layer of Vinyl to make the boots shine.
Bee-utiful Bees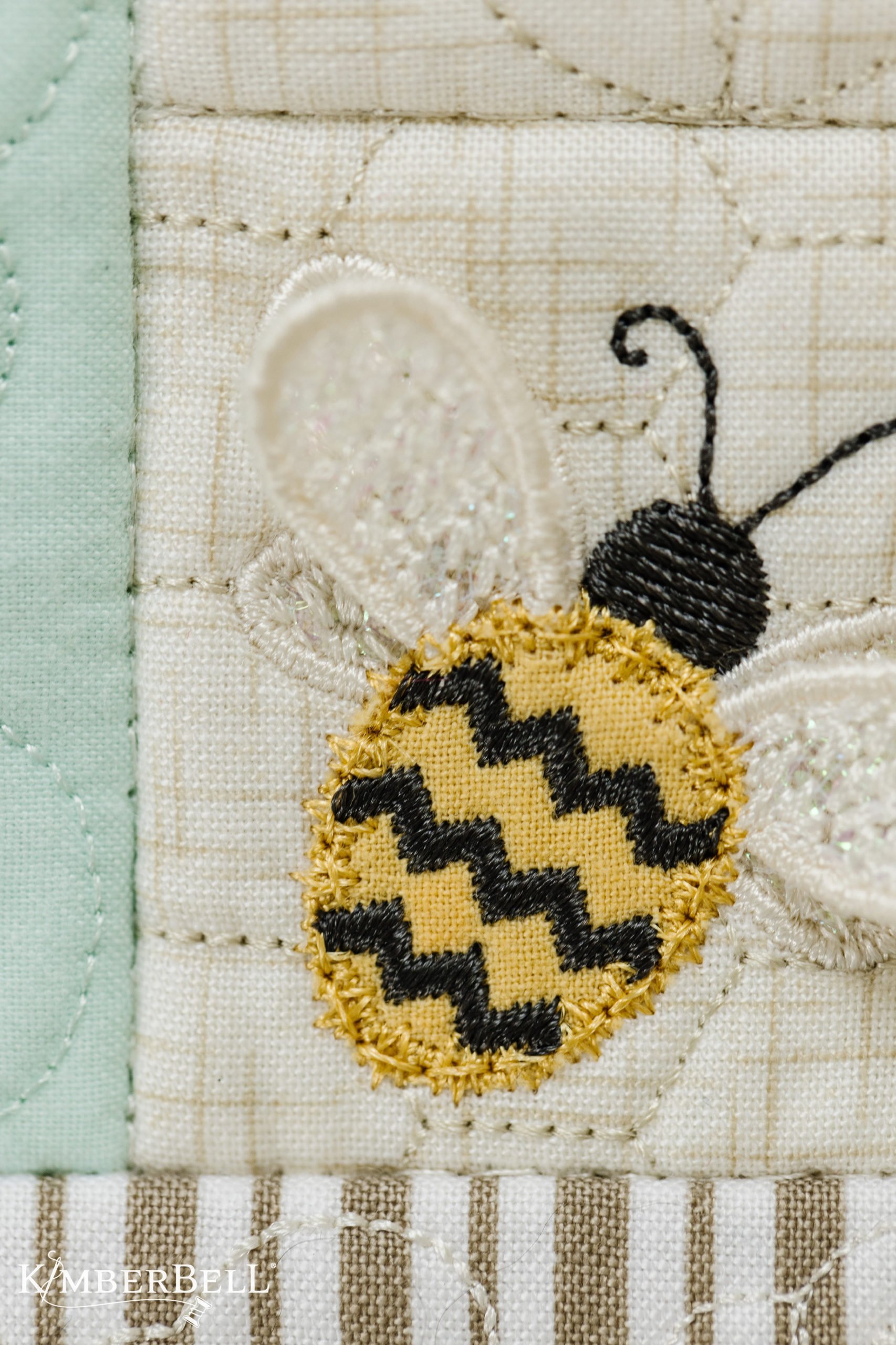 Everyone's buzzing about what we at Kimberbell call the "chonky" (i.e. chunky and dimensional) Wool Felt Bees. But let's not neglect appreciating the other bees on the quilt. Their double-layer Mylar wings give the illusion of movement!
You know, details like this really set Kimberbell projects apart.
Lovely Leaves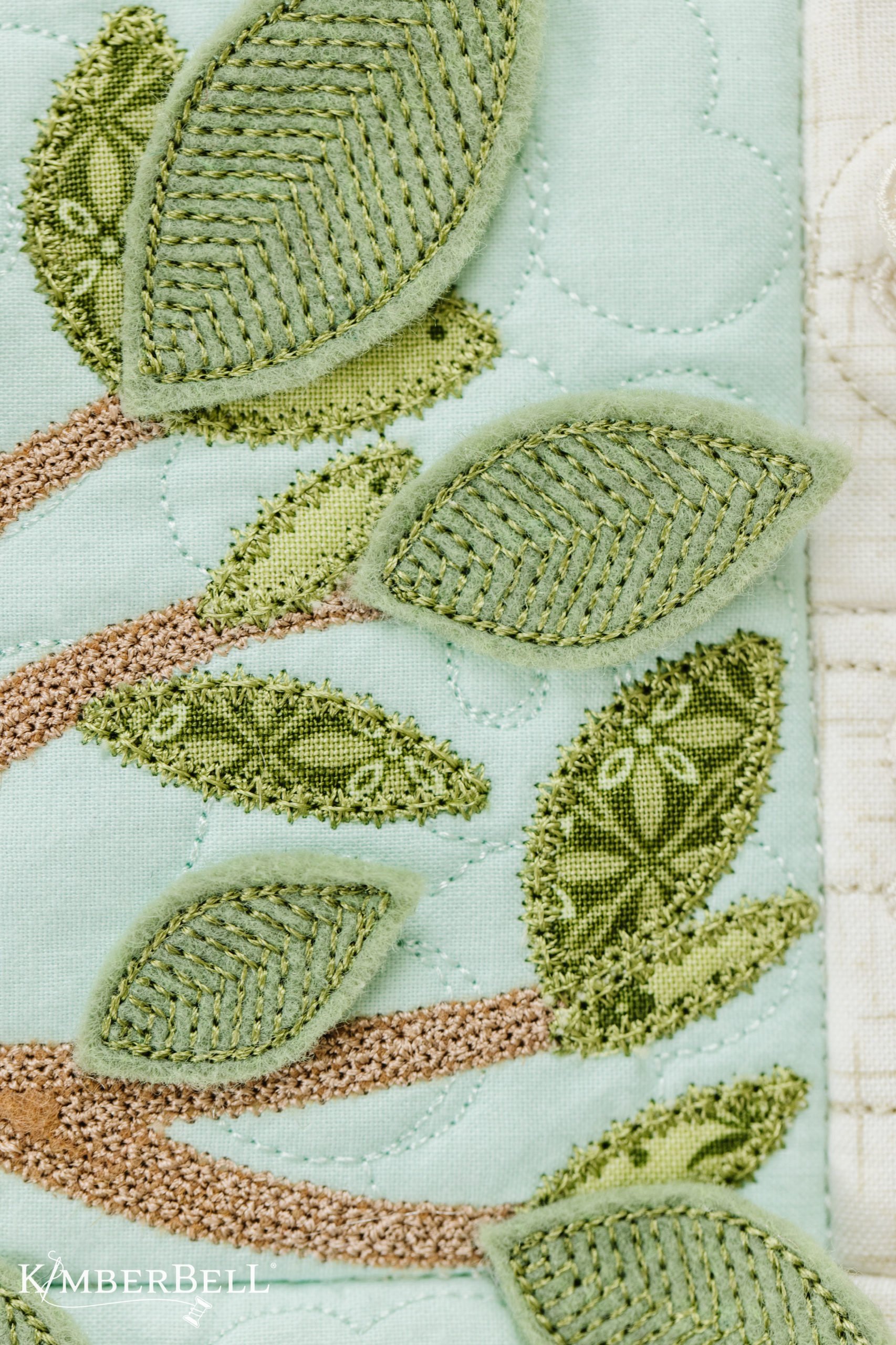 In a similar way, these leaves come to life with Embroidery Felt and decorative stitching. A lot of depth is created with this kind of technique, with some leaves stitched right on the quilt and some added on top. (Also notice the delightful detail on each leaf and branch!)
Wagons and Watering Cans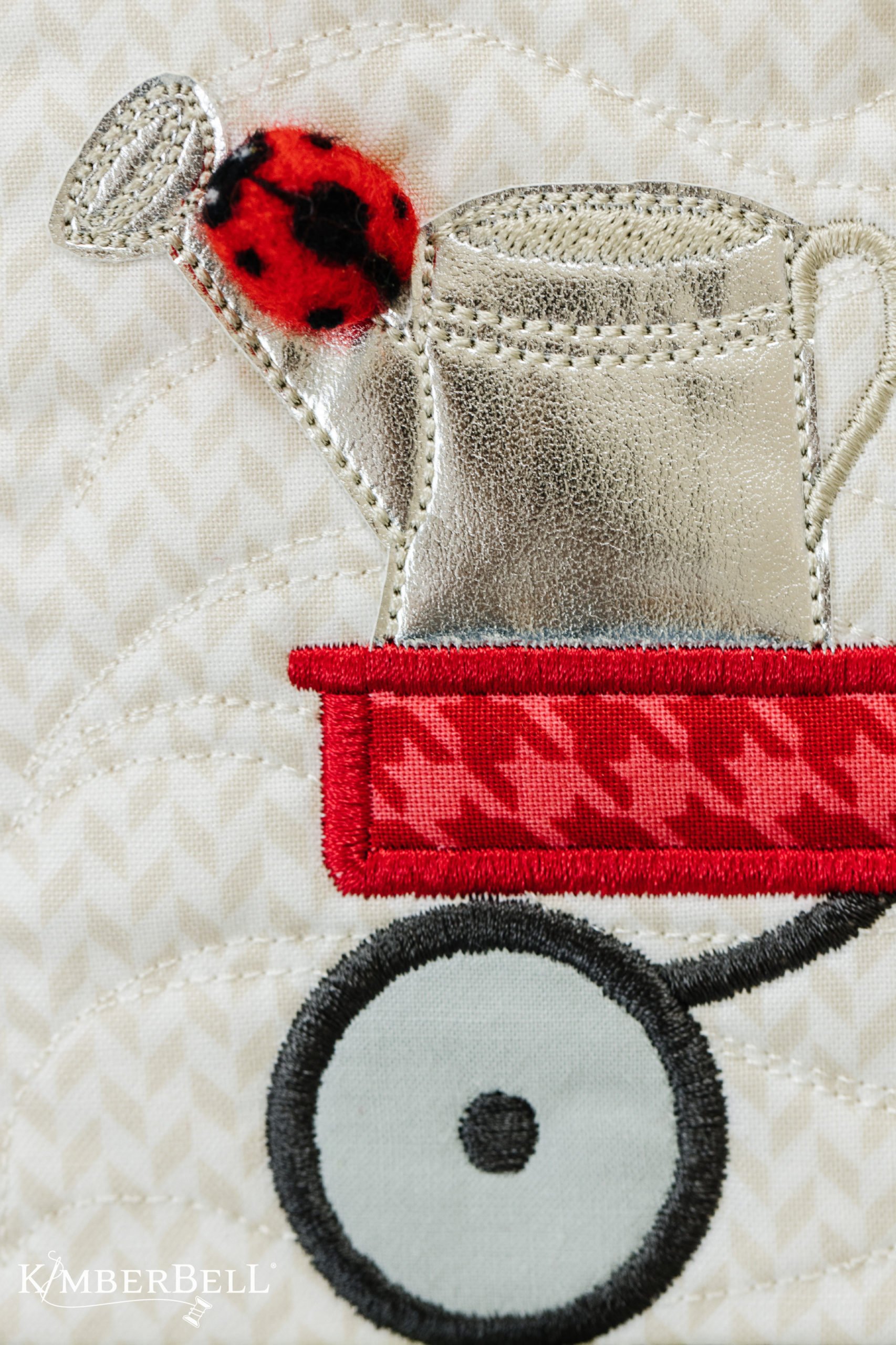 A "chonky" (There's that word again!) Wool Felt Ladybug alights on the spout of a silver Embroidery Leather watering can. This adorable red wagon is heading to the garden for springtime planting!
Pieced Log Cabins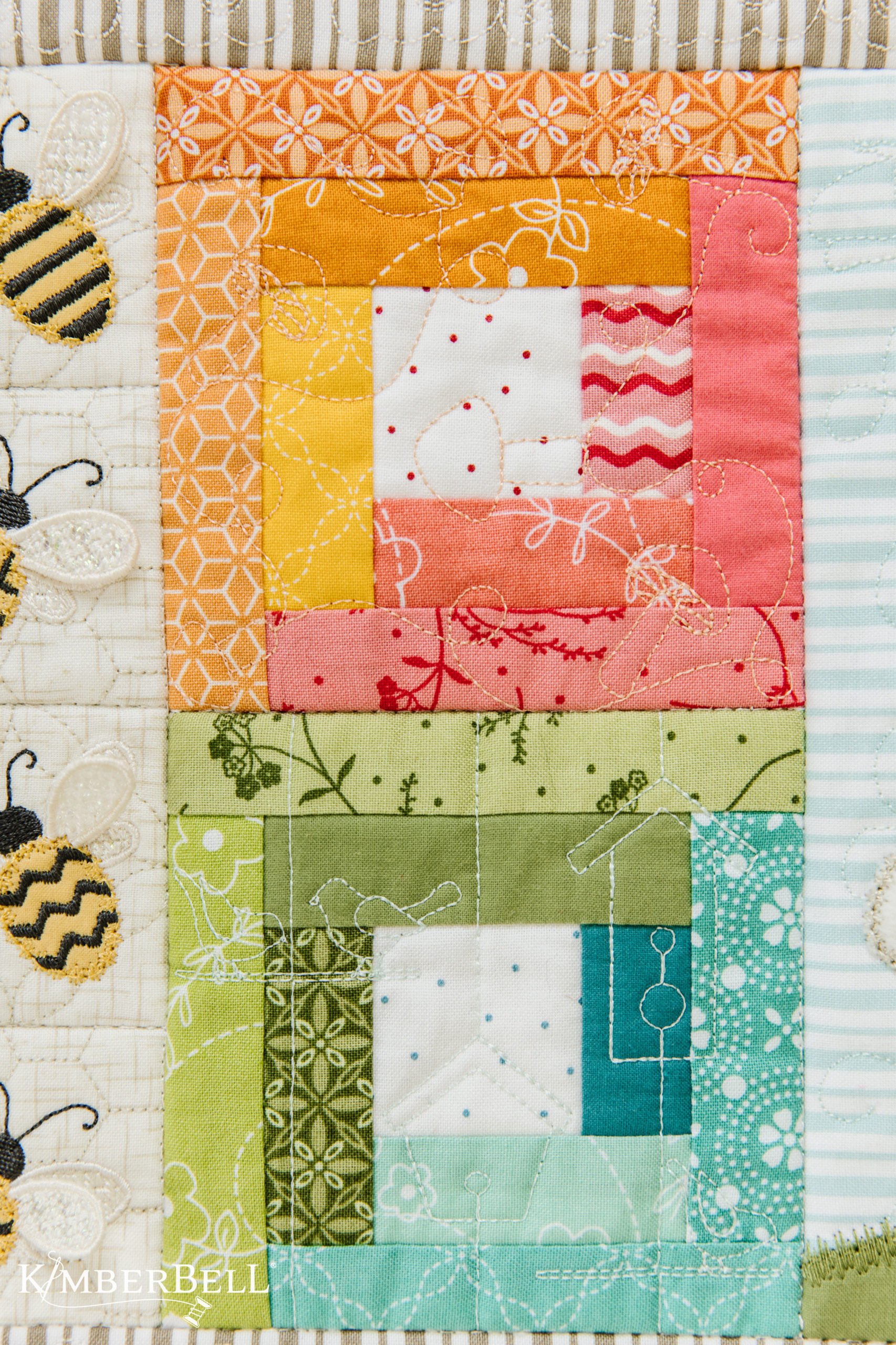 Have you ever pieced quilt blocks with your embroidery machine? Let me tell you, it couldn't be easier! Look at those rows, perfectly lined up. Again, these are not pieced on the sewing machine; it's all done in-the-hoop! (And just look at the adorable background quilting...)
Fantastic Flowers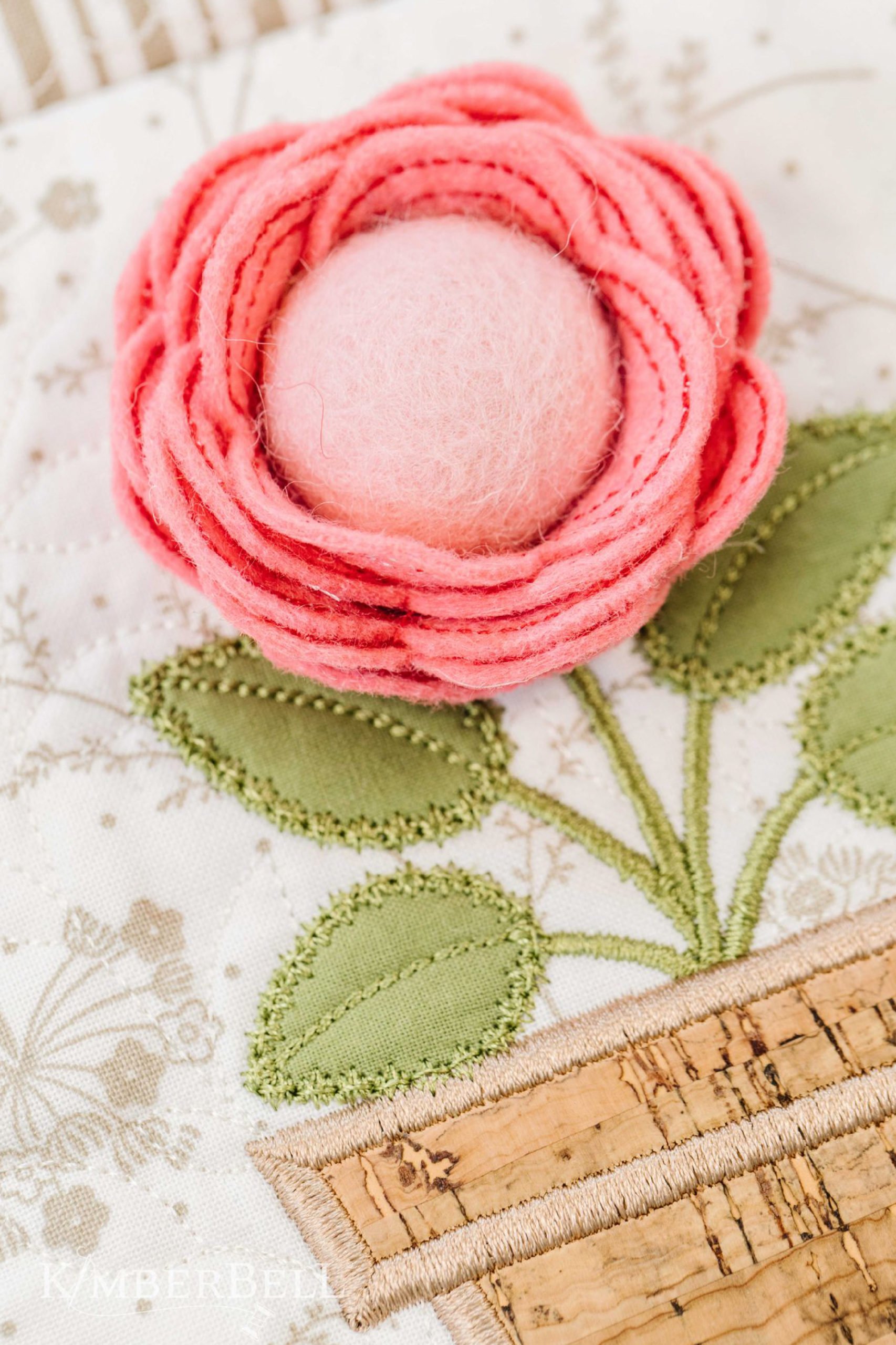 And speaking of innovative techniques, how about these flowers? Nestled snugly in applique pots of cork, these beautiful blooms are made of Wool Felt Balls and Embroidery Felt entirely with an embroidery machine.
Find all of the embellishments described above in the Spring Showers Embellishment Kit found through your favorite quilt shop! :)
Bonus Projects
Now, the quilt (although very fun on its own) isn't the only experience to be had. Spring Showers also includes three coordinating bonus projects! Let's take a look at each one.
Felt Bouquet Hoop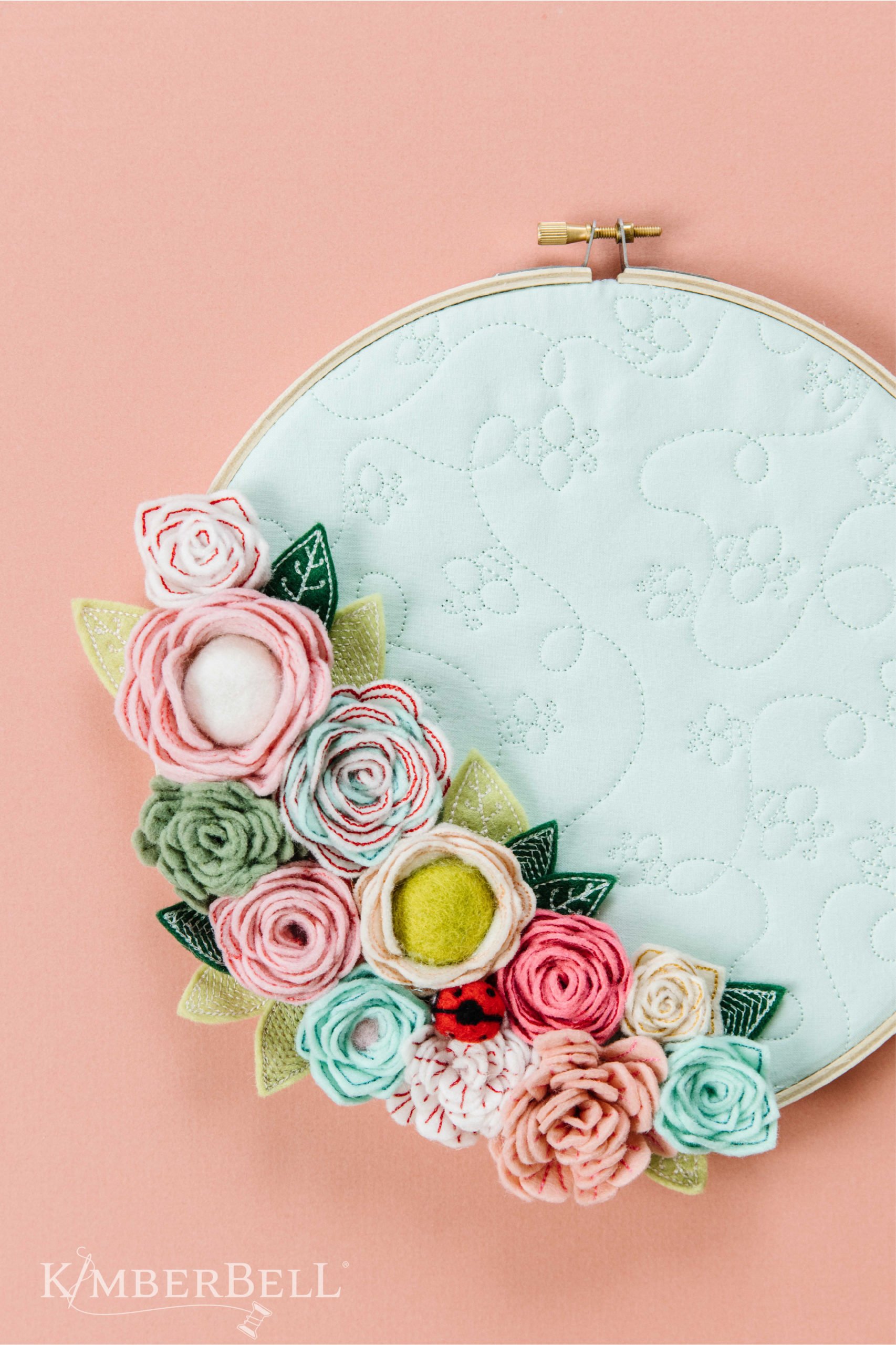 These leaves and petals are the perfect pick for your Felt Bouquet Hoop! Quilt a background of bees and swirls, then frame your bouquet in a wooden hoop. Again, these flowers are made completely with your embroidery machine.
Just imagine the possibilities with the flowers alone, from embellishing handbags to headbands and so much more...
May Flowers Tea Towel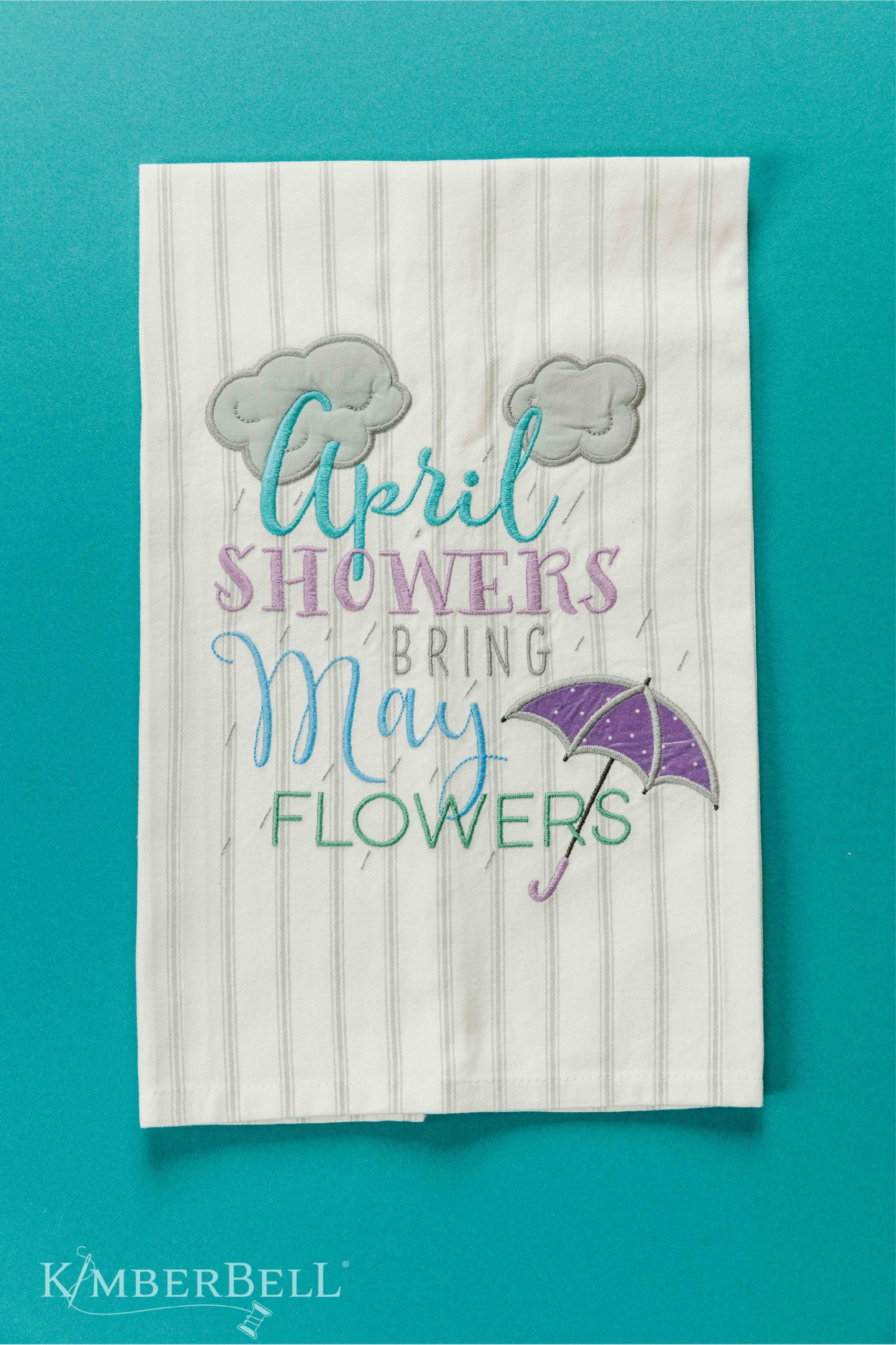 April showers bring May flowers, and Kimberbell's giftable May Flowers Tea Towel is sure to bring you joy. With a rainy-day sentiment and applique clouds and umbrella, this design is especially darling when stitched on Kimberbell's new Gingham & Pinstripe Tea Towels!
Life is Bee-utiful Wall Hanging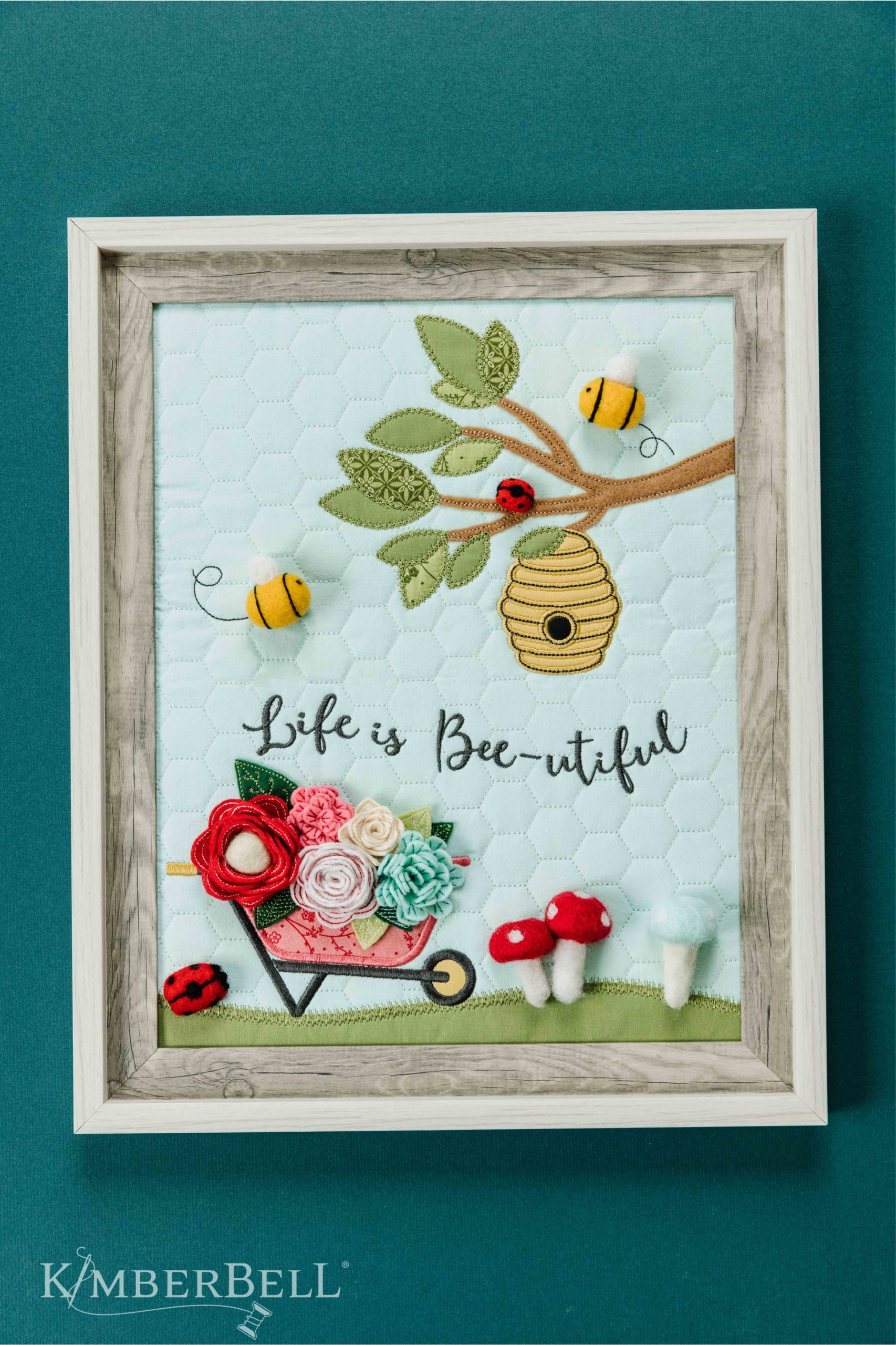 "Life is bee-utiful" with an Embroidery Leather beehive and a wheelbarrow bursting with felt flowers. Add Wool Felt Bugs & Mushrooms to your Life is Bee-utiful Wall Hanging for extra dimension!
Spring Showers Musical Parody
You know, sometimes a product just makes you want to break out into song. And this, my friends, is one of those products. We hope our Spring Showers parody (below) brightens your day with a little sunshine.
We can't wait for you to Experience the Joy of Creativity™ with our Spring Showers quilt! Be sure to join Kim for the Spring Showers sew-along during the month of March on the Kimberbell Designs Facebook page. (More details coming soon!)

[embed]https://youtu.be/uG1SwSDVTZI[/embed]