Bella of the Month: Eva Gerety

Meet Eva Gerety, Kimberbell's July 2020 Bella of the Month!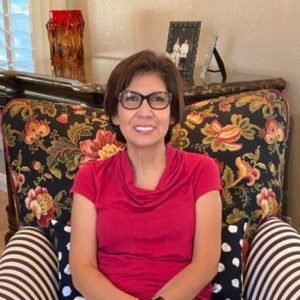 How long have you been a machine embroidery enthusiast?
"I've been embroidering for 25 years. The first machines were a challenge!"
In what ways do you experience the joy of creativity?
"The thing that brings me the most joy is giving gifts to loved ones. During these trying times, it's good to have an outlet that brings out the best in us. Creating beautiful projects helps me stay positive."
(Jenny's note: The statement above was all Eva said about this topic. But actions speak louder than words, and you may remember that last May Eva posted the following on Bellas and Fellas:
"As one who was thrilled to receive my Bella Box, I couldn't help but think of all those who, for various reasons, could not afford one. It occurred to me at 4:30 this morning how generous my fellow sewing enthusiasts are. Would it be possible for us to donate towards assisting others through some type of lottery so they can share in the joy of receiving a Bella Box?"
This initial post sparked an outpouring of generosity in the Bellas and Fellas community, ultimately leading to the purchase and donation of TEN Bella Boxes. So I'll say that Eva definitely finds joy in giving and in seeing "the best in us!" End of Jenny's comment. :) )
What is your favorite Kimberbell product so far?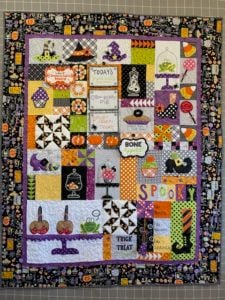 "My first large machine embroidery project was Broomhilda's Bakery. I loved working with so many products! My favorite so far are the Applique Glitter Sheets.
Please tell us one fun fact about yourself.
"When we were able to travel more freely, I made it my mission to visit quilt shops. It's fun to see what others are creating (and also take the opportunity to build my personal stash). I'm excited and honored to be chosen as the Bella of the Month!"
Congratulations, Eva Gerety, on being chosen as our July 2020 Bella of the Month! Thank you for all you do to encourage others in our Kimberbell community.
Bellas (or Fellas!) of the Month are engaging, positive members of the Kimberbell Facebook community. Through sharing encouragement, experiences, tips, and ideas, the Bella (or Fella) of the Month helps machine embroidery enthusiasts more fully experience the joy of creativity™.