April Showers Day Two: Baby Shower Gift Ideas for Machine Embroidery, Sewing, and Crafting!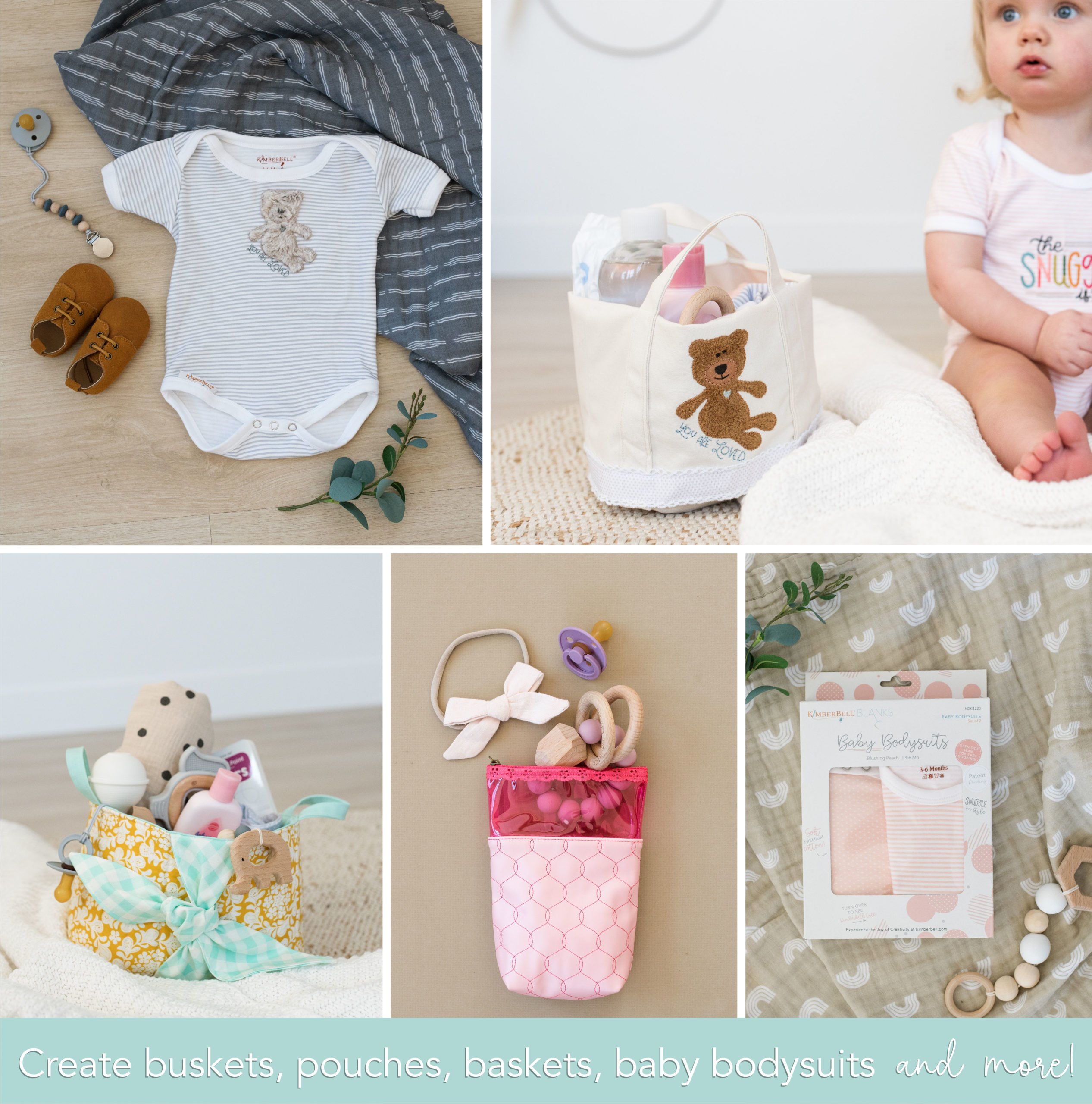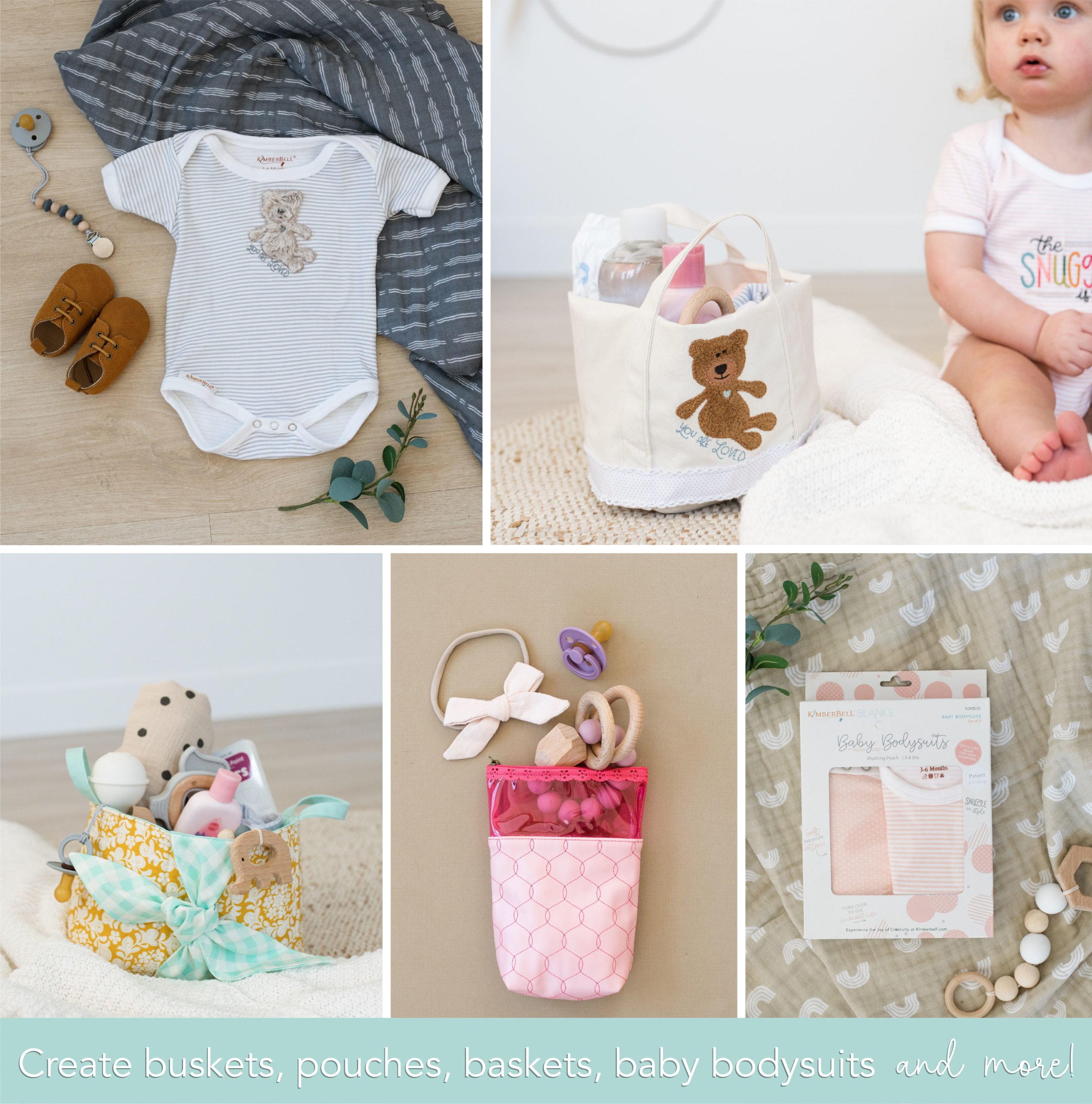 Are you heading to a baby shower? Expecting your first grandchild? Or is a certain stork expected to land on your neighbor's doorstep? Whatever the circumstance, new life is always something to celebrate!
At Kimberbell, we've hit upon some gift ideas that are just the right formula:
Baby Busket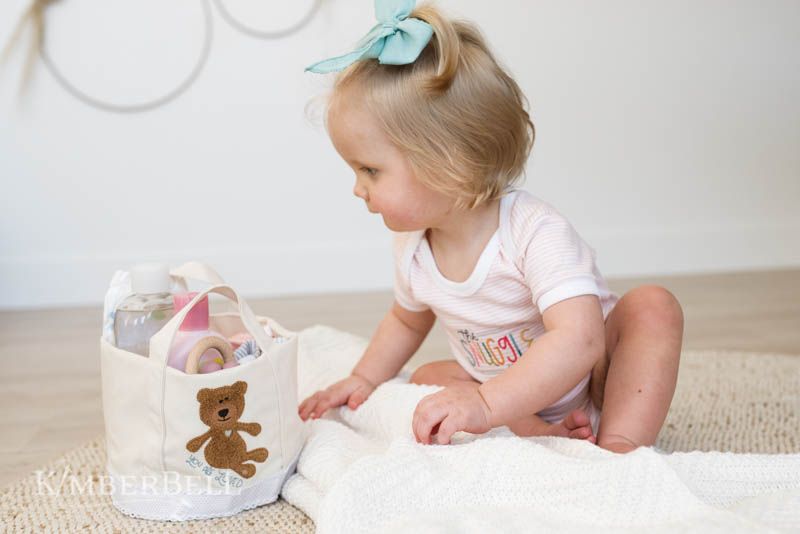 Turn a Kimberbell Canvas Tote into an adorable Baby Busket (bucket + basket) and fill with baby lotions, pacifiers, diaper cream, and more! Find the tote, pattern, and Crocheted Edge Trim at participating Fill in the Blank shops. (All Fill in the Blank projects are available for both sewing and machine embroidery! Just tell them you want the March Bunny Busket.) Also download the FREE "You Are Loved" Bear HERE. This design is available in all machine embroidery formats, as well as SVG files for sewing appliques or iron-on transfers.
Oh, and be sure to ask your favorite quilt shop for Kimberbell Wash-Away Topping and Sticky-Back Tear-Away stabilizers!
Take a Peek! Zipper Pouches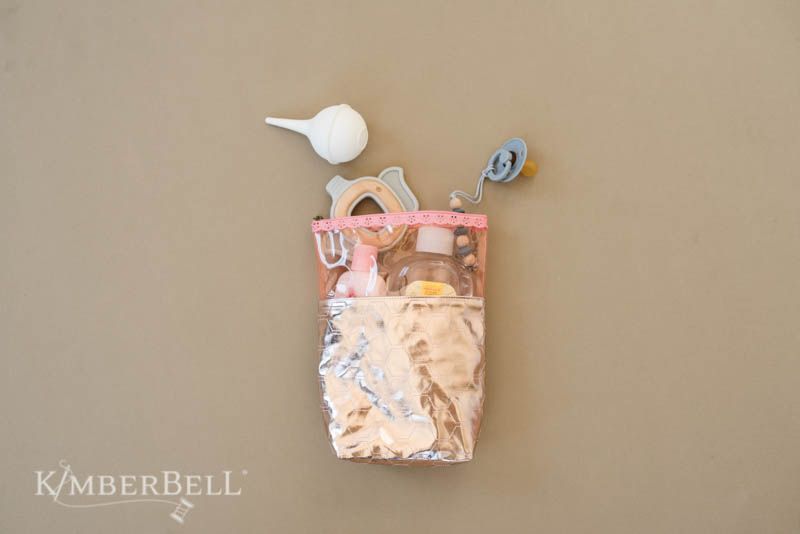 Simple to stitch and very giftable, make Take a Peek! Zipper Pouches from Sweet as Candy Colored Vinyl, Embroidery Leather, colorful Lace Zippers, and Kimberbell Wash-Away. Perfect for slipping inside a diaper bag or car, each size features its own unique quilting pattern and is fully lined, stitched in two hoopings on an embroidery machine, and finished on a sewing machine.
Baby Bodysuits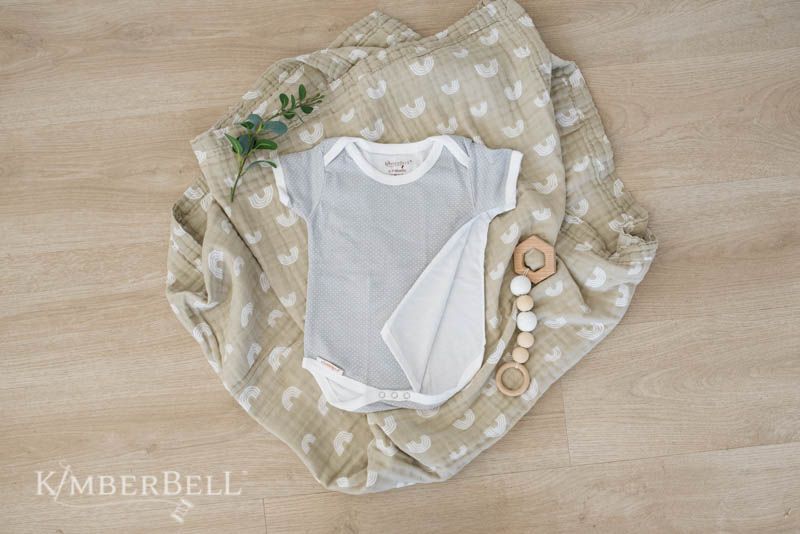 Everyone loves a Onesie, and Kimberbell Baby Bodysuits are even better. Made from premium 100% cotton, each bodysuit features a serged, open side seam. So, why is this important?
Well, have you ever tried to hoop a Onesie for an embroidery machine? It's super tricky! But that open side seam makes it about a million times easier. Take a look at this short video to see the difference:
[embed]https://youtu.be/GUTbRdXmU8w[/embed]
Open side seams aren't just convenient for embroidery machines, my friends. Because you can open a Baby Bodysuit and lay it flat, they're also easy to maneuver under sewing machine needles as well. And iron-on transfers? So simple to flip the front open and iron your design on that top layer before stitching up the side! There are so many possibilities with these giftable baby blanks, especially considering the thick, soft quality of the fabric itself. Heavenly for babies!
Baby Bodysuits come in 3-6-month, 6-9 month, and 9-12-month sizes in colors of blushing peach or koala grey.
The Snuggle is Real: Petite Appliques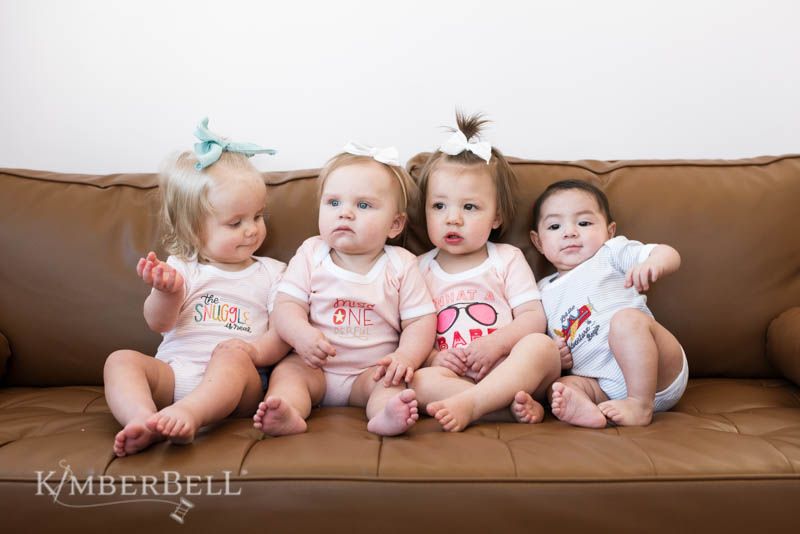 Made on an embroidery machine, Kimberbell's The Snuggle is Real: Petite Appliques are sweetly designed for babies and toddlers. Each of the 14 patterns include a variety of techniques such as Sweet as Candy Colored Vinyl, Embroidery Leather, Applique Glitter, decorative stitching, and more! Embroider "What a babe," "My first Christmas," "Don't make me call Grandma" and other designs on Kimberbell's Baby Bodysuits, Kimberblank Totes (for a darling diaper bag), Zipper Pouch Blanks, and more.
Use Kimberbell Wash-Away Sticky-Back while stitching the design, then add Silky-Soft Fusible Backing for extra comfort on baby's skin.
Love-Me-Knot Nursery Basket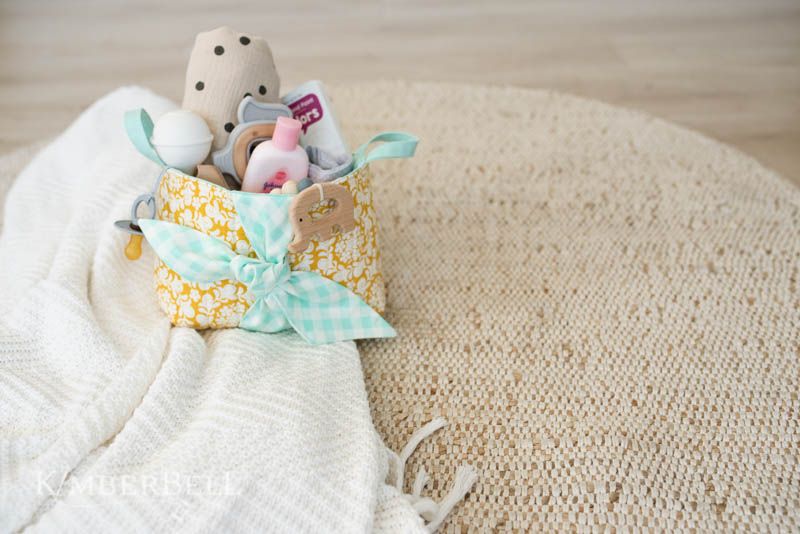 Coming soon from the NEW Kimberbell Vault! Make this adorable Love-Me-Knot Basket from our retired Oh the Possibilities...for Spring! collection and fill with toys, receiving blankets, and other items for baby's nursery. (Stay tuned for details about this and other patterns releasing from the Kimberbell Vault!) :)
Zipper Pouch Blanks
Embroider Blossoms & Butterflies: Kimberblank Appliques on our Zipper Pouch Blanks and fill with tiny nail clippers, pacifiers, diaper rash cream, and other on-the-go baby essentials. With a sewn-in zipper, soft texture, and serged open side seams, Zipper Pouches are easy to hoop and embellish with your favorite embroidery designs, sewing appliques, or iron-on transfers.
Choose small or large sizes in soft felt or luxurious velveteen in a variety of colors!
The Very Best Gift
We haven't even talked about Lil' Sprout Baby Appliques & Burp Cloths, our Kimberbell Little Ones: Born to be Wild collection, or a host of other delightful possibilities! From Heart-Felt Friends to Kimberbell Curated: Enchanted, it's easy to turn your favorite Kimberbell projects into something perfect for that sweet baby.
At Kimberbell, we believe that "I made this for you" is the same as saying "I love you!" And showing you care is the very best gift of all.

P.S. Remember to enter our April Showers contest this week only! Details HERE. :)