Attending a (Virtual) Sugar Plum Jubilee


Well friends, I did it! I attended Kimberbell's Sugar Plum Jubilee last week and I've got to tell you that this machine embroidery Spark Event did NOT disappoint. What a fun, fun, fun way to experience the joy of creativity!™
As you may know, Spark Events only last four hours, so they're easy to work into my schedule. After signing up and before the event started, I got the Attendee Kit from my quilt shop and was delighted to see that not only did my kit include the necessary designs, embellishments, and instructions; my shop even threw in a little Nutcracker chocolate to sweeten the deal! (If you ask me, chocolate is always appropriate.)
Prior to the event, I loaded the designs into my machine so they were all ready to go. I also made sure I had plenty of tearaway stabilizer, thread, bobbins, and needles on hand. (All Sugar Plum Jubilee event projects are stitched in a 5x7 hoop.)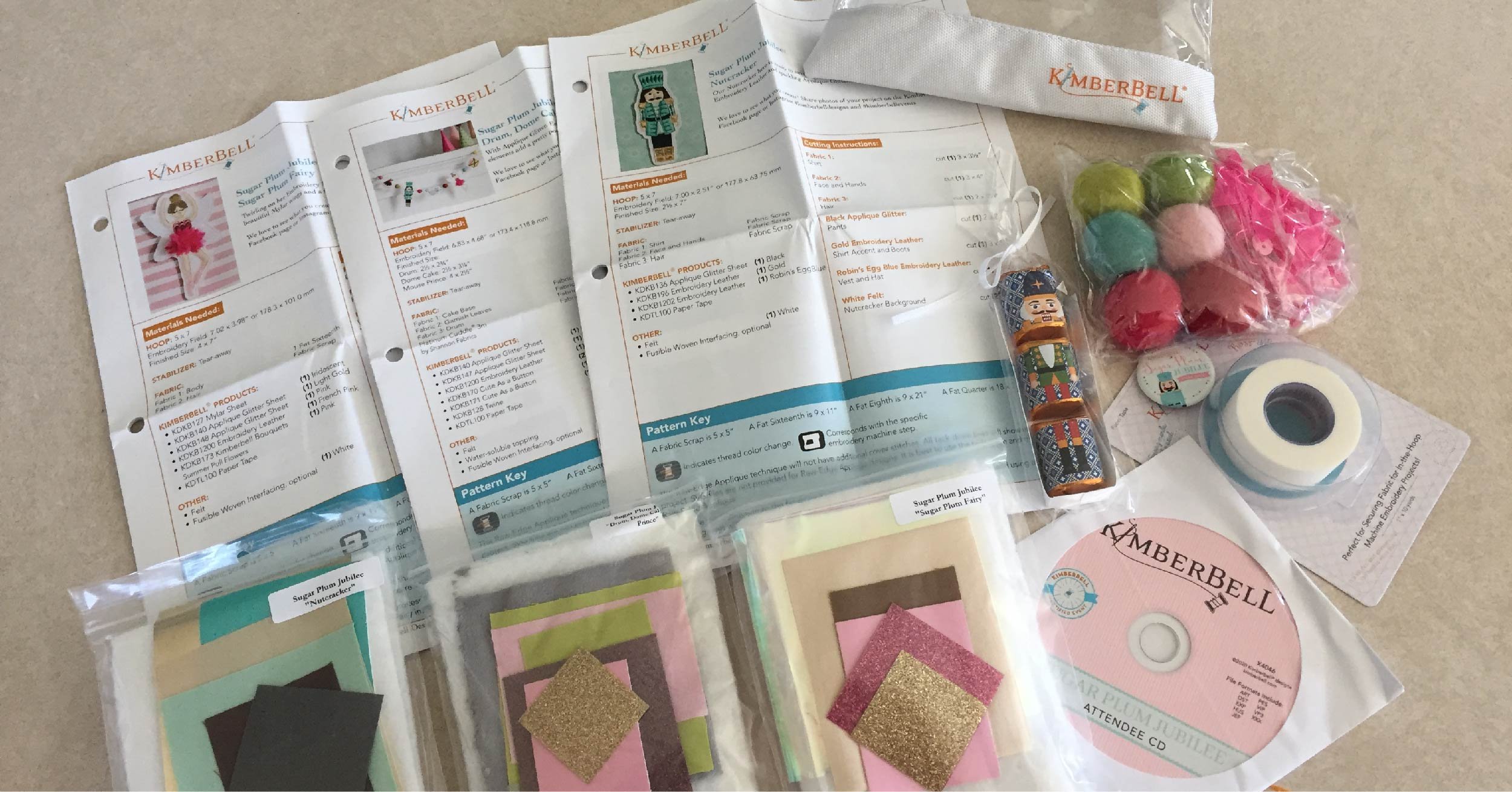 My quilt shop chose to host the virtual event through Zoom software and had previously emailed the link to attendees, so when it was time to begin it was very easy to log into Zoom and participate in all of the fun. And fun it was! As soon as I saw the teachers dressed as fairies (they called themselves the Sugar "Plump" Fairies, actually!), I knew I was in for an especially good time. After the initial greetings and housekeeping items were over, we were on our way to stitching our first project of the day: the Sugar Plum Fairy.
With her Mylar wings, Embroidery Leather pointe shoes, and Applique Glitter costume and crown, the Sugar Plum Fairy is definitely the star of the show. Oh, the sparkle! Oh, the shine! She's dazzling and beautiful and an absolute dream to embroider. You know, working with these applique textures might seem intimidating at first, especially if you've never used them before. After all, they have the WOW factor of a really complicated project! But here's the thing: they aren't hard to work with at all. The Kimberbell instructions are really easy to follow and the products themselves work beautifully with machine embroidery. After my Sugar Plum Fairy was stitched, it was very easy to gather the Pull Flower for her tutu and attach with a little hot glue. I smile every time I see my Sugar Plum Fairy in all of her glittery glory!
The next project was the Nutcracker himself, and he was every bit as fun to stitch as the fairy was. Doesn't he look handsome in his Embroidery Leather suit and glimmery Mylar pants? I'm pretty proud of the way he turned out, although the image to the left isn't the one I made. I, ahem, was so excited about making him that I didn't remember to take a great picture! (However, you can see my Nutcracker with the rest of the projects below, in case you're interested.)
By the way, if you haven't tried Embroidery Leather yet, you'll be amazed at how soft and supple it is! The Nutcracker's coat and hat are in the Robin's Egg Blue color, and his boots and cuffs are in Gold. With his smart uniform, I think this embroidered Nutcracker every inch the hero.
The final three projects (Drum, Mouse Prince, and Dome Cake) were stitched together in one hooping. My design
CD included the embroidery file with all three projects together, but each design also came as separate files, should I choose to stitch them one at a time. First, I made the Drum, which came together quickly. Next was the Dome Cake, with its gooey-looking topping of Applique Glitter, followed by the fuzzy Mouse Prince made of soft Cuddle.® Honestly, I was a little nervous to stitch the Mouse Prince because of the fuzzy fabric. However, the Cuddle® was easy to work with and using a water-soluble topping made all the difference.
As if embroidering these darling designs wasn't enough fun, the event was sprinkled with contests, prizes, "Ooohs" and "Ahhhs" as we held our completed projects to the camera, and lots and lots of questions and comments flying back and forth through Zoom chat. There's simply a camaraderie that happens when you're stitching out the same project at the same time--even if your classmates are miles apart and seen only through a screen. Our teachers were wonderful, sharing tips and tricks throughout the day, and attendees walked away with projects we can be proud of and knowledge we'll take with us.
But "time flies," as they say, so it wasn't long before my five designs were complete. After cutting everything out and gluing the button "cherries" to the top of my Dome Cake, all that was left to do was to take a needle and string my garland together with Kimberbell Twine and those darling Sugar Plum Jubilee Wool Felt Balls. And although my time at the official event is over, I'm looking forward to more embroidery fun with the SEVEN extra designs on my design CD! I can't wait to make the Mouse King, Swan, Peppermint Swirls, Peppermint Stick, Trees, Ornaments, and Holly Berries…
I get the feeling that decorating for the holidays will be a whole lot of fun this year! If you have the opportunity to attend Sugar Plum Jubilee from your favorite quilt shop, do it! I can tell you, it's one sweet experience. :)