Kimberbell Stabilizer Hoop-La: It's Special(ty) Fun Friday and Everything You Need to Know About Specialty Machine Embroidery Stabilizer!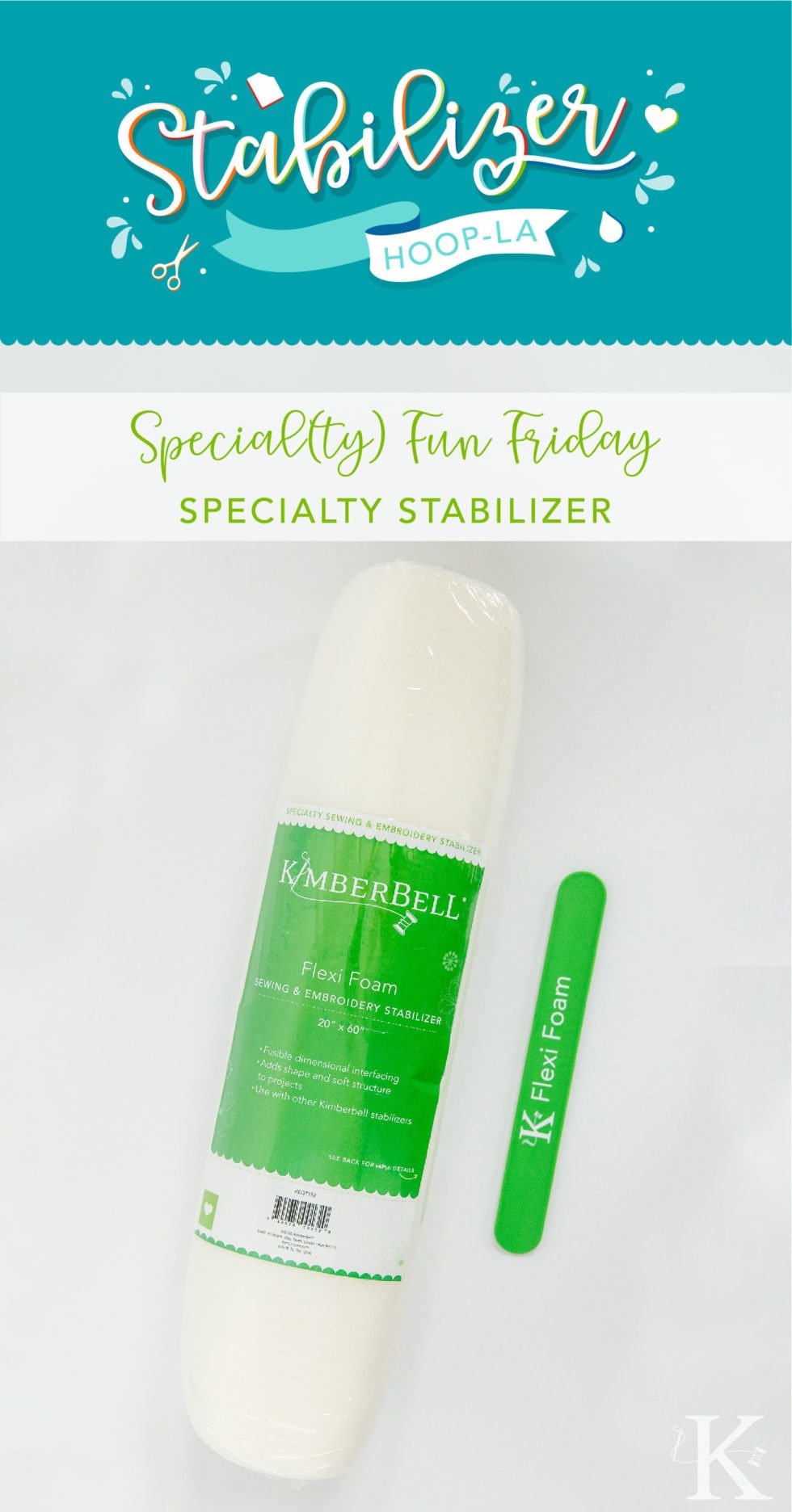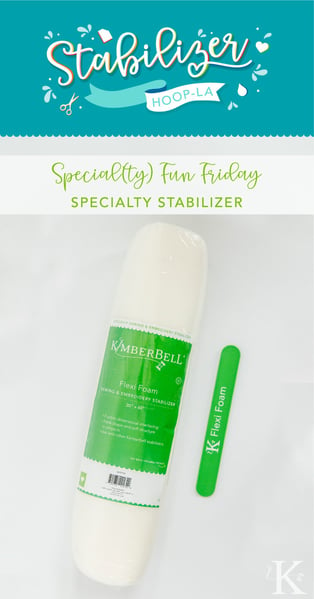 We're wrapping up our Stabilizer Hoop-La with Special(ty) Fun Friday! So...what is Specialty Stabiizer, exactly?
Specialty Stabilizers Overview
Specialty Stabilizers do not replace Tear-Away, Cut-Away, or Wash-Away; rather, they are used with these stabilizers for unique, specific (and might I add very cool) purposes.
Available from your favorite quilt shop, Kimberbell Specialty Stabilizers include:
KDST125 Silky Soft Fusible Backing 10" x 5 yds
KDST126 Fusible Backing 12" x 5 yds
KDST127

Fusible Backing

20" x 5 yds
KDST128

Fusible Peel & Stick

8 1/2" x 11" Sheets (25 Sheets)
KDST129 Embroidery Topping Multipack 8 1/2" x 11" (8 sheets: white, black, grey, red, blue, & yellow)
KDST131

Shape Form Interfacing

KDST132

Flexi Foam

20 x 60"
KDST135

Iron-Away Topping

12" x 10 yds
KDST138

Project Batting

19" x 3 yds
Let's take a look at Kimberbell Specialty Stabilizers (labeled in shades of green) to check out what's so "special" about them!
Tip: ALL Kimberbell stabilizers have been thoroughly tested in our Product Development Lab, each proving to be of the utmost quality with consistently beautiful results on every project.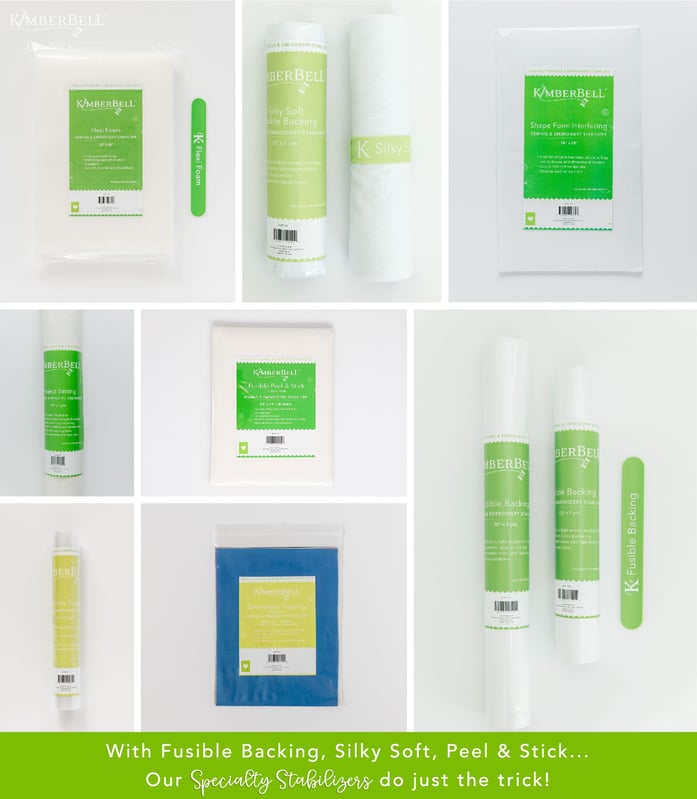 Silky Soft Fusible Backing
Kimberbell Silky Soft Fusible Backing is a lightweight, fusible woven interfacing. Wonderfully soft and supple, this stabilizer adds body and structure (without shadowing) to sheers, silks, and other lightweight fabrics. Silky Soft Fusible Backing is ideal for sensitive skin, so add to the back of wearable embroidery projects to make them more comfy!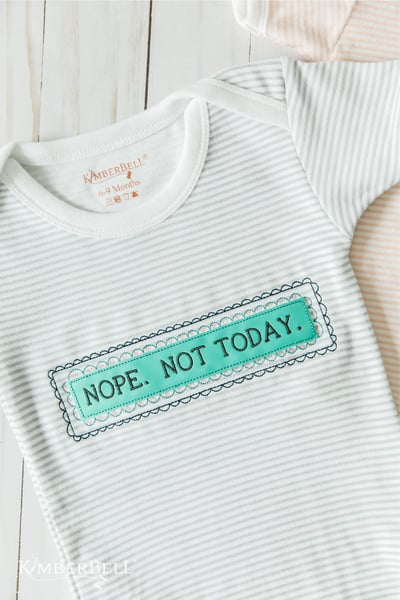 Add Silky Soft Fusible Backing behind Sweet & Snarky designs embroidered on Kimberbell Baby Bodysuits!
Fusible Backing
Kimberbell Fusible Backing is a total game-changer! As a woven interfacing, Fusible Backing adds body to light and/or medium fabrics and greatly helps the fight against puckering. (I use Fusible Backing on nearly everything I stitch!) Simply cut a piece a little smaller than the fabric, and iron to the wrong side for extra stability. Then just hoop the fabric with whatever "regular" stabilizer you're using!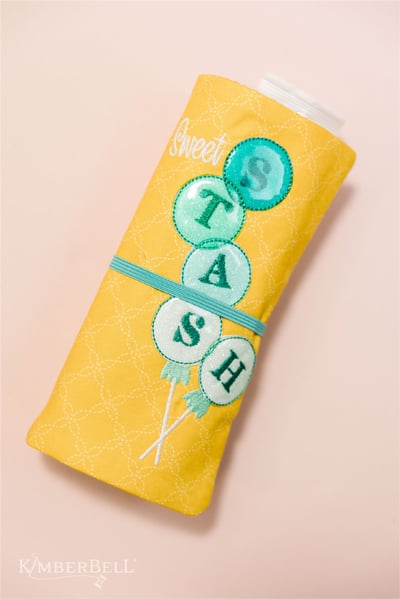 Use Kimberbell Fusible Backing when making the Sweet Stash Roll-Up Bag from Kimberbell's Summer Nights Event!
Tip: Fusible Backing doesn't replace Tear-Away, Cut-Away, or Wash-Away; rather, it provides extra stability to the fabric.
Fusible Peel & Stick
We love the simplicity of Kimberbell Fusible Peel & Stick for applique on a sewing machine. Since SVG files are printed in reverse, simply place Fusible Peel & Stick over the applique design (paper side up), trace with a pencil, and follow directions for trimming and adhering. So easy! Kimberbell Fusible Peel & Stick is ideal for specialty fabrics like wool, velveteen, leather, and silk.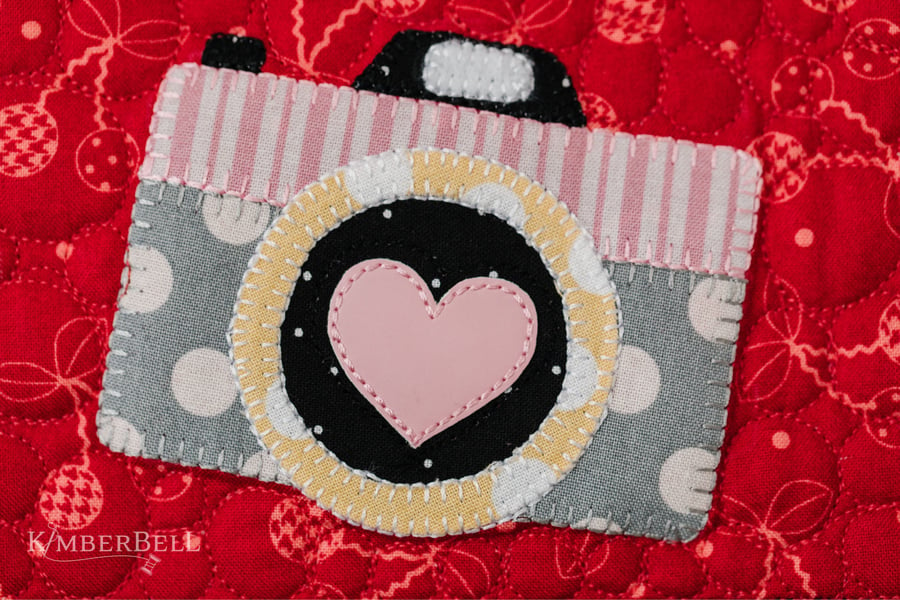 Use Fusible Peel & Stick when making the sewing version of Kimberbell's Love Notes quilt!
Embroidery Topping Multipack
Kimberbell Embroidery Topping prevents fabric from showing through stitches, especially when embroidering a light design on dark fabric. A permanent stabilizer that remains in the project, Embroidery Topping also prevents stitches from sinking into the nap, leaving you with crisp results! Excess topping tears easily away from the design and is particularly helpful on fleece and other textured fabrics.
Tip: Choose the color of Embroidery Topping that best matches the thread you'll be stitching with!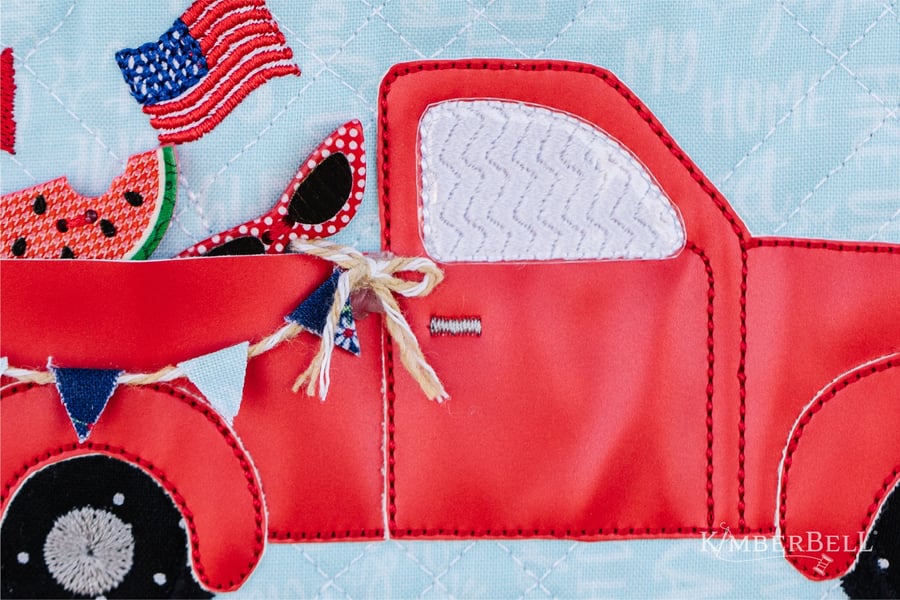 Consider using Kimberbell Embroidery Topping (white) in place of fabric when stitching this Parade Truck window from our Red, White, & Bloom feature quilt!
Flexi Foam
Kimberbell Flexi Foam adds shape and soft structure to so many projects. Think the Winter Cardinal Ornament from Kimberbell's Winter Wonderland Event, the Blue Ribbon Pie Carrier from Day at the Fair, and the "Small Fry" Fill in the Blank design. Flexi Foam is easy to cut, super easy to stitch, and versatile for bags, purses, frames, and more.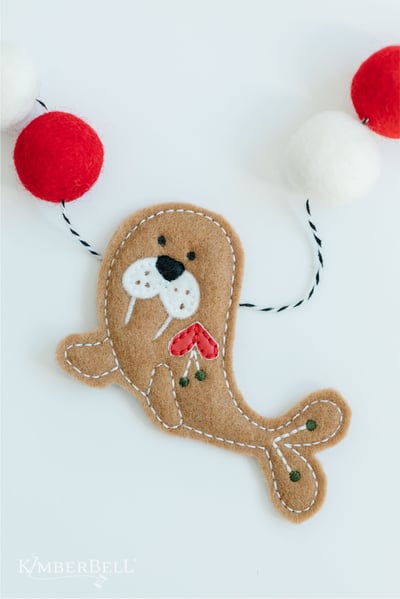 Use Kimberbell Flexi Foam when making adorable Heart-Felt Friends!
Shape Form Interfacing (Coming Soon!)
Thick enough for sturdiness but thin enough to stitch on sewing and embroidery machines, Kimberbell Shape Form Interfacing provides delightful dimension for projects such as boxes, hat rims, 3D houses, and more. Again, use this product with another stabilizer (like Cut-Away), then fold to the desired shape! Shape Form has just the right density, yet it's easy to trim and manipulate.
If cardboard and Flexi Foam got married and had a baby, that baby just might be Kimberbell Shape Form. :)
Tip: Shape Form Interfacing can be machine washed or dry cleaned!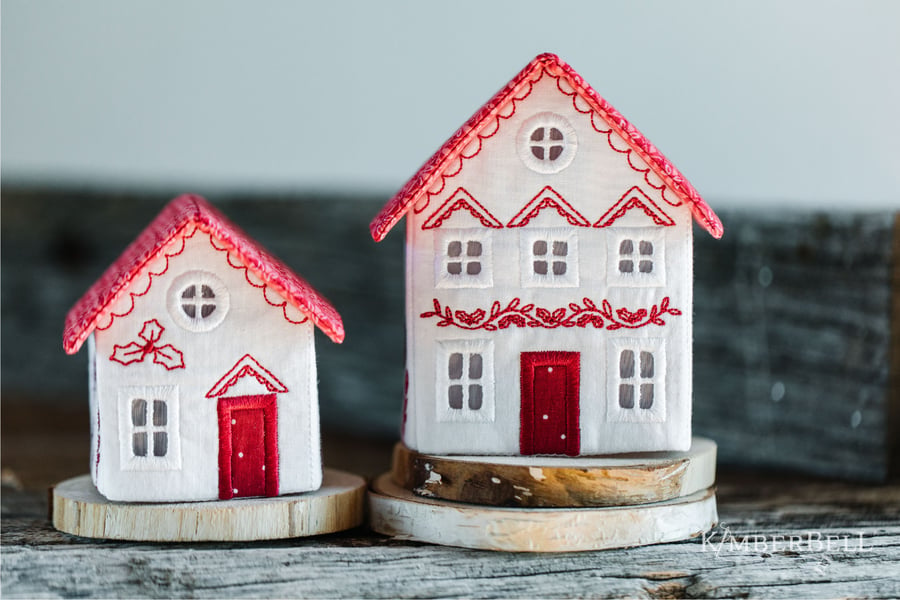 Use Shape Form Interfacing when stitching Hearth Lights 3D Houses from the Winter 2020 Bella Box!
Project Batting
Kimberbell Project Batting gives dimension, texture, and stability to a variety of sewing and machine embroidery projects. Woven with a scrim liner to prevent stretching or piling, our batting is made from a soft cotton/poly blend and is safely laundered in the washer and dryer (no shrinking!). We use Project Batting a lot here at Kimberbell with feature quilts, table runners, Noel's Quilted Stockings, the Enchanted Garden Zipper Pouch, our very popular Mug Rugs, and more. (It's definitely our preferred batting!) Kimberbell Project Batting doesn't have a high loft and is just the right thickness for stitching in-the-hoop.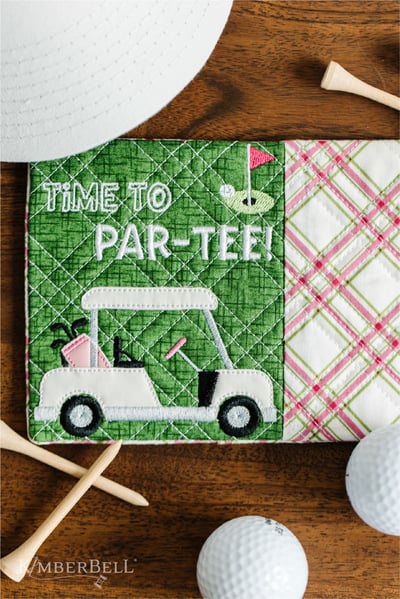 Use Kimberbell Project Batting when making this darling project from Mug Rugs Vol. 4!
Iron-Away Topping
Like Wash-Away Topping, Kimberbell Iron-Away Topping prevents stitches from sinking into plushy, high-pile fabrics like terrycloth. However, instead of washing the topping away, simply apply heat and the topping melts in ten seconds (with no residue left behind)! Iron-Away Topping is particularly helpful when working with moisture-sensitive fabrics and is easily removed without distorting even the most delicate of stitches.
Tip: When ironing, be sure to use a pressing cloth!
Use Iron-Away Topping when monogramming on tea towels!
Just imagine the creativity that awaits with Kimberbell Specialty Stabilizers! Find all of this and more at your favorite quilt shop. (And don't forget the Slap Bands to keep your rolls tidy and organized!) :)
Tip: Remember that Kimberbell Specialty Stabilizers are easily identified in shades of

GREEN

in your Kimberbell project instructions! With our color-coded system, shopping for what you need has never been easier.
Thank you for joining us this week for our Stabilizer Hoop-La! Remember that stabilizer is the unsung hero behind every beautiful stitch. Kimberbell premium stabilizers consistently provide the quality you're looking for!