Every year for spring break, my husband and I grab our kids, pack up the car, and make the 14-hour trek to southern Arizona. As we drop down from the mountains and into the desert, we're greeted by warm temperatures, orange groves, and blue, blue skies. (You know that road-tripping feeling when your favorite song is blasting from the radio, the sun roof is down, and you just feel blissfully carefree?)
Well, that's exactly what I think of when I see Kimberbell Curated: Citrus & Sunshine. Now available from your favorite quilt shop, Citrus & Sunshine includes 12 thoughtfully chosen machine embroidery projects with a fresh, happy theme.
Oh, and by the way--the embroidery design files and full-color, step-by-step instructions come on a USB stick! Want to see them up close? (I'd love to show them to you!) Here are each of the projects, along a little description about each one: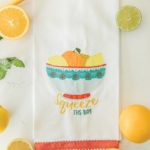 Squeeze the Day Tea Towel
Our Squeeze the Day Tea Towel is bursting with color! An assortment of fresh fruit is beautifully arranged within a decorative bowl, topped by a green leaf and dotted with tiny stitches for tantalizing texture. The citrus and bowl are made with a raw-edge applique technique in a 5x7 or 6x10 hoop, with the "Squeeze the Day" sentiment stitched below. Complete the towel with a border of Crocheted Edge Trim!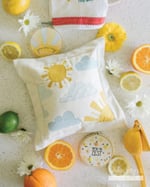 Partly Cloudy Pillow
It's a delightful day with a fabulous forecast! Our Partly Cloudy Pillow features raw-edge applique suns and wispy, cumulus clouds, each stitched in motifs of swirls, squiggles, loops, or lines. Embroider the designs in an 8x8 hoop, create the flange border, then slip over Kimberbell's 8x8" Pillow Insert to brighten bookshelves, benches, and more!
Hoops: You're the Zest and You Are My Sunshine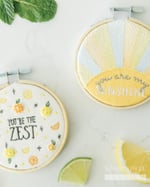 Hoops are the happy way to share the love when skies are grey! Slices of oranges and lemons sweetly surround the "You're the zest!" sentiment, with Cute as a Button(s) adding darling dimension. "You are my sunshine" is stitched on a raw-edge applique sun, with beams filled in radiant, yellow hues. Made in a 4x4 embroidery field, Hoops are thoughtful gifts for everyone who lights your world.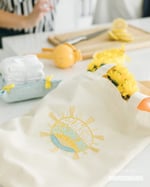 Sunshine on a Cloudy Day Tote
From beach days to road trips, we've got adventure in the bag! Kimberbell Blank Canvas and Denim Totes come with open side seams, so they're easy to hoop and add the darling design. "Sunshine on a cloudy day" is stitched in a retro font within a raw-edge, applique sun, while the smaller sun, water, and rays feature textured stitches. Made in a 5x7, 6x10, or 8x8 hoop, this tote is an adorable accessory for every outing!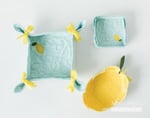 Easy-Peasy Quilted Baskets
Easy-Peasy Quilted Baskets are made completely in-the-hoop and stitched with lemons, leaves, swirls, and slices. The large basket features pretty pillow knot corners, tied with Kimberbell Ribbon bows, while the small basket has boxed corners as Cute as a Button! These giftablebaskets are just right for kitchens, countertops, and sharing smiles with friends.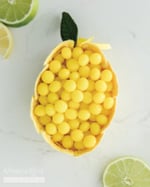 Lemon Drop Quilted Basket
With sweet, scalloped edges and a freestanding leaf, our Lemon Drop Quilted Basket is stitched with lovely loops and swirls and woven with Kimberbell Ribbon. Make this a"peel"ing basket (You know me and puns!) in a 6x10 hoop to brighten kitchens and sewing rooms, or fill with lemon drops for a sunny neighbor gift!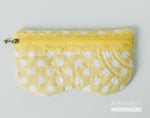 Sunnie's Zipper Pouch
Sunnie's Zipper Pouch is made from cheerful, polka dot fabric topped by a beautiful and bright Canary Yellow Lace Zipper. Stitched sunlight radiates from a whimsical corner sun, quilting the fabric right in-the-hoop! Perfectly sized for sunglasses, sewing tools, and more, Sunnie's Zipper Pouch is just right for stitching, stowing, grabbing, and going!
Clementine Blossoms Pillows
Embroidered in raw-edge applique and sketch stitching, our darling Clementine Blossoms Pillows are a breath of fresh air for every nook and cranny! Each pillow is a snapshot of a sun-kissed citrus grove, with branches, buds, and a colorful crop of applique oranges. Create the 8" square and 5 ½ x 9 ½" rectangle covers with flanged borders, then slip our Pillow Inserts inside for sweet decor for benches and more!
Be the Sunshine Pocket Tote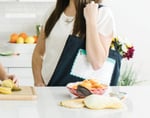 Scatter sunshine wherever you go with our Be the Sunshine Pocket Tote! Embroider the pocket with a squiggly quilting motif, scalloped edges, and the phrase "Be the sunshine" dotted with a tiny sun, then top with a Robin's Egg Blue Lace Zipper! Our blank Denim and Canvas Totes come without the side seams sewn up, so it's simple to hoop them and add the pretty pocket!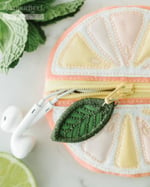 Sweet Slice Coin Purses
My favorite!!!! Our Sweet Slice Coin Purses are a refreshing twist on coin keeping. (I'm dying to make the grapefruit!) Available in two delicious styles to make you smile, each purse features raw-edge applique citrus stitched beneath a glossy layer of Vinyl. Mix up the colors to create oranges, grapefruit (the grapefruit!!), lemons, and limes, and use white Applique Glitter for a dash of sparkle! Made in 5x7 and 6x10 hoops, Sweet Slice Coin Purses come in a half-size wedge or a full-sized slice.
Yep, with Citrus & Sunshine heading your way, it's sure to be a delightful day. Oh, and while you're at it, be sure to give our Citrus & Sunshine Cookie Bites a try! :)