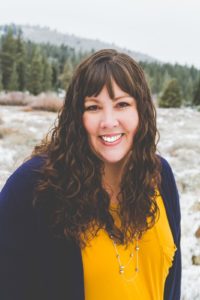 Jeanette works on Kimberbell's Product Development Team and has been the head digitizer for the past five years. She absolutely loves her job and particularly thrives on figuring out new ways to do things. In fact, you can thank Jeanette for the simplicity of Kimberbell's many in-the-hoop projects!
"I just love what I do," Jeanette says, "It's fun, it challenges me. The change, the constant something different...I love that part." From its genesis, Jeanette has been instrumental in defining, implementing, and creating Kimberbell's Product Development Team.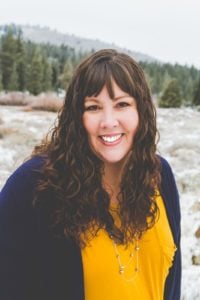 "What I enjoy the most are those I-figured-that-out kinds of projects, where we made it work. For example, the very first zipper pouch we did was the Flying to Pieces Zipper Pouch. That came about because we were doing the March (Let's Go Fly a Kite!) Bench Pillow, which had the flying geese on it, and Kim was like, 'I bet we could do those in-the-hoop. Let's figure out how we're going to piece in-the-hoop, Jeanette.' That's what started the in-the-hoop stuff, doing that first Flying to Pieces Zipper Pouch."
When it comes to new ideas and techniques, Jeanette has a real gift for thinking outside the box. "When making the in-the-hoop stuff work, I actually can picture the whole thing in my head. I can visually see the whole process. I vividly remember driving to Boise once on a road trip with my family and just sitting there, on the drive, thinking of all the ways we could do [the zipper pouch]."
Jeanette also had an "aha" moment about cutting stabilizer in-the-hoop. "Cutting stabilizer while it's in-the-hoop is just not usually what people do. So with the Cinch Bags, we thought, 'What IF we did this? What if we cut this one line in the stabilizer?' And it ended up that we could make that whole bag in-the-hoop, completely lined, with no raw edges showing!" This one idea was the start of a whole new technique, now used in a variety of projects such as the Vintage Flora clasp purses.
Outside of Kimberbell, Jeanette has stitched many projects for her four beautiful daughters. When she's not at her machine, Jeanette, her husband, and their girls love road-tripping to National Parks.