Kimberbell Stabilizer Hoop-La: It's Wash-Away Wednesday and Everything You Need to Know about Wash-Away Machine Embroidery Stabilizer!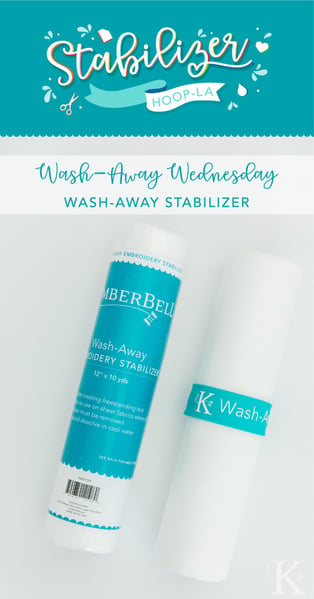 It's Wash-Away Wednesday, so let's talk about the wonderful, oh-so magical stabilizer we call Wash-Away! As you know, every embroidery machine project needs stabilizer to prevent moving, stretching, and distortion during the stitching process. Wash-Away does all of this...
...and then vanishes without a trace.
You might think of Wash-Away as the fairy godmother of stabilizers: it's there when you need support, provides exactly what you're looking for, and then POOF! It disappears, leaving you with a fairy-tale result. So, what is Wash-Away, exactly?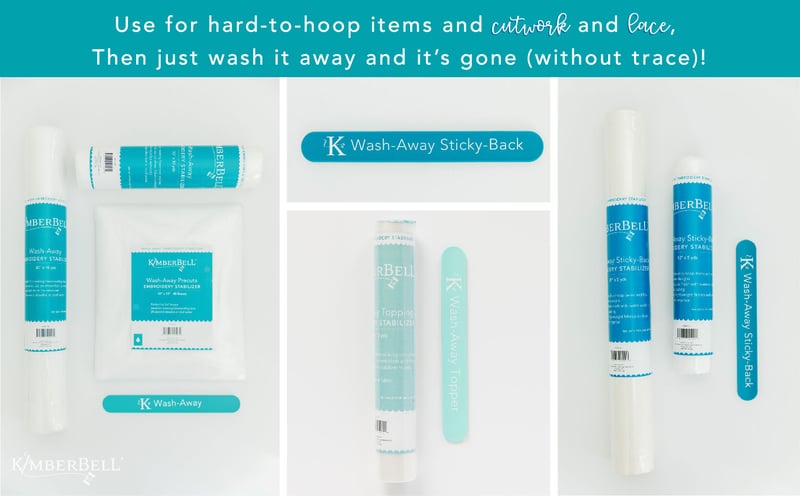 Wash-Away
Made from a chemical starch, Wash-Away is a thin, fibrous, pliable stabilizer that completely dissolves in water. Kimberbell Wash-Aways are labeled in shades of blue, so they're recognizable at a glance. Our color-coded system makes shopping so easy!
The Kimberbell Wash-Away product line includes:
KDST120

Wash-Away

12" x 10 yds
KDST121

Wash-Away

20" x 10 yds
KDST122 Wash-Away Precuts 10" x 12"
KDST123

Wash-Away Sticky-Back

12" x 5yds
KDST124

Wash-Away Sticky-Bac

k 20" x 5 yds
KDST133

Wash-Away Topping

12" x 10 yds
Let's talk more in-depth about each one of these remarkable products, found at your favorite quilt shop!
Tip: If you're wondering if unlabelled stabilizer is Wash-Away, add a little water to the corner. If it becomes sticky, it's Wash-Away!
When to Use Wash-Away
Use Kimberbell Wash-Away on delicate or sheer fabrics such as chiffon, organza, batiste, etc. OR when a project will be seen from the back as well as the front. Wash-Away is also ideal for freestanding lace, cutwork, baskets, reverse applique, and more!
Let's take a look at this gorgeous lace from Kimberbell's Lace Studio: Holidays and Seasons.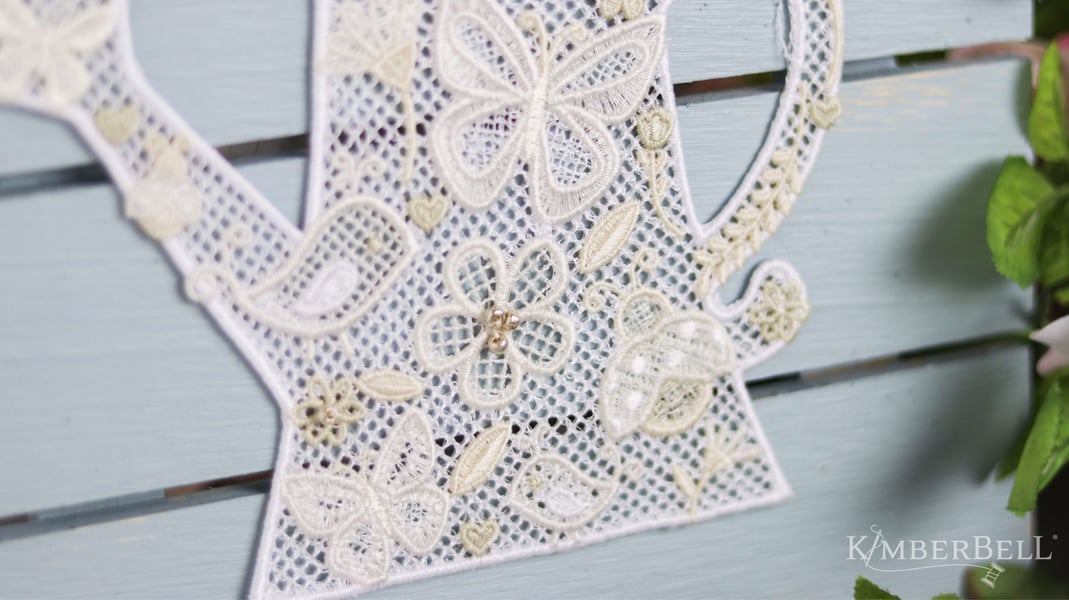 To make this project, hoop two sheets of Kimberbell Wash-Away, choose your desired thread colors (top and bobbin should be the same), and stitch the beautiful design directly on the stabilizer. When embroidery is finished, immerse in a tray of cool water and watch the Wash-Away disappear. Voila! Lace.
Tip: The more freestanding lace is washed, the softer it will be.
Also use Kimberbell Wash-Away on projects such as Take a Peek Zipper Pouches, Quilted Baskets, and the Nativity Ornament Cutwork Angel!

Wash-Away Sticky-Back
Kimberbell Wash-Away Sticky-Back has a water-soluble adhesive coating covered with protective paper. Choose Wash-Away Sticky-Back for floating hard-to-hoop projects such as The Snuggle is Real: Petite Appliques, Baby Bodysuits. and a variety of Kimberblanks. After hooping with the paper side up, simply score the paper with scissors, peel back to expose the adhesive side, and stick those hard-to-hoop items right on top! When embroidery is complete, dissolve stabilizer with water and allow time to dry.
Make this cheerful Posies & Pinwheels Table Topper, a bonus project from Kimberbell's Red, White, & Bloom feature quilt, with Wash-Away Sticky-Back:
Tip: ALL Kimberbell stabilizers have been thoroughly tested in our Product Development Lab, each proving to be of the utmost quality with consistently beautiful results on every project.
Wash-Away Topping
Wash-Away Topping looks kinda like plastic wrap--but it's so much more than something you'd wrap around a sandwich! Hooped (or floated) on top of your embroidery projects, topping prevents stitches from sinking into the nap. Use Wash-Away Topping on high-pile fabrics such as terry cloth, minky, velvets, knits, and fleece. The smooth surface holds the fabric down and allows the stitches to sit nicely on top.
Tip: If you don't want to hoop the topping with your fabric and backing, cut a piece big enough to cover the embroidered area and use Kimberbell Paper Tape to secure at the corners!
The needle perforations make it very easy to remove the excess Wash-Away when you're finished stitching, so simply rip the topping away and then dissolve the remaining pieces with a spritz of water!
The darling Mouse Prince from Kimberbell's Sugar Plum Jubilee Spark Event looks extra sharp because of Kimberbell Wash-Away Topping!
Wash-Away Tips
Here are a just a few more tips when using Wash-Away stabilizer:
Do not use Wash-Away if your fabric doesn't like water. (Remember, your project will either have to be immersed or spritzed with water for the stabilizer to dissolve!)
Wash-Away doesn't support as many stitches as Tear-Away or Cut-Away, so take your design and its stitch count into consideration. :)
Wash-Away is helpful in intricate little spots where it would be difficult to pick out Tear-Away!
There are so many, many possibilities with this stabilizer! May your machine embroidery projects enjoy a happily ever after through wonderful Wash-Away.
Find the entire Kimberbell Stabilizer line (including our innovative Slap Bands) at your favorite quilt shop!
Tip: Remember that Kimberbell Wash-Away is easily identified in shades of

BLUE

in your Kimberbell project instructions! With our color-coded system, shopping for stabilizer has never been easier.