Kimberbell Face Mask Covers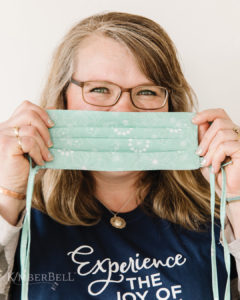 #togetherincreativity
During this worldwide pandemic, it certainly feels good to do something to help. And, as you may have heard, Kimberbell has just released a FREE downloadable Face Mask Cover design for machine embroidery.
This cover does not prevent the spreading of COVID-19. Rather, it is intended to prolong the use of medical-grade, N95 masks. Many doctor's offices, nursing homes, and hospitals are asking for mask cover donations. Please see our links (listed below) of sites that match organizations asking for mask covers with those who are willing to make them.
Again, these face mask covers are NOT medical-grade masks. They are meant as an extra layer to prolong the life of N95 masks. Here are some quick facts about Kimberbell Face Mask Covers (listed in alphabetical order):
Coverage
Kimberbell Face Mask Covers are made with a series of pleats on both the front and the back, which expand to provide coverage from above the nose to below the chin. Through a series of trial and error, we discovered this to be the best way to provide the most coverage and feel it's definitely worth the few extra minutes to pleat both sides.
Fabric Cuts
Here is what you'll need for each mask cover:
1 x 12" piece of 100% cotton (loops)

8 x 10.5" pieces of 100% cotton (1 piece of one color, the 2nd piece of another color)
Note: The loops are cut from the 1 x 12" piece that is folded like bias tape. We then subcut that length into (4) 3" pieces. Please pre-wash all fabric in hot water!
Fabric Ties
Instructions are also included for making fabric ties. We make these ties like bias tape: folded and stitched down the middle. Attach the fabric ties to the mask cover with a fisherman's knot through the loops. [Link to video] If preferred, you can also use ribbon, twill tape, or elastic.
Fabric Type
Please use 100% cotton for the masks, and be sure to pre-wash in hot water before stitching to prevent shrinkage. We also strongly recommend using two different colors of fabric for the front and the back. This way, it's easy for healthcare professionals (or yourself!) to keep the outside of the cover always facing out and not accidentally switching to be against the face.
Formats
This free download is available from Kimberbell.com in all machine embroidery formats: ART, DST, EXP, HUS, PES, JEF, VIP, VP3, and XXX.
Hoop Size
Kimberbell Face Mask Covers are made entirely in-the-hoop. The mask is made in a 6x10 hoop (no double hooping). Stitch time is approximately five minutes, with the entire project taking about 15 minutes from start to finish.
Instructions
With your free download, Kimberbell provides step-by-step instructions (with photos!) for making the face mask cover. Just print and follow the steps.
Interfacing
Many people have asked whether or not to include a layer of interfacing. For face mask covers intended for use within the healthcare system, we recommend using two layers of 100% cotton only (with no interfacing between the layers).
However, if you're using the face mask cover to simply prevent yourself from touching your face, a layer of interfacing would be fine. A lightweight, fusible, non-woven interfacing on the back of the main piece is a good option.
Loops
Kimberbell Face Mask Covers include four loops through which fabric ties (or ribbon, or elastic) attach to the main body of the mask cover. As these covers will be washed and sanitized repeatedly, the loops make it easy to replace ties as they wear out.
Through much trial and error, we discovered this loop process (as described in the included instructions) was the easiest way to create the cover in-the-hoop and attach the ties. (Note: During initial testing, we tried pulling ties all the way to the center and had issues with the machine foot catching.)
Sewing Pattern
Because there are so many face mask cover sewing patterns available, we decided to focus instead on providing a machine embroidery version.
Stabilizer
Use either cut-away or tear-away; either is fine. All stabilizer will be removed when the project is complete, leaving only the soft cotton fabric (and foldable pleats) behind.
Remember, the Kimberbell Face Mask Cover does not prevent the spread of COVID-19. This is intended as an extra layer of protection to prolong the life of the medical-grade, N95 masks.
Rather than calling hospitals to see what they need, please visit the links below to see the type of mask covers being asked for and where:
https://www.sewingforlives.com
https://www.deaconess.com/How-to-make-a-Face-Mask/Mask-Donations
We also strongly encourage you to visit the Centers for Disease Control and Prevention (CDC) website: https://www.cdc.gov/
Thank you for stopping by and for your interest in making Kimberbell Face Mask Covers. You'll find the free downloadable file and instructions on Kimberbell.com. We truly are a community stitched together in service, and we can make a difference! #togetherincreativity

[embedyt] https://www.youtube.com/watch?v=Dezy69NMENE[/embedyt]