It's Hack-a-Blank Day with Kimberbell's Product Development Team!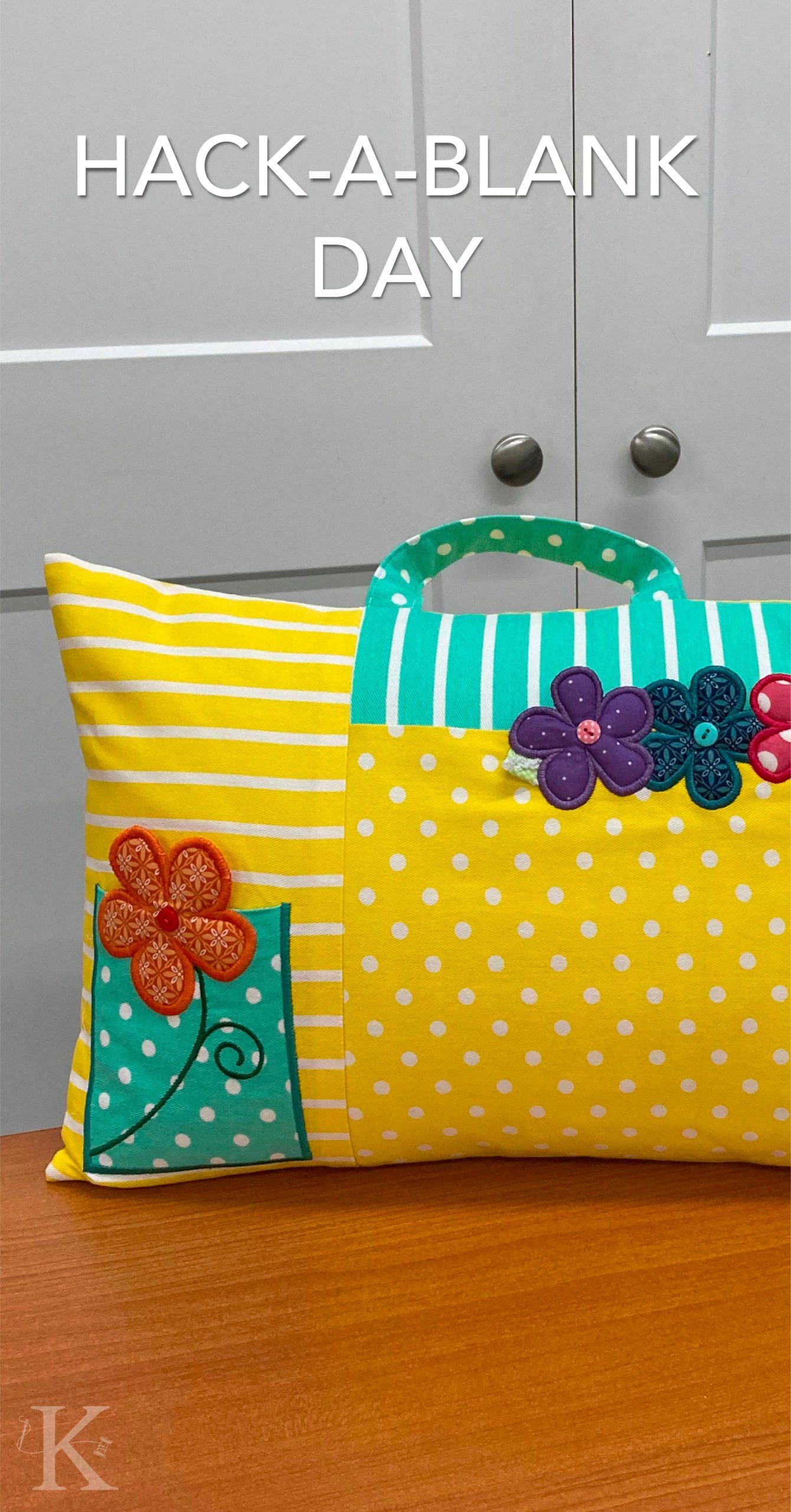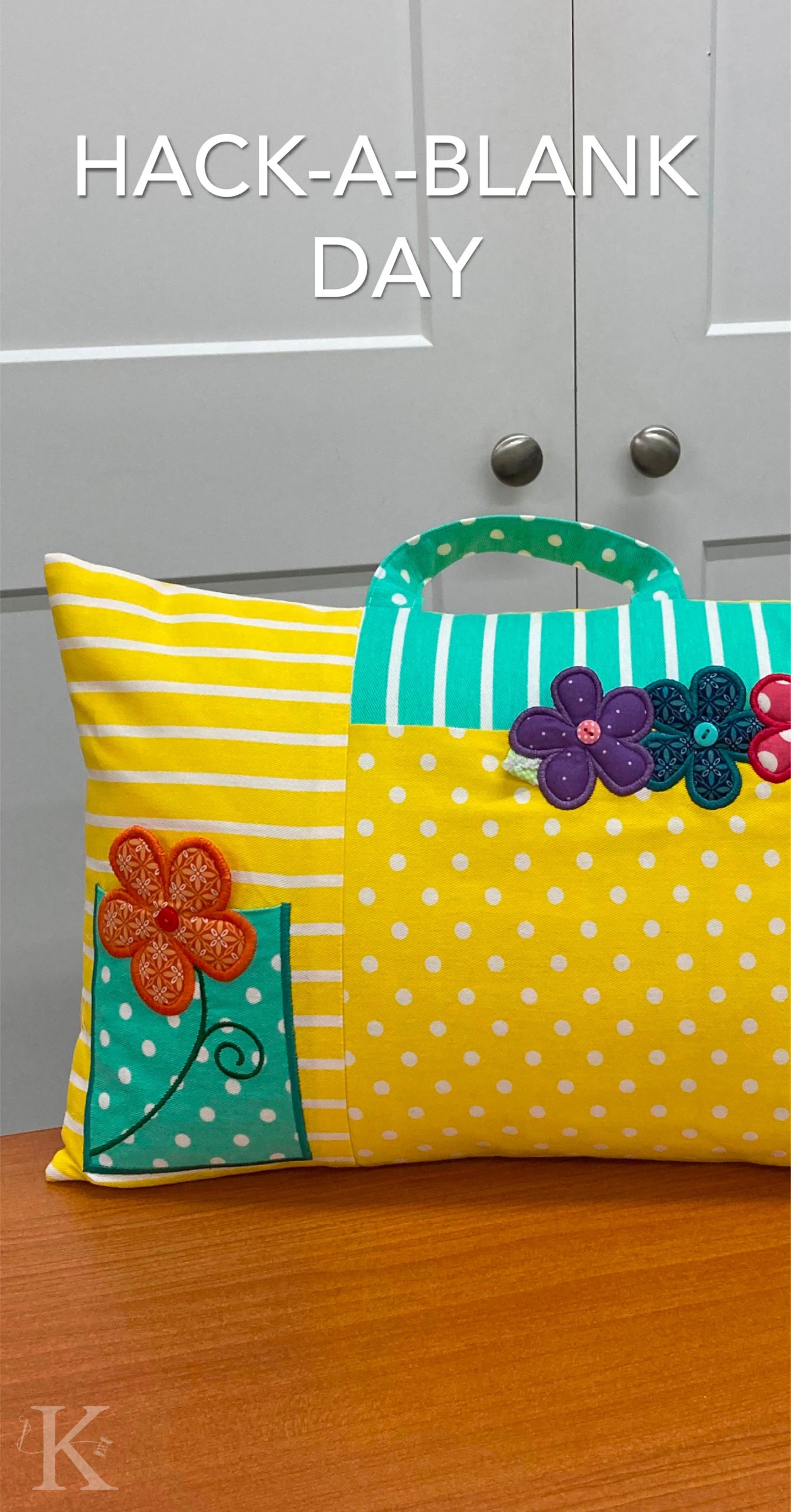 A few weeks ago, Kimberbell's Product Development Team held their first-ever Hack-a-Blank Day. Their mission, if they chose to accept it (and they did :) ), was to take a Kimberbell Blank and completely transform it into something else.
Nothing's wrong with simple appliques and monograms, my friends, but Kimberbell Blanks can be used for so much more.
Let's take a closer look at the "hacked" projects by Kimberbell's Product Development Team!

"The Beach Bag" by Jeanette (Head Digitizer)
Jeanette took Dots & Stripes Tea Towels and darling swimsuit designs from Vintage Boardwalk and made a roomy, functional beach bag! Sturdy straps of Embroidery Leather fit over the shoulder, while breathable mesh helps sift sand and water from soggy towels.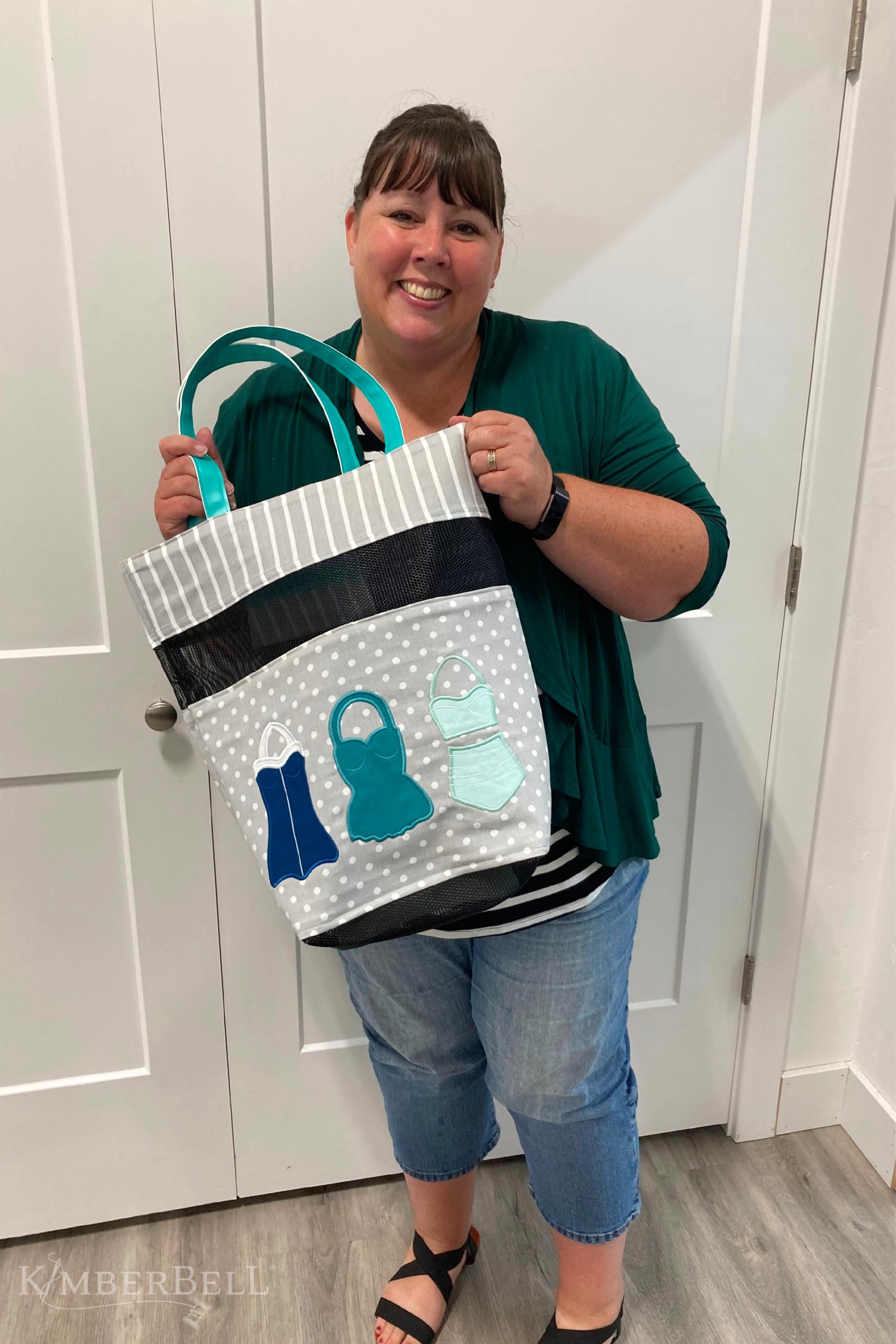 "The Caddy" By Cheryl (Product Assurance Specialist)
Cheryl made a beautiful caddy with a pink Ombre Tea Towel and the Creative Queen bonus design from the Live Creatively Bella Box. She used Clear Blue Tiles to stitch allover background quilting and even added tiny pockets!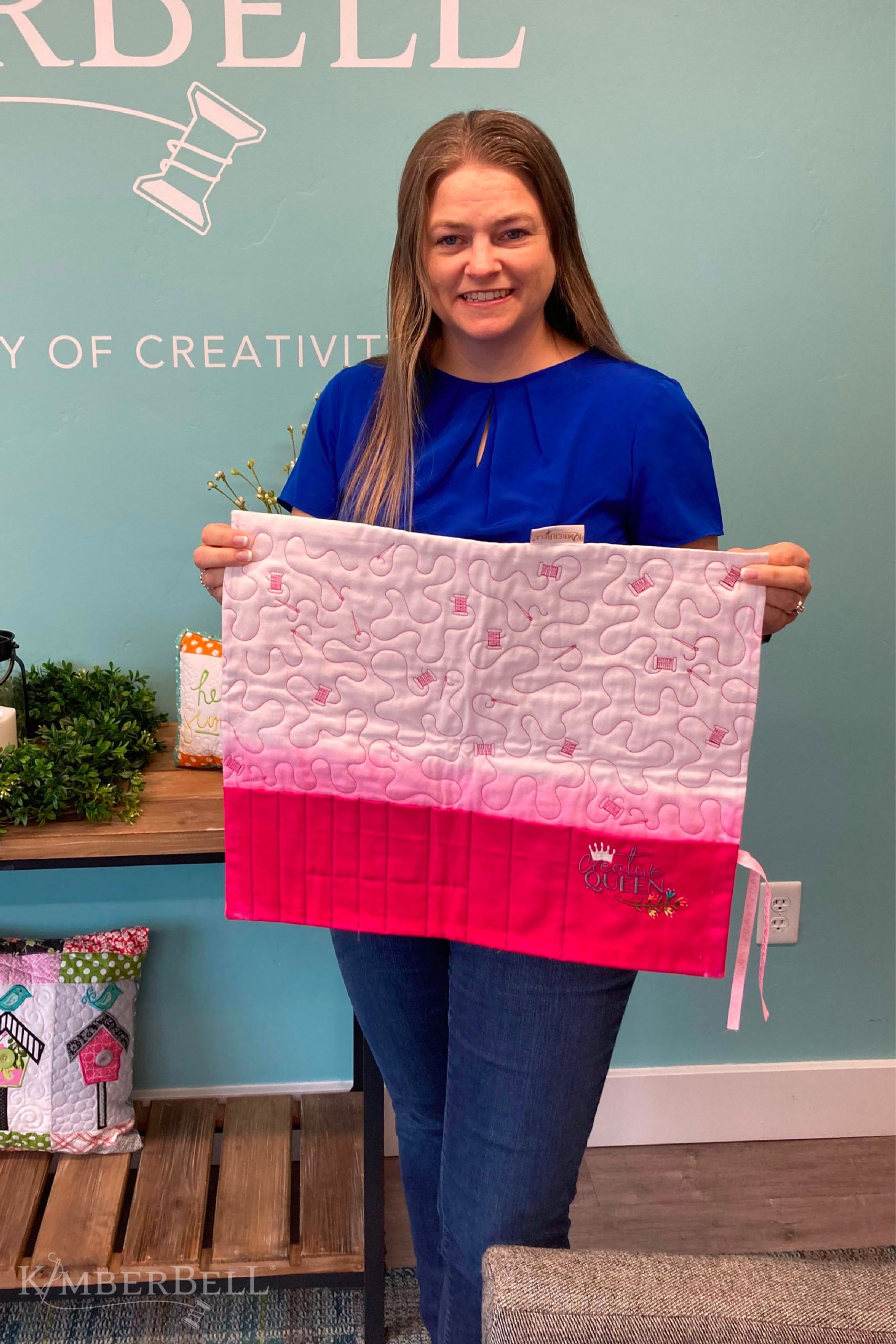 "The Stadium Seat" by Kari (Product Assurance Specialist)
Who wouldn't want to take this stadium seat to the big game? Kari transformed a Buffalo Check Tote into a foldable seat, complete with padding. She embellished with applique designs from Kimberbell's Game On! Football Bench Pillow and the Sweet Feet collection.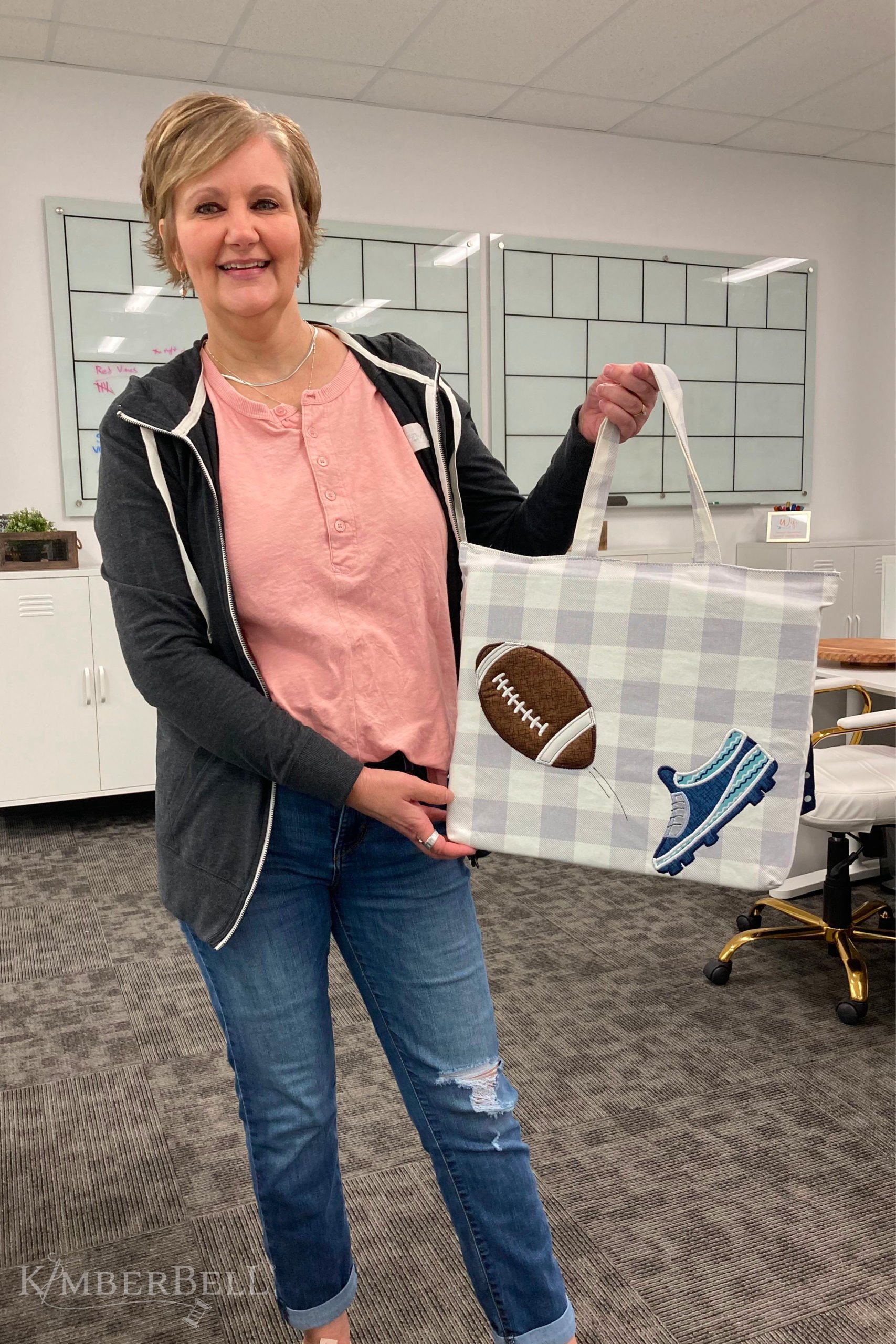 "The Reading Pillow" by Sharon (Instructions Writer/Digitizer)
Sharon used lemon and aqua Dots & Stripes Tea Towels and a Pillow Insert to make this adorable reading pillow! She added cheerful pockets and flowers from Kimberbell's Over-the-Edge Applique as well as lovely loops of Crocheted Edge Trim.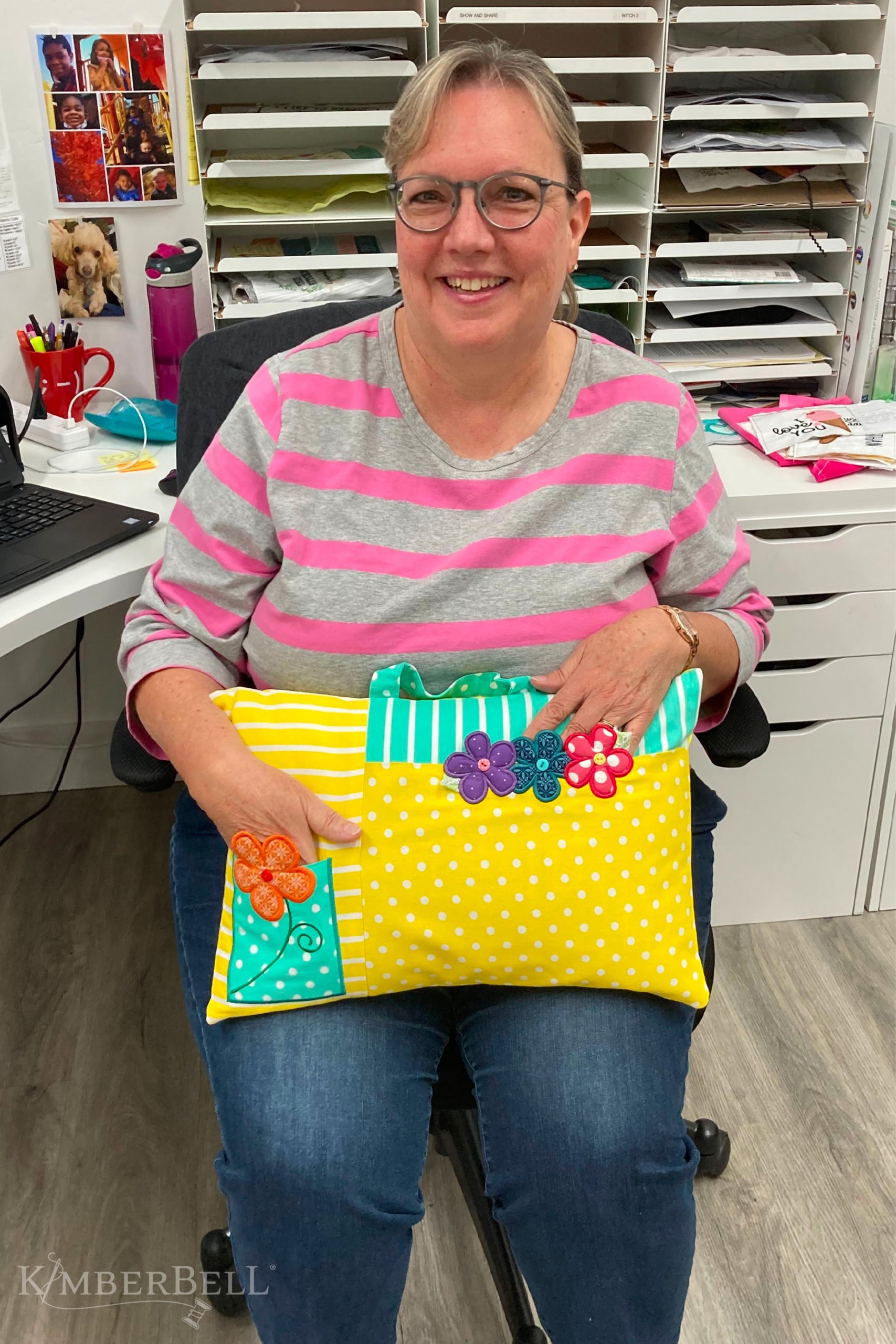 "The Patriotic Quilt" by Rhiannon & Morgan (Instructions Layout Specialists) and Becky (Editing Manager)
Made completely from Tea Towels and embellished with Mylar and Kimberbell Bouquets, this patriotic quilt is definitely "Red, White, & Beautiful!" Find these patriotic designs at America's Birthday Bash, the event bonus CD from our Star-Spangled Celebration event!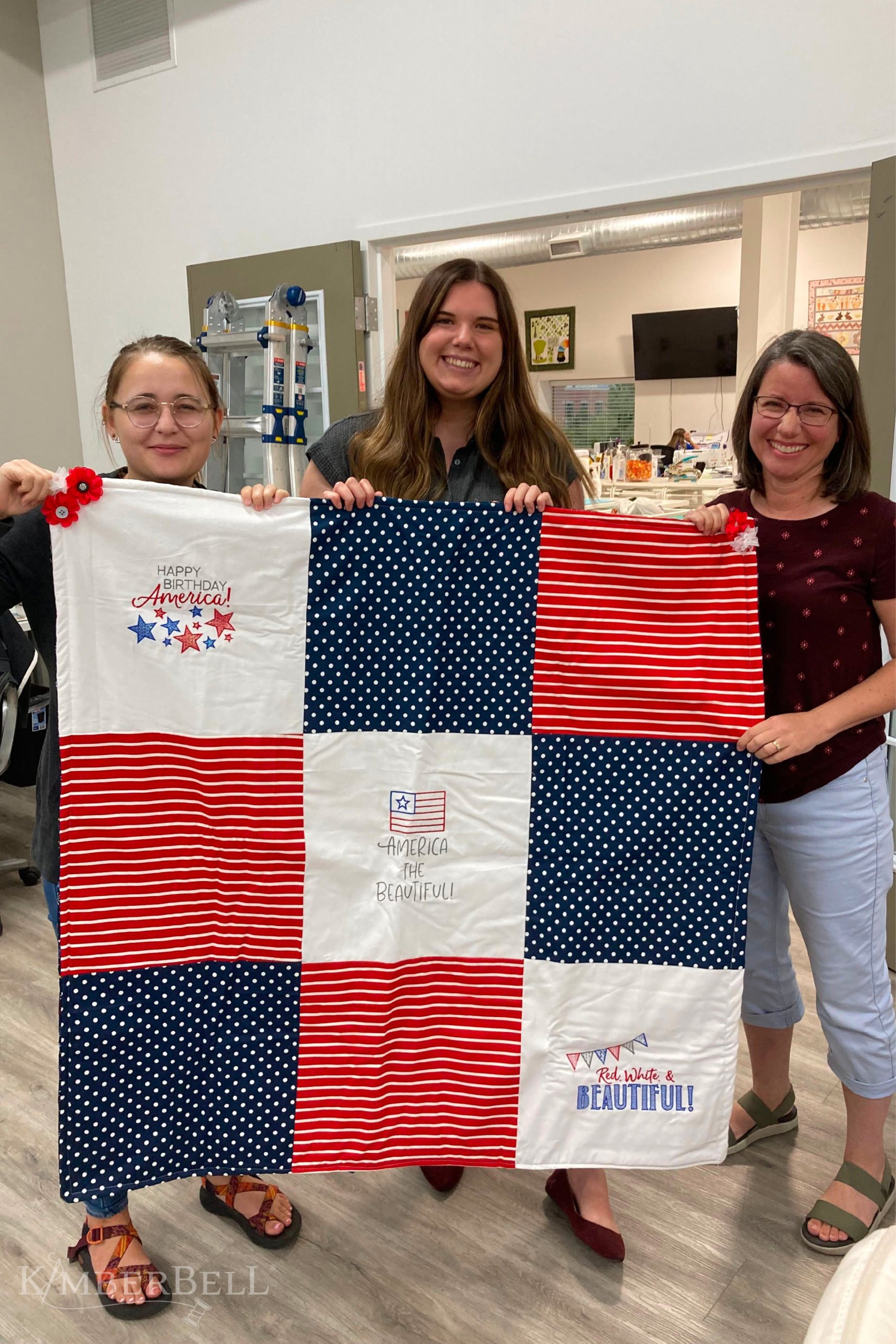 "The Fanny Pack" by Jensyn (Product Assurance Specialist)
Jensyn used a Felt Zipper Pouch Blank, shiny Embroidery Leather, and sparkly Applique Glitter to make a fun (and functional) fanny pack. With a sewn-in zipper and handy waist straps, Jenyn's ready for adventure!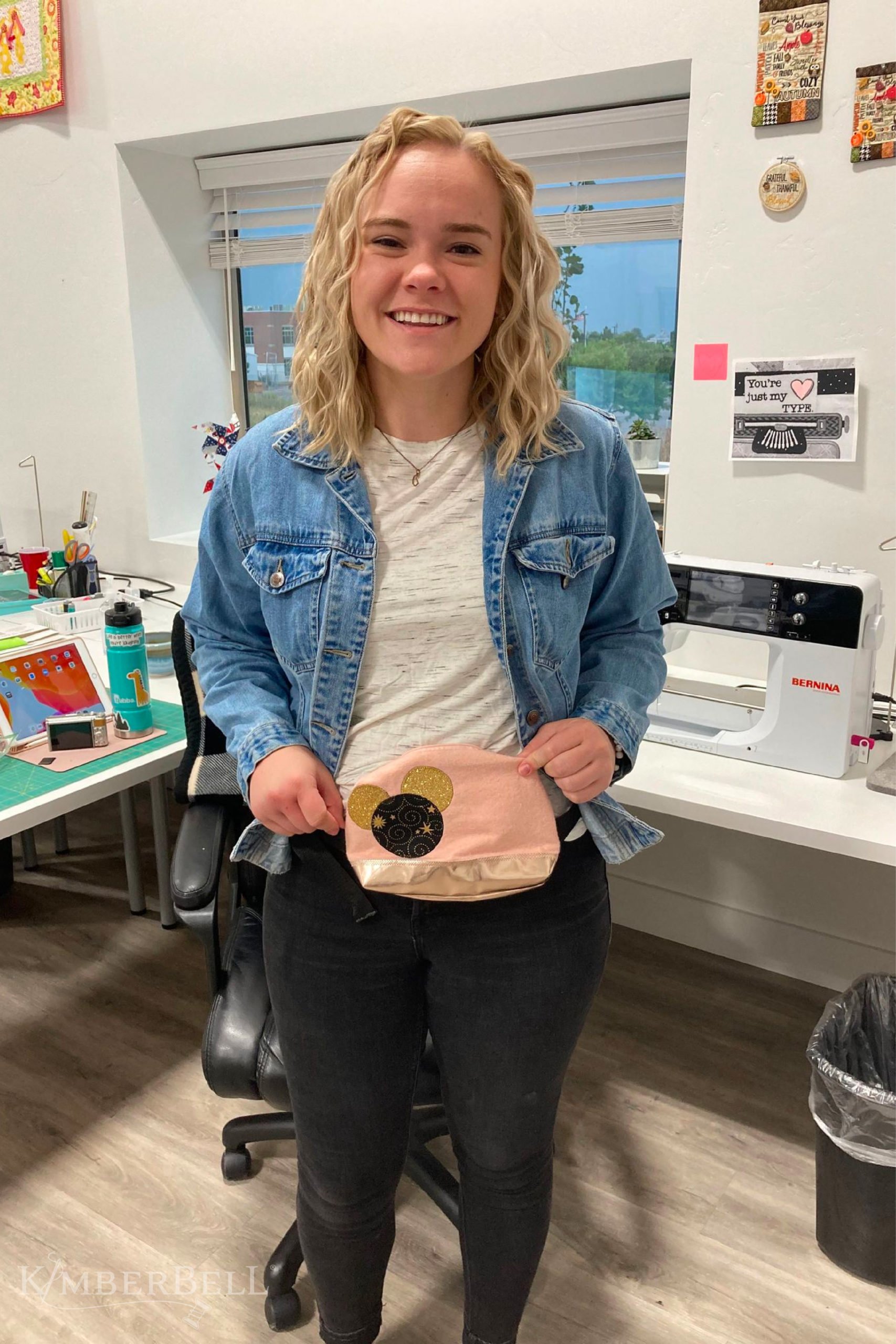 "The Plastic Bag Dispenser" by Katie (Product Assurance Specialist)
Katie added the Vinyl "glass" bottle and pinwheel from Kimberbell's Red, White, & Bloom feature quilt to this striped Tea Towel to make a super-handy plastic bag dispenser! Cinched at the bottom and topped with a handle, this bag has your bags, well, "in the bag!" :)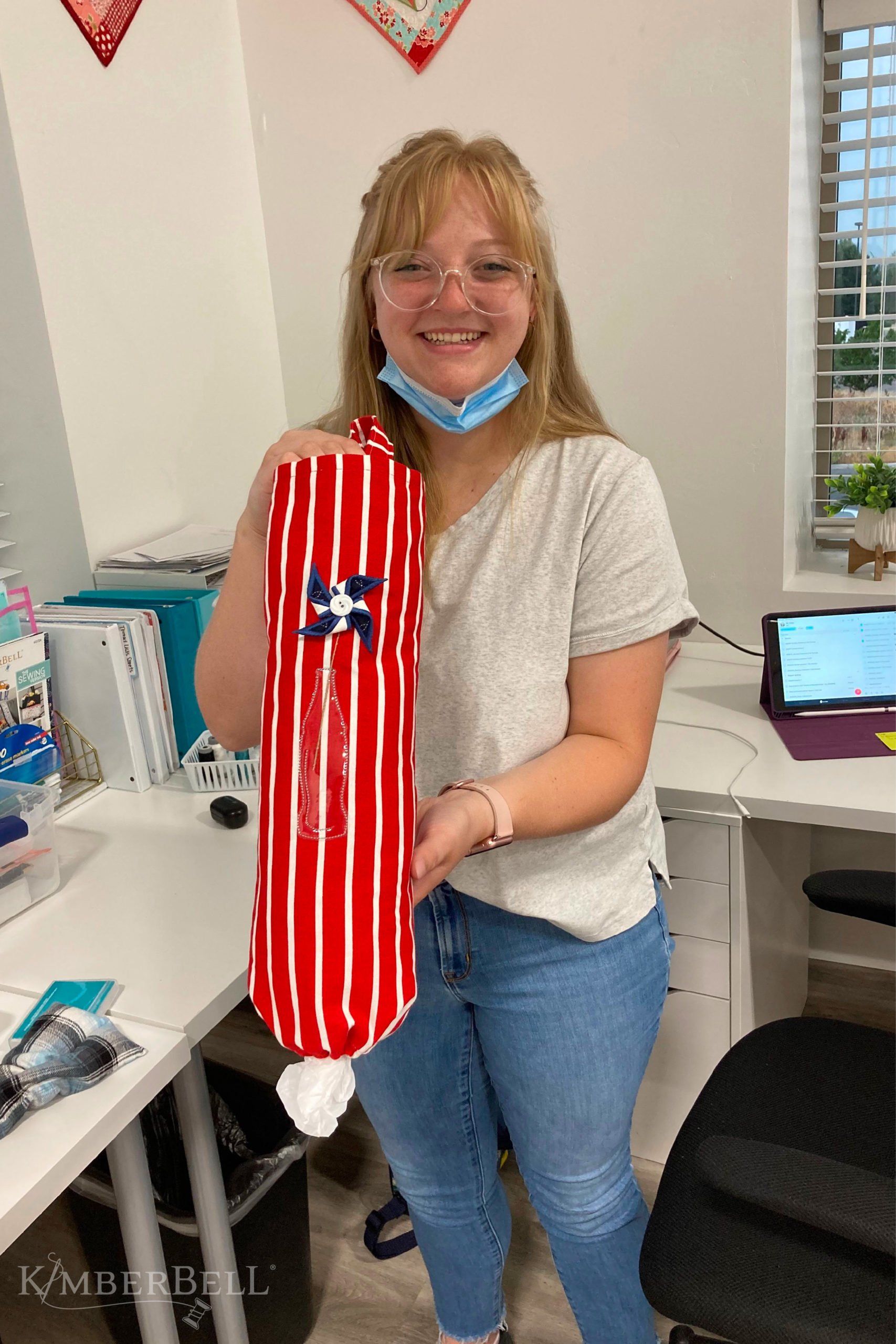 "The Sewing Caddy" by Michelle (Product Assurance Specialist)
Michelle took a striped navy Tea Towel and shaped it into a round sewing caddy, complete with a drawstring top and interior pockets. (See the collage above to peek into the caddy!) But that's not all: she also used Clear Blue Tiles to add beautiful background quilting.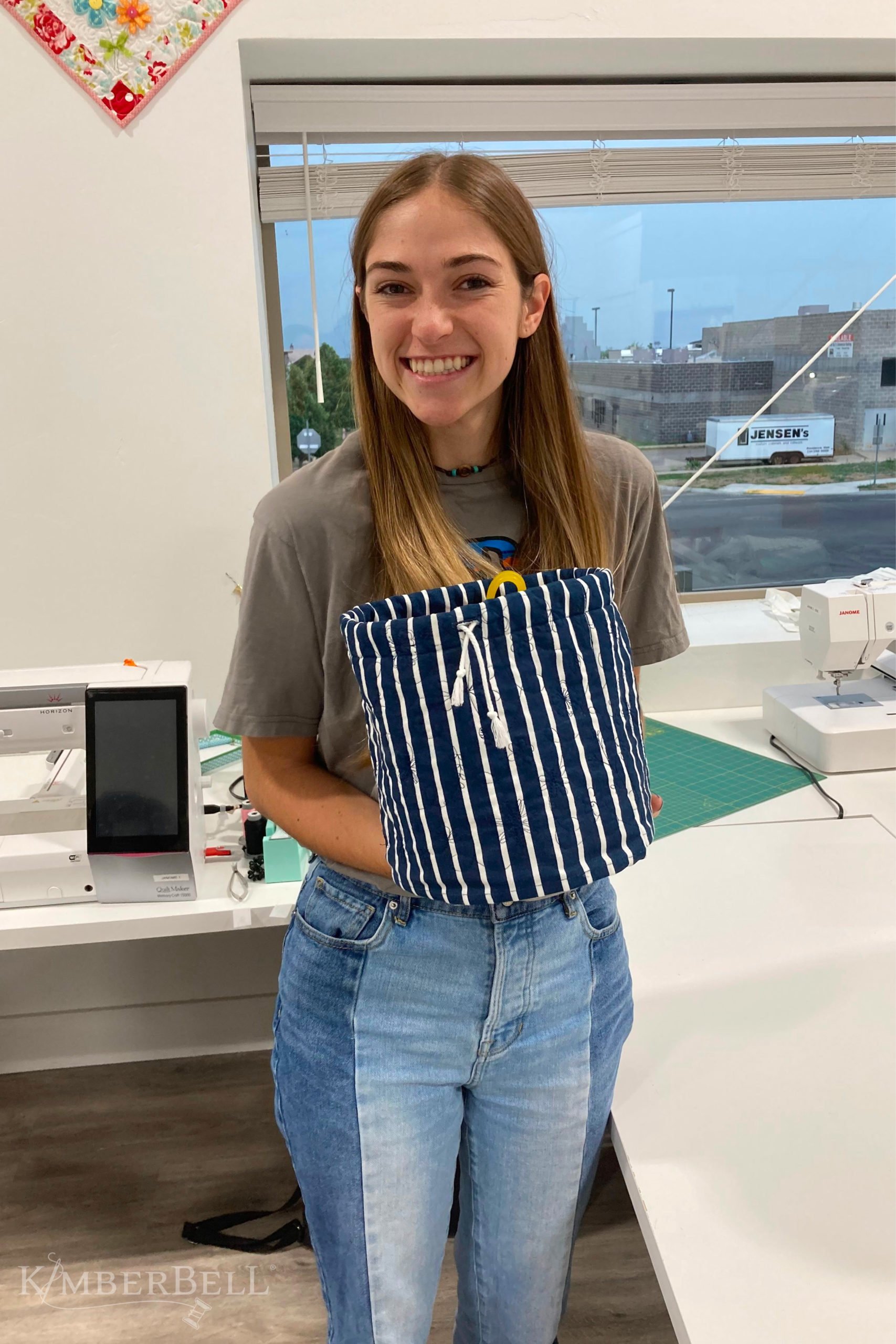 "The Backpack" by Jessee (Product Assurance Specialist)
Jessee used Kimberbell's red Dots & Stripes Tea Towels to make a darling backpack! She added straps, a drawstring, and a beautiful Lace Zipper to keep her supplies tucked away and ready to access.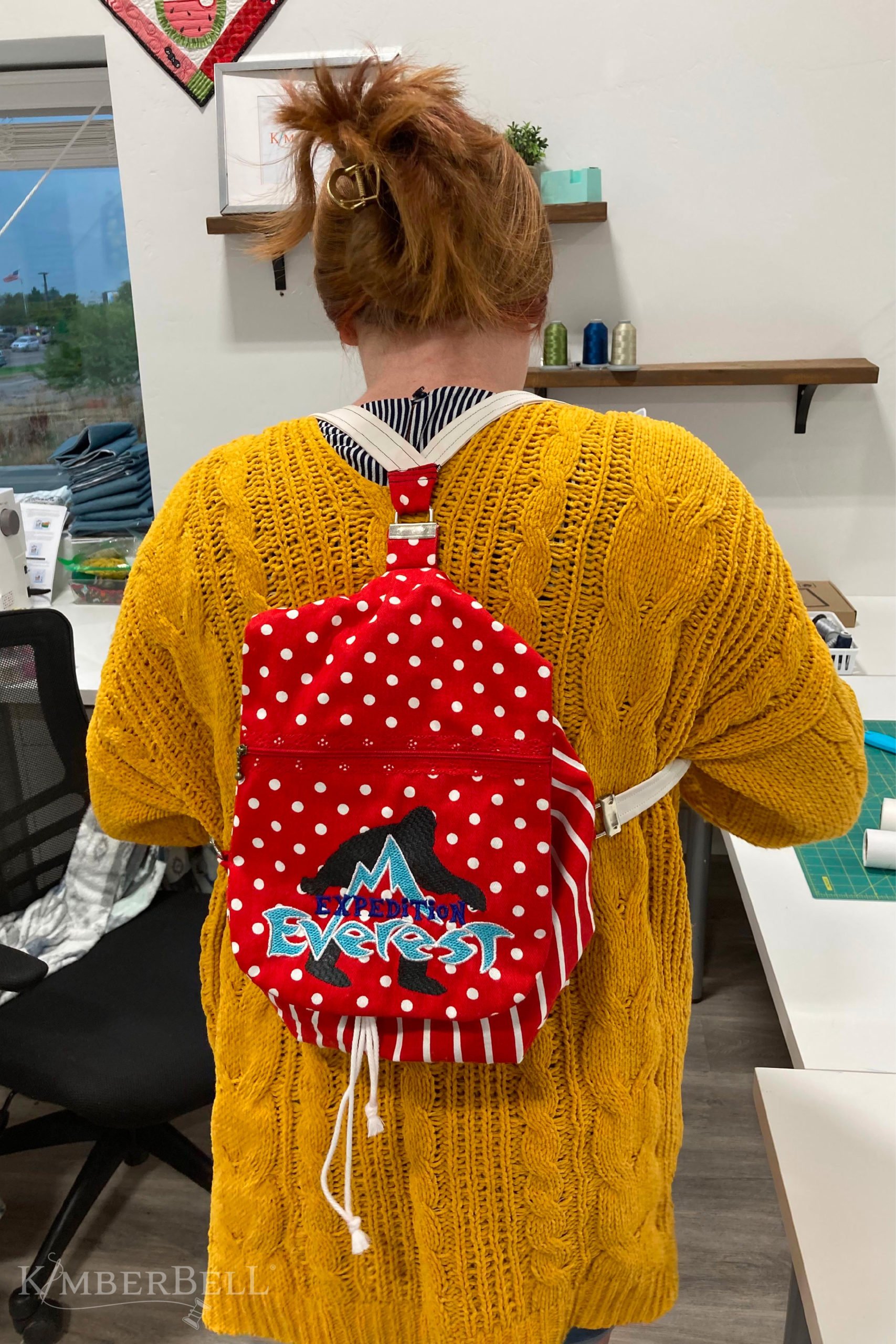 The Joy of Creativity
I think it's safe to say that the Kimberbell Product Development Team Experienced the Joy of Creativity™ during Hack-a-Blank Day! :)
And now it's your turn. Have any of these projects inspired you with a good idea? Our variety of Kimberbell Blanks can be found at your favorite quilt shop and are specifically designed for easy hooping and stitchability. From our open-seamed Totes and Zipper Pouches to a wide variety of Aprons, Quilted Pillow Cover Blanks, and more, we've got just what you need so you can stitch whatever the blank you want!
Hack a Kimberbell Blank today. We'd love to see what you create!