Come to the Harvest Table, Kimberbell's New Machine Embroidery Event!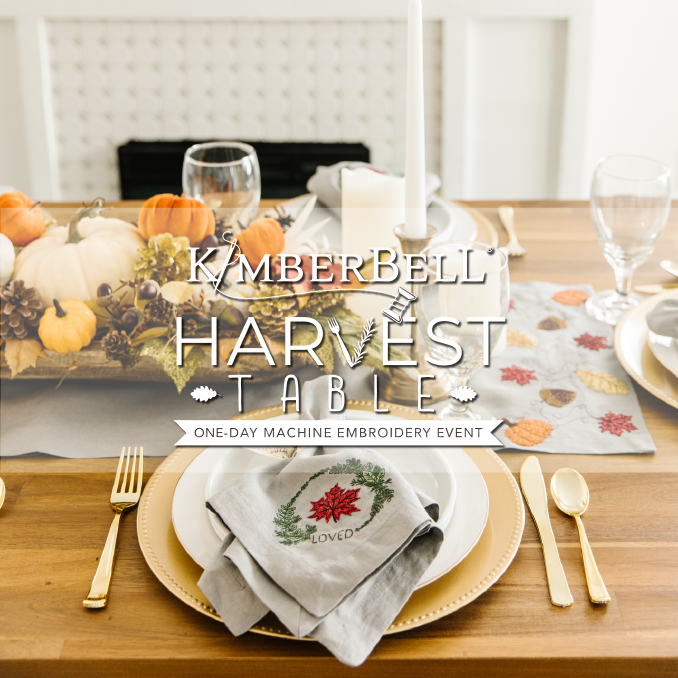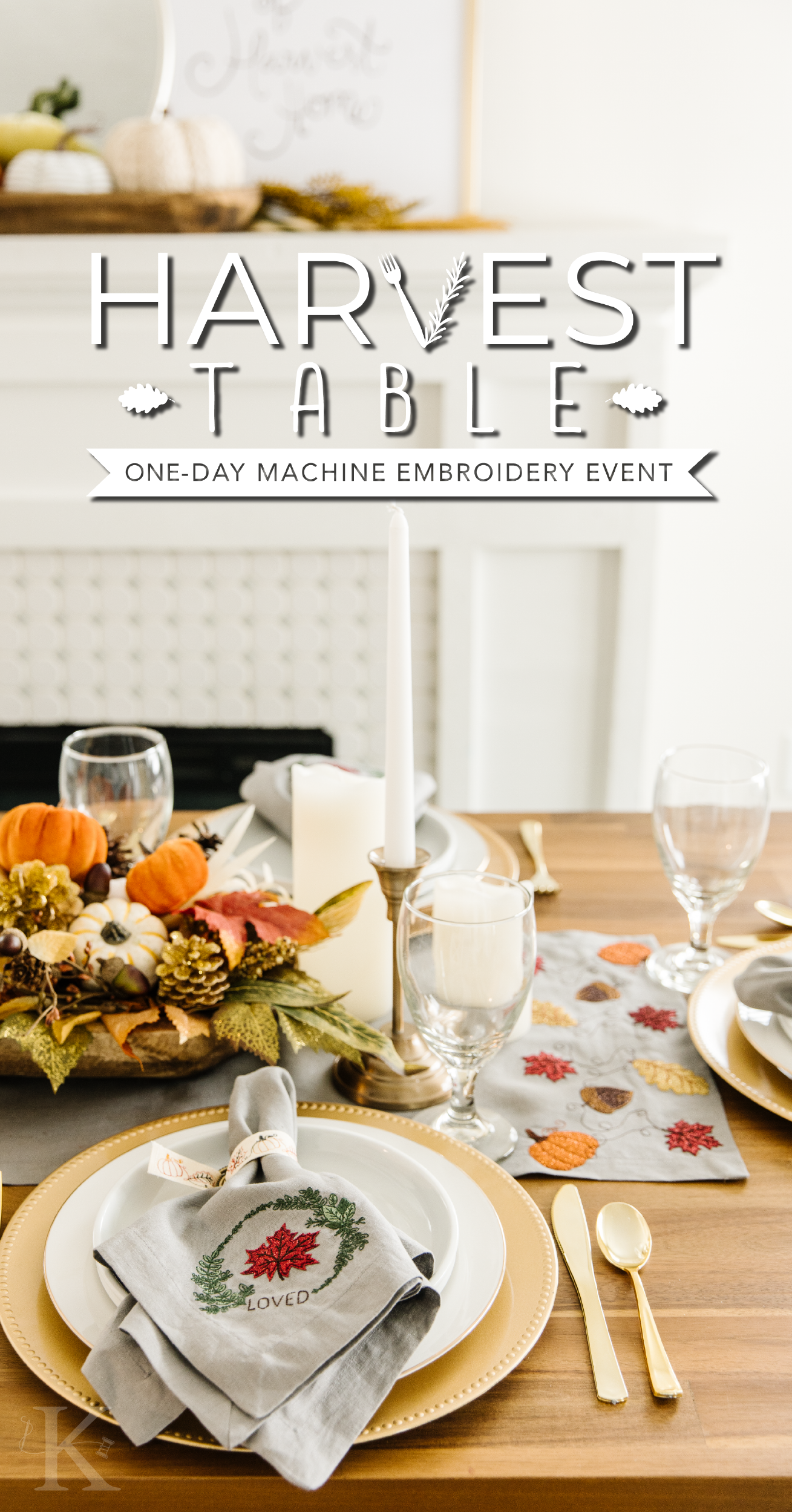 Pull up a chair at Kimberbell's Harvest Table! At our one-day machine embroidery event, you'll create up to six seasonal projects for your autumn celebrations.
Shops are already scheduling their Harvest Table events, and everyone is welcome. You can attend in person at your local quilt shop OR find a shop offering the event virtually! Simply click the button below to find (and contact) a participating shop.
Take a look at the creative bounty you'll enjoy at Kimberbell's Harvest Table event!
Harvest Table Projects
Harvest Linen Table Runner
Adorn your autumn table with Kimberbell's Harvest Linen Table Runner. Acorns, pumpkins, and leaves of maple and oak shine in brilliant splendor against the linen grey background. Stitch your design in a 6x10 hoop, then add dazzling Applique Glitter in colors of red, gold, copper, and brown.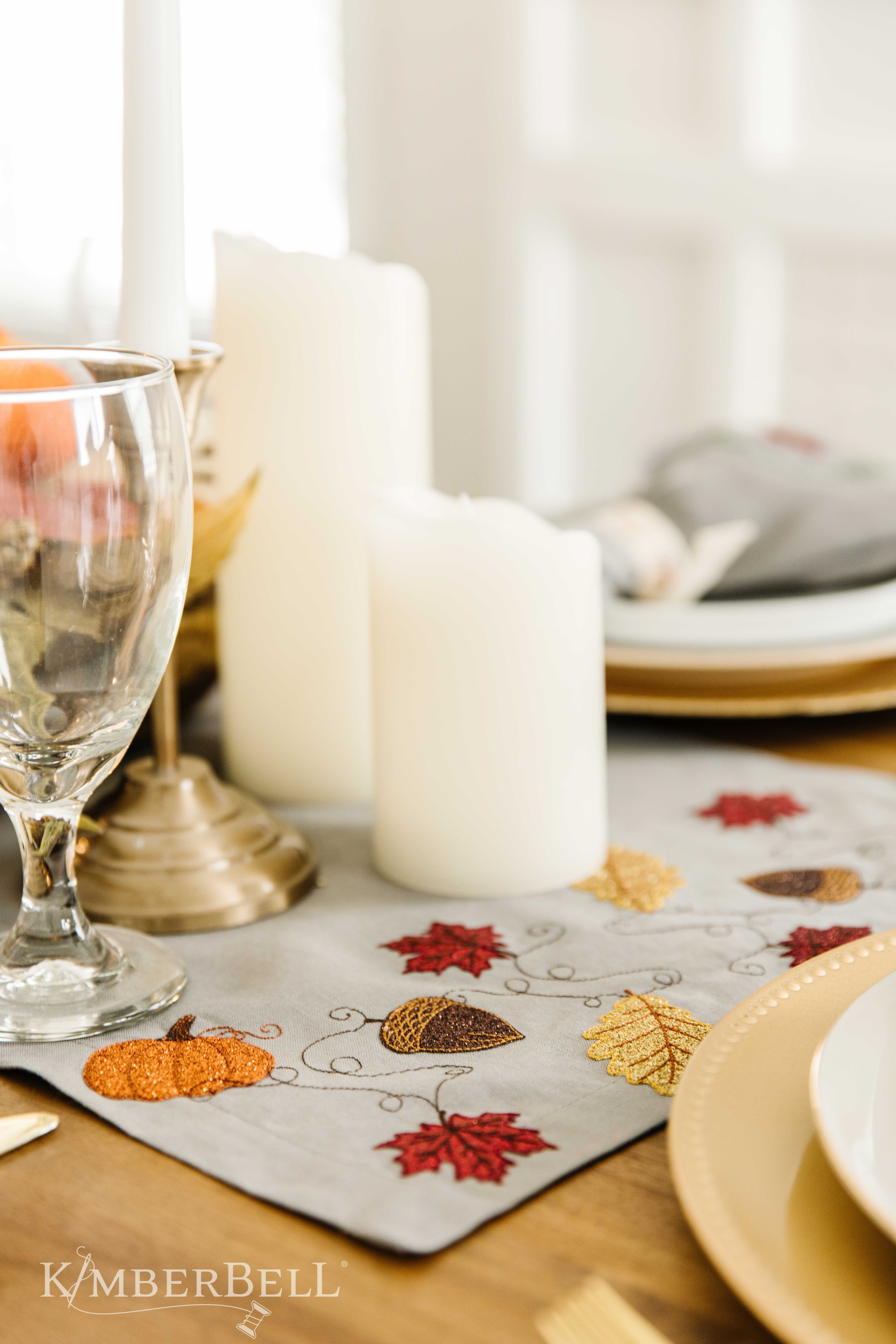 Linen Napkins
No place setting is complete without Kimberbell's Harvest Linen Napkins! Acorn, maple leaf, oak leaf, and pumpkin designs feature sparkling Applique Glitter framed by decorative herbs. To complete your napkins, add the traditional and heartfelt sentiments Blessed, Loved, Grateful, and Thankful.
Blessed
Grey linen napkin blanks are included in your Attendee Project Kit. Notice the beautiful decorative stitching around the edge!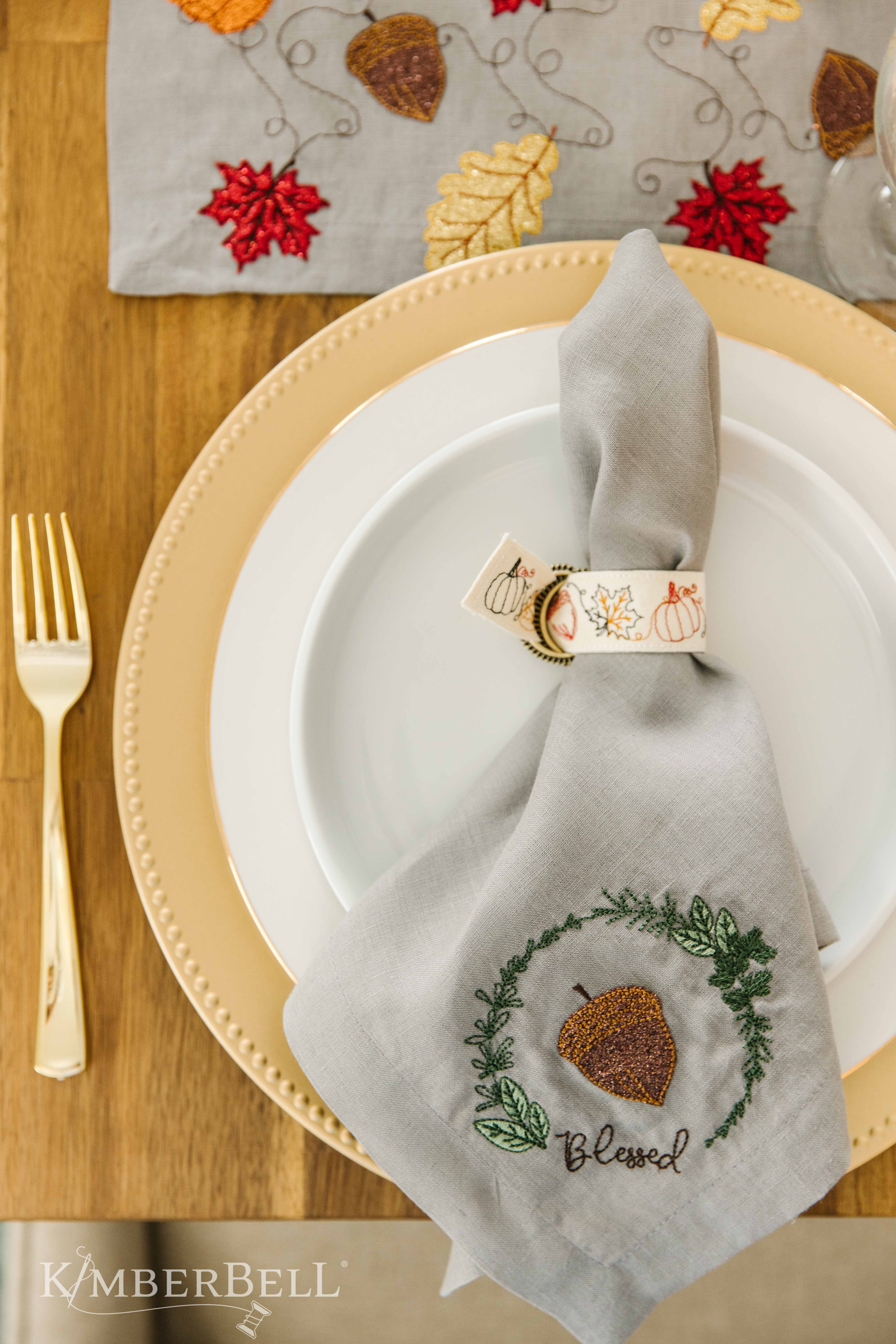 Loved
Your Attendee Project Kit also includes Applique Glitter in harvest colors of brown, red, copper, and gold so each design sparkles and shines.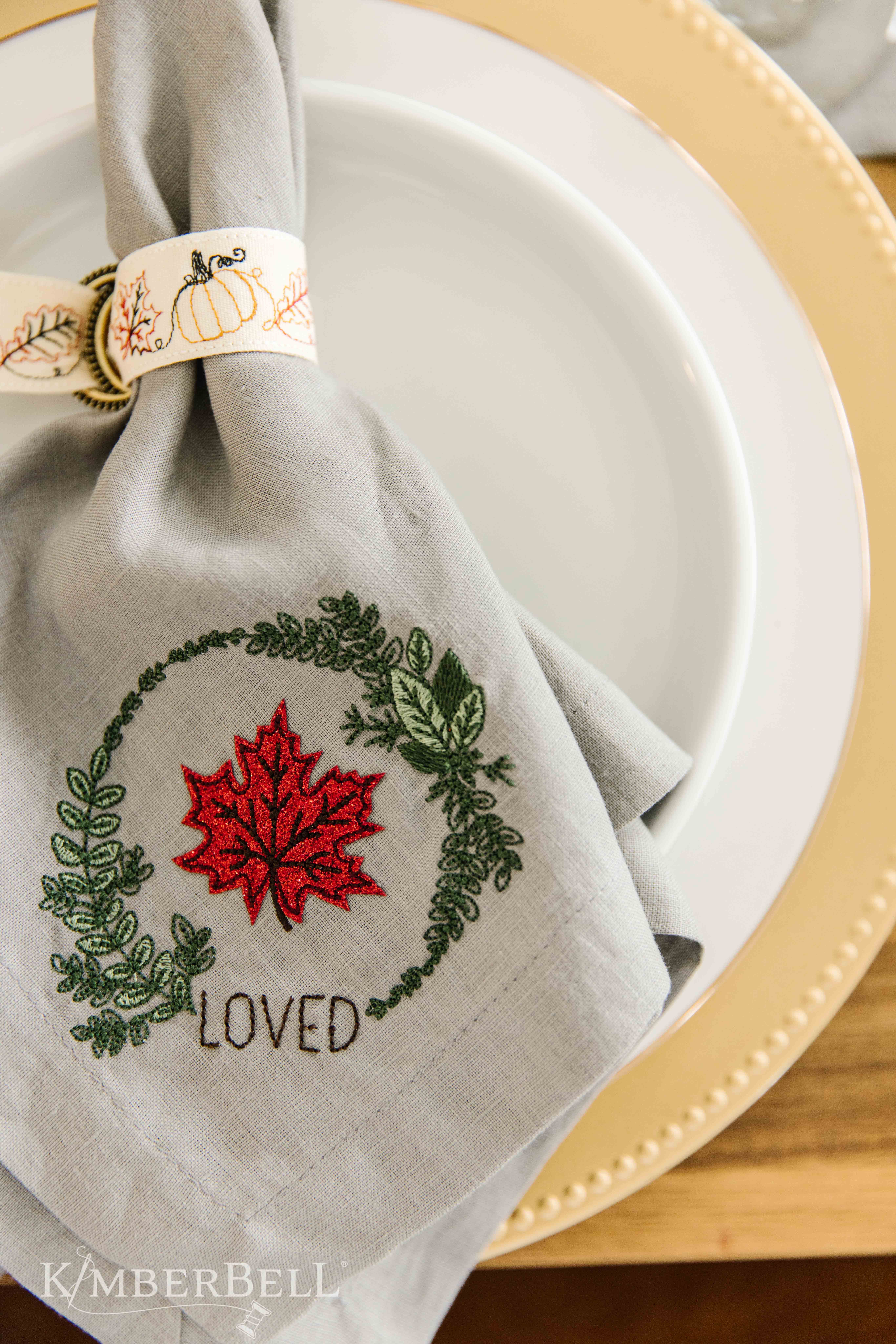 Grateful
Have you ever worked with Applique Glitter before? It's a dream to stitch on and doesn't make any mess...not even on your hands. It's also washable! (Now that's something to be grateful for.)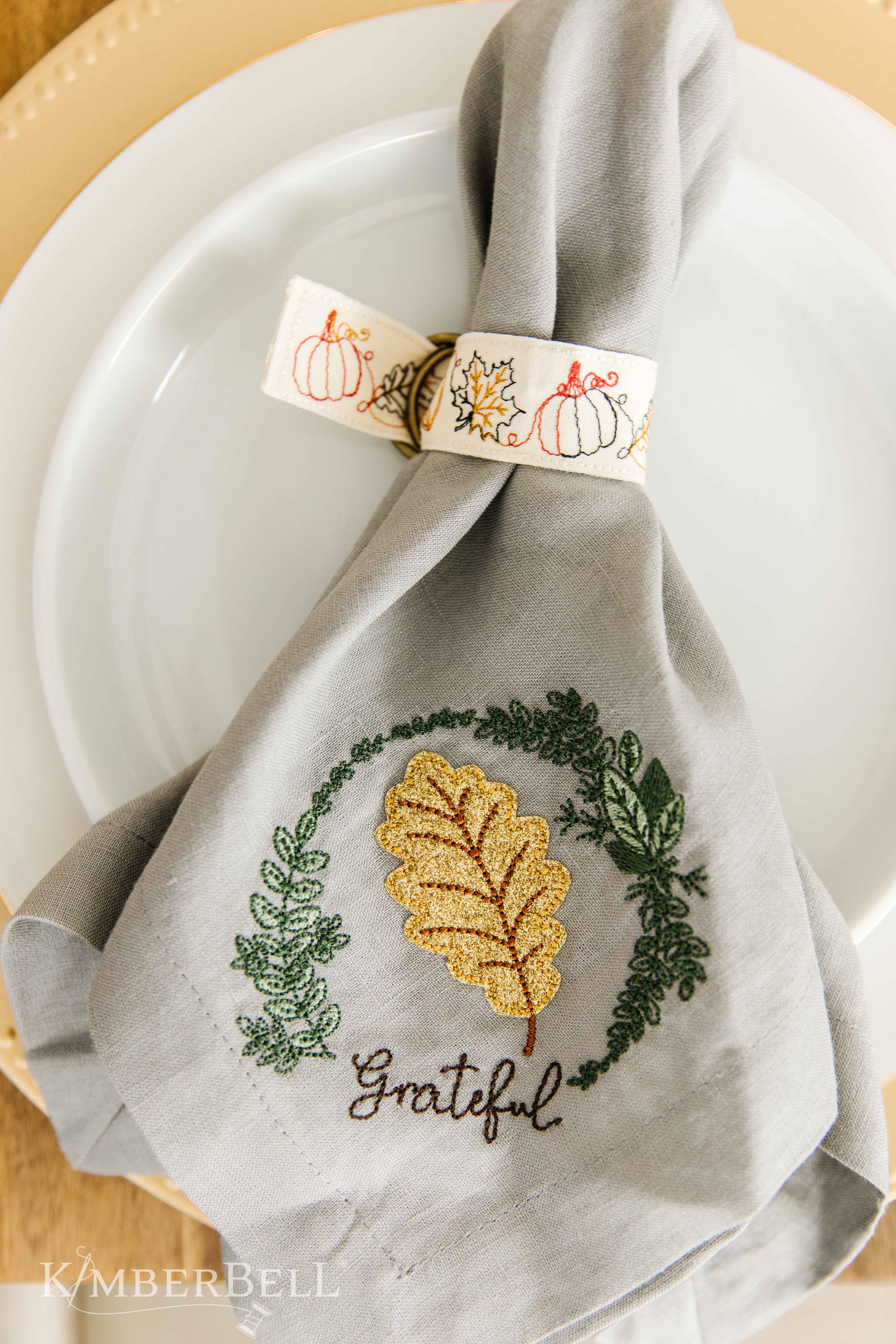 Thankful
Also notice the beautiful decorative leaves in two tones of green. So elegant and so very autumn! But think beyond the event projects to what else you could do with this design. (Perhaps add a monogram for a classy gift?)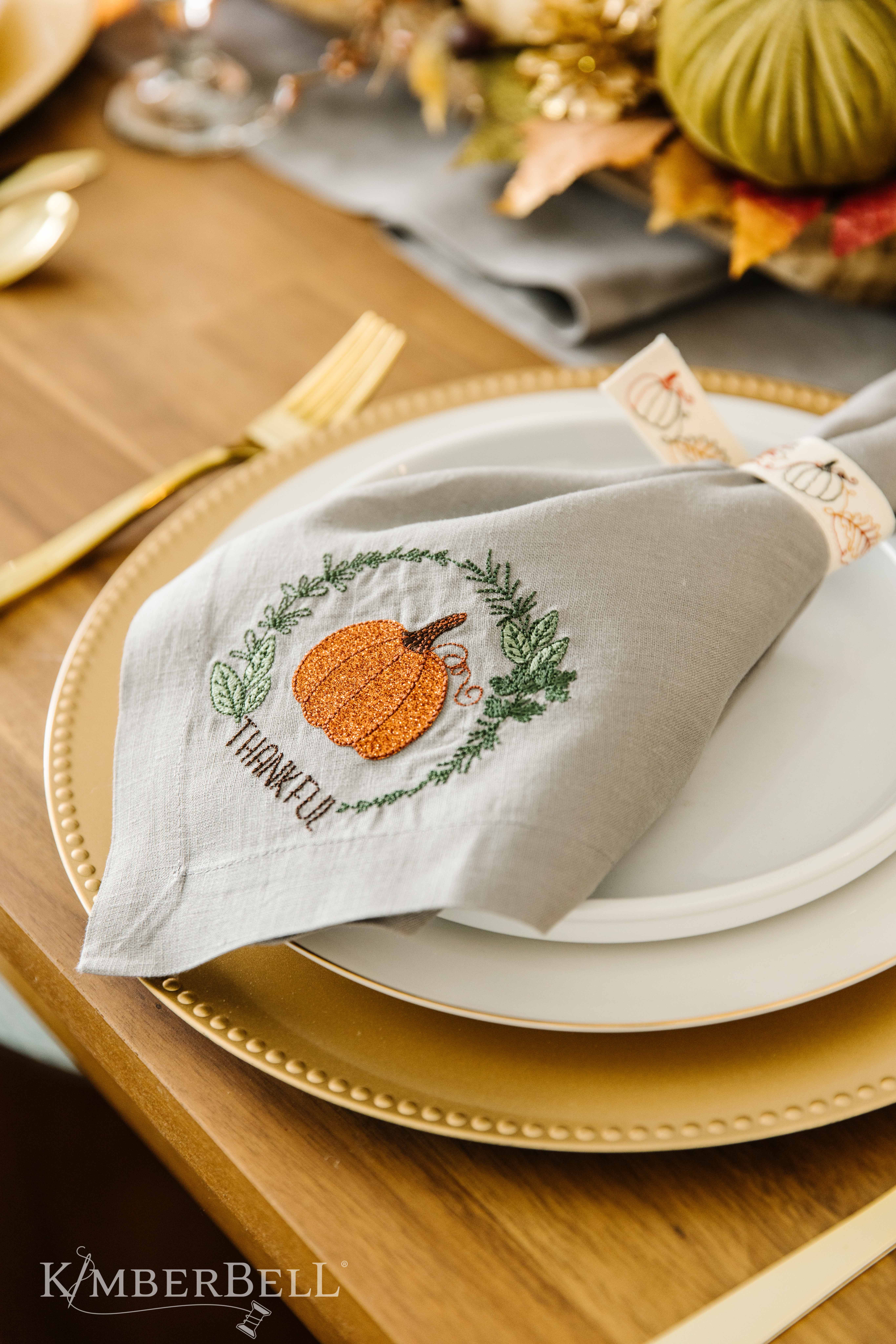 Snarky Sentiments
But that's not all. In addition to the Blessed, Loved, Grateful, and Thankful sentiments shown above, your event CD also includes FOUR snarky options as well!
Have fun stitching,Gobble Till You Wobble, Whatever Floats Your Gravy Boat, Leftovers Are For Quitters, and...wait for it...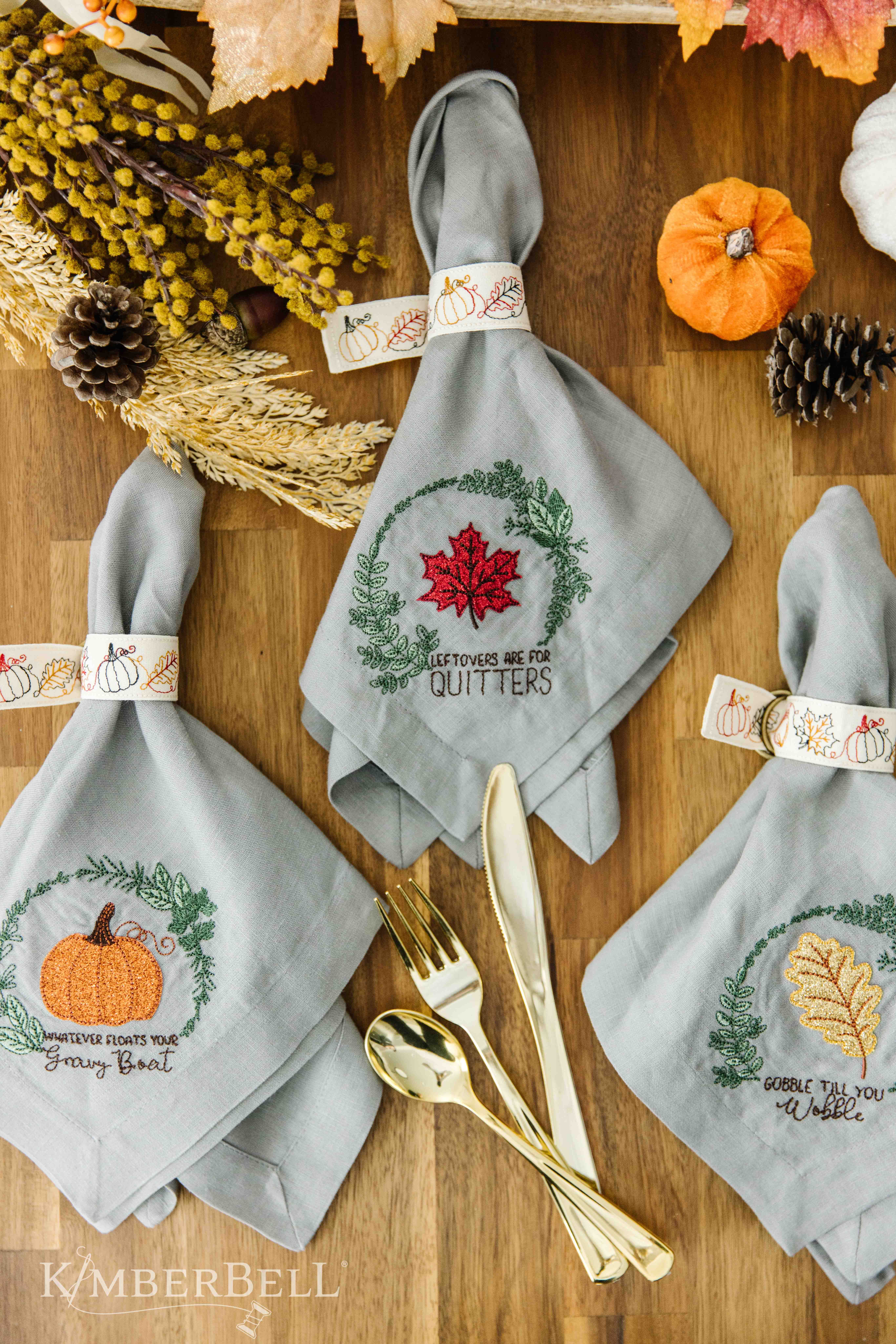 ...Turkey, Pie, and No Politics. (I don't know about you, but my family could definitely use these snarky reminders at our Thanksgiving table!)

Napkin Rings
Did you notice the darling napkin rings in the pictures above? At your Harvest Table event, you'll stitch four napkin rings in a single 6x10 hooping, then attach them to gorgeous D-Rings (also included in your Attendee Project Kit).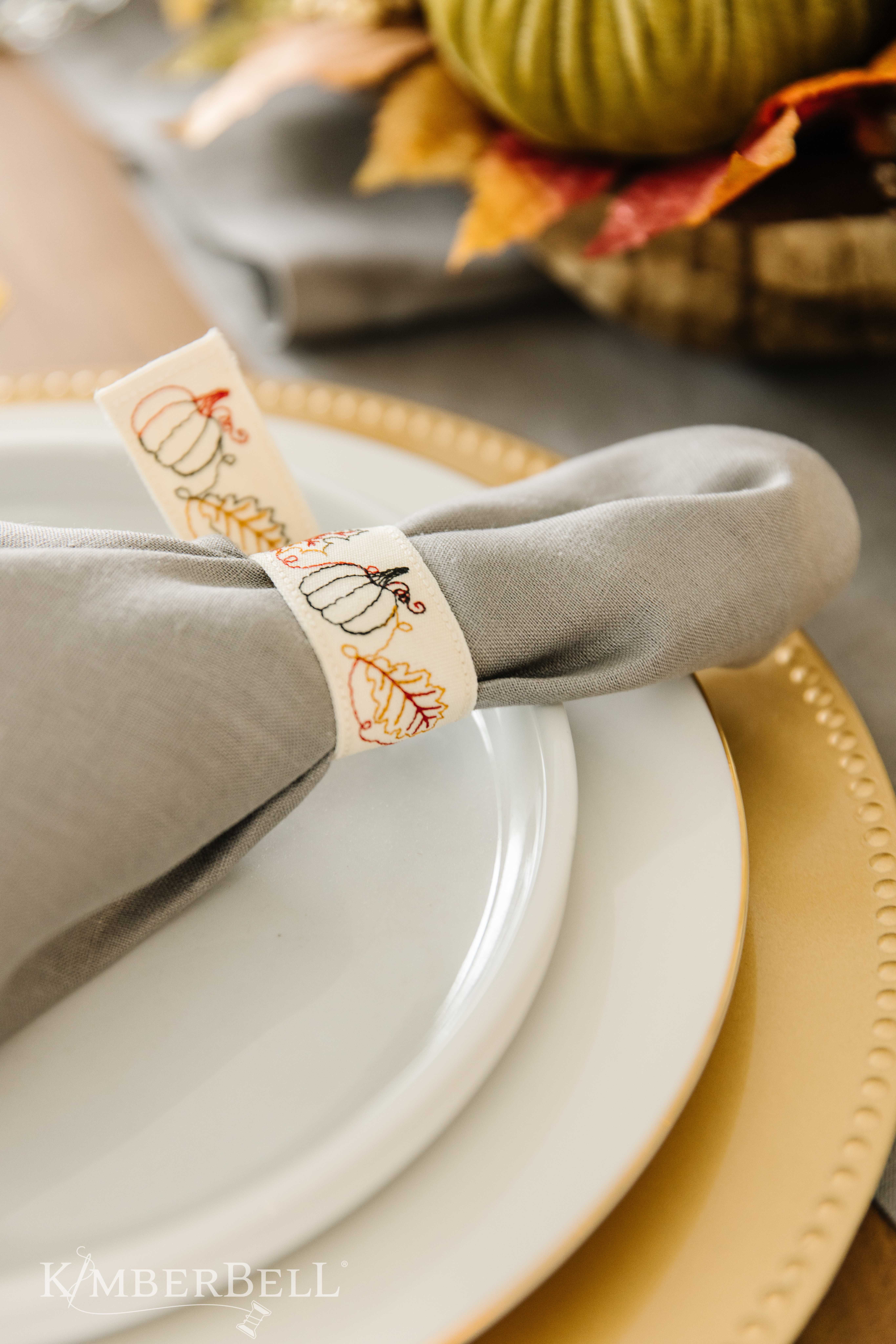 Made with linen ribbon, each Napkin Ring design perfectly matches the napkins and table runner with a repeating motif of acorns, pumpkins, oak leaves, and maple leaves. We stitched these napkin ring designs in variegated thread to really make them pop!
And that, my friends, is how you set a Kimberbell Harvest Table. And remember, these designs aren't just for the Thanksgiving holiday! They're beautiful decor for the entire season.
Event Bonus CD: Holiday Table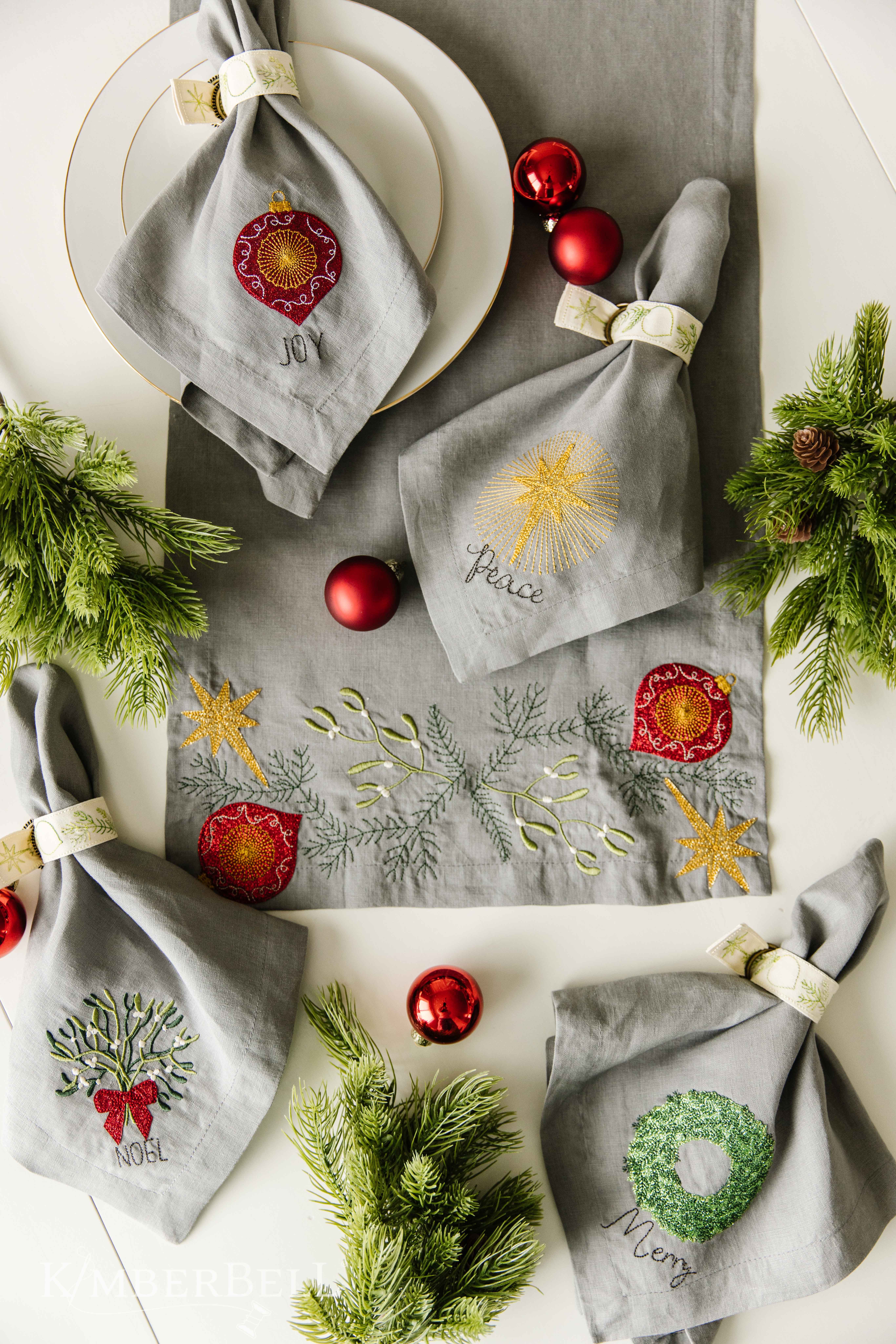 Now, one of the perks of attending a Kimberbell Event is the opportunity to earn the event's exclusive bonus CD. Here's how it works:
When attendees spend $100 (or more) in the Kimberbell Popup Shop while at the event, they earn the FREE bonus CD. (You can't get these designs anywhere else!) Your shop will explain the details of how to qualify.
The Bonus CD for Harvest Table is called Holiday Table. Take a look!
This exclusive Event Bonus CD includes six designs to dazzle your home. Create a beautiful Holiday Table Runner in a 6x10 hoop, then stitch the Star, Ornament, Mistletoe, and Wreath designs in a 5x7 hoop for napkins, tea towels, and more!
Holiday Table Runner
Add beauty to your hearth and home with Kimberbell's Holiday Table Runner. Stars, ornaments, mistletoe, and pine sparkle and shine with dazzling Applique Glitter.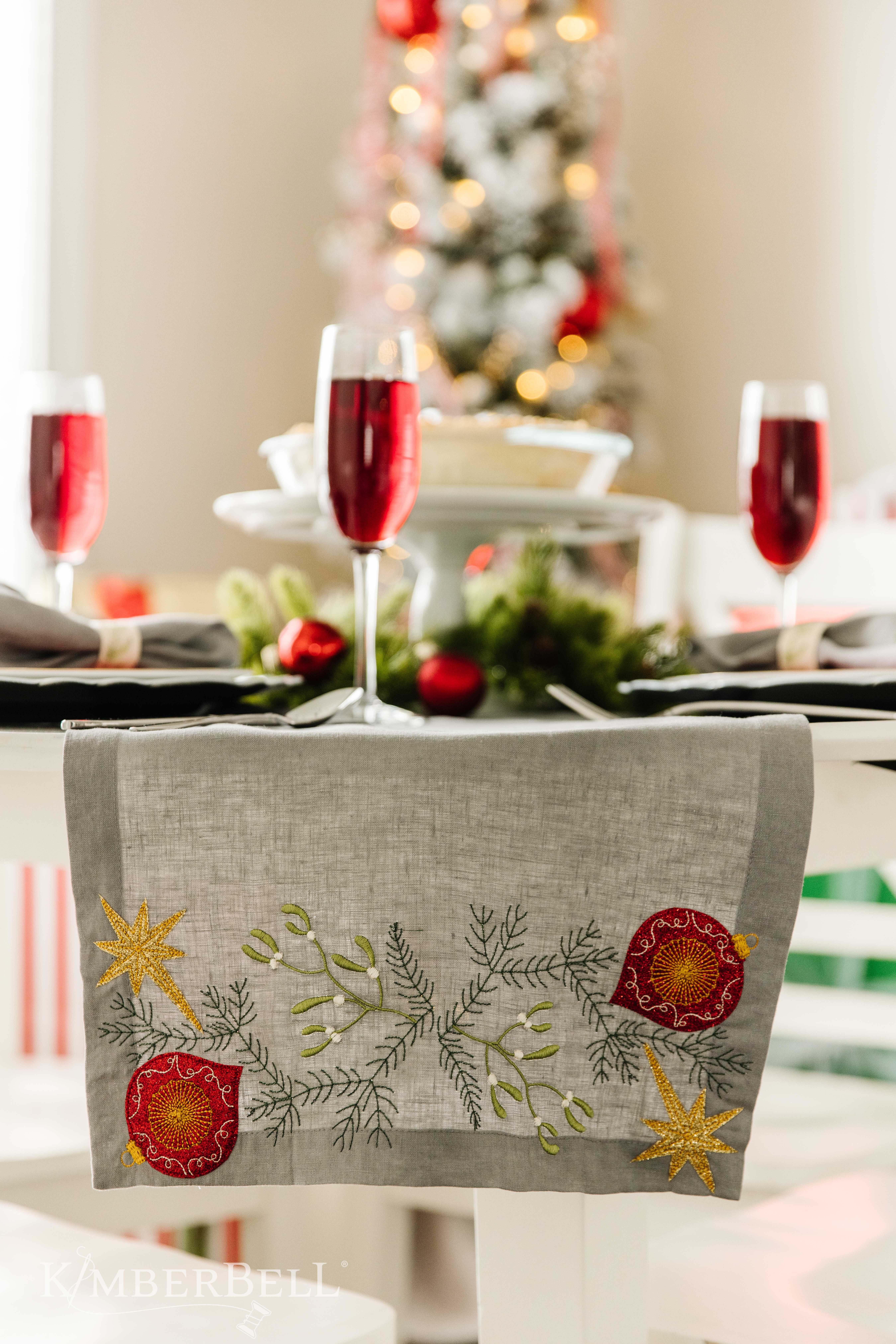 Star
Our Star design features radiant stitched rays from a golden star of Applique Glitter. Stitch the "Peace" sentiment below to brighten your holiday parties!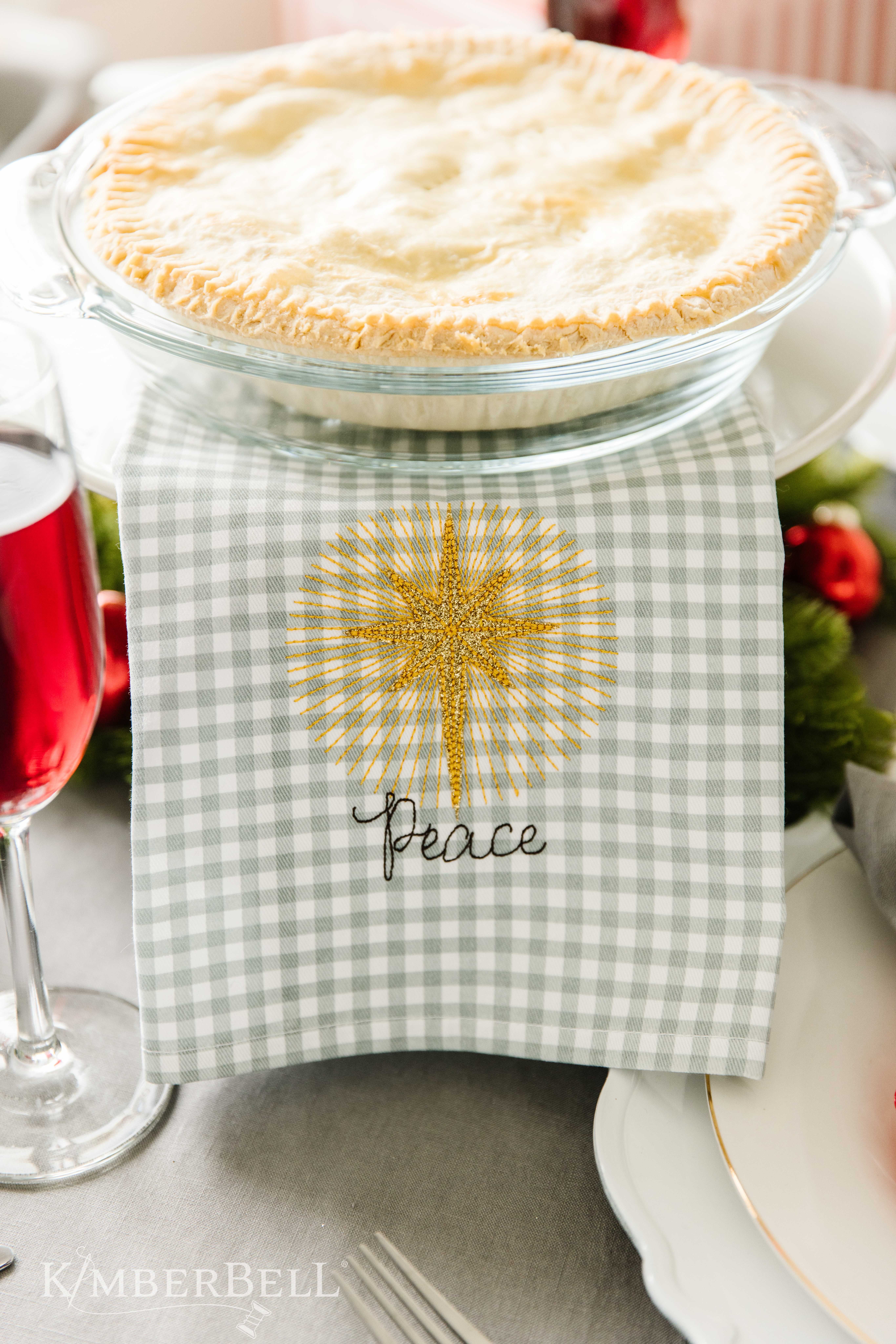 Ornament
Bring "Joy" to family and friends with our red Applique Glitter Ornament design adorned with decorative stitching and a seasonal sentiment.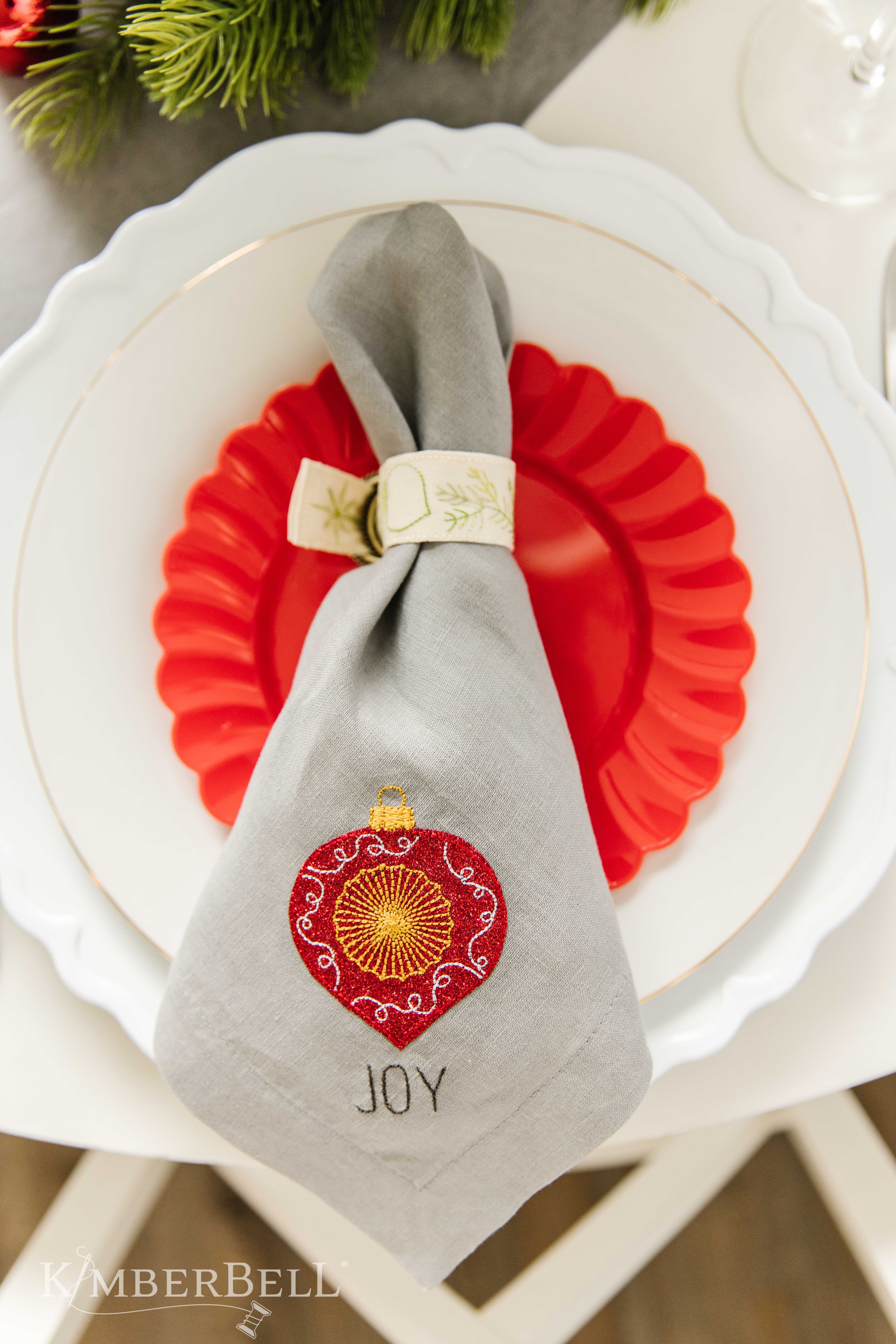 Mistletoe
Sprigs of Mistletoe are tied with a bow of red Applique Glitter to create a much-loved traditional bouquet! Stitch "Noel" below and add to napkins, tea towels, aprons, and more.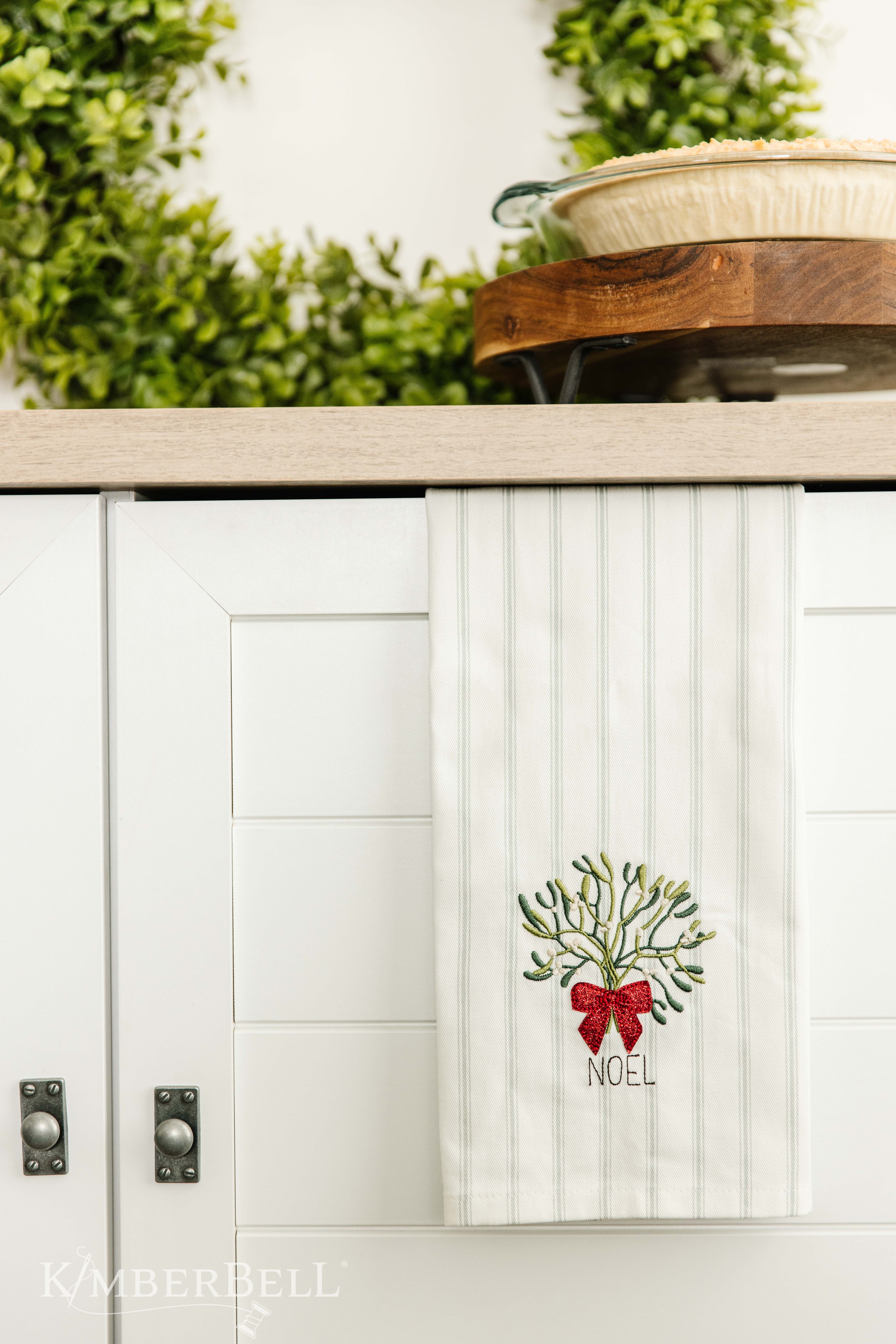 Wreath
A whimsical Wreath of green Applique Glitter adds a "Merry" touch with sparkling boughs stitched with sprigs of pine.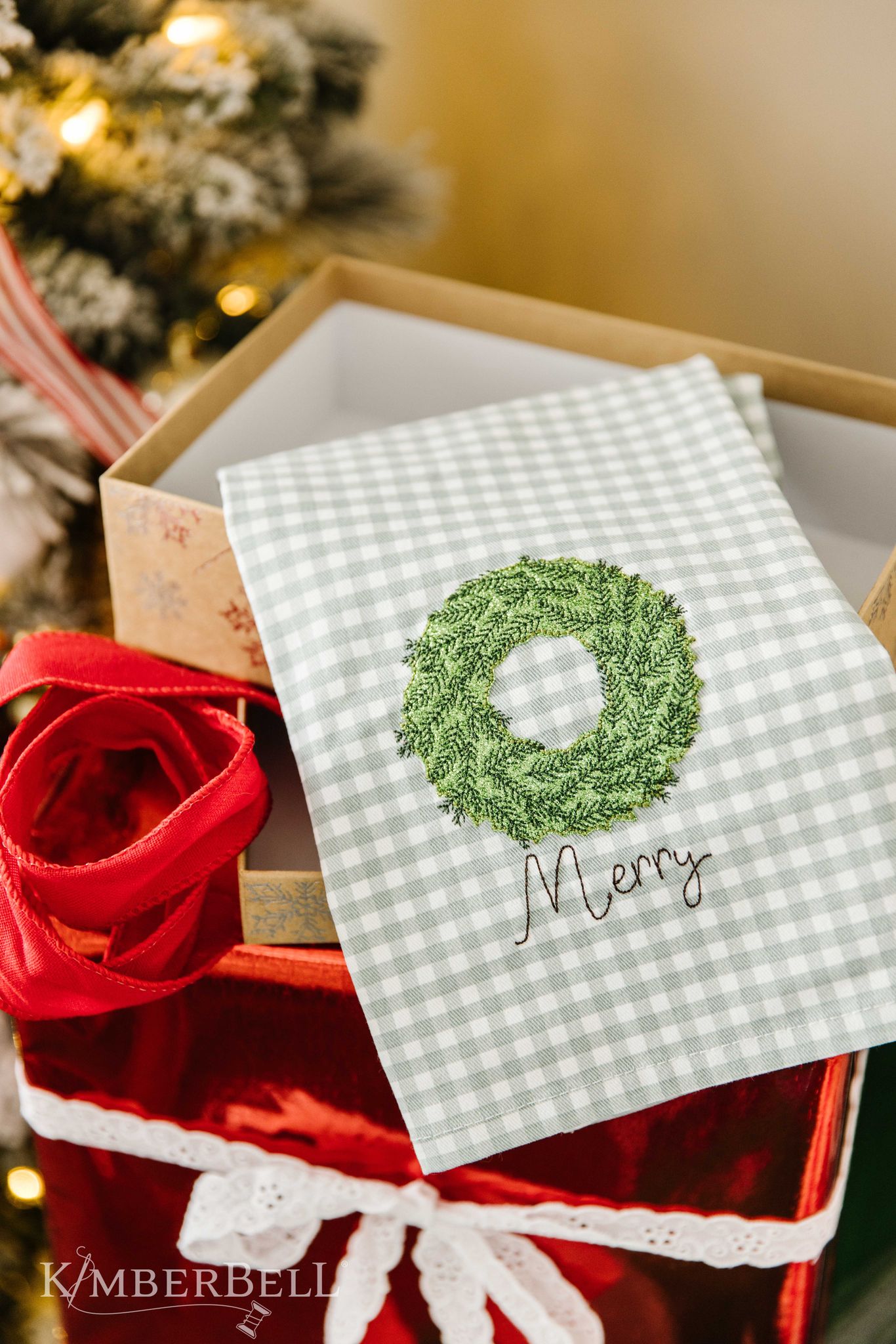 Just imagine the project possibilities with these giftable holiday appliques! You can stitch them on a wide variety of blanks for delightful holiday decor.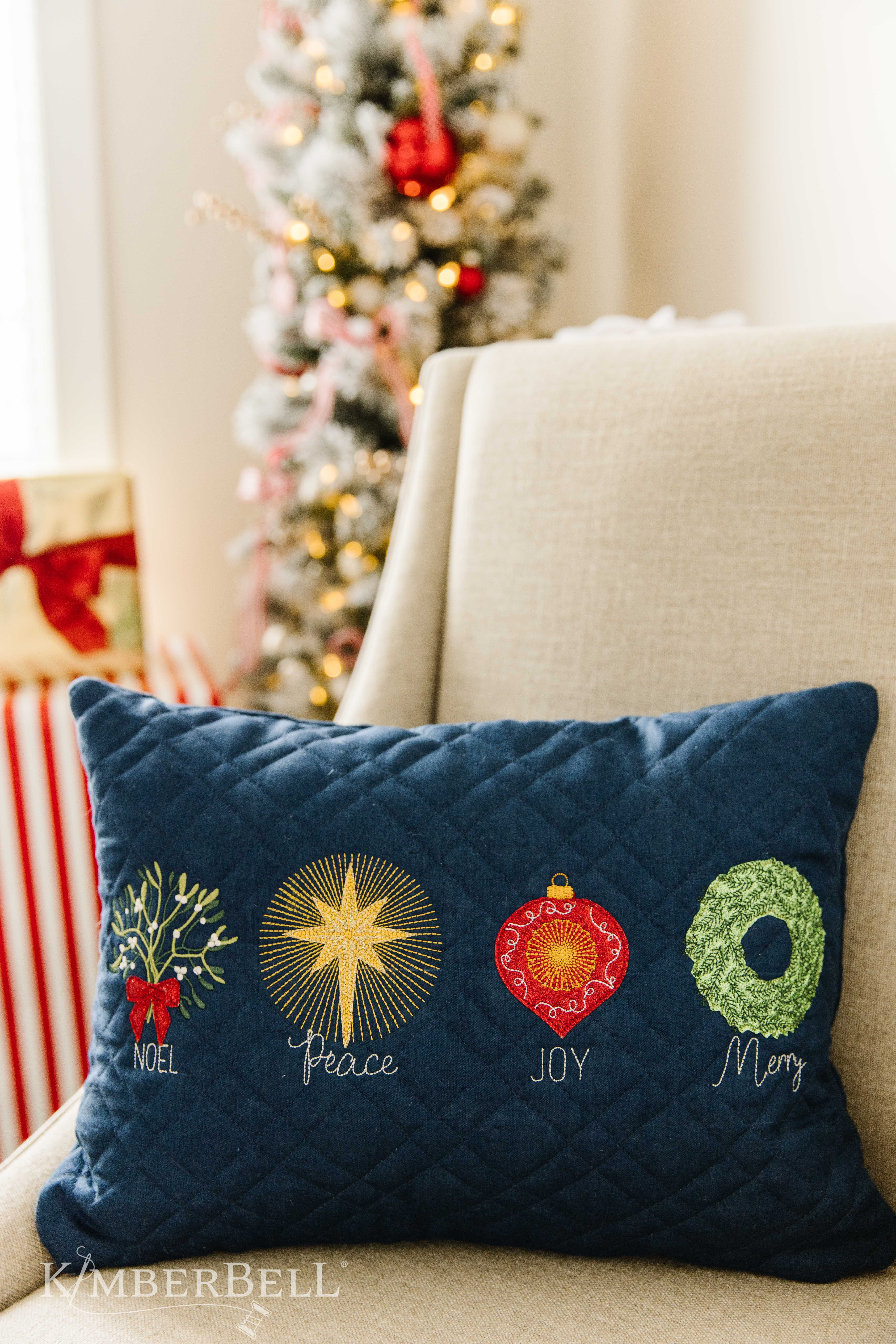 Holiday Napkin Rings
Just as the Harvest Table Napkin Rings perfectly match the project designs, our Holiday Table Napkin Rings include coordinating ornament, star, mistletoe, and wreath elements.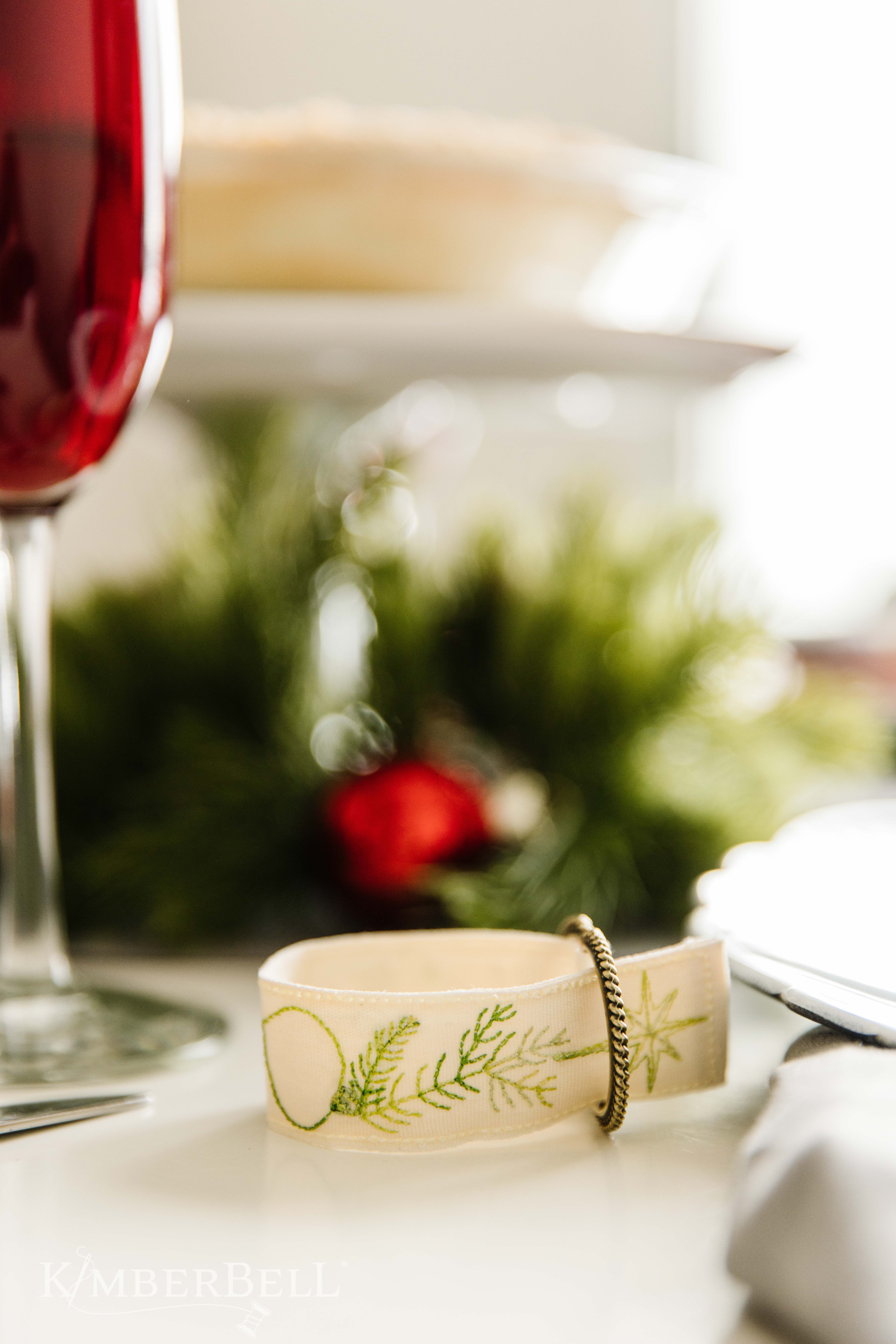 R.S.V.P. Today
We can't wait to set your place at Kimberbell's Harvest Table! And there's no better time than now to reserve your spot. Click the link below to find a participating shop today!