Candy Cane Lane Cookies (Inspired by Kimberbell's Candy Cane Lane Bench Pillow for Sewing and Machine Embroidery)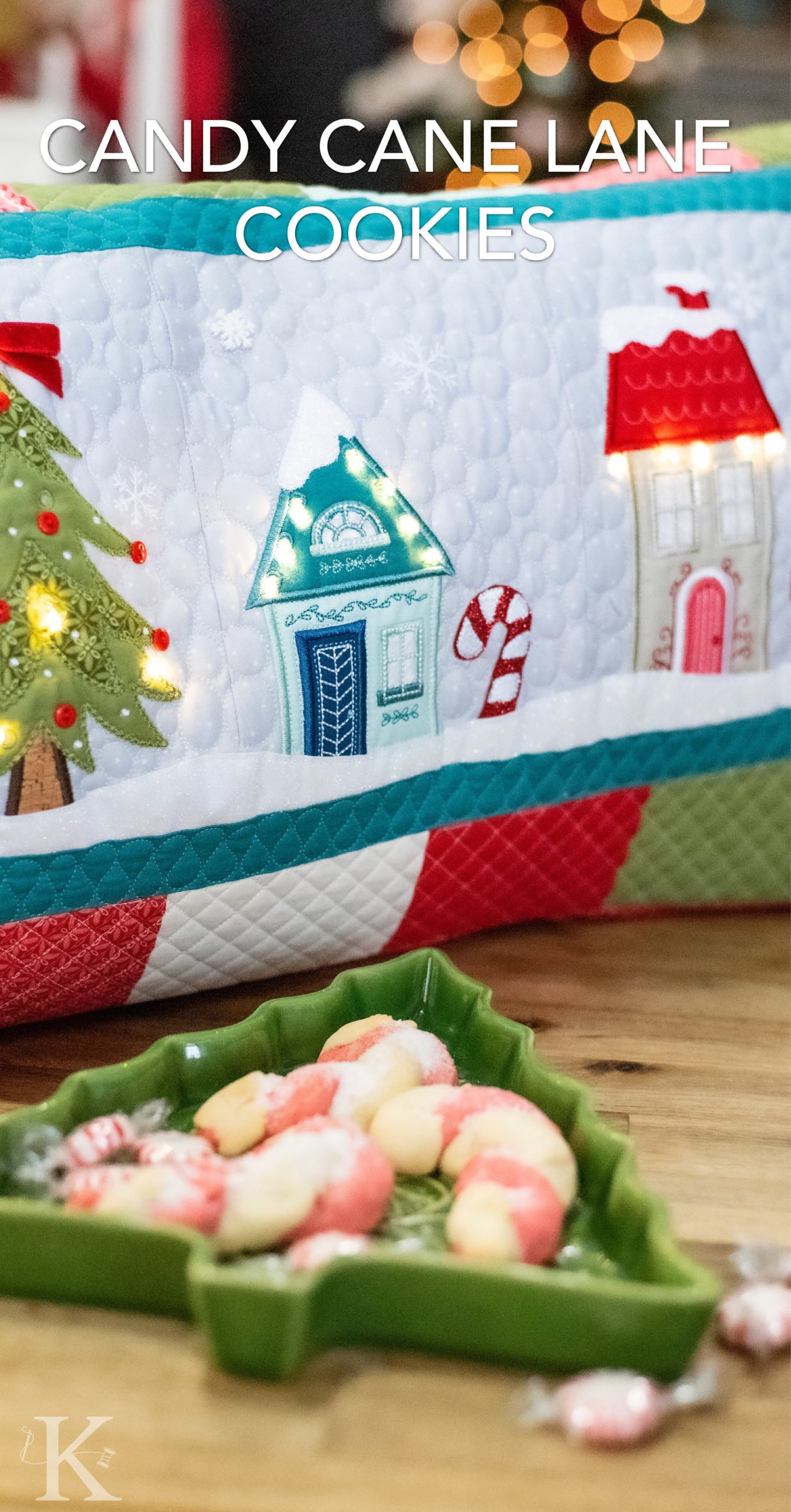 These cookies were a family favorite during my growing-up years. They're fun to make with kids (and even more fun to eat). I hope you enjoy them as much as you enjoy stitching your Candy Cane Lane Bench Pillow!
Ingredients
1/2 cup butter, softened
1/2 cup shortening
1 cup powdered sugar
1 egg
1 1/2 tsp. almond extract
1 tsp. vanilla
2 1/2 cups flour
1 tsp. salt
1/2 tsp. red food coloring
1/2 cup crushed peppermint candy (take a big peppermint stick, place in a plastic bag wrapped in a towel, and hit with a hammer)
1/2 cup granulated sugar

Directions
In a large mixing bowl, combine butter, shortening, powdered sugar, egg, almond extract, and vanilla.
Blend in flour and salt.
Divide dough in half and blend food coloring into one half (half of dough will be red, half white)
Take 1 tsp. size dough from red half and shape into 4-inch ropes (For smooth, even ropes, roll them back and forth on a lightly floured board.)
Repeat with white dough, shaping into 4-inch ropes.
Place one red and one white rope side by side, press together, and twist.
Place on ungreased baking sheet. Curve top down to form handle of candy cane.
Bake 9 minutes at 375 degrees or until lightly brown. (Take out when even just a tiny bit brown so they don't overcook.)
Mix crushed peppermint candy and granulated sugar together. After removing cookies from oven, immediately sprinkle cookies with candy mixture. (If cookies cool, the candy won't stick.)
Let cookies remain on sheet for about one minute before removing.
Remove from baking sheet very carefully with spatula.
Yield: 2 1/2 dozen