Behind the Seams: The Testing and Techniques of Kimberbell's Red, White, & Bloom Quilt for Sewing and Machine Embroidery
As we celebrate the release of Kimberbell's Red, White, & Bloom feature quilt, I thought it would be fun to take you "behind the seams" with three members of our Product Development Team! Join me in chatting with Jessee, Jensyn, and Katie about the testing and techniques behind Red, White, & Bloom for sewing and machine embroidery.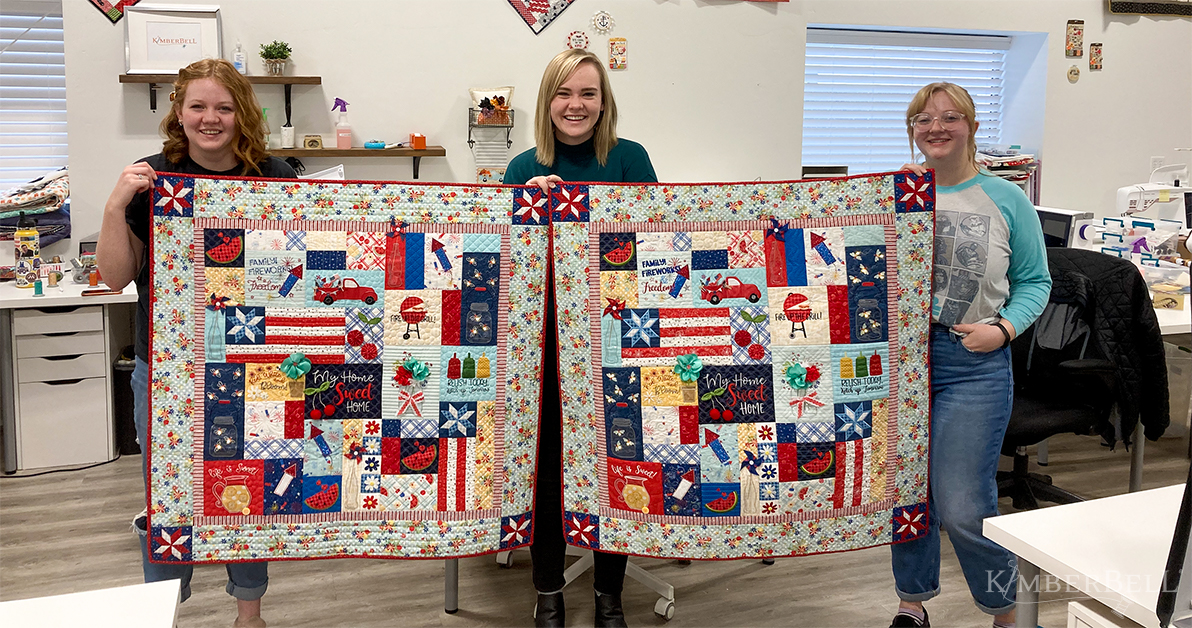 Note: Can you tell which quilt is the sewing version and which is the machine embroidery version? (I'll give the answer at the end of the post!)
Jenny:
"How many hours did each of you spend testing Red, White, & Bloom?"
Jensyn:
"The three of us started at the end of August and finished around mid-December, first testing all the blocks and working on them all day every day."
Katie:
"We stitched the sewing and embroidery versions of Red, White, & Bloom
and
the coordinating
Main Street Celebration Bench Pillow
during that same window of time. It felt like a long time, since we were working on so many big projects at once!"
Machine Embroidery Version
Jenny:
"Tell me about the machine embroidery version of the quilt. Who worked on what?"
Jessee:
"We all worked on all parts of the quilt, from start to finish."
Katie:
"There are a lot of files on this quilt, and each file had to be tested multiple times on each brand of machine. All of us tested every block, just making sure it looked right. Then, once we got the Red, White, & Bloom fabric in, we were able to put it all together."
Jenny:
"Tell me more about the fabric."
Katie:
"Well, awhile ago, Kim posted on our Bellas and Fellas Facebook group and asked what everyone's favorite things were about the Fourth of July. Then she designed their words right into the fabric line. I love that!"
Jessee:
"Yes, that graffiti fabric comes in colors of red on red, blue on blue, and yellow on white. We called it the 'Wordy-Word' fabric at the time."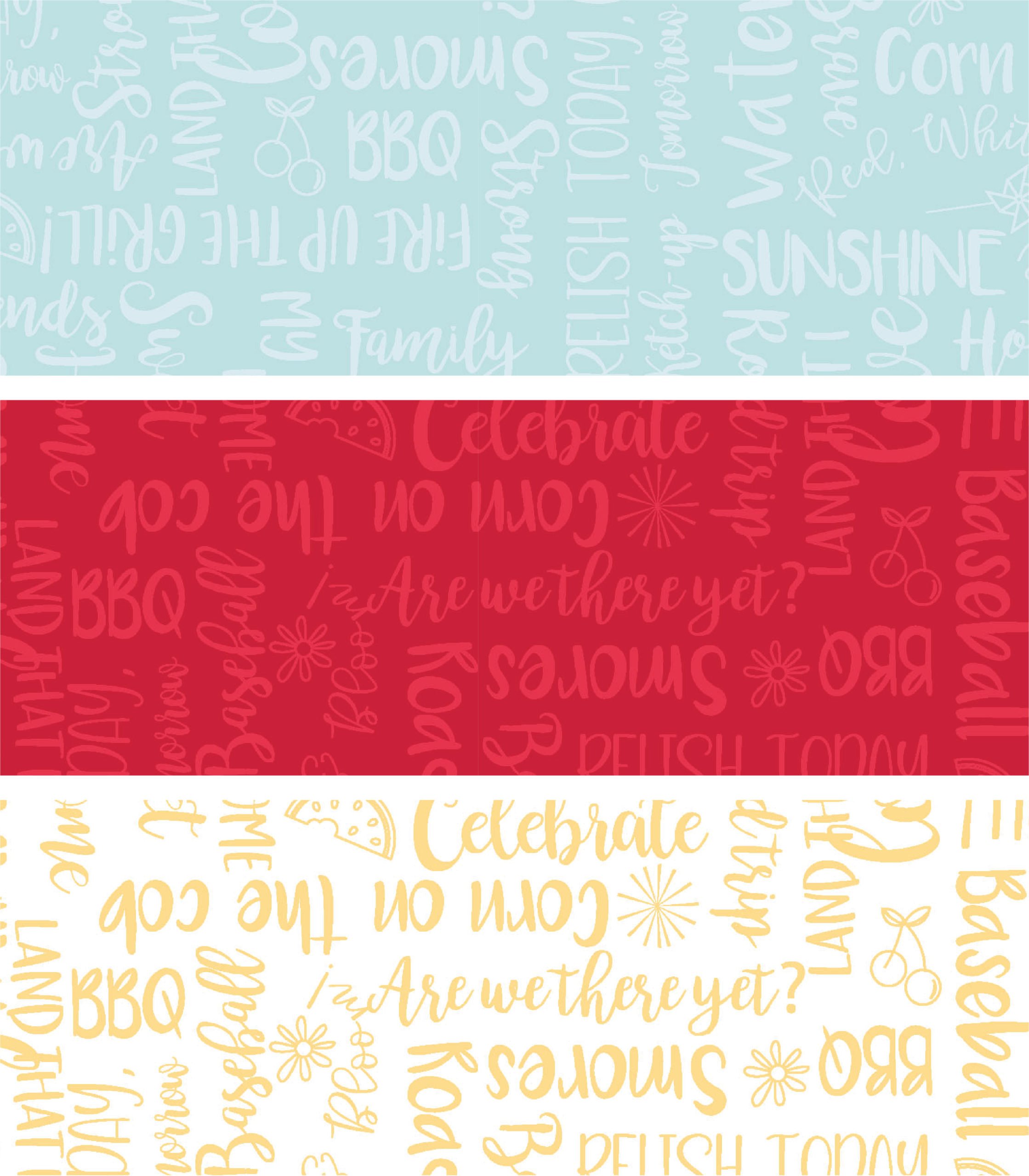 Note: What words come to your mind when you think of the Fourth of July? Please comment below!
Jensyn:
"I also know that as Kim designed this quilt, she really loved having fireworks on the fabric as well as embroidered on the quilt."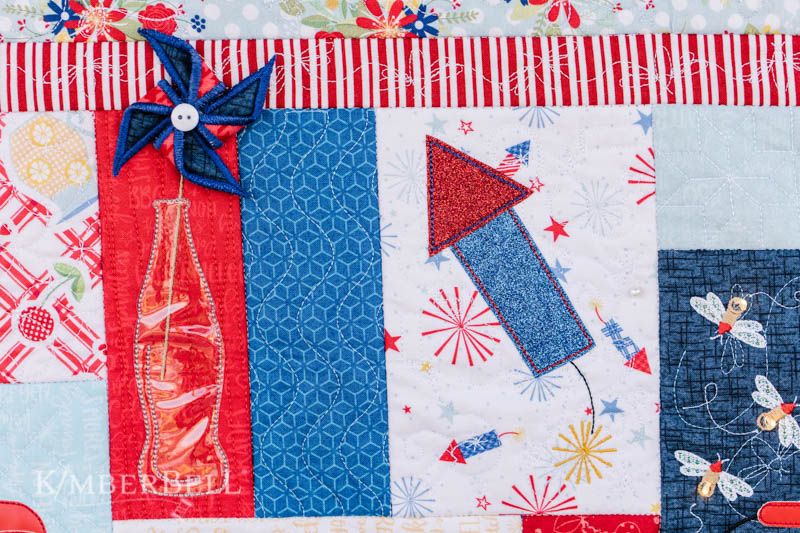 Jenny:
"So, do you have a favorite block?"
Katie:
"I really like lemons, so one of my favorites is
Life is Sweet!
with the little
Mylar
lemons floating in the pitcher and the little
lemon button.
"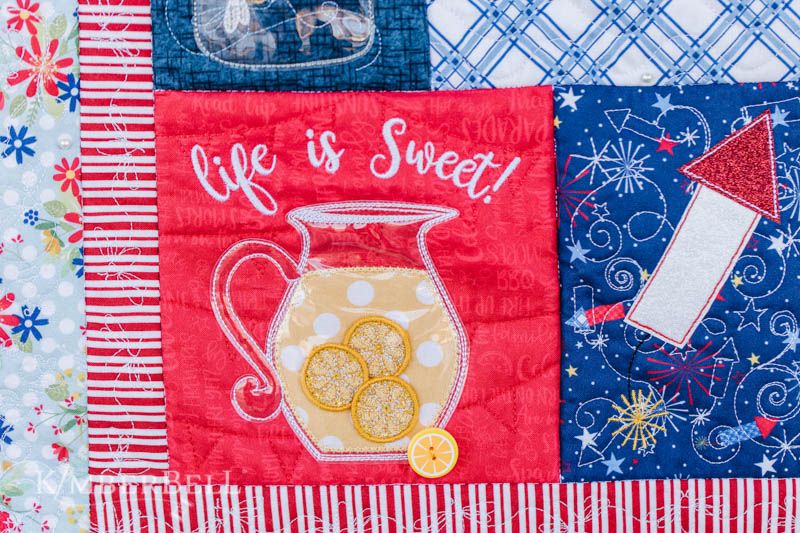 Note: Those individual lemon slices are free-floating in that pitcher! How fun is that?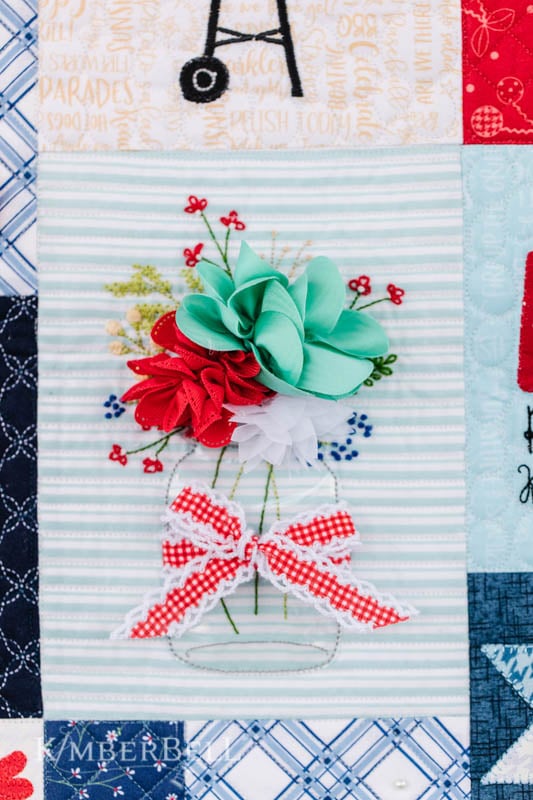 Jessee:
"I like the fireflies. I did a lot of test stitching on this one and played around with the placement of the lights and how to get them in there. Kimberbell fireflies are much cuter than real fireflies!"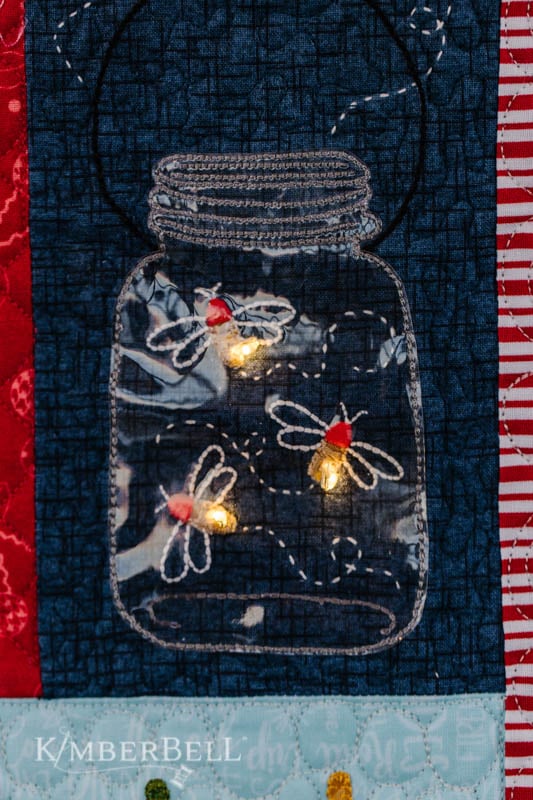 Note: Our fireflies are kept in a "glass" jar of Sweet as Candy Clear Vinyl. Have you ever caught fireflies in a jar? Do you call them "fireflies" or "lightning bugs?"
Jensyn:
"The truck is my favorite. It was fun to make and I love trucks--I love that it's red. Layering on the
Embroidery Leather
was really fun, too. The wheel wells are two pieces on top of each other, and it was just fun to make. I also like the watermelons; they're simple appliques but really cute."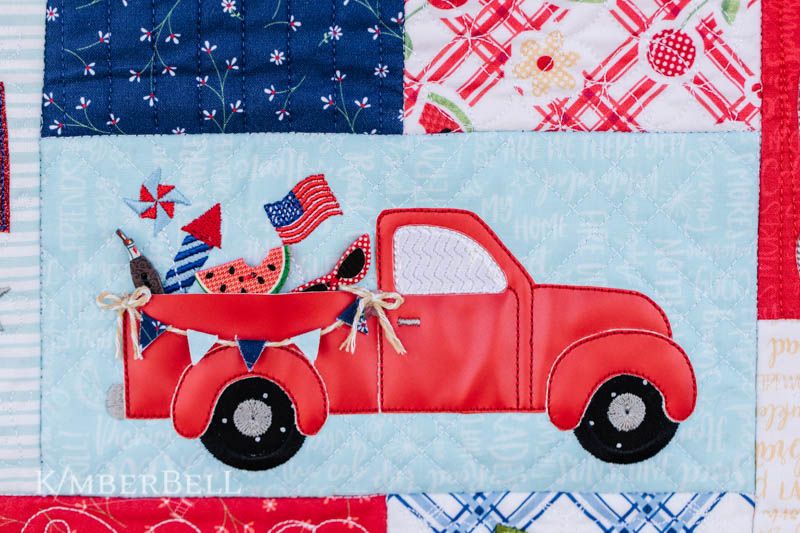 Jessee:
"I also love the satin stitch on the word 'Sweet.' It just looks amazing. The leaves (the bow) on the cherries are all done in-the-hoop. You put two fabrics with right sides together, then you stitch around the outside, flip it, and tie it in a knot."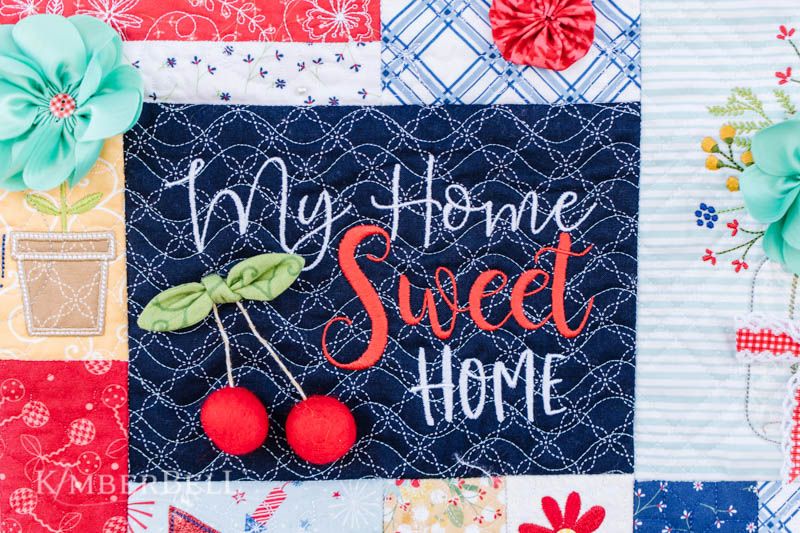 Katie:
"Yes, there's a bow similar to that on the bathing suits of the
Vintage Boardwalk
quilt."
Jenny:
"Now, I know the applique stars on this quilt are actually done in-the-hoop and are not pieced. Tell me why this is a big deal."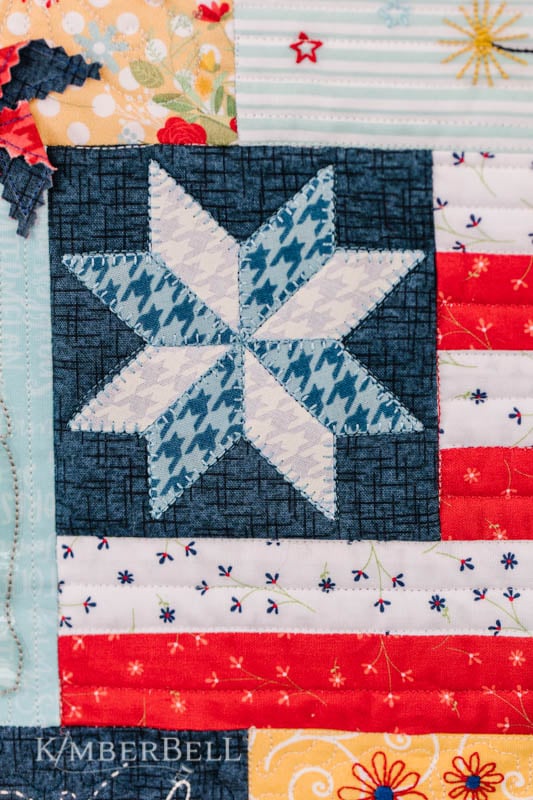 Jensyn:
"The stars are so easy to do because they're just simple appliques with two colors of fabric: blue and white or red and white. You just stitch the placement lines, tack down the fabric, trim, and finish with the decorative stitch when you're done."
Katie:
"Even in the sewing version, the stars aren't pieced. You just cut out the shapes and place them."
Jenny:
"What about the pinwheels? Are those hard to make?"
Katie:
"They're actually really easy, with two pieces of fabric and Flexi Foam in between. You do a satin stitch around the edge, and then you just fold it and glue it all together. Our directions include diagrams of exactly how to fold it."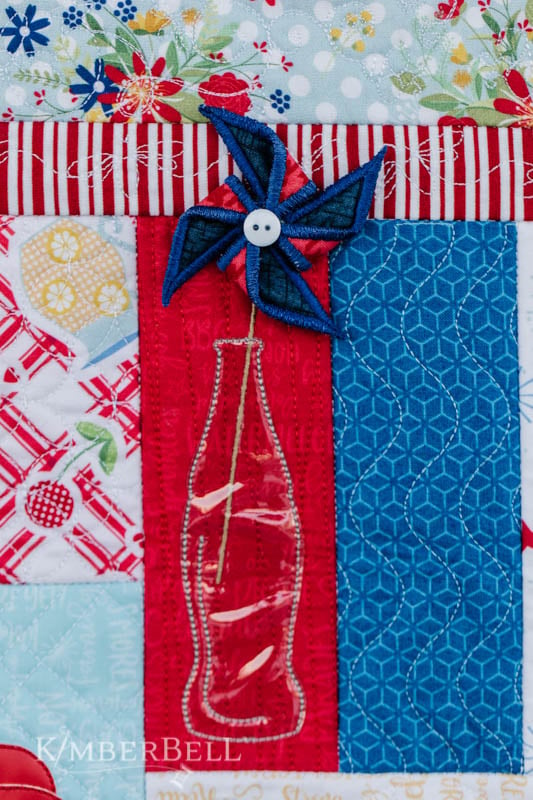 Jessee:
"There's also a ton of
new background quilting
patterns with this quilt. Fireworks, fireflies, banners, stars, stones, bumblebees, cherries for the cherry block...there's plenty of variety."
Note: You can purchase the Red, White, & Bloom Quilting Bundle to download those patterns all at once, OR each pattern is also sold individually if you'd like to pick and choose!
Sewing Version
Jenny:
"Now, all three of you worked on both the machine embroidery version and the sewing version, right? So tell me the difference between the two."
Katie:
"Everything that's an applique on the machine embroidery version is sewn with different stitches on the sewing machine version. For example, we might use a buttonhole or blanket stitch around the fabric, and on the raw-edge applique pieces we use a triple stitch."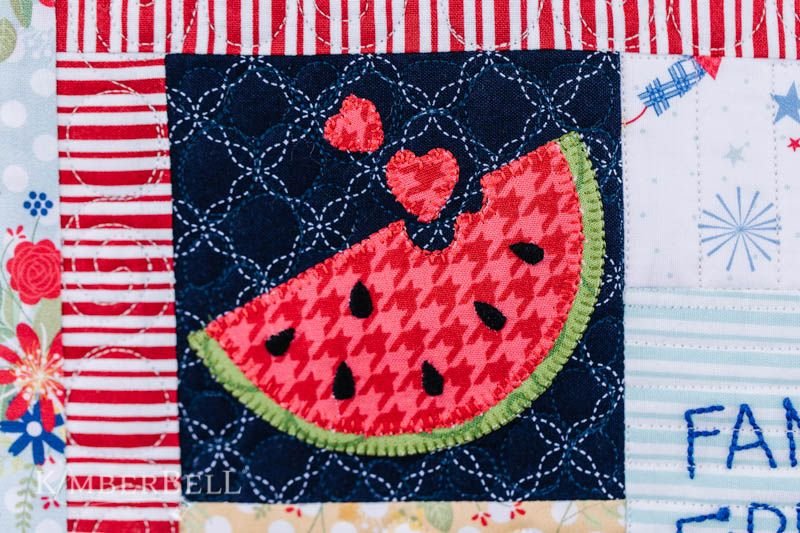 Jensyn:
"The sewing version is a lot of fun if you like hand embroidery. On the blocks with words such as, "Family, Fireworks, Freedom" or, "Red, White, & Bloom," that's all hand stitching."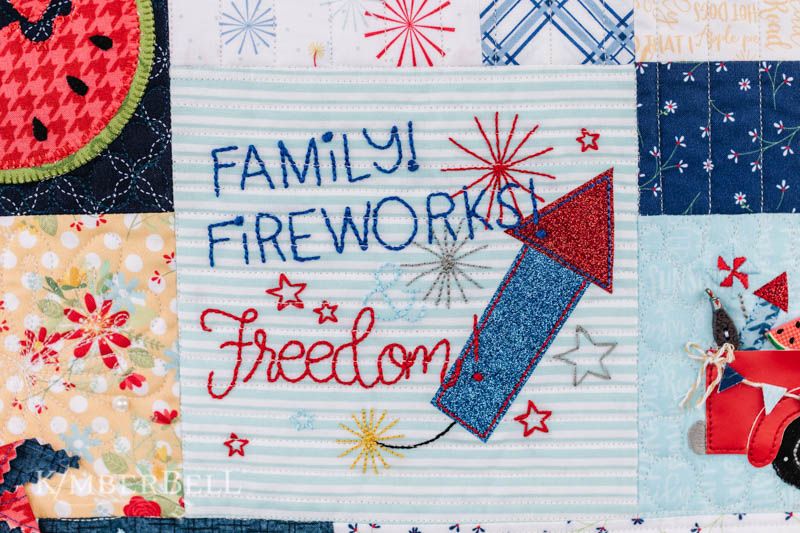 Jessee:
"The fireflies had a lot of hand stitching, too, because you're doing the individual bodies and wings. All of the decorative stitching is done by hand—and I love hand sewing."
Katie:
"What's usually done with a satin stitch on an embroidery machine is done with a zigzag stitch on the sewing machine. Like on the sewing version of the grill, we just compressed the zigzag stitches together. I really enjoy doing applique on a sewing machine; you just take your time and I find it very relaxing."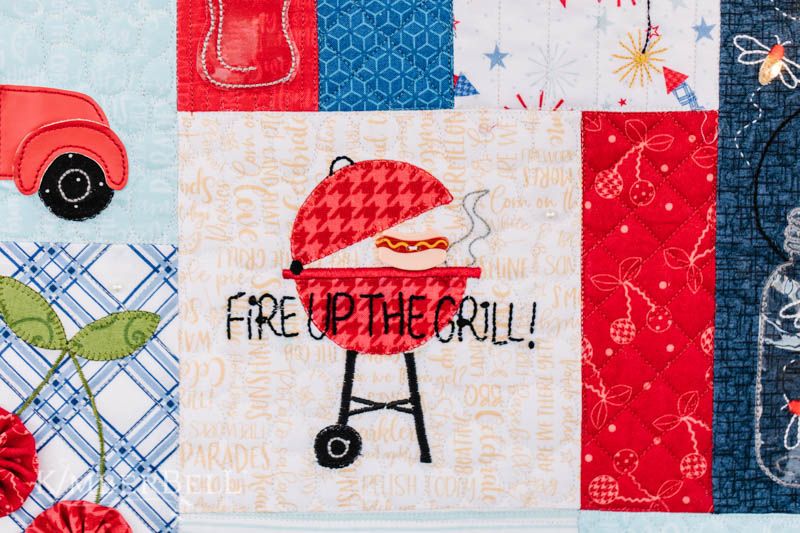 Jenny:
"So which version do you like stitching better?"
Jensyn:
"The embroidery version is nice, because you just set it and let the machine do its thing. But the sewing version is also really fun to work on."
Katie:
"Yeah, they both have really good elements about them and each is a lot of fun to make."
[embed]https://youtu.be/cR7ifuRa4Qw[/embed]
Find everything you need to make Kimberbell's Red, White, and Bloom Quilt at your favorite quilt shop! Oh, and in case you're wondering...the sewing version is on the LEFT. :)