Annika's Throw Pillows for Machine Embroidery: Home Decor YOUR Way, Chenille OR Applique!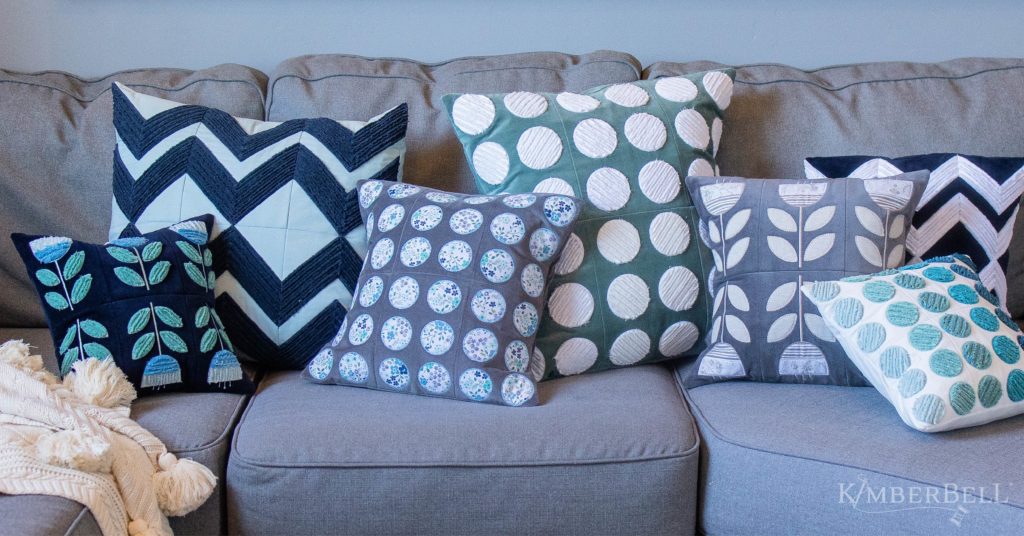 Annika's Throw Pillows by Kimberbell take machine embroidery and home decor to a whole new level. (And I mean a whole new level!) If you're stuck in Monogramland wondering if there's something more you can do with your embroidery machine, there is!
So much more.
Let's take a look at the many creative possibilities of Annika's Throw Pillows, shall we? Oh, and you're probably wondering who this mysterious "Annika" is...and maybe how to pronounce her name? I'll answer those questions a little further into the post. For now, read on. :)
Multiple Designs
First, there are a variety of embroidery designs to choose from: dots, ombre dots, chevron, ombre chevron, and tulips. Aren't these absolutely beautiful?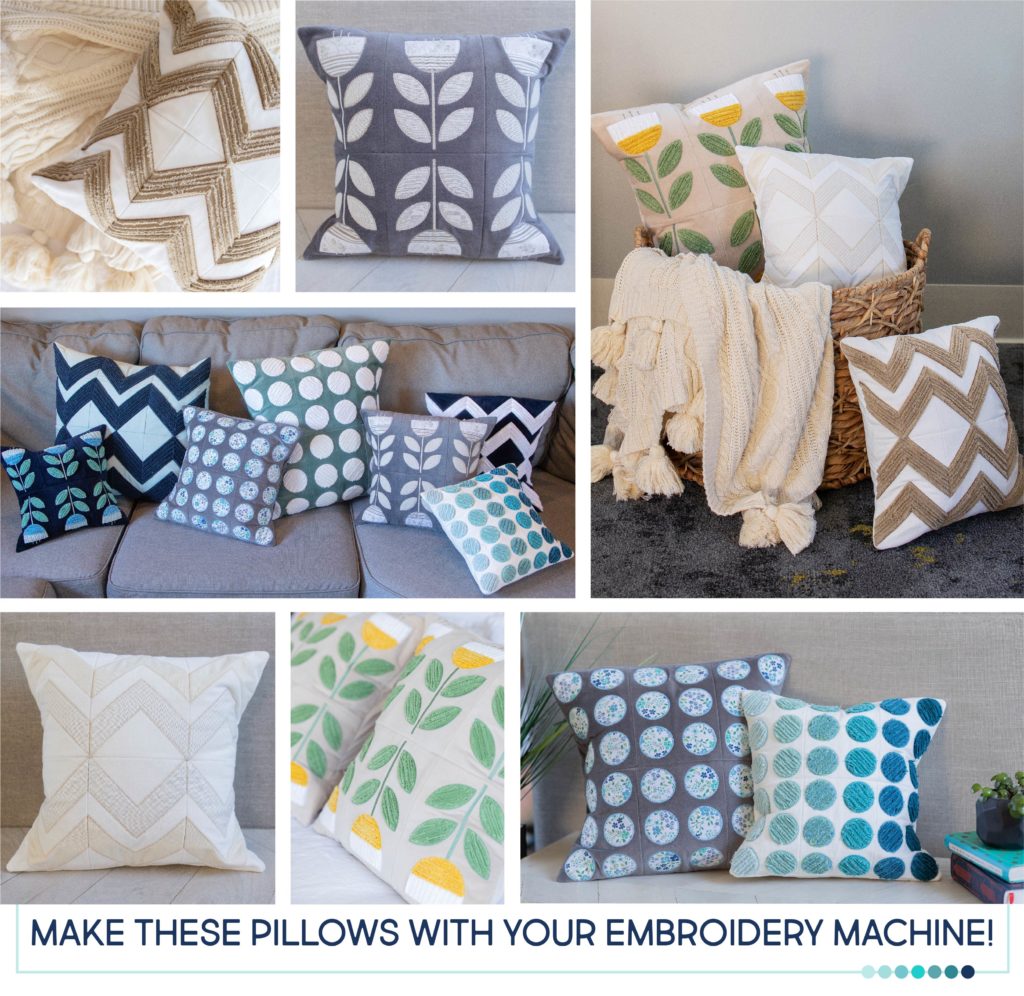 Which is your favorite? (I'm really diggin' the tulips, myself. Or maybe the dots. Fine, the chevron is great, too...)
Chenille OR Applique
Not only do you get to choose from these darling designs, you also get to choose the technique. You see, you can either:
Chenille them so they're all soft and fuzzy, OR

Stitch them with appliqued fabric.
Let's take a look at the same pillow stitched both ways. The pillow on the left is appliqued with a patterned fabric; the one on the right is done in ombre chenille: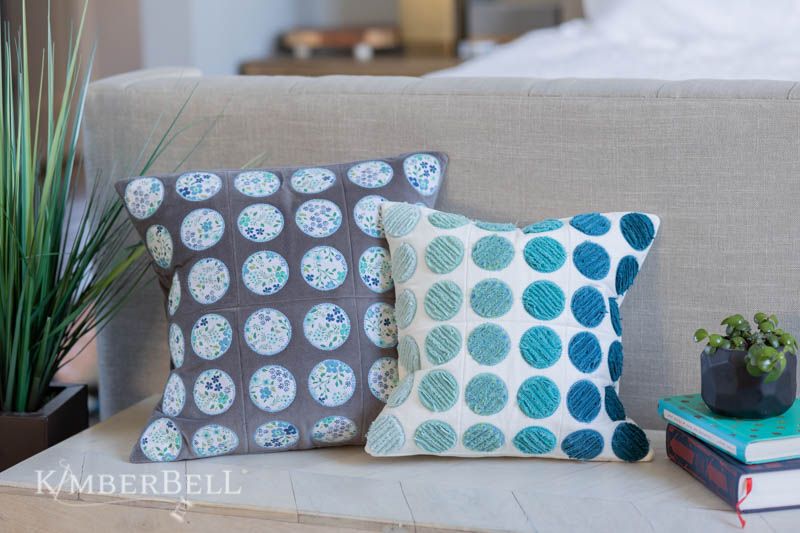 If you're unfamiliar with chenille, let me describe it a little. Chenille is a textured embroidery technique that adds a fuzzy dimension to your projects. It's achieved by layering three fabrics, stitching rows on top, and then cutting and fluffing the fabric with a nail file or wire brush. That might sound a little complicated, but it's actually quite simple. I tried chenille for the very first time the other day and it was so much fun!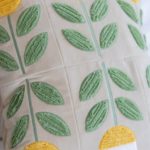 For the chenilling on Annika's Throw Pillows, we used layers of regular cotton fabric and it wasn't messy at all. Remember the Soft & Cozy Chenille Pillow from the Winter 2020 Bella Box? Absolutely gorgeous, with Velveteen chenille. But if you're looking for a less-messy option, you might try cotton for the chenille part and Velveteen for the actual pillow.
Here's another tip: squirting a little water on the design before you fluff the fabric makes the process go faster!
Now, if you're wanting to applique the patterns and not do the chenille, no problem! You simply choose your fabric, skip the chenilling steps in the directions, and voila! Beautiful applique. Which technique would you choose? Chenille, applique, or both?
Three Sizes
Annika's Throw Pillows come in THREE sizes for 5x7, 6x10, and 8x12 hoops.
5x7 hoop makes a 14x14" pillow
6x10 hoop makes an 18x18" pillow
8x12 hoop makes a 24x24" pillow
Just think of the possibilities for your home decor with multiple designs and pillow sizes! (They are just SO. DANG. PRETTY.)
Create Blocks
You might be wondering how the actual pillow comes together. Annika's Throw Pillows are created in two parts: Part 1 includes 6 separate hoopings to stitch the pillow blocks in your embroidery machine. Part 2 is sewing those blocks together to form the pillow front, then sewing the back envelope closure.
As always, Kimberbell's full-color, step-by-step directions guide you through each and every step.
So...Who is Annika?
(Drumroll, please.)
Have you ever read Pippi Longstocking by Swedish author Astrid Lindgren? Well, Pippi's friends are named Tommy and Annika, and since these pillows have a somewhat Scandinavian flair (and since they most decidedly did NOT look like "Tommy's Throw Pillows") we decided to name them "Annika's Throw Pillows."
Now, at Kimberbell, we pronounce "Annika" like this:
"Anne" as in Anne of Green Gables (hey, we love books around here), "i" (short vowel sound as in "sip") and "kuh" (as in the first syllable of "cousin.") Anne-i-kuh. Annika. That's how the Kimberbell staff says it. But...
Just like the pillows themselves, you can do it YOUR way! :) Find Annika's Throw Pillows by Kimberbell at your favorite quilt shop today.
[embed]https://youtu.be/APpW_A1v8C4[/embed]